Windows 10 Mobile Insider build 10586.63 is now available (for some) on Fast Ring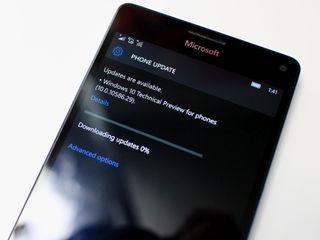 Looks like our earlier reporting was slightly ahead of things as build 10586.63 is now live for those on the Insider program and in the Fast Ring. At least for some users.
No word just yet from Microsoft on what is new, but the update is confirmed as going out to our Lumia 950 XL. However, our Lumia 950 on AT&T is not seeing the update for whatever reason and many others are not seeing the update either. Microsoft is conspicuously quiet about this update with no announcement or information.
We'll add to this article as more information becomes available.
Windows Central Newsletter
Get the best of Windows Central in in your inbox, every day!
Daniel Rubino is the Editor-in-chief of Windows Central, head reviewer, podcast co-host, and analyst. He has been covering Microsoft since 2007 when this site was called WMExperts (and later Windows Phone Central). His interests include Windows, laptops, next-gen computing, and for some reason, watches. Before all this tech stuff, he worked on a Ph.D. in linguistics, watched people sleep (for medical purposes!), and ran the projectors at movie theaters because it was fun.
I dont see the update too. L925

It says I can download it. Don't have enough space though... :/ L640XL movistar Mexico.

It is time to move some apps to SD card as well as offline maps. Final stage of installation on my Telcel L630. I will install it anytime soon my unlocked/international Lumia 1020. Is it already released? "Avisen, avisen"

Spinning gears on mine... (Norway)

20%here cv Netherlands nl930.

I don't get anything on l930 in NL too

Daan got it installed now. Nothing exciting so far, phone is hot though.

Just installed on my 1520 in Aus, can't really report anything until I spend time on it, hopefully more stable than the last... Hoping it doesn't cook the cpu and randomly drain the battery any more as well.... But won't keep my hopes up on those

i am using n720, but when ever i update to win10, i face lag in my device.
i expect that other lumia 720 user are not having such a lag problem
hint me something regarding removal of tge lag problem i have rolled back to 8.1 twice

Same here as I rolled back to wp8.1 as I didn't get Cortana or tap to speak work properly.

Yup it lags. Keyboard response is slow. Cortana works like a heavy game. Messaging & phone app keeps crashing. Start screen is slow (well its from WP8.1). Camera response is pathetic. Can't do anything smoothly. Hope they will will fix soon.

even date and time was not visible after hard reset on home screen

Well i also face these problems, camera is pathetic, start screen is laggy, cortana is dumb and doesnt function for me on mobile, random freeze and list goes on but Hey, thats why we are here as insiders so that these bugs can be squashed before public release. Hoping for better build this time.

My 720 is in a bad condition on the previous build. 512 mb ram rest in peace.

I think you're wrong. Ive got L630 and found no problem with the previous build. And the recent update(.63) on my lumia today shows that the're not giving up on them. :)

Interesting. I haven't gotten on my 640XL (Fast ring) as well. The more interesting is even Gabe Aul haven't said anything about the update.

Downloading it on my 640 and 640XL right now. Oregon USA

Also in Oregon, but not seeing it on my 1520

That's because where you are geographically sitting has nothing to with anything. Updates are based on hardware ID's and their associated regions, generally speaking. You could be on the moon. Doesn't matter.

I guess if you were on the moon and then the only thing that would interest you would be checking for updates. That's when you could call yourself a die hard MS fan.

Updating on my 920, but not on my 520... Edit: Gabe did say he wouldn't do new blog posts about it, so....

Yep... At the "Migrating your data" step on my 920...

That's right. I forgot he said any build announcements would be on twitter.

No, he said they would be in the Insider Hub app. (Which is currently only in the PC build.)

Gabe said he won't do blog posts for CULMUATIVE updates. For big updates they'll do posts. As he mentioned, this is primarily lots of bug fixes and issues that were on a per-device level. :)

Getting update for my Lumia 730 ( India )

Uk Lumia 640xl updating now

I'm downloading now. ATT 635

Can't see it on 950xl unlocked on fast

I see it on mine. 950xl on Fast ring on ATT. But of course its been stuck at 0% for a long time.

Hmm okay. Interesting. Maybe it's just propogation delay. I'll just have to wait. Thanks!

My 550 & 950 are stuck in .29 build, non insider, is that normal?

You can join the insiders

Yes. 10586.29 is the latest officially released build. 10586.36 is the latest for 'Slow Ring' insiders, and 10586.63 is the latest for 'Fast Ring' insiders.

all right, thanks for the info, you know when new "official" updates will be released without beying insider?

It will take a while to get official public builds. Expect everything will be delivered on Redstone update when it comes to new features and some bugfix which is way less frequent for public release but its way more stable (less buggy builds).

you wrong 10586.36 is the latest fast ring - I have it on my Lumia 550

we are speaking about the last "NON-INSIDER" build for those phones.

Nah, .36 was pushed to my non-Insider AT&T 950.

Non-Insider? You sure about that? Cause I thought .29 was the latest official update...?

i don't have the insider app on any of those phones, i'm on .29 just asked if it was normal or not.

This whole article is about a new Fast Ring build. Build 10586.39 is no longer the latest.

i know, i'm just asking why my phones are not getting even the .36 build and acording to chancooluk the .29 is the last available build for NON-INSIDERS

Because .29 is still latest non-insider build. .36 is the latest insider, but today, .63 has arrived but not appered for every insider, probably it will appear tomorrow.

any news about new builds for non insiders?

If you ask "is that normal", I'd suggest you stay with what you have on brand new devices and give insider a miss

Yup it's normal. This update is for Insiders and you can join if you wish to receive beta builds (which can really bug at times) and giving feedbacks. I don't recommend on getting Insider builds even you just wish to get latest builds as they can be buggy, even for Slow Ring. Only expect new W10M public builds for some patches and upcoming Redstone which is expected this year.

I was reading this article and my phone just said "a reboot is required to install updates", nice coincidence. I have a Lumia 640, in case that means something to people.

I wonder if it was released by mistake?

We'll see -- Gabe just said that he was going to fill us in on what was going on soon: https://twitter.com/GabeAul/status/685565960644763648

Interesting, let's see what he's got to tell us.

As always, MS has something new on their sleeves :)

Downloading on my ATT 635 as well.

Not for me also 930 Saudi Arabia

as for now not for Lumia 550 Poland

So you have to have the insider app when you're already on the latest build?

It depends. If you have performed a hard reset after installing an insider build you will not get newer insider builds without first installing the Windows Insider app, and selecting the fast or slow rings. Instead you will only receive public updates.

Israel, Downloading now Lumia 830

Not yet here in Egypt (640 XL)

Samsung ATIV S has been droped-out of Windows 10, so i send you big F microsoft

Not to take Microsoft's side here but don't you think Samsung left the Ativ S(and windows mobile in general) behind?

Preparing to install as we speak...950XL/UK/O2

Slightly off topic, but would there be any (well, there's always that chance) possibility of a boot loop if upgrading from 8.1 to this (or a slow ring) build? L640

Probably not. The latest slow ring build (10586.36) is pretty stable, and the vast majority of people upgrading to it have had no issues.

"... and the vast majority of people upgrading to it have had no issues." You had to be in coma not seeing all those reports regarding many bugs and issues with .36, take just a few examples: - several restarts a day, - wi-fi disconnecting all the time or not even possible to turn on (BT is no better), - battery drain even w/o any apps in background on screen off, - problems when changing portrait to landscape or opposite (in particular while writing text) Shall I carry on? L1020

Have 2 640's and an xl on insider. No issues. If you aren't sure stay where you are for now.

Got it on 930 in UK. No problems installing / migrating.

Wife getting it on 640 now. UK

Downloading on L950 now. Three Ireland

updating on at&t 950 now.

Could you please let us know what the Firmware (not OS or Build) version number is after the update?

Perhaps they got so excited they need to change their pants?

I'll wait for it to go to Slow Ring (if it does). I hope it brings some battery life improvements and fixes some of the more annoying bugs I've been seeing.

Battery life good here on various devices. No lock ups / crashes since .29

Not showing on my 640..fast ring.

Not on my 920. Off topic. I'm looking for a replacement of my yellow 920. Thinking about a 950, but not convinced by the looks and reviews I read. Can anyone help me I just want a step forward design and hardware wise.

Hey man - although i don't have the 950 (i have the 950xl), i did upgrade from 920/1020 and I can tell you it is well worth it. Despite what internet bloggers have said about the build "quality" the phone actually feels excellent in the hand. the screen is best in class (even better on 950) and with each update to windows 10, the battery keeps going further and further past a full days usage. If you're okay with the fact that windows 10 is still not complete (based on the fact that you're like me and are rocking outdated phones), you should not hesistate to pick one up. -- side note -- for the first time i really understood what it means to have a high-end phone the other day -- after having used the 1020 and 920 on windows 8.1 and 10 for years, i dealt with lag non stop. the other day, i was at the post office and needed to provide the postman some information to fullfill my order. in the past, it would have honestly taken me a minute or two to hop into ebays app and get the information. with my 950 xl i had it in less than 10 seconds. it felt pretty great...maybe you can relate to that and maybe that will help your decision.

Damn. Don't know about Peter Lodder, but you have surely convinced me to go and get a 950, haha thanks!

My 950 doesn't suffer from any issues, and the leather Mozo case spices up the look.

I went for the 950xl from 1520. Really satisfied with everything to be honest. Was a bit worried about decreasing my screen size since I'm more interested in a 7"-ish device.

Not available on my Lumia 830. From Azerbaijan.

Installed on 930 in Brazil.

Followed immediately by a second, named "Additional Language Updates"

Nothing here for me for now... L930 Brazil

Downloading on L930 fast ring here in Nigeria

Mine is pulling it down now. Unlocked Lumia 830 on Telstra in Australia.

That was out of nowhere. Hopefully this isn't an accidental release.

Getting update for my lumia520 ..from Oman

Just installed on my SIM free 950 in the UK, now for the fun bit, to see what the heck is new :)

Yes I'm getting the update

Not available on L930 Fast Ring in Spain

Anyone getting it on the L1520?

Not I... L1520 California

My ATT Lumia 1520 on cricket just got it.

Nothing yet on my NL 925 & HTC One M8 .. Jamaica

Sites on internet say that this build will be the upgrade for windows 8.1 users.

No update on my 950xl ATT unlocked dual sim

Updating now In the UK on a Vodafone Lumia 535

My L820 that I use for Insider Fast is downloading .63 now. I'm in Sweden.

I'll be slow boating it from now on, ok my main device anyway. I have my other test phones ready for it

Not yet in Canada for my 1020

At least not for Lumia 525 here in India

5 times reflash back into window phone 8.1..because window 10 mobile still lag but have improved.. I will stay on wp8.1 and will install the final w10m with no lagging. Maybe 5 month after launching the w10m xD

If only you had a 920.. :p

Daniel oes this have the new firmware update in it?

Not yet available on my 640 in India

LOL...its funny how MS operates sometimes...

Nothing here for me... California
L920 (AT&T); L1520 (AT&T); L640 (AT&T)

This appears to have fixed whatever was stopping Cortana. After the .63 update, I received an "Additional Language Update", and now Cortana is working. With .36, speech updates were failing to download. Although I am in Brazil, my phone's language is English, and the region is US.

I'm seeing it available for my AT&T 950

Not available for 930 hong Kong..

No Update in Germany on 640XL

Got on my htc m8 what's new though lol

No show from isle of man on 950 xl

On a side note Lumia 950xl single sim on discount on expansys usa http://www.expansys-usa.com/microsoft-lumia-950-xl-rm-1085-unlocked-32gb...

Don't see it on my 950XL dual SIM in NYC USA... No idea why

Someone let me know how it'll run on the 1520.

How big is the L930 download?

i dont know what i want more, the firmware update or this new insider update...

I probably want the firmware update more to resolve the random reboots from having an SD card... But I took the .63 update anyhow... Hopefully early next week they can get the firmware pushed to the Insider server so I don't have to hard reset again.

Not on my Lumia 640 on NYC.

I'm downloading now. ATT Lumia 950 in US

Technical Preview not interested for mi and my Lumia 950! Only original end Official Update!

It would be helpful if people listed their countries when they say whether it's available on their device.

Nothing here in Michigan - Lumia Icon

Mine is saying up to date 1520

AT&T 830, on .36... downloading.63

No love for the 830 in Canada yet

Not receiving 1520 from Africa Nigeria

Got Update For Lumia 730 ( India )
Nothing New..
May Be Few Bug Fixes..
.
One Thing Fixed I'm Seeing Is..
.
People Who Were Unable To Download
" Additional Keyboard Language " On 10586.36 ,
Can Download It Now..

I recieved the update. I am on ATT with the 950. I can't update at the moment becauseI am below 40% battery. But it did download build 10.0.10586.63 and awaiting a restart. I am in US (Seattle).

Is it an AT&T branded phone or unlocked? Its not showing on my AT&T 950...

yup, installed on Lumia 1020 CV

No updates for my Lumia 550 UK (CV-GB)

No show of any upgrade to w10m from blu win hd lte ... Hurry up Microsoft, you were supposed to be showing oems the same love you give lumias

Showing up on my L950XL here in New Zealand!

Updating now on my 1520 in Canada... he said from his stupid Android phone... lol Posted via the Windows Central App for Android

Downloading now for the 928

.36 work for my 640 here in Romania/Bucharest.....seems faster.....i will see in the next few days

No show yet on my 950xl UK unlocked fast ring, with latest firmware.

Not sure what this update does to those that updated their firmware for the 950 XL and wasn't able to get the Insider OS .36. Does this OS .63 leapfrog .36 and does .63 have what it takes to play nice with the newest firmware?

Well darn!!!! Installed update and now my 640 say can't connect to voicemail. Grrr!!!! I'm on AT&T

Nothing on L930 in UK on EE

Gabe just tweeted that there was a bug, they stopped the rollout. That's why some found them. Now they are resuming

If you're following Gabe let him know my 640 now shows "can't connect" at the top left in voicemail. Grrrr!!!!

Make sure your Cellular data is turned on, as seen in the Action Center

Downloading now, unlocked UK 950xl...

Okay, I have got the update...

Downloading now... UK, but French dual sim :D

950 Dual SIM unlocked, US on ATT. Update downloaded, prepared, restarted, failed. Still on 0.36. Now update is not found. Did not get firmware. Message appeared after restart saying something went wrong and if I have problems I should hard reset my phone. Ugh.

Funny, my HTC 8X was pushed an update to 8.1 to fix "rebooting issues after updating", an issue plaguing the device when MS accidently pushed the W10 update to the device, at the same time the Windows 10 Mobile preview was released. I wonder if they really are planning on updating the 8X afterall. Here's hoping :) (I know about the document that leaked saying it wouldn't be, I'm just really hoping I can keep my 8X because I love it too much)

If you not receive notification for this newest build, download Windows insider apps and check from there

Downloading to my 930 Tim Italy in Greece ...

Not yet on my 1520.3 in Guatemala.

Started downloading now. Contento.

The update wasn't available 10 mins ago before this post but I just tried again and it was available for my Icon

Just installed it on my 950xl, looking for changes, in the UK

The phone is getting rather hot since the update, im just looking at emails

Downloading it on my 1020. France SFR

Just finished installing, now updating all my apps! 920 in UK.

So far, my screen doesn't cut off while using apps

Re-starting... fingers crossed !!!

Splash screen for a long while... now to 'Almost Done'

950xl unlocked/Canada... Downloading now. Hope it fixes the international keyboard that won't download for Canada and the endless amount of ' you have reached your data limit' warnings

Start downloading on 950XL in Germany...

Downloading now. AUK single sim lumia 950 xl

downloading it now L950 XL. Italy

we need a firmware update for L950 XL. quit using it since the last update.

Let's hope I dont have to hard reset AGAIN (did that last build with no restore)...Downloading now on my ICON...

Based on some of these comments, I'll pass on this update

Yay !!! This build has fixed download of UK English, Cortana now working on 950xl dual

I'm seeing it on my AT&T Lumia 950, Lumia 930, and AT&T Lumia 635. Downloading now.

My AT&T Lumia 950 sees the update, but doesn't seem interested in downloading it (stuck at 0%).

Well - it must have downloaded when I wasn't looking. Restarting now.

Installed this morning on my 830 in New Zealand.

skype on my 930 still takes close to 25 seconds to load. Still no windows gestures but everything else seems fin, will be a couplke of days before i can comment on battery. Heres hoping.

I can see the update on my Lumia 730 duel sim

updated with no issues on my unlocked lumia 1520! buttery smooth operation! haven't seen any issues! there was even an update for groove music! man i can't believe that this 1520, which is basicly a 2 yr old device, is so amazing! it can run circles around any of the devices that were released this year!

Installing on Lumnia 950 and 920 now in the Netherlands

Uk. 950xl. Installing now.

Working on it now myself... Curious to know if some issues have been resolved. Lumia 640XL US here. Issues before were: Bluetooth voice calls sometimes were awkward and would cut out on different headsets, I would see a text notification and click it and get resuming.... and wouldn't go to the text and I would have to hit the home button and work my way back to the text message, etc. We'll see how it goes!

Ready to install on my Lumia 1020 with movistar argentina

no update still. L830 Phil.

Hello, I´m new to Lumia devices and WP, the Lumia 640 LTE is my first experience with Lumia phones. I have purchased it from eBay with WP 10 preview already installed, and now I´ve updated to 10586.63. I quite like the interface, but still there are things I miss compared to android, such as Data Counter widget in notification area. The stock data usage control is pretty basic and buggy as well, sometimes it shows incorrect values. More things that do not work correctly: I get white triangle next to GSM signal bars few times a day, and consequently lose connectivity and phone function turns inoperative, I have to switch it off (turn on flight mode or restart the phone) and then on again and it works. I cant connect the phone to the computer on Windows 7, the device wont be recognized and therefore Windows would not even attempt to load drivers. I like the Edge browser but I miss two things that for me are a must in a good browser: page saving for offline reading and disable image loading option. Luckily I found some alkternative browsers which do have at least one of these functions, Maxthon for saving bandwidth. Also I would like the WP to be more personalizable. And my biggest dissapointment is the FM radio´s poor reception, I had many phones before, and all of them were better in this, that was Nokia, Samsung and LG to name a few brands, and even the most basic and now antique phones received FM better that this modern 640. I believe has to do with the hardware so I am afraid it wont be improved with the upcoming WP10 official update. Anyway, not bad, runs pretty smooth, the apps I found in the store are OK, looking forward to the full WP10. Regards.
Windows Central Newsletter
Thank you for signing up to Windows Central. You will receive a verification email shortly.
There was a problem. Please refresh the page and try again.