Windows 10 PC preview build 14251 now available for the Insider Fast ring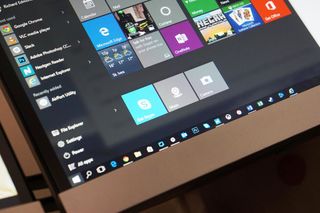 Microsoft has released a new preview build of Windows 10, Build 14251 for PCs to members of the Windows Insider Fast ring. Aside from the big jump in versions numbers, Microsoft notes that this build doesn't contain any notable new features.
Microsoft did note that the following bugs have been fixed:
We fixed the issue where some PC games would crash switching from windowed mode to full screen, upon game resolution change, or upon launch due to a bug in Windows graphics stack. So play your games! If you run into any issues – please let us know by reporting in the Feedback app and include the game title.
We fixed the issue where applications such as Narrator, Magnifier, and third-party assistive technologies may experience intermittent issues or crashes.
We fixed an issue where File Explorer would crash frequently when DPI settings were at 175%.
On the topic of the build number jump, Microsoft says:
Source: Microsoft
Windows Central Newsletter
Get the best of Windows Central in in your inbox, every day!
He also quoted that a mobile build also coming pretty soon

Nothing but good news today...

Wishlist for Redstone: 1.) Ability to sync your Start Menu / Start Screen layout across ALL your Windows 10 devices, including your Windows 10 Mobile tiles on desktop 2.) Sync notification center across desktop and mobile, notify me when Store apps have been updated 3.) Sync the Spotlight / lock screen / login screen background with the desktop background 4.) A "dark theme / light theme" universal "switch" in the action center that will switch ALL apps between dark mode / light mode (or ability to set to switch automatically depending on time of day) 5.) Modern, touch-friendly "universal app" (XAML) file explorer supporting drag-and-drop for desktop and tablets 6.) Locate all the user's personal folders, e.g. Documents, Music, Desktop, Favorites, etc., in the user's OneDrive folder by default, so common user's personal files will sync to OneDrive automatically. 7.) Bring transparent Swype ("Word Flow") keyboard from Windows 10 Mobile to desktop -- a truly universal Swype keyboard for phones & tablet mode 8.) Easier way to switch between Start Menu and Start Screen without having to enter tablet mode - bring back that convenient "expand start menu full screen" button 9.) Universal camera app needs a QR scanner 10.) OneDrive/Photos app should support facial recognition and tag friends automatically 11.) Ability to control Groove Music on PC by using your Windows Phone as a remote 12.) Integrate Skype with OneNote to support "whiteboard teaching" - also Skype and Remote Desktop for troubleshooting friends PC problems 13.) Ability to send and receive SMS messages from desktop messaging app 14.) Use my W10 Mobile phone to dial & answer calls on Windows 10 desktop 15.) Sync voicemails across devices (PC & mobile) and implement ability to play and save voicemails on desktop (similar to ISeeVM + Youmail)

On 8) you can switch to windows 8.1 style start screen windows 10 without switching to tablet mode. Look under personalize - start menu in settings.

Ms hire this man.
I agree with all of your suggestions.

Don't forget the OneDrive placeholders. Posted via my HTC One M7

OneDrive supports facial recognition. WC posted an article about it yesterday.

It supports facial recognition for logging into the app, as a privacy feature. It DOESN'T recognize faces within pictures and tag them.

Wouldn't 6 just completely populate your OneDrive when you add new machines? I mean, I have a set of folders that I use across my devices and that's it...folders in my default storage on each is strictly for system use. The less I have to manage, the better. Security is key though =[

Number 1 would be more trouble than it's worth. If the app is mobile-only or desktop-only so much for your syncing. Although I would like to see it, it's just not feasible.

On 8 we were able to control music...don't know what happened

And I'm still here waiting for the next preview build on Windows 10 mobile...

Is that all you're doing, you don't have a job? lol ;p

Waiting for my university applications after GCE ;)

The Windows Insider program for Windows 10 Mobile is changing. No longer will any enrolled device get the insider builds at the same time when available....going forward, the Lumia 550, 950 and 950 XL will get insider builds first followed by the other supported devices at some other time. Even though I own the 950/950XL, this seems like a bad move or at least a POORLY communicated move. Microsoft seems to always communicate changes so poorly that it is frustrating. We need more details as to why the change has been made other than hey, our 3 new phones get insider builds first, the rest of our fans have to wait...or buy one of our new phones to go to the front of the insider line. #WindowsInsiderFragmentation https://twitter.com/Mkeallison/status/692407594607058944 I won't jump to a definite conclusion but the lack of details beyond just stating the change seems unfair to all of the Insiders who have helped get Windows 10 Mobile to where it is today. Great job adding more "Coming Soon" to the Insider program. Now I can show my friends the updates on my phone and tell them they have to wait to update their phone in the insider program.

It is also smart. They are effectively handicapping the program and to a greater extent controlling the insider program a bit more so every person withe every phone isn't complaining. They can target specific devices and then work from there.

it's more like "1st, support the latest devices, and then legacy devices." Current devices still being sold make money for MS, Legacy devices don't. At least older devices are still being supported, unlike the other 2 mobile OS' that just support 1-2 generations back. What other 920 era device on android is still getting manufacturer support?? At least most older lumias are still getting supported, what's a delay matter anyways? You should buy a device for what is supports at that time, not what "could" be available 2-3 years out.

Great theory, here is mine. MS sold Windows to the masses early last year as the last OS, it is now a service which will just get feature enhancements and bug fixes along the way. Features continue to be delayed as every build, or public update release, is all about bug fixes. It seems to me that Microsoft has to deal with so many bugs between desktop and mobile that they don't have time for anything else, so they are trimming where they can to have resources to address them. I like Windows 10 both the look and idea of it, but there are so many small annoyances that collectively to me add up to a poor experience. Add to that the delayed features to not only the OS but apps on general it gets disappointing how long we're going to have to wait.

I find I have the same problem sometimes...I don't mean to be vague but I feel like people should be smart enough to get my meaning with the information I have provided. Of course I understand it is a flawed way of thinking but honestly, everyone just wants to be spoonfed everything sometimes.. =\

Wowww that's a pretty big leap too! Now.. About mobile builds... :/

Fast Forward...2018 is fast approaching and time waits for no one. ;)

A large build number means that they've been busy with new Redstone mobile builds. That makes me a lot happier

Get to it, unpaid beta testers! :)

What's this Redstone all about??

It's a missprint. They meant 'headstone' as Windows 10 mobile is dead

*rme* yeah...and you're next =\

Good stuff! Keep 'm coming!

Thank god it's out. The latest previous build caused blue screen of death and an infinite reboot loop on my laptop. I had to revert back to previous build. Hope this build fixes it.

Best of luck, I have to wait until after work...I really don't want to have to use my workstation, it's still on 7 =\

Anyone else's install freeze at 32% ? I had to roll back to previous build...

Developer tools for IE and Edge not working. Actually seems slower.

Fallout 4 still locked up on me after switching back to full screen mode. Going back to windowed mode, borderless and it launches fine. Feedback.
Windows Central Newsletter
Thank you for signing up to Windows Central. You will receive a verification email shortly.
There was a problem. Please refresh the page and try again.