Adobe XD design app for Windows 10 to launch first beta by end of 2016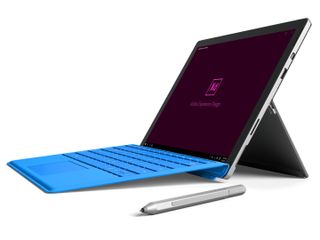 Adobe has announced it will launch a Windows 10 UWP (Universal Windows Platform) version of its Adobe XD design app. The first public beta is slated for release by the end of 2016.
Adobe XD was first released for the Mac earlier this year. In a blog post (opens in new tab), the company stated:
The Windows 10 UWP version will also have some differences compared to the current Mac version:
Adobe added that the first public beta of Adobe XD for Windows 10 won't have all of the features of the Mac version at first:
If developers want to check out a pre-release version of the app, they can sign up to get access at Adobe's website.
Windows Central Newsletter
Get the best of Windows Central in in your inbox, every day!
Nice, can't wait to give it a go on my Surface Book!

Such a big company believing in the UWP is a great boost for Microsoft ....the rest should follow and I hope google break their arrogant attifude and accept this platform or else they will look so shameful if the UWP become a mainstream in the market

I'm waiting for Adobe to release their mobile apps onto WM. This announcment helps.

Me too, Lightroom and PS CC please :D

in your dreams will full suite of Lightroom and Photoshop come to phones. Yes maybe if it is Continuum-enabled but not just for phone use.

Yes very true... but an app of some description that we can use that intergrate into them, if it can be done for iOS/Mac OS it should be on Win10 UWP, we are after all the largest userbase desktop/mobile/tablet combined

Now THIS is what I wanted to see on the Surface. I'm pretty stoked about this.

Feature parity coming soon! Hopefully this will jumpstart UWP adoption, lord knows MS needs it.

Woah, this is great news. Finally a major app will be released as UWP app.

Hasn't there been a few already? :)

But this is Adobe we are talking about. This can be a start for powerful UWP apps like this one. I hope to see Photoshop in Windows Store one day.

Don't worry 'powerful UWP apps' are already flooding the store. We already saw Kodi yesterday

Hopefully the future where I won't have the "clutter" of w32 apps won't be far off

Filled in the form, really want to try this out - Intrigued to see if it's a ground up UWP store app, or a desktop app that's got the wrapper around it to be in the store and will be built upon.

That wrapper really is the best hope for UWP. I imagine companies will use it to take advantage of easy update distribution and whatnot initially, but they slowly will start to add UWP elements in and before they know it they've moved away from legacy code and are all in on UWP

Yes, would love to see this happen. I think it's a great route into UWP, also think UWP itself is good for new projects but will vary on a case by case basis.

From the ground up UWP, not a wrapper.

Very nice. I'm hoping to get into the early preview soon - Sometimes I just use powerpoint for things like wireframes, early examples etc. Sometimes something as simple as OneNote shape recognition but they aren't always ideal. We should see thinks like the ruler etc. in there from the Ink Toolbar too

Remember this vaporware video about the future of Creative Cloud on Surface? https://m.youtube.com/watch?v=PlLR9ANGsOo
I'm glad to see XD appearing on Windows but I won't hold my breath for any of the mobile apps appearing on W10M, I work in the creative industries and it's a drag to not have them on my OS of choice.

i'm asking if they are talk of actual uwp or centennial exe

It's actual UWP, they're building the app from the ground up.

Adobe Photoshop uwp please! So that I can use it with continuum and be productive everywhere!

I would even settle for a lite version of Photoshop on Contiuum. It would be so useful!

Hope for other new uwp over 9000!

niceeeee!! now lets get the whole suite as a UWP!!

no feature parity, but always the promise of feature parity ... same s***, different day
Windows Central Newsletter
Thank you for signing up to Windows Central. You will receive a verification email shortly.
There was a problem. Please refresh the page and try again.