Windows 10's PC worldwide market share rose to nearly 23% in August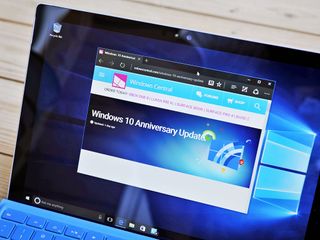 Windows 10 was used by 22.99% of all PCs worldwide in August 2016, according to the latest data from Net Applications. That's yet another big month-to-month increase compared to 21.13% in July, June's 19.14% and May's 18.43% share for the OS.
This large market share rise for Windows 10 comes even as Microsoft's free upgrade offer for Windows 7 and 8.1 PC owners officially ended in late July, although the free offer is still available for PC owners who use assistive technologies.
The new PC OS market share numbers showed Windows 7 staying in first place with 47.25% in August, which is actually up slightly from 47.01% in July. Windows 10 is in second place, and Windows XP, which Microsoft no longer supports, still remains in third place with 9.36% in August, down from 10.34% in July.
Windows 8.1 is in fourth place with 7.92% in August, up slightly from 7.80% in July. Windows 8, which Microsoft also no longer supports, had a PC OS share of 1.82% in August, down from 2.09% in July.
Windows Central Newsletter
Get the best of Windows Central in your inbox, every day!
Breakup of new devices numbers please

Lol, where are the people that said growth would stop after the free upgrade ended?

I've heard that alot too, proves them wrong ;)

Not to be a nay-sayer, but these numbers represent the last of the free upgrades. If there'll be a drop due to the offer ending, it'll be next month. For instance, we can see a slight rise in Win7 numbers, likely coming from rollbacks after upgrading. I'm expecting to see more modest (but still increasing) numbers for the next while.

The increase in Windows 7 is so small that it can easily be explained through statistical inaccuracy. After all, NetMarketshare's sample size is actually relatively small.

How do you explain the increase in Win 8.1 then? Rollbacks??

I rolled one of my PCs back to Win8.1, so maybe.

I'm at a giant corporate that just upgraded thousands of devices from XP to 7. Seriously, stop guessing what's happening based on these numbers.

Ppl would have commented differently if the article didn't duly note month to month increase in numbers except August's 23%. Ppl can find holes anywhere, this doesn't stop them from pointing out on something and explaining their (obscure) view in just 1 or 2 lines although this article plain-stakingly proves steady increase in the growth of Windows 10 altogether.

I'm sure the loophole had something to do with that but I'll take it :)

Too funny (also a bit scary) to see Windows XP higher than 8/8.1... The rise of Windows 10 is a good thing as it will hopefully attract more devs to create uwp apps also fit for mobile. Keep it going!

I wonder if there's anything older than XP still going?

Well, at school we still have an ancient laptop running Windows 3.11 for Workgroups :) Still boots but suppose that won't find its way to the stats :) (and no, it's not being used anymore :) )

Windows 8 was a total disaster for Microsoft.

Well some version had to beat Windows Me ;-)
I personally had little problems with 8/8.1...

Windows 8 was a stable and rock sollid version of Windows (at least under the hood), it where the UI changes that got people's panties in a twist ;) Windows ME though was one crazy buggy piece of ****! Posted via the Windows Central App for Android

ME = windows 10. Win 8 was awesome. Solid, smooth, future proof. If idiots that had it just hit desktop....it was pretty well a carbon copy of windows 7 where you could put all your software on the desktop etc....People want to be spoonfed everything. So much so we have this abomination in front of us now called windows 10. Pure messed up trash!

too bad you think that way... I personally find Windows 10 the best Windows ever so far and I'm using Windows since 95.

I agree. 10 is what 8 should have been. It's the perfect blend between old and new. If they only could have given 8 the UI of 10, I think then Windows would have been far more capable of widstanding Android's dominance in mobile! Posted via the Windows Central App for Android

I got all nostalgic when I saw XP there.

On the other hand, mobile continues to...

...stagnate for now, with a possible small growth when Elite x3 will roll out to all markets

hard to believe with that price...

I don't think you will see the HP phone on the street either, I do think you'll see police, fire, hosiptals, bank and point of sale machines in small stores may use them too. I think the selling point of the device is the periphrial connector and companion devices that will go along with it. I think that was a big part of HP's pitch when they announced the device. Now that being said, I don;t know of any companion devices yet announced but I assume they have been working with people/companies on that....

Does the reported data distinguish between enterprise vs. retail/consumer?

The real question is; should it?

I still have a laptop running XP. Firefox still supports it.

The Windows 10 update destroyed 2 of my Windows 8 tablet/hybrids (no warning they were incompatible), so I guess also good news for PC manufactures as I'm in the market for new tablet PCs. My tablets had the 2012 Atom z2700 processor which Intel decided not to support, but MS decided they would pretend these devices could run Windows 10.

Why isn't MS-DOS in the list?