Windows 10X's quick settings made me fall in love with Microsoft's new version of Windows
By Sean Endicott last updated
I'm enamored with Windows 10X, and it took seeing just one feature to do it.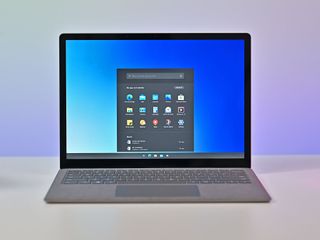 (Image credit: Daniel Rubino / Windows Central)
Like many of you, I jumped at the chance to see our executive editor Zac Bowden go hands-on with Windows 10X. We've seen screenshots and snippets of Windows 10X and even had an emulator to play with, but this latest video shows it off in 60FPS glory.
While I love the look of Windows 10X as a whole, one feature stuck out to me, its new flyout menus. Microsoft moved many of the system tray shortcuts into the quick actions menu. Not only do these look great, but they improve the functionality of the quick actions menu and make it much easier to control aspects of your PC.
Bowden actually showed off the Action Center on Windows 10X almost a year ago but seeing it in this latest video just got me excited.
It's just gorgeous
Maybe it's weird to think an operating system is gorgeous, but it is what it is. Like many people with desk jobs, I look at a screen running Windows 10 all day. I also study apps and elements of Windows 10 as part of my job, so inconsistencies and weird design choices bug me. The improved quick actions menu on Windows 10X and the flyouts within it just look great.
They don't look like a combination of elements spanning across the greatest hits of Windows. They were built fresh, and it shows. When you use Windows 10, it clearly isn't as new and fresh as an OS like iPadOS. From what we've seen from Windows 10X so far, that gap seems to have sizably shrunk.
Not just about looks
If you jump to the 3-minute mark of the video, you'll see the new quick actions menu in, well, action. The system tray controls for some important items have jumped into the action center, and Microsoft added flyouts to easily control the device.
To me, this new feature is what Windows 10X is all about. It looks great. It fits the new design language Microsoft is shooting for. And most importantly, it actually adds something to the device. While I like that Microsoft has finally updated the volume control UI, a leftover element that I believe is from Windows 8, it still works. It just looks bad while doing it.
The updated quick actions menu improves the functionality of the device. While you can control some elements of Windows 10 directly from the system tray, a lot of the time, clicking on things jumps you over to the Settings app. This works, but it takes extra time. Also, it doesn't feel very modern, at least not to me. When you have to jump through multiple menus and go to a separate app to actually perform a task, it feels like the feature is an afterthought.
It's worth pointing out that Windows 10 lets you change some things directly from the system tray, such as selecting a Wi-Fi network, but the interface on Windows 10X adds more options.
A new type of Windows
I can honestly say I haven't been this excited about Windows in years. Microsoft has a vision for a modern Windows, and it appears that Windows 10X is checking the boxes. I can't wait to get my hands on it, and I can't wait to see how it develops in the future.
Sean Endicott is the news writer for Windows Central. If it runs Windows, is made by Microsoft, or has anything to do with either, he's on it. Sean's been with Windows Central since 2017 and is also our resident app expert. If you have a news tip or an app to review, hit him up at sean.endicott@futurenet.com.
I like where they are going with everything.
I miss this modern feeling and finally it's coming i also hope thay will make it for smaller screens so we maybe can get it to phone to. But what about all the apps will they also get a modern face lift? But what I can find that it's going to be available for casual users in 2022 is bad.

Very nice. I expect they will implement it also in Windows 10

Windows 10 with a gesture layer, taskbar icons at the center and the new action center would be a very good improvement

Yes, I'm really curious about that gesture layer too. W10 was always a mess in terms of touch gestures, a big step back from (otherwise regrettable) W8.

The little things Sean is pointing out really are nice for anyone living in Windows all day - which is a ridiculous number of people. Actually it's more than nice. A sloppy UI can feel like a long series of micro aggressions, especially after a long day of work. This is where I think Apple really does better than anyone else and where it's good for other companies to follow their lead. It reminds me of the time Google started to get serious about refining and speeding up the animations in Android. But it's probably more important here on Windows than on Android. The tasks are more complex, and people literally spend 8-10 hours a day in Windows.

I like it but have some questions, can you azure or domain join the OS, and does it support windows Hello, and can you have more than one user account
one more, PLEASE bring this to SURFACE HUB 2S

Looks like ****. If that stupid start is a little dialogue box in the middle of the screen. It might as well detach from taskbar and become Windows 3.1 program manager again. At this point what is the point of the taskbar? You don't need it to see what apps are running.

I really hope they don't bring this to Windows 10. With the icons in the system tray it would be redundant, without them it just feels like more steps. And clicking in this doesn't even show the calendar :(

I hope the tiles stay. I still use tablet mode.

that new action center looks beautiful, I really hope they stick with it for sun valley

I hope it stays in 10x. Just when everyone got used to the current action center, change it all again? Its a complete rip off of Deepin and Budgie side menu.

Like Windows 8.x but without Live Tiles. (No Live Tiles, no deal. ) On the other hand ... is there support for phone?
Windows Central Newsletter
Get the best of Windows Central in in your inbox, every day!
Thank you for signing up to Windows Central. You will receive a verification email shortly.
There was a problem. Please refresh the page and try again.