Windows 11: This is the new 'Widgets' panel with news, weather, and more
Microsoft has a new "Widgets" feature coming in Windows 11. Let's check it out.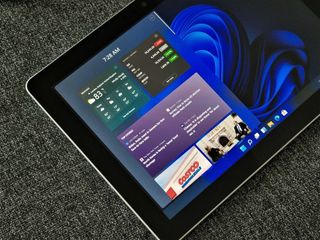 (Image credit: Windows Central)
What you need to know
Windows 11 features a new Widgets panel that slides out from the left.
It houses the same News & Interests content as found on Windows 10.
Unfortunately, it's not very customizable. At least not yet.
Microsoft's new Windows 11 OS features a brand new "Widgets" panel that's pinned to the Taskbar by default. This Widgets panel is essentially just the Windows 10 "News & Interests" taskbar flyout, but housed in a slightly different UI. It connects to the same MSN service, and offers the same news, weather, sports, and finance updates.
The Widget panel can be accessed either via the dedicated Widget button on the Taskbar, via a swipe in from the left of the display, or via the keyboard shortcut Win+W. The panel sits on the left, and cannot be moved around or resized. Along the top of the panel is the current time, along with a drop down menu for customizing what kind of topics and interests show up inside the panel.
Beneath that is your grid of interests, spanning from the latest news to sports leaderboards. All of this information can be customized and tuned to your liking via the MSN website. Frustratingly, none of the boxes can be moved around or rearranged, and clicking on anything will open in Microsoft Edge, even if your browser default isn't the Edge browser.
Since this is still pre-release software, we're not going to judge its quality or feature set. That said, having everything open in the web browser and now directly inside the Widgets panel is incredibly frustrating, and I hope Microsoft is able to improve this so clicking on things like "see full forecast" just expands the widget so I can see more, instead of taking me out of the panel entirely.
Image 1 of 4
Unfortunately, the most useful part of the old News & Interests feature on Windows 10 is gone on Windows 11. The ability to see the current Weather directly on the Taskbar was nice, but that heads-up display has been replaced with an animated Widgets logo which doesn't display any Weather information at all. Too bad.
It also doesn't look like this Widgets panel is developer accessible, meaning it's only for Microsoft's MSN service and not for third-party developers to build their own Widgets. Finally, it bizarrely requires you to be signed in with a Microsoft Account for any of it to function. If you're not, you'll just get an error asking you to sign-in. I also find it interesting that in this error, the Widgets panel calls itself the "Windows Dashboard."
Microsoft really needs to build this feature out more if it wants anyone to properly use it, as right now, it's a glorified MSN.com viewer, and I don't think there's much of a market for that. What are your thoughts on the new Widgets panel? Let us know in the comments.
Get the Windows Central Newsletter
All the latest news, reviews, and guides for Windows and Xbox diehards.