Windows 8.1 finally dethrones Windows XP as the second most used desktop PC OS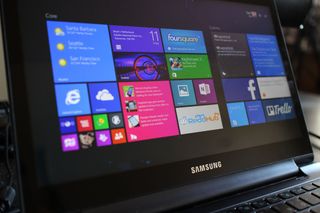 It's taken several years, but finally Windows XP, which launched in October 2001, has finally lost its second place position in the desktop PC market share to another operating system. The research firm Net Applications has posted its desktop OS market share numbers for June 2015, and it shows Windows 8.1 taking over that second place spot from Windows XP for the first time.
Net Applications, which collects its data by monitoring PC access to thousands of websites, says that in June, Windows 8.1 had 13.12% of the desktop PC OS market share worldwide. That's actually a jump compared to its 12.88% share in May. However, it was Windows XP, which is no longer supported by Microsoft, which saw a huge decrease, going down to 11.98% in June, well below its 14.60% share in May.
Windows 8.1 will have to settle for second place as it will likely never reach the number one slot. That's due to Windows 7 and its commanding market share of 60.98% in June, well above its 57.76% share in May. The older version of Windows 8 claimed 2.90% in June, a drop from its 3.57% share in May. Windows Vista had just a 1.62% share in June, below its 2.01% market share in May.
Windows 10 will likely dethrone Windows 8.1 as the second most used desktop OS in the near future, as Microsoft is allowing Windows 7 and 8.1 users to upgrade to the OS for free. It officially launches on July 29 but in June it only held a 0.16% share of the PC desktop market.
Source: Net Applications
Get the Windows Central Newsletter
All the latest news, reviews, and guides for Windows and Xbox diehards.