Windows 8.1 finally dethrones Windows XP as the second most used desktop PC OS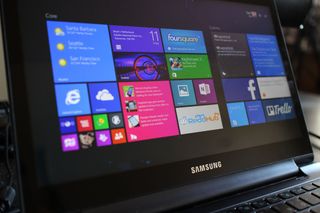 It's taken several years, but finally Windows XP, which launched in October 2001, has finally lost its second place position in the desktop PC market share to another operating system. The research firm Net Applications has posted its desktop OS market share numbers for June 2015, and it shows Windows 8.1 taking over that second place spot from Windows XP for the first time.
Net Applications, which collects its data by monitoring PC access to thousands of websites, says that in June, Windows 8.1 had 13.12% of the desktop PC OS market share worldwide. That's actually a jump compared to its 12.88% share in May. However, it was Windows XP, which is no longer supported by Microsoft, which saw a huge decrease, going down to 11.98% in June, well below its 14.60% share in May.
Windows 8.1 will have to settle for second place as it will likely never reach the number one slot. That's due to Windows 7 and its commanding market share of 60.98% in June, well above its 57.76% share in May. The older version of Windows 8 claimed 2.90% in June, a drop from its 3.57% share in May. Windows Vista had just a 1.62% share in June, below its 2.01% market share in May.
Windows 10 will likely dethrone Windows 8.1 as the second most used desktop OS in the near future, as Microsoft is allowing Windows 7 and 8.1 users to upgrade to the OS for free. It officially launches on July 29 but in June it only held a 0.16% share of the PC desktop market.
Source: Net Applications
Windows 10 might be at 20-30% by the end of this year.

i hope so but i seriously doubt it, there are people who believe XP is better even from 7 its very hard to change their minds

No they are mostly running on government machines, which have to be used daily and XP is sufficient for their work. So, they never felt the need to upgrade or change to another OS.

Not true. Many people in enterprise only reluctantly moved off of XP. Had Microsoft not ended support for XP (except at a high cost), many enterprises would still be on XP.

Reluctant because it's a ton of work to upgrade and validate everything, not because they thought XP was better.

I think only issue with people is compatibility of older softwares on latest OS. I hate windows 8 only because it can't run my most favourite hitman 2 : Silent Assassin. Otherwise its beautiful OS.

Shouldn't be an issue in most cases... Just right click the game or app that doesn't work, click "Troubleshoot compatibility" and emulate XP or 7 with it or whatever you like, works for me most of the time. :)

Better run in XP Service Pack 2.

That and small businesses that use hardware that only has driver available for windows XP such as printers, scanners, etc.

Which OS version reached the highest OS market share ever? I'm assuming it was XP. Does anyone know how high it reached/peaked?

I guess that would be the first OS that was availble, with 100% market share

Not necessarily. Mac still existed back then.

The Mac OS is still a small percentage of the market despite its recent surge in popularity. Most people can't afford to pay such high prices when most people only need to be able to read emails, go on social media, and stream Netflix. The hardware is good, but the OS is riddled with security holes.

I don't think he was talking about Windows vs. Mac. He was talking about decades before that when the first computer OS was invented and running on one computer. He is making a joke.

I just checked StatCounter's numbers... but they only go back to 2008. In July 2008, XP reached 78.2%, but that was after Vista had gained 25% market share... so it's entirely possible that XP was higher than 78.2% before Vista's launch.

I think you mistyped something.... you couldn't have XP with 78% and Vista with 25%. Maybe Vista had 15%? I do not think Vista EVER got over 20% market share, I mean Win7 was released only a couple years later. marketshare.hitslink.com has data back to Nov 2007, 10 months after Vista launch. XP was 84% and Vista was 7%. I do not think it would be far fetched to say at one point XP was VERY close to 90%. With MS's current trend of a new OS every 3 years, we will never get to those numbers again. Maybe if in 2020 the latest is Windows 10 SP2, haha.

A better question would be the most concurrently used desktop OS - marketshare can vary; when the Apple II came out and that's all there really was in the market, they likely had a 99% marketshare, but only on a few thousand machines; XP was on hundreds of millions and I think still in the 90 percentile, especially in the pre-tablet/hybrid days

XP was great. It was the OS that ushered in home networking and later added Media Center of which I hope Microsoft continues and developes further though it look like it is being discontinued.

MS has officially stated (about a month ago) that Media Center will not exist in Windows 10. Sad, but true.

That's for sure since genuine Windows 7 users now don't have to pay to upgrade to Windows 10, Windows 10 gives you a store where you can get free games like Project Spark, Disney Infinity 2.0, Star Wars Rebels: Recon Missions to name a few. The entertainment value that Windows 10 adds to Windows 7 is inmense, now that you get Xbox One integration, DirectX12, Music and Video to replace Zune. The only thing missing in Windows 10 is Media Center, but I'm sure that Microsoft can add it in the future on the Pro version of Windows 10 once it gets stability and is adopted on millions of PC's.

I would like to think so, but sadly it just won't happen, because of how Microsoft has been advertising it as "free for a year". Every single person I know over the age of 40 (except for my father, who's in IT) and a decent amount of other people I know as well, all firmly believe that it's a subscription service, and they start having yearly fees to use their own computer if they so much as open the windows 10 app on the taskbar. There's also a huge population of windows 7 users who know nothing about 8.1 or 10, and use justifications like "I like my programs, I don't want to have to start all over with using 'apps' ", or "I'm not buying a touchscreen for my desktop!" as why they will NEVER accept an OS upgrade. Reason will not sway these people, but there made more of them then you'd like to believe. They and their FUD will SEVERELY impact windows 10 adoption rates.

Can you tell me where did these people read in the Internet that Windows 10 will be subscription based? I think this is damaging Windows 10 reputation and IMO Microsoft should remove this FUD from these websites.

It's all over the place, even on here I've seen people get into fights about it. I'm over 40 and battle the FUD all the time. :) People have heard Windows as a service, last version, etc. and then make the conclusion it's a subscription license. Sadly spreading FUD is also how politics are usually won in the United States.

Microsoft is calling it "Windows as a Service." This is them trying to sound cute to the Enterprise Cloud, but completely missing the boat with hte average consumer. Enterprises expect to pay for everything either up front or through support contracts. Consumers, when they hear service... They think of Netflix or Spotify. They think it means a subscription. When they hear "Windows as a service" coupled with "Free for a year" then they think it's akin to a free trial. You can argue the merits of that, or whether those people are intelligent or not. That's inconsequential and ultimately doens't matter. What does matter is that the messaging is laughably bad and it doesn't seem like Microsoft is really that interested in messaging the average consumer at all - just the techies that pester them on Twitter or in Insider Program forums.

Those people have a point, though. Microsoft has a habit of reinventing the wheel everytime they have a new Windows update. We've seen it with APIs in Windows (Windows Forms... No, WPF... No, WinRT, etc.). We've seen it with complete OS releases like Windows Phone where they seemed to go all the way back to square one everytime it was time for a major update. Apple has Mail, Calendar, Contacts, Reminders, and Notes. Microsoft went from Outlook Express, to Mail/Calendar/Contacts/etc., to Windows Live Essentials, to Windows 8.x Mail/Calendar/People. In each of those cases, they completely changed up pretty basic stock apps and forced people into a a learning curve they shouldn't have had to endure. People who boot up a PC and click on a file and see the Music app, or Photos app pop up instead of WIndows Media Player or Previewer also had similar objections. Why do you think Windows 8.1 made the desktop apps the defaults, while the Metro apps were defaults on Windows 8.0?

Maybe if MS had taken out the metro tiles. People generally don't like them, and won't upgrade so easily. Maybe from w8.1 to 10 is more viable in the near future than from 7 to 10.

You van disable the tiles completely in the Windows 10 startmenu, if you wanted to!

And you can boot to desktop in Windows 8.1 However every screenshot or video they see has those tiles popping up when the start screen is presented. All of the marketing material showcases them. For people who don't have an affinity to tiles, or who have grown to absolutely hate Windows 8.x due to its mandatory Metro UI (you can't even view your apps without going to the start screen, unless you put every single one of them on your desktop), it's still a bad way to promote the OS to those users who have refused to upgrade or switched OSes (i.e. to a Mac) because of them. When I bought a new Desktop PC, I got an iMac, largely becasue I just wasn't going to put myself through the trouble of dealing with Windows 8.x on that machine. The hardware premium was worth paying for an OS properly designed for mouse and keyboard use. I don't see myself buying another Windows desktop moving forwards, and when I upgrade my Notebook, it will likely be to a MBA becasue it's a PITA trying to use the different systems with each other due to the fragmented ecosystem between them (even if some apps/plugins are available it just feels tacked on either way).

And now that the market for XP keeps on decreasing (which also means decline in compatibility of software and increased vulnerability of malware attacks) will Microsoft really support it for US army and Chinese governments for what they offer to pay?

Sure, that's another story and just doesn't end like that.

MS would provide patches for critical vulnerabilities if its the same program I reviewed early last year.

MS said if you pay for the support then they will provide it. If there is a security issue they will fix it, but nothing new will be introduced. I don't know any company that will turn down millions of dollars if someone wants to pay it. The US Military is paying MS only during their transition period.

Thanks, I got it. So the company will only offer security patches for current threats but no new features will be developed for the OS itself.

Windows XP is still used in about 90% of bank ATMs, that doesn't mean is more secure than WIndows 7,8 or 10, but it means that hackers haven't been able to hack Windows XP ATMs, but the day they have a successful atempt, all banks will migrate to a newer OS.

I've heard in a few places that Win 10 will probably take over XP in the banking industry. It's something the companies that make the banking software have been waiting for.

Windows 10 will kill them all ... July 29 Loading... To Make Windows 7 , 8 , 8.1 to Windows 10... Just like Windowsphone 7.8 against Windowsphone 8.1.1

There isn't anything to be happy about...win 8 got to the second place only because of fall of XP share and not because of significant rise of win 8 share

And also count in the free upgrade. That's also a factor here.

Windows actually increased from 89% to 91%

Win 8 won't see a boost in share organically because manufacturers are installing 8.1 right away. Win 8 and 8.1 are technically the same. 8.1 is just a service pack with some new features. This isn't something new for Windows.


I'm combining the shares of 8 and 8.1...even that doesn't make a significant difference.

Doesn't matter the windows 7 market share rose alot of people are probably doing it to get windows 10 free install win 7 on you XP machine be eligible for windows ten free.

I'm hoping 10 eats away at Windows 7 a lot. I have a 10 year old laptop I keep around on Windows 7. It will definitely be upgrading to 10.

Well..windows 8 makes starting up programs faster Than windows7 so i hope this even will get better with 10! Image the decrease in startup timeeeees

I don't mean to be negative, but I doubt that your 10yr old PC will be able to handle windows 10 efficiently. I know from experience that old computers don't upgrade that well.

Dont get your hopes up too high, maybe kill off 8.1 and XP but, not sure about Windows 7... Still to this date the best OS Microsoft ever made and the most accepted corporate OS used in the world...and that makes up a major % of those numbers.

Like vista for the proper ms vpc07 support & tinker(& editor)

How Windows 7 is growing, is there a new PCs running 7?

Some companies allow you to request to have Windows 7 installed instead of 8 when you buy a new machine. A lot of corporations are staying with 7, and new computers are having 7 installed for their network use. Hopefully Windows 10 will take over for business with all of the built-in security features. I already told my IT department I will gladly be a tester for the new OS.

Yep, it's corporations. Just about any organization with a volume licensing agreement has a standard image for new machines, and that image is almost universally based on Windows 7.

You can see many pro laptops from Dell in Amazon that still come installed with Windows 7 Professional so I think Windows 7 is still the most popular OS on the enterprise and on Pro users.

Of course. Windows 8.0 was widely hated for the start screen and tablet-centric OS (only improved dramatically in 8.1). So Windows 7 is still actively being purchased.

Good. Finally people are moving on.

Why is 8.1 considered different than 8? It's not like they differentiate between 7 and 7 with SP1. What am I missing?

For some reason everyone views 8.1 as its own OS and not a service pack update. Technically they're the same thing.

The difference is that W8 was utter crap but w8.1 on the other hand... A beast of an OS

Because it was a different os, it may have looked similar, bit the kernel (the real part of the os) jumped from 6.2 (windows 8) to 6.3 (windows 8.1), that is a different os. And windows 10 will be version 10.

Indeed! Windows 8.1 is a major OS release and not just an update or service pack of Windows 8. I think the issue is that alot of people seems considered Windows 8 and 8.1 as one, especially that they're indeed look identical from afar but its different when you used it. Yes, general UX are same, so does Vista to 7 or 2000 to ME to XP.
Unfortunately Windows 8.1 is an underatted OS and suffers from same backlash from Windows 8 even though its a way better and it indeed address many of users complaints (only Start menu and windowed Modern apps are missing). Actually Windows 8.1 can ​be considered as Windows 9. :P

Ah thank you for clearing that up. You're the first person to mention that. They probably should've called it Windows 9 just to distance it from the bad taste people had from Windows 8.

And to add to this, windows 7 kernel stayed at version 6.1 through its entire life.

Windows 8.0 was a travesty on desktop. 8.1 fixed most of the glaring issues... MS also stopped supporting 8.0 and told everyone it is basically compulsory to move to 8.1. So it's important to specify which version.

Actually Windows increased from 89% to roughly 91% in total if my calculations are correct. This is good news for Microsoft!!

Windows 10 only has 0.16% of the Windows market share...as a preview beta OS. It wqould be nice to add that bit of information.

Thats avtually quite alot :)

Xp got dethroned bcoz Microsoft stopped supporting it. Else it would be still at the top after 7.

I hope windows 10 will have at least 20-40% and dethrone 7 in 2016

I hope Windows 10 will have a higher market share than Windows 7 currently has by the end of 2016.

I'm going to miss Windows 8.1, I think it's a great OS that not many liked, but it has much more stabillity and is faster than XP and 7, specially on boot times which is what some people care the most. Ready to get Windows 10 on my new laptop on July 29!

Woah! Checked the charts, and Windows 3.1 has 0.01%? Who the ... who is using that online?!

Good catch... I'd like to know that too!

My mum's entire office are still on Windows 2000... while the office only has 5-6 people they work for a huge mining-related company with huge amounts of money to spend. But they have legacy software that they need to use, so they keep everyone on the old OS. There's probably similar reasons for 3.1. I heard of one company that had some highly specialised, very expensive (something like $10,000-20,000 each) ISA cards and they had to keep some old machines in working order to still use it. Any new PC only has PCI slots and while you can probably get PCI to ISA converters, it was just easier to keep maintaining the old machine.

Old timers making moonshine...

Could be my VM that I boot up time to time :-/

Windows 7 was fixed version of Vista. Just wonder why Vista has such a ridicule (Windows phone-ish) market share.

Yeah, it's basically Vista renamed. My sister's laptop was Vista, it booted up fast and behave just like Windows 7. In fact if you give it to someone without telling them it's Vista they will declare it is Windows 7 but the cosmetics would have given it away.

Because it had the worst software and hardware support. Many PC were not ready to run vista properly. It was in development for a long time. People were too hyped for it.

Vista was a failue due to a RUSH OUT THE DOOR thing (like I could see happening with 10). The driver subsystem had major changes in it, so everything needed new drivers, the OS was rushed out the door, so not even video card drivers were solid on release and got gamers freaking out because of it. This put a BAD rep for Vista almost right away, and this contiued on, after this, there was no way to recover from it. If you were really into it when it came out, After SP1, it was a very solid OS and still had features that we wish Windows 7 or 8/8.1 had.... Remember Ultimate Extras ? (if you had vista ultimate), how about animated wallpaper ? and there is a bunch of other things.. It really was a nice OS after Sp1...

That's not a Vista problem though. Vista did have some issues. There were a few bugs in the Caching mechanism. But the biggest issue with Vista were: 1. Drivers: It was a Windows 2000-type update where Manufacturers needed to put more effort into updating thier drivers, and they simply were not quick enough to do so. 2. System Requirements: Vista required a decent GPU. Even a decent iGPU was required. Back then a lot of OEMs used absolutely horrible iGPUs in their machines, and there were still a lot of machines being sold with no PCIe or even AGP 8x slots all the way up to 2004/6. Those machines were not "old" when Vista was released, but they were lower end Celeron Machines and the iGPUs were pretty terrible and the discrete cards you could use on them were either severely underpowered or were only DX8 certified (there were a few DX9 ones, but they were more expensive than the PCIe and AGP variants!). Pretty much overnight, having a better CPU (i.e. P4 vs. Celeron), faster RAM (DDR2 vs. DDR), a faster HDD (7200 vs. 5400 RPM), better graphics, etc. just became monumentally more imporant even for home users with Vista than it was on XP. Vista did one thing that is great for the industry - it forced OEMs to stop underspeccing machines and selling them for ridiculous prices - especially desktop systems - because of the bump in system requirements. I ran Vista from Day One, starting on my P4 2.8GHz HT system with 2GB DDR400 RAM and a 7200RPM Hard Drive with an AGP8x Radeon 9550 Card and a Thumb Drive in the back for ReadyBoost. I had, literally, no issues running the OS. No performance issues. It ran better than XP on my machine, and it was monumentally more secure. UAC wasn't that much of a PITA, because I had extra machines laying around that I'd run different OSes on (Linux, Solaris, etc.) and was accustomed to the system asking me for permission for a myriad of things I'd do on them. After SP1, there was really no reason to complain about Vista. The biggest issue with Vista was OEMs selling underpowered machines and listing them as Vista Capable, because Microsoft was too lenient on that. They were literally putting bare minimum specs in the machines (Slow HDD, 256-512 MB RAM (and in some cases, DDR RAM without the ablity to upgrade past 1GB...), horrible iGPUs that supported DX9 APIs but performed terribly, no AGP or PCIe slots, Celeron Single Core Processors, etc.). I actually much preferred Vista's dark theme to Windows 7. I was extremely unimpressed when I upgraded that machine to 7 and seen that. Ugh. Loved the Dark Task Bar and Start Menu. The Windows Logo for Vista was one of their best ever.

Our IT department here at Amazon has confirmed that we;re moving to Win 10. We are currently using Win 7.

You should not shout out your employer's future plans, that's not a trait of a good employee.

I'm not sure why we even moved past XP. Because technology hasn't changed at all in the last 13 years. Says the people that refuse to move off of XP.

Besides security and Hyper-V and better cleartype and design and 64 bit support, I could use XP day to day. And most people don't care about that so they could still use it.

Agreed in some ways, I still keep a XP VM around for applications that dont run on 7 or 8, even more 64bit... I find myself booting it up every week or 2...

That's because more Windows XP computers are used by folks that dont use internet.

I'd say Microsoft should do a huge ad campaign about the free upgrade n features of windows 10 so that even the person on the street who has never read a tech blog knows about it n upgrades

So XP still has 11% of the market and 8.1 has 14% of the market ? Acordding to Microsoft 8.1 was a failue and if it was accepted better, I am sure it would be around 30% or higher by now... Yep, 8.1 is a failue..

Nothing to get OTT about. 8.1 is only second best because it's all you can get and is all that's advertised it's not like they're offering an alternative.

Anybody can dethrone a dead OS...

I want to see windows up to 96% of desktops and 40%+ o mobile by the end of next year.
Windows Central Newsletter
Thank you for signing up to Windows Central. You will receive a verification email shortly.
There was a problem. Please refresh the page and try again.