Windows Core OS concept shown off in interactive UWP app
The developer behind Huetro has created an interactive UWP app that shows what Windows Core OS could look like in motion.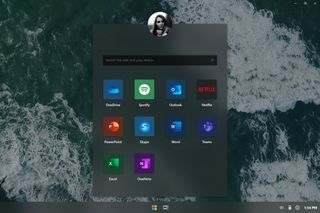 What you need to know
A new app shows off what Windows Core OS could look like in motion.
The app is made by the developer behind Huetro.
Windows Core OS is Microsoft's modern operating system.
A new app called ModernOS shows off what Windows Core OS could look like in motion. The app is built by Niels Laute, the developer behind Huetro for Hue (opens in new tab). Laute implemented his experience with the Windows 10 Fluent Design language and UWP applications to create the interactive app. Specifically, ModernOS shows what the Santorini version of Windows Core OS would look like. Santorini will run on laptops, 2-in-1s, and other devices.
While Microsoft has not shown off Santorini, we shared what it and other versions of Windows Core OS will look like in our guide to the upcoming operating system. The concept included in the ModernOS app looks very similar to what we recreated. It features Fluent Design, a centered Start Button, and app icons rather than Live Tiles. The concept also includes a reimagined media control UI.
You can download ModernOS from Github for free.
This interactive concept of Windows Core OS shows what Microsoft's upcoming operating system could look like in action.
Portable (and affordable) power accessories we love
Each and every one of these charging gadgets will keep your favorite gear and gadgets going for longer, and none of them costs more than $30.
VisionTek 8,000 mAh micro-USB power bank (opens in new tab) ($13 at Dell)
This compact dual-output powerbank can speedily recharge any and all your devices, thanks to a two-amp "fast charge feature," using its micro-USB out port. Its simple design includes an LED indicator, and it costs about as much as a single ticket to the movies.
Panasonic eneloop AA batteries (opens in new tab) (From $13 at Dell)
Panasonic's rechargeable batteries are among the best available, and just a couple of them will keep your favorite remote, mice or other peripherals powered up when you need them. They're also eco. And the company's affordable charger (opens in new tab) fits and charges both AA and AAA batteries at the same time.
Belkin Qi Wireless Charging Pad (opens in new tab) ($30 at Dell)
This unobtrusive Qi wireless charging pad looks good (and kind of like a UFO …) and easily charges all your Qi-compatible device up to 5W. Its LED indicator lights up when you're charging. And it costs just $30.
News Writer and apps editor
Sean Endicott brings nearly a decade of experience covering Microsoft and Windows news to Windows Central. He joined our team in 2017 as an app reviewer and now heads up our day-to-day news coverage. If you have a news tip or an app to review, hit him up at sean.endicott@futurenet.com (opens in new tab).
Wait, did Microsoft ditch LiveTiles in Windows Core OS? That's a big big shame. LiveTiles was one of the features that differentiated the OS from the others.

Gimped widgets aren't a differentiator. They were one of the biggest issues with Window phones.

They are the reason I still hold on to my L950

You keep using a crappy 4 year old phone because you don't want your widgets being fully featured? Poor excuse.

That would be your cue to change your view on a now 8 year old bitc...ing you've been clinging to here. Yes, people liked Live Tiles and the totality of WP's UX. Get over it.

Windows phones UI was squares around icons and featureless widgets. There is nothing else so people cling to that shallow excuse.

That's an unfalsifiable claim. Prove to me that they don't actually like it, and they are just providing excuses.

The squares are ugly (should be rounded) anyway and don't even show apps or useful content half of the time.

Rounded squares are ugly (should be, well, squares).

Wrong. Windows Phone/10 m was never perfect, nor were its apps. However, even if some apps were nothing more than square icons, others used the live tiles rather nice. And that's the point, we did and do not love the platform only for its perfect implementations, if we did we would not have had this discussion. No, we loved and even love it because we liked the idea and the feel of the OS. So yeah, going back to plain round icons like iOS and Android is in my mind a step in the wrong direction, even if it from a marketing point of view is smarter as it gives the users something more familiar. I don't need to make up some excuse for liking Windows Phone, I just tell you that I did and do, and live tiles is an important part of that.

Just pretend Android only has plain icons. Ignore adaptive icons and widgets.

Well it will be forever gimped widgets by killing it before it even evolves. They had a concept from Microsoft Research about making Live Tiles interactive, basically making it widgets. Leaving Live Tiles just to show passive information will be indeed not so much useful, especially when Action Center exist for notifications. But making Live Tiles widget, it can be really useful for power users who will take advantage of it, as long as the app developers properly take advantage of it. Sure not everybody needs Live Tiles or having it as a widget
That does not mean it is not used. Also it certainly getting less used since its a self prophecy when Microsoft themselves are not even actively using it with their own apps and improving on it. Bugs on Live Tiles still exist and other quirky things on it that still not addressed. Live Tiles still stuck on a Start menu while there is literally no option to make Start screen starts up at logon except when you switch to abandoned Tablet mode. Many people already been suggesting allowing to pin Live Tiles to desktop so desktop users can make use of it, but Microsoft never thought about applying it even for A/B Test. Live Tiles will be killed because it never evolved by Microsoft themselves.

To be honest @bleached the more I read your trolling comments, the more apparent it becomes you've never really used for Windows phone for work at all. Otherwise you wouldn't be stating your opinion as fact, or perphaps you do so because you're just a sadist who likes to wind people and watch with glee. In any case, just go to the android forum and enjoy your bubble.

Couldn't even begin to use WP for work. Still have a1320 in my drawer. Way too locked down and unsupported, even when it was still fresh. It was great if you just wanted a slightly more powerful feature phone. It was great for my grandmother.

@bleached, figured as much goes to show you never really tried to use it for work at all, therefore it doesn't give you much credence in disparaging live tiles lol. If you had used it for work 24/7 then it'd be different matter entirely. I do, agree it was more locked down than WM6.5 as you could back up the entire phone onto a msd card using something like SPB back up or selectively back up contacts, text messages (not apps / cab files) with PIM back up. You would have seen It was more advanced than a feature phone if you actually used it; granted it did have a lot of draw backs and many were slowly addressed. The UX made it simple for the average joe to use and it was on the verge having the perfect balance between security and customisability.

What use would Live Tiles have for work, that an email or calendar widget doesn't do 10x better?

Most calendar or email widgets still show the same level of information. Can you point out a widget that enables you to reply to an email and download / attach attachements directly from a widget? Or allows you to add / amend / delete calendar appointments?

I'd rather them focus on getting the rest of the OS right. Live Tiles would be a distraction. They were cool on mobile, but WCOS on a laptop would be better without them.

Dan reported a while ago that he had seen MS documentation that the tiles never took off on W10 desktop. People preferred to pin their favourite apps to the taskbar.

I think we all know why, because MS shoved them into the rarely used Start menu. I say rarely used, because it was analytics that of non-use that got the start menu pulled out of Windows 8.

That's about as disgusting a concept as it gets. No live tiles, no dice. If I wanted an ignorant sea of icons, I'd move to iOS, go back to Win 7 or use Android. This is stupid.

You might find it disgusting, but according to reports and rumors it's accurate.

Android has real, fully functional Live Tiles with no limitations. If you liked Live Tiles, you will love widgets.

Is Google paying you or something. There are limitations to widgets. Everything has limitations. Besides, there's no way I'd ever use a Google product, at least not anymore than I have to.

What are the limits of widgets compared to Live Tiles? The shortest list you can make is the functionality of a Live Tile: 1. Display imagine (maybe an imagine of a text message, or a photo from your library, or an imagine of the weather, etc)
2. Change what imagine is displayed.
3. Chase a link according to what imagine you are viewing (this was added near the end, rarely utilized)

Yes,and that gives you uniformity. You'd have to swim through a jungle of crap with Android widgets. Nothing just works; it's as if you have Linux on your phone.
Turns out it's not just functionality that matters, it's UX. Want proof? Go ask Apple and then look at the fate of Windows Mobile. A Windows Mobile fan could perhaps make a similar argument on how customizable and feature rich WM was.
I remember Android when Windows Phone 7 came out. I would rather wipe myself with what Android was at that time.

Form over function is your argument? Why are you a Windows fan? Apple's form is much more cohesive and mature. Their ecosystem is fully fleshed out. If you want form over function, you choose Apple. Microsoft should be function over form. That is what made Windows great. Windows Phone was terrible because Microsoft was chasing Apple instead of doing what they do best.

This is not WCOS. Well the underlying system is. WCOS has no look per se. The look of what the device displays is based on the Composable Shell (C-Shell) which is not WCOS but a modular component of the OS (OneCore, WCOS, UWP, and C-Shrell). Instead of the each Windows version (e.g. Hub, Windows desktop, mobile?, Hololens, Xbox, multi-screen) having to essentially do a unique version of the OS because things like the UI are deeply integrated that whole process is pulled out of the tight integration within the whole OS into a specific component. With WCOS that would be handled by the C-shell and adapt depending on the device or situation. The title is wrong and misleading. This is what Windows Lite (Santorini) is supposed to look like. Not what WCOS looks like. Hub 2x looks different and it is WCOS based, Hololens 2 as well, rumored next-gen Xbox is Windows Core OS based, and many other possible devices. Polaris is the desktop version of WCOS. Pulling in different modules and capabilities and the C-Shell UI would look very similar to the current Windows desktop. Santorini (or what code name they are using now) is this Lite UI. This Lite version (or whatever MS is calling it now) is being designed to be competitive alternative to Chromebooks. Specifically where stateless devices are needed (e.g. schools). It uses the underlying Win Core OS components but devices on Lite have the C-Shell to show this interface. You would think a site that has fairly up to date explanation by Zac Bowden would not get this wrong. https://www.windowscentral.com/windows-core-os

I explained in the article that this is specifically showing off Santorini.

Live tiles suck! They are absolute glitchy garbage that bloats the OS. My Windows 10 computer takes more than 1 minute to open the street menu because of live tiles. They do nothing other than advertising minecraft. Whenever you try to click the tile your computer freezes and the tile flips last second. In my 1 year using my current computer I have only clicked a live tile twice. Live tiles don't show you useful content and need to dissapear.

Invest in a SSD my friend. If you have one, it's time to clean install or upgrade. It should not take that long to open the start menu. My PC (even my old core i3 opened nearly instantly. Anyway, Live Tiles have all but been abandoned in their current state and have lost their appeal, especially due to the fact that the start menu is now irrelevant on W10.

Strange, I have seven W10 computers in my house, one running Intel Atom with 4GB RAM, and none of them shows any issues with Live Tiles or start menu. I also manage almost 6K W10 clients, and none are reporting issues with the start menu or live tiles.