Windows Device Recovery Tool updated to support Lumia 950, 950 XL and 550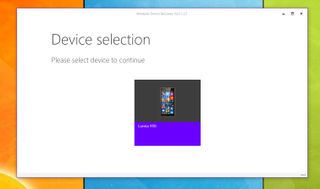 Owners of the newly launched Lumia 950, Lumia 950 XL and the Lumia 550 smartphones from Microsoft can now use the company's Windows Device Recovery Tool. The PC application has just been updated to support those new Windows 10 Mobile smartphones.
The new version number of the application is 3.1.5. Officially, the change log only says the update has "bug fixes and improvements" but it does allow owners of those new phones to use the tool for the first time. For those of you unfamiliar with the app, it allows owners of some Windows Phone devices to go back to a previous OS version if something goes wrong with their smartphone.
Interestingly, the new update also shows there's a new firmware version available for download for both the AT&T Lumia 950 and Lumia 950 XL. Our AT&T Lumia 950 shows firmware build 15454 being available up from the current 15447. We have yet to confirm the changes on the XL. (Update: We're told some AT&T Lumia 950's shipped with this version on the server, in which case it may be because ours was an earlier build for reviews).
There's no word on what this new version contains, but we suspect it has its own bug fixes and improvements. For those of you who have yet to download the app on your PC, you can go to Microsoft's support page (opens in new tab) to grab the program.
Microsoft's Gabriel Aul noted that "early this week" these new Lumias would see the latest build of Windows 10 Mobile added to the Insider program. That still seems to be the case and these recovery images pave the way for that to happen.
Via: Windows Phone Addict
cant be used with those phones, only most x2x generation phones.

I mean I could dump the partitions from the official FFU and apply registry modifications from PC, them flash onto phone, not root access on the OS. Did you know you can manually register an app from the registry provided that you get the keys right?

Yes mi e shipped with firmware 454 I wonder if this is some of the reason for the wide range of performance difference people notice

That could be it, I'm on 15454 as well.

It's funny because someone just noted they had 452, which would make three potential firmware out there. However, mine is likely just an earlier non-shipping one.

Makes sense but some have lots of issues and others none
Personally I just wish I could get more than 8 hrs from the battery

Yeah, my 950 shipped with 452, but mines the unlocked single sim UK cv. So there's likely different firmware versions for all the different variations of the device.

452 here. XL Dual-Sim. Was shipped from the new MS warehouse in Eindhoven NL.

mine is the 452 unlocked dual sim...

can you install win 8.1 on those devices?

Hope they forgot the /s ?

Lol if only or they could've at least kept ie11 till edge matures

Do you think there would be newer build again this week for all of us?

W10 Desktop builds were raining when it was close to launch.. I expect the same in the case of Mobile as well..

Gabe said that after the recovery tool was updated 950/XL owners would get the update that was released last week. BTW, my 950 also shipped with 15454 firmware.

I am part on the insider program with my 950xl and I have build 15454

I got completely different version numbers for my 950 (bought in Sweden) !? FW phone: 01078.00017.15452.59012
OS phone: 10586.13053 FW server: 01078.00017.15452.59012
OS server: 10586.13053

See nothing strange bout tjat, only the fact that you pasted it twice

It's odd because there is now 447, 452 and 454 for firmware.

It's not pasted twice, he is showing what is on the phone and the server, they are both the same

I have the same numbers on my 950 XL here in Sweden also.exept my last 5 digits is 59000

Wierd, installing the WDRT and looking my last 5 digits read 59015, so I have in effect.
Firmware: 01078.00017.15452.59015
OS version: 10586.13053
Same on server.

My German 950 XL (unlocked) has this versions: FW phone: 01078.00017.15452.59027
​SW phone: 10.0.10586.0

I have 950 XL with 15452.59015 bought in Finland.

So lots of builds out there

so, also interestingly the firmware is also being rolled out independently of the carriers? Not just the windows 10 mobile OS

Nah, lots of AT&T Lumia 950s and MS store bought ones have 454; ours is likely just because it is a review unit.

It is worth pointing out that Gabe tweeted that 10586.29 will go to "ALL Lumia 950 owners" (emphasis is mine). So they could be bypassing carriers for cumulative updates.

If only this would un-brick and load windows back onto my red 920 that that bricked after trying to change the screen.

You sure the screen is connected correctly?

Daniel, do you think it is a good idea for 950 & 950xl users to grab this or will official support follow soon?

Anyone have any model and variant numbers?
Lumia 950 Black from Optus Australia RM-1104 Hardware Variant: 059X5K0 Firmware: 01078.00017.15452.59010 OS Version: 10586.13053


Hope they have fixed that bloody hash value incorrect error, so annoying

Confirm the build shows for any other devices? 1520?

Different builds could explain why some are getting issues, while others are not getting those issues. Loving my AT&T 950. Currently no issues.

Mine (USA 950XL Dual Sim) arrived with latest FW... Shows 01078.00017.15454.29005 on both - phne and server...

Interesting. I have the same phone except mine shows 15454.29000

Mine AT&T 950 is 15454.29031 bought on launch day

I hope one day support for Samsung devices will be added. Sure would like to move to 10.

I wish you luck on that quest.

Yeah im looking forward to that too(I feel sad for odyssey owners since they dont have enough storage) if it means I can use my carriers t2p service then im all for it. Gear support would be nice aswel

Interesting. I just picked up my unlocked 950 three days ago at a Microsoft store. It has 01078.00017.15454.29004

My AT&T 950 will also update to 10586.29 now using the insider app.

I tried to recover my 950 Xl because of the ugly random reboot each time I'm in a call. Maikng it impossible to use the phone funtion. I stumbled over the fact the Recovery Tool would not accept the firmware on my phone and was unable to download a newer version.

Have the fixed the hash value error bug, cause I can install this app on my system, am just using lumia recovery tool

This thing just irritates me, every time i get a hash value error WTF??????

This version 3.1.5 can't detect my lumia 930 running windows 10 mobile build 10586.36. I tried rebooting my device but still the problem persists. I also googled it but all i can find is that you reboot your device. Any help guys? Thanks.
Windows Central Newsletter
Thank you for signing up to Windows Central. You will receive a verification email shortly.
There was a problem. Please refresh the page and try again.