Windows Insiders with Lumia 950 and 950 XL can now get Windows 10 Mobile build 10586.29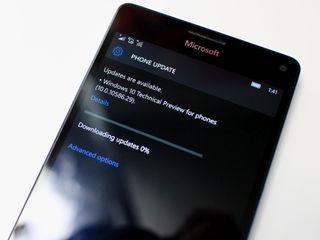 If you are a Windows Insider member and also lucky enough to own the new Lumia 950 and Lumia 950 XL smartphones from Microsoft, you can now download the recently released Windows 10 Mobile build 10586.29 if you are on the Fast ring.
Windows 10 Mobile build 10586.29
You will see additional improvements in upgrade experience, including devices with limited free space, map rendering on update, and RCS enabled device settings.
Improved application backwards compatibility for Windows Phone 8.1 Silverlight applications.
Edge performance and stability has been improved. Auto-completion has been updated to allow user to more easily edit the end of the URL in the address bar.
Additional Bluetooth stability improvements.
We have resolve issues on switching the active cellular connectivity profile on Dual SIM devices.
Data profiles are now correctly restored in the out of box experience that would prevent some devices from sending or receiving MMS messages.
Microsoft released this build late on Friday for other Windows Phone devices, which mostly has bug fixes and improvements for Windows 10 Mobile. The company has already indicated that Windows Insider build support will be added this week to the just launched Lumia 550, along with the older LG Lancet from Verizon.
How to opt back into Windows 10 Mobile Insider Preview builds
New to the Insider program? Read our how-to enroll guide above to get started. Remember, without being in the Insider program you cannot get this release.
Update: As far as we can tell this release does not enable double-tap to wake under the Touch settings. Sorry, folks,
Ooh good. *Checks... Wow, already downloading. Will this give me double tap to wake up or is that not possible on the 950s?

probably not, but we'll have to install and see. We'll update the post (or do a separate one if we find anything)

Sterling work, Agent Rubino.

Sterling work, Sterling Archer.

That would be ridiculously splendid. Aside from the pretty mediocre battery, double tap and high sensitivity touch are the only things I'm missing in the XL

Yeah, the battery thing is weird. I don't always have drains, but when they hit they're devastating.

Daniel, when your having battery drain issues, are you having the same issue with the messenger app? On a few of my devices I noticed the battery usage for this is insane, if I disable the skype part of it, I don't seem to have any issues. Any chance you guys are seeing this too on your end?

I still can get drains without Messaging enabled although I agree it can help sometimes.

I found a really odd bug last week. If I have more than 3 notification indicators on the lock screen (i.e. Messaging, Phone, Outlook, and Facebook), the battery drains insanely fast (like 20% an hour) even if the screen is compeltely off and nothing is running. Similar issue happens if I have the Facebook Messenger app on the lockscreen. Battery drain significantly improves if I limit it to 3 indicators, and exclude Facebook Messenger.

Daniel, have you tried disabling windows hello?

I disabled mine mostly because while using the DT-903 charging pad the screen just won't sleep with Hello enabled. So far, all charging pads haven't quite worked too great. Had to get rid of my DT-903 and now my DT-910's are also pretty finicky. I have to say, I'm actually really missing my L1520 right about now. So many bugs it's ridiculous.

I had to turn off my iris scanner to help preserve battery life. Bummer, really, but it is a beta.

I suspect it's the SMS backup part of it. My 640 and 535 have always been on Insider, latest build. My 535 was turned off for a week, so it has "only" a week of SMS to catch up. Though only new SMS since I've turned it on have been restored. A week or so is missing. And the app is always connected (I think it's trying to retrieve the messages but it fails). It's the same on my OOBE 950.

This is a bug . I was also always on Insider Build but with this build I have lost some of the conversations (past majorly) and rest of which come are somewhat double(duplicate messages). Windows Central please help us to report the same , have given feedback via Windows Mobile App too. Device: Lumia 630 Dual Sim

The one time I got drains it was 'Default Lock Screen' doing it. Turning off Hey Cortana and limited glance screen seemed to help.

WhatsApp seems to be the biggest offender for me

WhatsApp is the biggest offender for me as well. According to battery saver, the background use is <5%, but foreground use chews through my battery. It has been this way since I first installed it on my 1020 about 2 years ago.

Hoping this resolves a bluetooth issue with SMS in car.

Here's hoping there's a polish to Hello too. It's poor at the moment.

It is great for me. Unlocks very fast.

Yea, it unlocks fast...when it works. They need to solve the "distance" and where you hold the phone. That's my biggest issue with it.

I agree, it looks retarded holding the phone right up to your face. Even just twice as far away would be a HUGE improvement.

Part of the problem is "Hello" always prompts to "Move Closer" even when what you really need to do is move the phone farther away.

ahm i hold it in the exact distance i use my phone and unlocking works without a problem. Its just where you look at..

I don't hold it up to my face at all. I can do it at angles too as long as the camera is within reach of my eyes. And you can learn how based on the optimization you re-run. Run it at the furthest distances you can get away with and make sure you can see your eyes properly in the camera and then look at the ms logo. I think if the camera was in the center it would have worked much better in a lot of scenarios.

Not here. Works impressively quick the first few times you've set it up (when you check it after you've done so), then fails forever after. What's also annoying is that it looks for you every time you unlock, even if you are within the lock period set by the phone. Then it fails, asks for your pin and unlocks without the pin! Frustrating. Annoying thing is it works every time on my SP4 where it is less useful.

My exact experiences with it as well, Chris.

try to set it again... do it couple times so it can understand ur eyes... remember to try it in different lights and take off ur glass

Dont look into that red light. The Iris Scan is on the right side of the front. Try to optimize it again and then look onto the Microsoft Logo. Then when you unlook it, look on the logo. Mine unlocks in a second, its amazing =)

To fix SMS in the car go to your Gadgets. Then add the Messaging app. Apparently this isn't added by default. Had this issue too on my end and now I can read text messages (still on build 10586).

Thanks for the tip. I will give that a try.

Are you talking about the 950? Because the .29 update improved my 930's battery life a lot.

Seeing as this is an article about the 950s. Yes :¬)

Ok, thanks for answering!

So, I'm not the only one experiencing battery drain issues.

Daniel, I am charging at home all night and at work. Still cannot get to the end of the night. My usage on 950xl is similar to what it was doing on my 1520. And 1520 gave a day and half on single charge. Do you think my 950XL is defective? I know display resolution is multiple times higher. But that is not an excuse.

I have had the XL for 5 days now and with moderate use (no gaming) I have to recharge TWICE a day!

Wow, ive had two 950 xls for several days and I only had to charge once a day and a half to two days

Nobody except you is wow-ing about 950XL's battery performance. Sorry, something wrong with your phone :).

Same feeling here. Fast charging means fast draining too I guess? Not at all happy with the state of the battery.

Still cant use Cortana from my band or car.

Ditto - I miss Cortana on my Car (Ford Escape using Microsoft Sync) Worked great with Windows 8.1 Mobile. Hope it's added soon with Windows 10 Mobile - Also if they can get Windows Hello to work at the twice the distance and just a little quicker - they will have a winner.

W10 Mobile on the 950XL: Cortana's Bluetooth volume is annoyingly low in my car; 2013 Ford Taurus SHO

Nope. Double tap still not there. Font kerning still horrible in Mail, People, Photos, Messaging etc etc.. Must be something changed!

Have this build on my 930 and double tap to wake works fine.....ooh, but it did before :) Don't have Glance though :(

Good for you. Not available for 950 though.

yeah im w8ing when will microsoft will release double tap on L950... i miss it since i switched from L1020 :D ive got question does anyone else having problems with outlook mail? doesnt show any pictures at all... does this new update fix the outlook mail? i dont want to update into insider so ill keep w8ing when they make new release

I also have that issue, but only for emails going to my regular outlook.com account, my work office365 outlook account pulls pictures fine. It's weird....

I had the same problem, it worked the first 2 days, then stopped downloading pictures,then last night it just started to download the pictures again. Installed the .29 insider version and all email accounts download images (Yahoo, Outlook, Hotmail, Office 365)

i dont have the insider thingy but today i got outlook mail update from microsoft store... now it shows pictures again but the way how the text shows... still the same problem that doesnt show whole line from left to right

It's my understanding that the display types used on the newer phones are not capable of the wake-up on double-tap feature. They do recognize double-tap to turn screen off, however. That's only because the display is already on and looking for touch input, though.

Oooh! Awesome! Now, I think I'll wait a day or three as I'm really happy with the 950 as it is right now, it's really stable, and unlike with the last preview build, my MS Band notifications work. Want to see how others fair before taking the leap. So strange how I was happy to throw the builds at my 735 but the 950 is still my new toy and I don't want to touch it with a preview yet, lol!

Perhaps you should opt for the Slow Ring then. The the Fast Ring folks be your test subjects.

Slow ring is... Too slow. I haven't installed Windows Insider on my 950 yet. Think I'll let these Guinea pigs give it a go first.

Which build you are having on lumia 950? It's pre-installed or from Windows insider?

I hope the camera bugs will be fixed. The horizontal line on 4K vids and occasional app freezes when starting a video recording through the on screen button. Could somebody test this?

I don't know if this is a bug, but the camera on my 950 is a hit-or-miss. It sometimes comes out as blurry, probably because it didn't focus properly. My 925 was consistent because it always focused after I tapped the button to take a picture, which took a while, but I would prefer that to a quick picture that's unusable. I really don't like tapping in the middle of the screen every time before taking a picture.

Agreed. My 950 had this issue as well... though so did my 1520 with W10.

Yep, Focus is not perfect yet. This was mentioned in a lot of camera tests I saw. This will be improved with a coming Camera update, I guess.

So this build voids your warranty?

To my knowledge, no Lumia has ever not been serviced with an Insider build. This whole "voiding your warranty" thing is a CYA.

Do you happen to know if this will fix the random reboots, or have you experienced the random reboots at all?

I have the random reboots and it seems to be due to my terrible MicroSD card as when it happens, it usually when I'm accessing something from it and it locks the phone up to then reboot.

Based on my experience, reboot only happens when I use the cheap MicroSD card . But when I switch with expensive and faster one, it will be stable.

My 950 reboots randomly and I don't have a MicroSD card at all.

I had random reboots until I added an SD card. Weird, I know, but it's been running smoother with an SD card for me. Still debating on whether I'm going to keep my 950 or not, but tbh, it's kind of growing on me.

Rebooting regardsles of SD or not....

I've not had any reboots at all. I've had one of those SD card that where up as a price on this site in my 950xl from the start...

I don't have terrible reboots, or rather only had it once I added music to the SD card and Groove was updating. They have since stopped.

I had random in call reboots, well constant in call reboots, when my bluetooth was turned on and didnt even needed to be conencted, like when i drove to work in the morning and left my bluetooth on. After I found this I turned BT off and didnt used it since, reboots were history.

same problem... hope this is fixed now... bluetooth is pretty much useless now so my Band 2 and car system are handicapped... :(

Bluetooth is still broken

bluetooth works fine with my 2014 Dodge and my Band 2 works fine also with the XL.

do you have a dual or single sim XL? did a hard reset after the upgrade yesterday and without installing anything, the problem still persists :( thinking of returning it :(

Dan, could you PLEASE start carrying MOZO battery covers and replacement batteries for 950 and 950XL? I'll be the 1st to buy them from you guys on WC. Also, this will hopefully STOP, some of those cry babies booohoooing about the OEM back covers that makes squeaking sound, that i never notice. I just want the MOZO RED leather cover to match my Lumia 1520. Honestly i've never seen so many people complain about everything. My wife and i, absolutely LOVE our 950 and 950XL phns. it is in par with Samsung, LG, and even Sony's phn(NOT iPhone since iPhone its about 4 years behind technology of many flagship brands, with POOR cam, battery, screen,......and so many things is still doesn't have). Anyway, i like to support WC, and buy cool stuff for our NEW and AWESOME phns.

Not able to receive the update, do I need to subscribe to the insider program? (950 Switzerland)

"do I need to subscribe to the insider program?"

Yes, that would be a good start to get Insider builds.

wow, that last reply brings back memories of the computer science 101 days when it seemed like every question was returned with a RTFM response...

Yes, at this point the update is only going to Insiders. At some point Microsoft will release it to everyone. (Assuming the Insiders don't find/report major problems.)

Nothing yet. Switzerland, Insider Program activated...

Update runs for me - Germany . 50 % done. We will see :)

Nothing for Denmark either :-(

My 950XL in Australia isn't picking up the Fast Ring update.​ I uninstalled and reinstalled WIndows Insider and re-enrolled in the Fast Ring, rebooted. Done this a couple times and each time checking Phone Update it says my phone is up to date. Checked and it's only on build 10586.00. I really want to get the .29 update mainly because in .11 the English Australian keyboard download was fixed and I'm using the UK keyboard. Uusally if I wake up and the build is reported on forums as released it downloads straight away. Not sure what's going on. Anyone in Australia got the Fast Ring working on their 950/XL?

Yep me too (Also Switzerland)

Have you read title of the article?

it also doesn't get the update here in CH if you are enabled. I'm on the fast ring but do not get any update! :-(

Lol why would I want to ruin a 950 by running preview on it

Because you are already running a preview build...it came shipped on it. That OS still needs work.

It came out of the box with a preview on it.

Ok that is news to me. But... What of the bugs then? Is MS crazy?

Its windows as a service, its really never going to be finished. Same with the desktop/laptop version. They changed their style for what theyre doing.

News? Where have you read that Win 10 is polished and fit to go? It's very much WIP. They're not showstopper bugs, just niggles.

This is more of a bug-fix cumulative update than it is a beta build. They just want some people to test it before they release it into the wild.

Have you seen any OS in last few years that was bug free when it was released? iOS, Android, Mac OS, Win10, Ubuntu (any version). W10M is not an exception.

i think the technical preview is more like preview for developers from here in. theres not going to be any major issues now... i hope :)

Windows Mobile 10 is a Beta OS. Posted from my Note 5

Edge is still bad on the latest build

I look forward to the day I can defend Edge as a solid browser. But that day has not passed.

I have the Insider App and selected Fast ring but no update :(
Checked for updates twice. (Unlocked Swedish 950).

Same with me on an unlocked US 950, when I go back into the insider app after resets' is as if I didn't enroll

Same here. When I open Insider App it is like I never selected anything.

Same here. US 950 Dual SIM.

Check the about menu under menu bar on the main app page, you'll see the current setup. Agree it should display it on first app page.

Currently under "Preview builds: Insider Fast" US 950XL Dual SIM, just checked, still no update for me. Odd

Exactly the same. Enrolled in Preview Builds: Insider Fast ​But still no update. 950 Unlocked Dual Sim

Yeah. Same here... US 950xl. Tried uninstalling and reinstalling Windows Insider and Dev Preview apps... Nothing!

Me too! All I wanted was the month view on Outlook Calendar, which is on my 925 but not my 950.

Yup me too Euro 950XL dual SIM in UK. Insider doesn't seem to take for fast, tried same as others with remove, reinstall etc.

You have to get the update through Phone Update in settings, not throught the Insider App.

Nothing on the Dual Sim unlocked 950 - US... and yes, checking through "Phone Update" in settings.

Didn't work at first when installing the insider app I used the Windows Phone recovery tool to reinstall the OS then installed the Windows Insider app and the update showed up right away!

How can MS sell a phone that's not ready for prime time ' no tap to wake really MS !

Wonder if they knew how many people used double tap to wake. You'd think they'd know what trouble it would cause to omit it. I should not lose features when I "upgrade" my phone.
I actually only started using that feature 3 months ago on my 1520, I can't live without it now.

Apple do it, why can't anyone else?

Because MS isnt Apple. Once you're a leader in the industry you can afford such errors. Posted from my Note 5

MS aim short-term isnt to be a "leader in the industry". It's to provide an up to date spec phone that Windows Phone / Mobile "enthusiats" can enjoy and tide over till Panay's team can make their mark on MS phone design philosophy. To that end, MS are already succeeding in their aims. I myself have a Lumia 950 XL & its very good. The only thing I would ask for is double-tap to wake. All else is fine. That I paid £330 for it just makes it sweeter, and means I should be able to upgrade to the fabled "Surface Phone" type of device in 2016. As the old saying goes : "Bug free software is obsolete".

Kind of like the note 5....it removed all kinds of ****

--Deleted-- Sorry, I misunderstood.

If "tap to wake up" was the only issue, id be happy. But there is many small instability issues with these phones.

Can't get it here either. I tried to set myself to the fast ring and it doesn't seem to take.

Nothing happening on my 950xl

Will upgrade tonight. I was experiencing random freezing in the middle of calls on my 950 xl (screen would become unresponsive) so I turned off windows hello beta and it seemed to resolve it. I'll turn it back on after the update and see how she goes.

Interesting. I was in a call when I lifted the phone from my ear to look at the time and when I put the phone back to ear, it hang up the call. Hmmm, might have to concider turning of Hello then.

Only issue right now on my 950xl, is Groove keeps stopping playback. Sometimes works fine though. Have only tried it with steaming music so far so might be that. Anyone else seeing this?

I've seen some weird groove issues, what happened to the updates to groove twice a day??

Downloading. I hope this fixes my random reboot bug. 2 128 gig SD cards, and 3 hard resets, several soft resets later.....hope to see.

Downloading now on 950...seems insidier

I downloaded Insider and set up my phone for insider fast ring, how come checked for phone updates nothing showed up? Canada Lumia 950 XL

I think it can take up to a day once you opt-in to the program before you will see the updates. (That is why I opted in the second I got the phone, even if nothing was available at that point.)

Not true at all. It is supposed to be immediate.

No I opted pretty much right Ehen I got the phone, what I meant is I just redid the process but it still shows nothing after phone rebooted

That is wrong. It is instant.

is downloading now on my Canadian XL.

Strange... i wonder what could be wrong with my setup. I tried cold reset and also reinstalling the insider app, etc. Still nothing when I try to update.

Didn't show in my 950. Unlocked, bought at Microsoft Store NY...

And it is being published for all variations... Takes a few hours...

It runs here. 80 % Done :)

No update here either, 950xl US

If we haven't signed up for Insider builds yet on our 950/950xl, yet unlocked units, when might we see these updates pushed out?

When 10 goes live for the rest of the eligible handset base.

I'm still unable to get it on my 950 XL

How long have you be opted-in to the Insider program on this phone? I think it can take up to a day once you opt-in to the program before you will see the updates. (That is why I opted in the second I got the phone, even if nothing was available at that point.) Gabe also said that it may take an hour or more for them to get all the different variations published.

Downloading. I hope this fixes my random reboot bug. 2 128 gig SD cards, and 3 hard resets, several soft resets later.....hope to see.

No update for me neither. When switching in windows insider app always have to reboot but no update afterwards

So update is done. Let the testing beginn :)

I have not updated yet. But my lock screen is no longer showing any information. The screen just stays black. Also when i make phone calls or recieve them i get the same black screen. So if i call someone and they dont pick up i can never end my call. I have to take the battery out or i will stay in the persons voicemail. I hope upgrading fixes this. I am on a 950XL. Anyone else having simular issues?

Tried making a "power button" + " Volume down" reset? Hold em down for 10 sec. (until you se screen goes dark or feel a vibration)

Hopefully we can now get the updated Outlook and Calendar app.

Outlook app runs here now :)

Oh, so there maps and stuff in the calendar app now? ;)

I might install this build just for that reason alone.

Wow nice speed increase with outlook update. Emails open instantly!

Hehe UK stuck on 0% for 20 mins It will work when it darn well wants to, so no panic :¬)

The signum of Windows 10 Mobile. I think you found a quote for the OS in general actually. Windows 10 Mobile - It will work when it wants to.

Wonder if we'll get any battery life inprovements on the 950/950XL

Great! I'll install it today. Any improvements with stability will be welcome.

"Data profiles are now correctly restored in the out of box experience that would prevent some devices from sending or receiving MMS messages." THIS is what I have been waiting on!!! I haven't been able to send MMS messages for about a week after hard resetting my 950!!! Updating now.

I haven't been able to receive MMS, however, it works on some other provider sims.... I wonder if that's the real issue.

Check the settings in Settings -> Phone and in Settings -> Messaging. You may want to cross-check with your carrier on the assorted messaging phone numbers in those settings.

I did several times, they're okay. It's just screwed up with it still. I heard to make this work you have to do a hard reset.

My MMS wasn't fixed with the update. Any luck on yours?? I have the XL.

I wasnt able to send or receive after updating to .29 but after I did a reset of .29 from settings, everything works now. The bug after hard resetting is fixed and MMS settings are restored correctly.