How to opt back into Windows 10 Mobile Insider Preview builds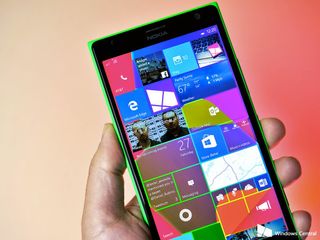 Now that Windows 10 Mobile is out the door, you probably stopped getting the Insider Preview builds just to get a taste of an official "stable" release and all its new features, changes, and improvements. However, the development of the operating system isn't complete -- in fact, starting Windows 10 and forward, Windows will never be considered done --, as such when Microsoft is ready new Insider Previews will roll out, and you might want to jump back into getting new builds.
Indeed, build 10586.29 is now available to most Lumias including the newer Lumia 550, Lumia 950 and Lumia 950 XL. That release brings some bug fixing and optimizations making it a worthy contender for your phone.
Thankfully, similar to the Insider Program for Windows 10 desktop, you can leave and come back the Windows 10 Mobile preview program at any time without having to worry resetting or wiping out your phone. As such, today we're going to walk you through the necessary steps to opt back into the Windows 10 Mobile Insider program.
Note: If you're interested in stop getting the Insider builds, you can get more specific instructions on our previous guide.
How to get Windows 10 Mobile builds again
1. Get the app
On your phone, open the Windows Insider app. If you have uninstalled the app, you can use this link to get the app again from the Store.
2. Log in
Once inside the app, click Get preview builds. If you're prompted, signed in with your Microsoft Account. (If you have previously used the Windows Insider, you probably won't be asked to sign-in again.)
3. Enroll - Fast or Slow Ring
Now, it's the time to enroll your mobile phone into one of the rings. You can choose between the Insider Slow and Insider Fast. While you can make the choice between the two rings, Microsoft doesn't usually deliver many builds through the Slow ring, as such you may want to be set your phone to the Insider Fast options. However, you want to make sure, you understand that builds available through the Fast ring of updates contain more bugs and things don't always work as expected.
4. Confirm
Confirm the risks of installing a pre-release version of Windows by clicking the accept button.
Finally, your phone will reboot to complete applying the new settings and then you will be once again part of the Windows Insider program for phones.
After your Windows phone reboots member to go to Settings, navigate to Update & security, and then Phone update to check for new builds.
Once you updated your phone to the latest Windows 10 Mobile Insider Preview, you can check if everything has been installed correctly by going to Settings > System About, and look into the "Device information" section, you will be able to find information, such as version, build number, and other phone specific details.
That's all folks.
More Resources
If you need more help on the Windows Insider Program for mobile phone, you can check the resources below, and of course, you can stop by our Windows Phone forums:
Windows Insider for Phone – All you need to know
Mauro Huculak is technical writer for WindowsCentral.com. His primary focus is to write comprehensive how-tos to help users get the most out of Windows 10 and its many related technologies. He has an IT background with professional certifications from Microsoft, Cisco, and CompTIA, and he's a recognized member of the Microsoft MVP community.
I remember even I got short excited for insider builds. Now it's just something I do when sleeping.

When is the Windows10 for mobile going to be released publicly?????? I keep asking every day.

Just enjoy 8.1 and don't torture yourself with the shitfest that is 10 mobile. Posted via Android because Windows 10 Mobile is trash.

I have to agree. Windows 10 mobile is pretty **** sorry.

After using win10mob wp8.1 feels like a stone age product... How are you still using that thing!

True but at least wp8.1 felt stable and thrustworthy...

basically this. windows 10 mobile is a reboot of a reboot of a reboot. An OS that has spent so much time starting over that it hasn't gotten anything done in 4 years.

There is actually no buzz around considering it is gonna be released this month..no news..nothing..

Stay on 8.1... Maybe by midyear they'll release a useable W10M version... If not, consider other options

I know I feel like a kid waiting for Santa Claus. Instead It feels like Ground hog day with Bill Murray :)

This is how to get prereleased builds, how about getting released builds? Is there another app for that?

Is it only for some regions? I am in Europe and just enrolled for fast ring on 950xl, but no update is showing.

They just hit the pub button, so give it an hour or so to hit all the servers. We're getting it on all our 950s/950 XLs here and the Windows Blog is updated to reflect the release.

OK, So I have installed the windows inside app on my lumia 950xl in here in Mass and it makes me reboot but evertime I check for updates I get nothing. Something strange is on my other phones that have the insider app after the phone would reboot I could go into the insder app and it would say that im on the fast or slow build, with the XL it says get the preview builds everytime and I selcet and it reboots everytime .. almost like something is not right.

I'm also having the same issue...the update has been on the server for hours, but somehow my Lumia 950 XL continues to tell me that it is up to date on 10586.0 Does anyone have any suggestions? I've already restarted the phone, uninstalled/reinstalled the insider app.

Same problem on 950 dual SIM unlocked. Uninstall/reinstall does not change the situation for me either.

Having the same issue. Keeps telling me there is no update.

Installing here in the UK.

I was on 10586.11 and decided to opt out of the Insider Program, yet I got the .29 update. Was I supposed to get it?

Yes, I got it as well, and read in the comments several people saying that they got the update although they opted out.

Same here, need the preview updates to stop. If not, I guess the only options is slow ring.

Maybe because it is an cumulative update?

I guess you can't say no to cumulative, BUT you have to be an Insider to get a new Build.

I am not able to install the update from 10586.11 to 10586.29 downloads but install crashes after about 2% giving an error of 80073712. Tried hard and sof t reboot, removing insider preview and windows installer to no a avail. Any ideas???

When is the final Windows 10 build rolling out to Lumias? I'm still running 8.1 and have been waiting for the final release of Windows 10 for stability reasons. Is it worth it to get the insider build right now? How stable is it? Can I use it on my daily?

The answers depend on the phone you're using. It works great on my Lumia 640 but it may not be as good on older phones.

Yes you can. Build 10586 is quite stable.
I am using it on L730 without any issues.

Thanks for the replies! I do indeed own a 640XL so ill give it a try!

There is almost nothing about 10 that's even *as good as* 8.1, much less better. Posted via Android because Windows 10 Mobile is trash.

Groove, Outlook, Start tile options, landscape modes for apps, and even Windows Hello are five distinct reasons I much prefer 10. Music experience is superior, mail experience is superior, landscape is a useful feature for certain apps, and Hello allows me to quickly unlock my phone when I don't have the stability of motion required for thumb entering of lock screen pin. The entire experience across anything is subjective. So there may be no point in offering specific examples countering your broad remarks.

No need to troll. First looks at windows 10 are promising. It will only get better with time. Posted via the Windows Central App for Android

probably up to your carrier: never.

Still waiting for Windows 10 Mobile RTM.

Exactly where RTM at though just to get us on 10 since it's never finished it's not out the door just yet with 7% adoption and no RTM for everybody else!

When is it actually coming to other devices other then the 950... Like my HTC one m8 when will it get RTM?

Good question. I'm regretting "upgrading" from my Lumia 1520.

Is it worth it for the 950?

Personally, I'd leave it. There's little point whilst the current build is running (for the most part, without restoring a backup) smoothly. You'll void the warranty (should the phone decide to die on you) and it'll likely be riddled with bugs. Microsoft seem to cure one bug and add a bigger one in recent months. Just wait for the next RTM update for the x50 series.

At this point, I think they are prioritizing bug squashing, so I am going for it. It's very hard to brick a Lumia, I'm not too worried.

Waiting for it to RTM to Samsung ATIV S.... Will it ever? I can't even do an insider build on it....:-(

Edit the registry and load it, if i8750. Works great on my bbrothers phone, check the forums.

Hello, can you reply with a link of what instructions you 've followed and succeeded ? more specifically aboutt which thread in forums?

Is there ANY word anywhere of any firmware upgrade for any of the lumias following windows 10? Because,honestly,the experience of windows 10 on 920 and 930 is well almost a comedy.from battery drain on 930,to battery standby on 920,cracking sound,onedrive picture upload NOT working,settings crashing,apps stuck on update.and the funny thing is,win 10 runs better on 920 than 930.much better...therefore my question: Firmware update anyone?

Just got a firmware update on my UK unbranded 930 tonight, though I have it on 8.1 stable. Looks like there is one, in prep for W10 release perhaps? You might need to switch out of insider (or even back to stable 8.1) to get it though.

I also got un update to my Lumia 640xl last week, couldn't find any info on it though or tell what exactly has changed.

W10M is out of the door? Official RTM been released to regular customers of older Lumia's? Any details to share on that?

Well my Lumia 720 was hanging a lot with Windows 10 and battery was draining very quickly

Okay. Maybe a silly question. When was Windows 10 mobile officially released to the general public or did I misses that big news?!

I think they mixed up something...

I just want Project Astoria back :C

Stable for a 1020 or 1520?

Do I get windows 10 update genuine not like preview builds..just by Windows update. I'm currently using 630 and from India??

Don't do it stay with 8.1, it's not worth it. It was a pain in my *** to go back to Windows 8.1, I lost Cortana but now she is back

Better watch out if you are on the 3 network in the UK unless you have the tethering add-on as you will be banned from data access because they think you are using your phone as a personal hotspot even though the settings are off (and this build staying off). Unfortunately for me and my Lumia 1520 I have a 2GB limit on 3 with no tethering option - I'm not using for tethering and now I can't use any data - so unless I can sort it out with 3 I'm back to Windows 8.1. I only upgraded this time because I was pretty sure this was gonna be the RTM build a bit like 10240 was on the desktop, looks like I'm screwed again. This especially bad for my Demon Defense save which doesn't backup to the cloud - so I have to start over every time I rollback.

I also got an update on L930 tonight.Suspect this is in preparation for W10. My trusty L920 has the latest W10 build and works a treat.

I upgraded to 10586.29 on my 920. Yesterday out of the blue a phone update was triggered, no idea what it was and can't seem to find any info on the update but everything seems to be running really well so far phones was charged this morning up to 100% and phone us currently on 70% and Ives been listening to about an hours worth of podcasts using the speaker and I also have lives tiles updating throughout the day. Posted via the Windows Central App for Android

Installed it on my 535! Its quite good!!

Still lag..still bug.. I stick with window phone 8.1

Not working on my Lumia 950 XL. Canada unlocked dual-SIM version. Don't know why but it's not finding the update no matter what I try

Been trying to get build 10586.29 on my 1520, but the download is stuck at 65% since Sunday. Anyone experiencing a similar issue

So when's the official rollout. Haven't heard any major news about that. Apart from mobile Hotspot issue and the issue when trying to update applications, Windows 10 was alright on my Lumia 640 Posted via the Windows Central App for Android

I think we can crown Windowscentral as king of click bites tutorials on web...

i did a upgrade from the last build and now my 930 sometimes crashes on the start screen. I will have to do a complete install from fresh and not use a restore, which is really anoying as i have had to do that not only with prety much every windows insider build but even windows 8.1 i think my restore only 1 time caused no problems andf i restored several times on windows 8.1 and 10. Strangly my 6 years on iphone restore was something i could feel confident to rely on, i havent had that experience with any windows os insider or not. I hopwe they sort the restore out for 10 but so far im thinking its the same as if it was 8/.1 there.

Win10 on a 620? Wow, that's painful.

I had gone back to 8 for two months seeing as how 10 was so buggy. Imagine my shock to find 10 in a terrible state probably better than it was but basically as buggy and as capable as something that would be best competing with android 3 or 4, let alone 6. And to think MS is taking this seriously...what a disgusting excuse for a mobile OS they have created. So lacking, so boring, so ....windows phone. Scrap this junk and bring windows 10, the real deal over to phones and they may still have a chance at something. windows 10 mobile is worse than windows ME in every way.

Umm WTF???? Nokia 620??? Who the **** has a lumia 620??? Like for reals??? EWWWWWW

But if you wanna go back to stable version you have to reset the phone, right?

I've been asking for this wallpaper over n over again coz i like it. Hope someone can help me...thnx.;(

How in the world do I get rid of an older WM10 update that I did not install on my Lumia 1020? I have been wanting to upgrade to the latest build available, but it seems it will only let me download & install build 10.0.12534.56. I have unsubscribed from Insiders, re-subscribed but I cannot get that build to go away. In fact have received a messgae that an update is ready to be applied/downloaded and until then I cannot even select what ring I want to be in. Any way to sort this?

Any body installed windows 10 on Lumia 820??? How is it works?

Hellow there,
I downloaded the Insider app on my Lumia 435 which was running Windows 8.1 and updated my phone to 10.0.10586.107. Now the situation is, I want to get current updates, which it is not providing me. I downloaded Upgrade advicer, which says me my phone is up to date and there is no need to upgrade. Lumia 435 has support for all the Windows 10 mobile versions. Now may you please help me with this issue that how can I get latest windows 10 updates on my phone?
Windows Central Newsletter
Thank you for signing up to Windows Central. You will receive a verification email shortly.
There was a problem. Please refresh the page and try again.