How to roll back from Windows 10 Mobile preview to Windows Phone 8.1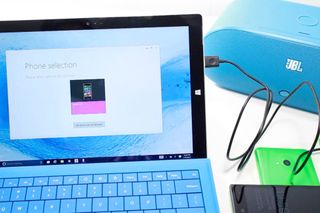 Today's forthcoming Windows 10 Mobile Insider update requires users to rollback to Windows Phone 8.1 first. Here is how to do that to get you prepped!
Below you'll find all the steps to help you go back safely to your previous version of the mobile operating system:
How to roll back from Windows 10
Download and install the latest version of the Windows Device Recovery Tool

(opens in new tab)

to your PC.
Launch the recovery tool and connect your phone using a USB cable. If your handset isn't detected, click My phone was not detected to force the application to rescan for and detect the phone.
In the next screen, click your phone, wait a few seconds, and you'll see your phone information and the software available for download to roll back to a previous operating system. To continue, click Reinstall software.
Next, the recovery tool will warn you to backup all your data, settings, and apps before continuing, as the rolling back process will delete all the previous data in your phone. Click Continue to proceed.
Now, the recovery tool will download the image from Microsoft's servers and replace Windows 10 Mobile that is currently on your phone. The process will take some time depending on your internet connection and the hardware in question.
After the tool completes the process, you will receive a message saying "Operation successfully completed". At this point, the phone will reboot and you will have to go through the Out-of-Box-Experience, like on any version of Windows. Then, you'll need to sign-in with your Microsoft account, select to restore your phone from backup (if this is something you prefer), and after a few additional questions, you'll be back to Windows Phone 8.1.
As you can see, Microsoft is making it very convenient to roll back to Windows Phone 8.1 from Windows 10 Mobile preview, and the company is starting to add support for non-Lumia devices, which is a big plus. So you don't have to spend time searching on the internet for different tools to go back to the previous operating system.
However, you have to remember that the operating system is far from complete. Not only will you find issues, but you might also stumble upon problems trying to roll back, as I hear many users reporting issues restoring Windows Phone 8.1 on their Lumia 930. As such, you should avoid using Windows 10 Mobile preview as your primary mobile operating system, at least until it hits RTM.
Did you have to roll back from Windows 10 Mobile to Windows Phone 8.1? If so, what was the reason? Let us know your experience in the comments below.
Originally published April 2015, updated May 2015
Mauro Huculak is technical writer for WindowsCentral.com. His primary focus is to write comprehensive how-tos to help users get the most out of Windows 10 and its many related technologies. He has an IT background with professional certifications from Microsoft, Cisco, and CompTIA, and he's a recognized member of the Microsoft MVP community.
One of the reasons why m not rolling back from the previous build is that the save games will be wiped off :P

Will the whatsapp chats also be erased off? Or will it still be intact. I've done backup within the app. I am using L920, so I don't have exteral SD card.

Yup..if no backup in external memory then no way to retain the chats after the roll back.

Not true.
Whatsapp messages are backed up alongside the apps+settings backup. So as long as you do a full system backup (to OneDrive), then it will restore in due course.

Not true whatsapp messages won't get backed up.

You don't know what you are talking about my friend!
I have restored my 1020 on two occasions in the past few months. On each occasion, I select 'RM-875' on the system restore page in the WP8.1 initial update process.....and voila, the app settings/chat log get downloaded from the OneDrive backup.
The whole process is fully automated, and works v.well in my experience (does the same thing as iOS - and is far ahead of Android in that regard!)

ive reset my phone 3-4 times and each time i restore it i get all my whatts app data back, alot of games not all backup to and so do many apps. Exellent restore mode on windows phones, a big plus, cant wait to have my music inclded.

I restored 1 week ago, and I lost the complete layout, plus some apps were no longer available. And no, I'm not stupid, when I only hard reset, no layout gets lost, but rollback is mortal.

Lol, you seem to be not informed.. WhatsApp mashed are backed up!

Whatsapp is not working in my L920, with wp 10 TP. Would uninstalling & reinstalling the app erase the chats? As even phone & messaging is not working, whatsapp is the only thing that's available for communication through phone!

Do a full backup via the settings menu - then restore your phone. With luck, your Whatsapp chat logs will have saved correctly and will restore via the device restoration feature on WP8.1.
Assuming you get away with it this time - don't ever load an Alpha software on your main phone! I loaded mine on my old 820 - so it didn't matter whether it messed things up.
(Both times I have restored my 1020 in the last few months, all of my chat logs have come back for Whatsapp)

probably because you have a second phone with active whats app with those chats. this doesnt get backed up if you have a single device

Did u able to run what's app? Mine is also not working..even on reinstall

I reverted back to 8.1.
Windows 10 is nowhere near ready for daily use!
(Personally, I would NEVER load alpha software on a main phone).

i have 2 days with the technical preview and the poor management of the battery is why i am getting down, and is very slow for some things or menus.

I am upgraded to windows 10 a few days ago. Now the
battery is draining fast and the system is heating too much while using apps.

yeah the battery is draining very quickly.bad bad bad.

for me windows 10 was absolutly fine for a daily device, surprisingly so, but my photo app broke and i dont like the new email and calender so im rolling back.

the firmware version is same on windows recovery tool while rollback.does it really installs W8.1???

As I say, I have done it successfully on two occasions with my Lumia 1020. It did fail on one occasion....but we have dreadfully slow internet, so I guess the process got interrupted.
More to the point, what option do you have?! Whatsapp doesn't work on your phone....so you either wait for a Whatsapp update, or you run the apps+settings full backup, and then do the restore once you have reverted back to 8.1.
Seriously though - this is a perfect example of why you should heed Microsoft's and others warnings. No one should load W10 TP on their main phone!
Good luck

dude listen to me
open your whatsapp then go to settings then chat setting scroll to the buttom you will find a word called backup press on it wait for few seconds then you redy to go :

If you were in a certain group chat, you will still be I'm it, your contacts will remain intact but private chats will be erased. You'll have to sign in again. This is what happened on my 930.

Copy the WhatsApp folder to your desktop.

I have rolled back everything backed up nothing really changed just the time wasted hours in total

My crossy road saved. Beach buggy racing won't though

ive done 3 restores maybe 4 and my beach buggy saves are all there, so thats wierd to me.

As usual... This is probably my largest complaint about hard resets.Maybe one day all game saves can be backed up.

I find it crazy that Xbox achievement certification doesn't make external game save a requirement

Glad.to try it out but im still disappointed they are so far off from a stable finished product. Does anyone believe they'll have this ready before the end of the year? Seems they have such a long way to go, yet they've been working on this for a year or more.

Have you ever wrote and OS?

If they are getting close on features then I wouldn't worry. If they need to redo a bunch of internals or big sweeping changes then it will take quite some time.

I disagree, I think it shows an awful lot of progress, sure its clunky, buggy, slow and half baked. But speed and stability comes later. I'm not sold on all the changes, but its looking promising.

Sure, it does look promising. But it still seems they are very far off. Especially still being in Alpha stage, and it shows. Ill be surprised if it is done by the fall.

How do know it's the last build they have? Just because they released to the public doesn't mean that it's the very last version.

You're missing how software development works. There coul dbe a version taht is a lot further along that, for many reasons, isn't released to the public. You're only really getting something to generate hype and feedback, it's not for you to test in a QA sense, or to guage how far along the product is.

I'll be surprised if I like it better than 8.1, even after it reaches RTM. So far, everything is a step backwards, or many steps backward. With the possible exceptions of voice to text anywhere there's a keyboard and the additional functionality when swiping down from the top, and those two things could have easily been added to 8.1.

For that new to this sort of thing, pre-release OS builds are a huge step away from the final versions, often right up to the last couple of builds.
They're checking out features and interoperability, stuff that doesn't require a sick, fast interface. I'd you install the pre-retreat builds, you are helping them find the bugs, so don't be surprised that there are a lot of them! They will squash then as they go, bit each time they try out a new feature there are new bugs, so it can give the impression that nothing works well even s there is remarkable progress.
There's no point in then optimizing for speed and smoothness at this point, since the main features are changing with each build, but they are collecting data on what needs to be improved so that when the final builds are done they will contain the necessary changes for the kind of efficient, smooth interface we are accustomed to on WinPhone.

Yes they can be ready even before. They need our feedback to make the right adjustments. Look at how far win 10. The more we all roll back and continue complaining about how raw this update is the longer we will wait. My thoughts......

They need no feedback. They can and will make it an Android clone just because they can and no one will ever stop them.

This may be the dumbest comment I have ever read.

This is the most accurate comment. MS can do whatever the hell they want. They can slit the throat of the botched aborted red headed step child thrice removed which is WP...if they were bored. What are you gonna do? Knock on their door and complain? That's akin to Dorothy and her crew rolling 5 deep up to the gate of Emerald City (see that pun?) and being told "ho away" /misspelling, but it works... by some wanna be hobbit before hobbits were cool, kick ass wee fighters.

This is the second time I have read this. Have you got it saved for such occasions?

I was wondering this myself... No, I only wrote it once. I think it was resurrected, see the content count?

I agree. That's the only reason though its so buggy in still continue to use it. But the second build is more buggy than the first one though they have added new features. The UI is faster than the first build. Most of the apps keep on loading and doesn't open. Force restarted at least 15 times after the new update.

I tried giving as much feedback as I could (10 or so responses) however I have no choice but to roll back on my 928, the phone is stuck without data of any kind, and apps will fail to launch and then reboot the phone. Not much to "test" when the OS can't run anything at this point, and I can no longer give feedback as the OS is obviously corrupted on my device. Oh well, I'll try again on the next build.

No way, it's not even close.

Anyone knows , what's the alternate method to factory reset the phone ?? Expect lSRT and settings

You can dial ##777# to reset. Silk have not done but I believe its almost like hard reset.

"Smart men never take a step back, smarted men never make the mistake that makes them take a step back" I am good with my WP8.1 Gimme Developer's Preview...

Smart men also don't forget to proofread.

*smarter, Thank you kind sir.

Wait, you just took a step back to address the spelling error =-O

I'm reinstalling WP 8.1 right now on my 1520. Some neat things in Win10, but definitely not ready for prime time. 1) Loss of Family Room. Yeah, I know its EOL, but I'm going to use it as long as I can. 2) Battery life is horrible. I usually get 36 hours, but I went from 100 to 42 percent in less than 6 hours. 3) Email is not ready for actual use. Thats more of an Alpha. 4) Numerous crashes, lock ups, etc. 5) IE settings not accessible. They'll get there, but I need my phone way too much for work and this won't do.

I am finding with windows 10 on my phone (1520) 1 - invalid 2- Agreed - power isues - work around close back ground apps using held dwn back button. 3- email works perfect for me. 4- I ahve seen none even the phantom touch not there 5- spartan and internet explorer are both working products not all settings additional: batter saver shows no apps in there hey cortana listed but not able to use people hub is getting revamped no office - but we know why! overall I can use this fast build as a daily driver no issues!

mines have problem turning on after the screen turns off, I cannot get it to turn on, are you having the same problem.......the other problem I have I cannot use my AT&T service for data, I can only use wifi

DISABLE THE START SCREEN BACKGROUND IMAGE, AND W10 TP WORKS 10 TIMES BETTER❕❕❕
.............
Seriously. You will notice a huge difference in performance, and stability.

Some of us actually have a job, with a corner office, a suit and trolls to maneuver into place all day. That's without the customer base. We need our phone. I use it half as much as my pc.

Going back to 8.1 dev preview myself on my 1020, but will keep my 630 on 10tp. 1. Not an issue for me 2. Yep, battery drains really quickly 3. Email I couldn't even get to sync properly, love the interface but its too buggy for daily use 4. Didn't notice any lockups or crashes, didn't have any sim issues either 5. IE settings not existent Also, you cannot access accounts to change settings related to the accounts logged in on the phone. I'll wait for the next build.....

I am unable to download the upgrade to 10. Downloading stuck at 5%. Tried many times. :(
1020

Consider yourself lucky!!!

Same thing happened to me..i remained unresponsive and all of a sudden the update percentage went to 95% on my 1020.. And finally i am using it

Did it finally download? Went smoothly on my 1020. No hang ups or anything. Just curious.

I would be fine with Windows 10, if it didn't say "No SIM" after I upgraded. Re-inserting the SIM card, doing soft resets, etc doesn't do anythinng. Basically, it's not even a phone anymore.

Rolling back to 8.1 as the same "no sim" issue....pissed that i spent over 2 1/2 hrs downloading somrthing that bricks my 520

tried using the windows recovery tool & now the phone is dead,won't turn on...has become a brick & words can't be found to describe how angry i am right now

That's actually pretty strange. I just followed the tutorial and it seemed to work fine, other than losing a bunch of stuff. Out of all the things that could go wrong, not being able to call or text is the second worst. The worst obviously being a dead phone, as in your case. I'm not sure what happened your phone. Plugging it in a charger usually turns it on, but I feel like that won't work in your case.

I had the very same thing happen to mine. I'm really glad I'm not alone in that. I'm still trying to figure out how to get it to power on.

Try holding the power button + volume down (or volume up, not sure). Couldn't get my 1020 to turn on at all after a weekend vacation, not through At&t, phone charging, or Windows Phone Recovery but that finally worked.

I followed all the instructions and bricked my phone. Basically the bootloader gets killed and it no longer comes up as a Windows Phone and falls back to the processor's bootloader. There are many people in this same state not only with the 1020 but also other models. Here is a link to a topic on the Microsoft forum about this: http://answers.microsoft.com/en-us/insider/forum/insider_wintp-insider_repair/bricked-nokia-1020-on-rollback-to-windows-81/1c2016c8-1df5-415a-aff6-ef10a6b30b02 Sounds like Microsoft may be trying to put a fix in their phone recovery tool so they can recover a truely bricked phone.

I also lost all of my photos and videos in the reverting process. I have some photos saved on OneDrive, but I'm really annoyed that it happened. I don't do automatic upload because I delete unwanted photos on my phone and manually upload the good ones. If the calling and texting worked, I could actually live with those other bugs on Windows 10.

Oh jeez, seriously man, this isn't the phones issue, this is YOUR issue.

I was hard resetting my 720 before upgrading to this build. And the thing is that it is not starting anymore! The screen with the wheels comes, and then it shows its proceeding, and the bar fills to say 25%, and the process stops and a sad smiley... :-( like this shows up. And the process starts again. Been three days since it is happening. What should I do?

The phone restarts again and again. So I am not sure if the connection through the usb chord to the pc will be permanent. The phone will detached the moment it restarts.

So I can update my Lumia 1520 to Denim
RM 937 India

I have a RM-937, I updated to 10 with no issues and have flashed back to 8.1 with no issues.

The recovery tool restores a device to what is current for that particular device, including model and branding/location. It will not install a version that is not already available for your phone. (at least it isn't designed/intended to)

Have some way roll back without connect to PC or Laptop ?

Yea. You can just walk backwards keeping the phone upside down

How come no one else figured this out?