How to install Windows 10 Preview to your Lumia Windows Phone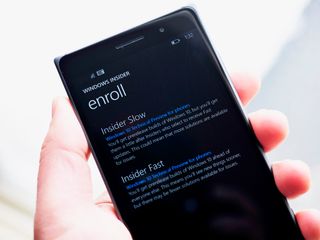 Microsoft today released the Windows 10 Preview for a subset of Lumia Windows Phones. Many questions abound about the update, as some phones are getting it, and others are not. Our AT&T Lumia 830, fresh out of the box with build 14157 of the Windows Phone 8.1.1 OS is getting the update while our Lumia 830 (UK, with Developer Preview) is not.
Here is how to try and get the update for your Windows Phone, assuming your phone meets the requirements.
Download the Windows Insider App from the Store (Or scan QR code below)
Launch the app and login with your Microsoft Account, also make sure you are enrolled in the Insider program (insider.windows.com)
Choose Insider Slow or Fast, depending on how risky you want to be and how quickly you want updates
Confirm your acceptance of the Insider program, including the fact you may void your device's warranty
Hit the check mark
Go to Settings
Phone Update
Check for Updates
The phone may need to go through another step to get the Windows 10 build, as seen in the dialog screen below
Your phone should now start downloading the Windows 10 Preview update. You will want to be on Wi-Fi and make sure your battery is charged at least 40%.
It is not yet clear if the Preview for Developers program needs to be enabled or disabled during this process. We will update this story as more information becomes available.
Depending on how much storage you have on your phone, the update could take upwards of 20 minutes but it will vary. You may also need to update to Windows Phone 8.1 build 14219 first before going to Windows 10 for phone.
Windows Central Newsletter
Get the best of Windows Central in in your inbox, every day!
Daniel Rubino is the Editor-in-chief of Windows Central, head reviewer, podcast co-host, and analyst. He has been covering Microsoft since 2007 when this site was called WMExperts (and later Windows Phone Central). His interests include Windows, laptops, next-gen computing, and for some reason, watches. Before all this tech stuff, he worked on a Ph.D. in linguistics, watched people sleep (for medical purposes!), and ran the projectors at movie theaters because it was fun.
Also wondering? Hoe does it perform..

It's working fine...i selected the fast option... So hope to get updates faster... But WhatsApp is being glitchy after the update :(

How do your other phone apps behave? Here maps, Lumia camera, etc.

Did all your apps reinstall?

I have been using it for a few hours now on my Lumia 635. First off, it is slow. Lag occurs at times, caching is slow, and it caused quite a few of my apps to have to be reinstalled. Cortana lost features and works more like the glitchy desktop version than the previous phone version! On the positive side, they added the ability to reply to texts through the notifications bar, but even the notifications bar is glitchy at time. I do not recommend getting it currently if you use your phone for everyday use. I also noticed it tends to heat up. Also, Spotify does not work on it. But they fixed the "Show Artist on Lock Screen" feature. They added a sound recorder, calculator has many modes now, Alarm app is updated, settings have new look and so does the phone app. Now about the Phone app: The new Number Dial Pad is small and looks quite ugly on the phone. To be honest, a lot of the "Universal Apps" fail to deliver a nice looking Windows Phone finish. The texts are too small and it just looks incomplete. A nice new feature is that "Recently Installed Apps" show on the top of your App List. And for some reason, pressing back on the navigation bar doesn't go back to home screen. You must press "start". Calendar App, Office Experience, and Xbox Phone Experience is not in this update yet unfortunately. To be honest, I recommend starting the upgrade because in the process, it delivers Lumia Denim! As a matter of fact I kind of regret upgrading from the Lumia Denim to Windows 10 Tech Preview. As of now, I am finding a way to rollback which doesn't appear to be an easy thing to find. New Settings menu text is small, but I do like the orginization. Like I said, do what you want, but do remember that this is very early release and that many things are destined not to work at first. I will take any more questions about the Windows 10 Upgrade!

http://www.windowsphone.com/bg-bg/how-to/wp8/settings-and-personalizatio...
try this link if you want to roll back your phone (I hope it redirects you properly for your country) I was just going to install the update myself(same phone) ,but your comment about the heating got me kind of worried,because this is my everyday phone. Does it tend up to heat when you are using some consuming app/game or it heats even from simple functions like taking calls/the phone being active/camera etc.
An answer will be highly appriciated :)

Tends to heat up when I'm running more than one app or high processing apps.

That link is not in english

What build number are you running? Sounds like you're running 9941 - the build released a few weeksw ago, BEFORE today's 10051 release. The fact that Microsoft has a glitch in its release system preventing upgrades at the moment seems to confirm this.

Hii, I have a Lumia 635 too, how did you get the denim update? I keep going to "phone update" but it says I'm up to date but when I go to my "extras+info" its says I'm still on Lumia Cyan. Any suggestions?

WOOW .... worst ..... !! untill relise the full verson pls dont update this verson . other wise u can't run your phone properly .

If you select the slow option, you will not get the update immediately.

This. Someone edit the article, this is pretty important. Got confuseb for a bit and this was super helpful. Thanks bro! :)

OHHHHHH!!! Thank you @apnaadda! I tried two times through the Insider app, but everytime I went to check for updates, nothing showed up. Looks like I'm still gonna have to wait a while...

so how do I switch to the fast option?

Wow...for me the problem was the battery XD
Now it has become 40% and the downloading has begun..or else the problem was the insider program I selected..this time I selected insider fast...

i need your help guys, i started the install win10, installing was on 70-80% and the battery was under 40% now i can not turn on my phone. if i turn on my phone the update began again from start and again turn off while the battery is not 40%! Im on fire, need help

Omg...i bought data and now it wont update over the 3g

My damn phone keeps saying up to date

how do I switch form Slow to Fast?

I try to login windows account after click ``get preview builds`` clicking microsoft account.and after enter my enter account information windows insder me send me back to menu windows account or domain account under no builds menu. Can you help me please about that?Anyone maybe :)

WE NEED YOUR HELP GUYS :( CANT UPDATE TO W10

I have the same error on my Lumia 635, actualy I try to restart my phone for get the update but this still dont working for me

register on insider program

I try to login windows account after click ``get preview builds`` clicking microsoft account.and after enter my enter account information windows insder me send me back to menu windows account or domain account under no builds menu. Can you help me please about that?

Video review of wp10 please.

You do realize it was just released an hour ago?

For us not for the members of windows central..

Members of windows central are not Microsoft employees

When 8.1 pfd was released for the 1st time..WPC had their video ready..Tell me how?

Well for one, this is the first time Microsoft is releasing a technical preview of an OS to the public (aside from W10 desktop), in all their years. It's likely that no priority was given to non-Microsoft employees.

They may have gotten the preview under embargo from Microsoft, so that they could get a review up quickly.

Nonsense. Microsoft have publicly released (usually many) beta, CTP and RC builds of practically every OS they've ever released. Microsoft releases builds to hardware and software partners even more frequently (ever wonder where all the leaks come from?). What they've NOT typically done, especially in the last 5-6 years, is release builds this early in the process nor have they typically released Phone OS betas as openly or as frequently as they now are. That they are now doing the latter is a very good thing in my mind.

Give them time, I'm sure they're working on it.

What about the recovery tool or app??

You will be able to downgrade from win10 for phones without a pc.

I'm interested on knowing about this too.and how big is W10?

Not Yet Aware of the size.

I would do it if I could (720)

Interested but so risky ==

Yeah me too! Damn us 720 owners! Too early for wp10 and too late to upgrade. Damn the 720 is the perfect phone!

Same here. I kept my Yezz Billy 4.7 fresh just for this occasion.

Won't 720 get the update now!!!

It will in due time, they're just making sure it's usable.

Two questions: - Can it be removed or is the tool not available yet? - Is it English only?

Partitioning and roll back to come. List of languages just gone up elsewhere in the articles.

Read this Article http://www.windowscentral.com/these-are-supported-languages-first-windows-10-preview-phones

Thanks. I asked this before the article was posted. :) So the roll back isn't available yet. I'm not going to be able to install it then as my phone 635 is currently on sale on eBay. :(

Alright! Never mind, the tool's been released! :) http://www.winbeta.org/news/microsoft-releases-recovery-tool-revert-wind...

After you hit the check mark, the phone needs to reboot. Almost at the end of the gears for me!

Y NO 735.... Y U DO DIS MS.....

They said no dual sim smartphones...

But the 730 is in the list

730 is single sim smartphone.

I own a 730, it's a dual sim

Dude it's DUAL SIM! I also have it.

730 has dual SIM... 735 doesn't -.-

I have dual sim 730 and I'm installing now ;-) .. Rest of my family have a Samsung Ativ S and can't update :'(

can you please confirm the release date of the version Windows Insider app on your phone?
i can't seem to get the update in settings even after signing up for Insider Slow build (that restarted my phone btw).
Gabriel replied to my tweet saying I might have to update the Insider app. But mine is already up to date with last update released on Jan 29.

Just wait, it takes around 10 mins to check for updates

>>>USE THE FAST BUILD BRANCH<<< Lots of people (Including me) are having this issue. You can probably switch back later


How do I switch form slow to fast?

I also have Lumia 730 dual sim. Please help me to upgrade

The update size is much much larger 30 min passed still 70%

What is the approx update size?

No wifi!!!!! What to do??

How to install: own a low end phone

Sell your 1520 for a 830. Haha

middle end... not too low not too high

How buggy people lets talk about how buggy or more features wanted before rtm now no shame lets do it

the known issues list is interesting. "Additional language keyboards may not be present and may not be able to install on US builds after upgrading to Windows 10 >> Reopen the Windows Insider app and re-select Insider Fast/Slow again. The download of keyboard packages will then work" I will never understand computers.. :D

This is a Beta. That's one of the things they haven't finished, but know about obviously. That's how computers are. :)

That much even I understand. Just so freaking weird that a keyboard bug gets fixed by toggling Windows Insider options. :)

Scared to do on my new 830.

Will not try do upgrade to win 10 at least until the end of summer and in a "slow" way

"Causing it to stop woking permanently" okay this may cut the sad of not get it for my 1020 a bit lol

Maybe the should have been more jolly with their description, like "may cause the phone to heat up and melt your pockets :P", on second thoughts maybe not lol.

Daniel pls make a hands on video..Joe didn't show the new settings menu on his video and also nothing has been shown clearly on there. Those who cant get the preview atleast give them a chance to see it with open eyes..

You don't have to ask, the guys at Windows Central are awesome at covering this stuff. Just look at all the coverage they did in regards to the previous updates.

Preparing to install 80%, 100mbps Wifi ;)

You don't have to mention your internet speed as such. Posted via the Windows Central App for Android

Why wouldn't they just blast it out to every phone .. It sucks that Joe b shows off windows 10 with his 1520 but we dont get it .. Low end only .. Lame

For now...support for more models is coming later

Yeah but they originally said it would just be the high end phones, lol

Read this article http://www.windowscentral.com/why-higher-end-lumia-phones-cant-currently-run-windows-10-preview

For some reason, it wouldn't work on slow. I had to select fast for it to download. Slow just said "you're up to date".

You really don't understand what slow and fast meens...

Well, yeah. That's how it should be.

how do I switch from slow to fast?

Known issues This is still an early build and while there are many things that work great, there are also known bugs and things that just don't work quite right yet. Remember that you're seeing a work in progress, and a huge goal of the Windows Insider program is to work with a large community of people to provide feedback. Here are the big issues that we think you should know about for this build. In most cases a fix is coming in a future build, but a few have workarounds you can try in the meantime. http://blogs.windows.com/bloggingwindows/2015/02/12/announcing-the-first...

Man...too many bugs...still going ahead and participating :P

How can I install it on my five 930s and three 1520s of my developers ? Microsoft ???? Have I to buy new phones ??? Want to make business or support your developers ????

Patience!!! Support for more models coming later!

I got it .. I got it.. I got it ... I got it .. I got it ... I got it ... I got it ... I got it ... I got it ... I got it ....

Taking forever to check for updates for me... was the same with the Preview for Deveopers though, usually took like 10 minutes. Hoping I can start downloading soon!

Will Windows 10 for phones provide true multi tasking and end the Resuming...:( head ache for us Windows phone users.
Please anyone answer this.

Windows Central should have a policy that auto-bans anyone that says "Please answer this". Especially for questions like this. :D

After all this time with Belfiore stating it will be available only to the Lumia 930 and the 1520 at first and now we don't get it first? WTF!?

It's really a Brand New Great Look For My Lumia 730..

Hi, I have a Lumia 730 and thinking about trying this.. is the dual sim function still working? How much free space do you need in the phone memory to install it? I got only 2 GB now.. Thanks!

Rubbish as usual from MS , they will never manage to release something that works on all even same models.... Rubbsih

What exactly were you expecting from beta software?

Jesus dude take a chill pill its not a release its a preview.

It seems all those articles published before just got over your head... Lame

Hmm, maybe we should round up users like yourself and put them into a confined space :P. That ought to clear up the comments section pretty quickly :P :P.

Glad I got that free 635 in the mail today from renewing my Xbox music subscription! Installing now!

It's Really A Brand New Great Look For My Lumia 730

What about dual sim? Really one sim doesnt work?

It's working pretty good..
But the thing is some options in settings like
VPN, DISPLAY , TOUCH ( UNDER EXTRAS OPTION ) won't get open in single touch..

Does the fast / slow option show up in insider app only for eligible phones? For my 735, I get no preview builds message.

We need you guys !!!!
Make The Windows 10 for Lumia more stabile....i have just a L520 and is my single Windows phone....i can't try it !
Let us know how it's work !

Thanks Daniel. Btw for those who want to install u should check your current storage too before downloading... Still not sure what is the update size...

Blu win hd please :( I know it's dual sim, and no dual sim phones yet, but... I want

Have a close look at Joe calendar appointment in previous post's video -
Team Kora
Xdevice
Spartan proposal
Built-in inking
XBOX integration last but not the least hair appointment (comeon its joe :P )

No 735? But 630, 635 and 830... -.-

What's the download size?

I chose the "Extra Slow" path on my 1020 :-)

Lol, same. I'm running out of popcorn :p. Some of the comments although annoying are pretty hilarious.

1st I would like to Thank The Technical Team Behind This..
You Guys Have Done A Stupendous Job.. If Any Faults Have Been Founded,
Then Surely We Will Send Feedbacks.. Good Work & You Guys Have A A Great Future..

Imagine how cool it will be this year Microsoft's flagship with Windows 10 !!!!

Please . I have Lumia 720
Can I load the update??!!

Read the previous article!!!!

Where is the Windows Insider app? It's not appearing in the Windows Store.

Processing on my lumia 730...thought i wud be lucky on my 1520..fortunate to have both...

Daniel, which device are you gonna install on first fir your 'hands on'?

Read the previous article...

He is asking something else

So my HTC One M8? You have to be kidding me. This is BS. These old crap Lumias get it and I don't. Fabulous. Screwed if u do. Screwed if u don't. Nice

It's a beta build not an official release...support for more models coming later...have patience!!!!

High end lumias aren't getting it either dude... Chill

Not retarded. Just love being mislead by MS all the time

Mislead? If you listened carefully they always maintained it would be select models first. Besides they have no control over another phone OEM's drivers. That is HTC's responsibility.

I've already rebooted and nothing happened, HELP!

Read the previous article...man...comments like yours are getting annoying...

Been on the gears for a while now. Hmmmmm.

Wait it out, it will happen. If you soft reset on that it will brick it and you will have to use recovery tool.

Phone app is updated. Pivots on top are no more, has buttons on top to switch to speed dial and voicemail. Also updated tile.

This is very annoying, on Lumia 925 no effort is made or 1020, no Lumia Camera 5 (because of the hardware specs, Microsoft do ur best come on) and now no Technical Preview. I will make definitely a switch

What do you mean no effort is made? With such a vague understanding how testing works, I would recommend for your own sanity and safety you don't even touch the technical preview be it on a pc or phone.

How could it not work with the Nokia 1520? Isnt it a flagship?

There is an article that describes the reason.... come on... just read!

bout 30 minutes now, first denim install, and finally (i think?) win 10 is installing now on my lumia 635

How much free space I need? 1-1,5 GB?

Can't believe it's not available on my 830 UK

Don't say they didn't warn you

Yes, with such a question would recommend you wait for official release. Update at your own risk.

http://postimg.org/gallery/6uxhre64/ the disclaimer looks scary ... i almost pissed my pants ... why do disclaimers have to be scary :P L630 :) downloadinggg :)

Because they're safeguarding themselves from whinging numpties, who would rather throw a fit and a class action suite against them. After updating to the preview and find that their phone no longer works as normal.

Here the recovery tool
http://wmpoweruser.com/download-the-new-windows-phone-recovery-tool-from...

Samsung ATIV S not supported :(

What happen to the Windows Insider app in the Windows Store?

Can we roll back to the 8.1?

Yes you can. Check this link out.
http://wmpoweruser.com/download-the-new-windows-phone-recovery-tool-from...

Your carrier, . . should be able to roll your phone bact to a win 8.1 - build 9.13** this 'insider is for a beta testing' - not for your phone you rely on!!! it may be using your wifi to P2P seed it's updates, too ! . . . . . * pops more popcorn in the microwave *, . . . . .

I have L830 but didnt got the enroll ;( My phone is sim free, not from provider. Serbian sad User.

Hi guys can anyone tell me how big the download will be approx for win 10 mobile? And also I read somewhere dual sim is not supported? Any idea on this?

You should be done with downloand and install in less than 45 minutes.

It needs so much time depending upon the speed of your wifi and also for my Lumia 535 I see it takes about 10-20 min for installing the OS. Its true that the windows 10 still now not support duel sim. I only show log for only one sim or all logs comes in one Sim log.

Yay! But I'm still waiting for my 625, it'll come sooner or later

Someone can tell me what the difference between the old developer preview(wp8.1) and the new one?

The new one disabled emboldend text...

Doesn't matter. I was just referring to your comment that has been written in bold

Dint like it much at current stage... Many Bugs need to be refined Can anyone help me with steps to revert back to Orignal OS. Windows recovery tool not working for the same... Anybody tried windows recovery tool? Or any other method?

Hey someone can tell me is it supporting duel sim in 730?

I have an old windows insider whhhhhhyyyyyyyy

I joined the insider but there's no builds

Im registered windows insider from indonesia, have Lumia 730, updated 14226 doesn't get the build, why ?

Sadly my 1020 doesn't have any updates

Cortana isn't even available in the uk, really Ms !?

Flagship phone are left by Microsoft.. Congrats once again

The second image in the batch of images is very telling how risky this preview is. Unfortunately some would be far to excited to even read it, either that or their reading comprehension is beyond quantifiable.

I have old windows insider in Jordan please update

Everything is going great except my phone is upto date. Why ? L630

no data internet shortcut in action centar again :(

And Cortana has been disabled again!

Just to advise those thinking about it, i am currently reverting back as this build is quite buggy on my Lumia 830. Launching IE open, then back to the menu then open and taks forever to load. The interface scrolling up and down is far from smooth. Moving through the setting menus they will occasionally not load correctly. Tried to change ringtone and the button was grey and would boot me to the main menu when pressed. The notifications at the top get stuck. Had to unlock phone and swipe down the back up the top bar before it would clear. Everything in general is much slower. On the plus side i love the new settings layout and transparent theme coloured tiles

damn, now i get the battery advice, rechargin now

when released update for htc 8s?

​ Downloading update: 71% yahhhhhooo. Lumia 730 :) ​ ​ ​

Is Nothing issue With Background Image in 730? it is showing only tile colour instead of Transparency background http://www.imagesup.net/pt-13142381090415.png][IMG]http://www.imagesup.n...

Background image is fine , a few tiles showing coloured, mostly transparent.

When supported for Samsung Ativ S ?

Let the bashing begin. No 1020 support lol

Guys please tell me does your phone undergo hard reset after installing Windows 10? I mean does the photos and pictures and music stay there?

Make sure you actually have your SIM card installed on your phone in order to update. I couldn't get it to work on my AT&T 635 until I installed my SIM.

Does it works with 1520. I've been trying to download from the insider app but I get the message that no builds are available

Wonder if they will release the WP 10 preview for other phones besides Lumias?

waiting for a more stale version, then I'll try this out. Since my lumia is my main device.

Is there any chances in future getting windows 10 for Lumia 525...

Not for the 1520 or 920 yet it would seem.

Ok, I have tried to download the preview on an ATT830 I had bought for my girlfriend. I hasn't been used until today. I installed the insider app on it( Thought I was good putting it on my 1520,smh). The phone downloaded and installed an update. Instead of Windows 10, it seems I have downloaded Denim. I have seen the previously mention bug where Denim is shown in settings. I received an alert telling me Welcome to Denim and the alert took me to what's new in Denim page. So did they release Denim with the preview or a bug? BTW, been trying for an hour to get Preview. Phone has downloaded three updates....still on WP8.1.1

Lumia 930 not on the preview supported phones, how is a flagship not in this list lol?

My phone doesnt have update,. Whats wrong for my lumia 730 :(
I have sign in to insider program..

No love for the 1520! Soon!!!

I was expecting it as Belfiore said. MS don't screw us over.

Can I change from slow to fast after I do confirm?

Guys, are all wp8.1 apps compatible if we install windows 10 technical preview? Confused on this.

Before upgrading to windows 10 should I wait for denim update. (Lumia 720).

Not show update In my Lumia 1320

Hi my ph lumai 730 updated windows 10 i am happy

@Ravikumar what is your os version, mine Lumia 730 os ver. 14226 Indonesia, denim update, registered insider, doesn't get new build?

Hello..frnds plz tell which option is good insider fast or insider slow...

Neither Lumia Denim nor Windows 10 release for Lumia 1520, I am too much disappointed, their is no transparency in Microsoft.

GUYS OK this is beta Windows 10. Sorry but nothing special (lumia 630). :(

Windows 10 will be available only for the phones listed out there?
As im using lumia 720, Will the update will also available for this model also or not?
Can u guys let me know??

If we see, all avail download for snapdragon 400 CPU, 535 is snapdragon 200.

Release update for Lumia 720 also

No updates showing for 720

I have lumoia 635 and no build for me, do you know samething?

The background is not showing

http://www.imagesup.net/pt-13142381090415.png][IMG]http://www.imagesup.n...

No build for lumia 635. Do you know why?

Me too, it's because you chose the slow option... and we don't konow howto switch to fast option

Which im gonna install?? Slow or fast??

Windows Central is very clear on which phones are available and why. If u would all look on Windows Central u would know instead of constantly complaining. They are very clear on which phones and why just read. It's not going to change just because u keep saying the same thing over and over.

i installed windows 10 on my phone, to my surprise it had some of the features as described in the official video by Joe, but it didn't have latest office and mail client the same old previous, otherwise its awesome.

Waiting is the best solutions for Current Preview Build

When i drag down the status bar i press on all settings but nothing happens :/

Can anyone help ME please???

This is a list of the currently supported phones. Sadly the L1520 isn't on the list yet... Damn... http://windows.microsoft.com/en-ca/windows/preview-supported-phones

Lumia 525 getting update?

The Windows 10 Preview build seem to have problem with the Spotify app. I might have to restore back to Windows 8.1 - this Spotify app isn't free and I need for it to work.

When will be the win10 update for lumia 535

I have Lumia 730, first update was successfully installed then I got this message; then I opned windows insider app selected Speed Mode/ Slow made and my Mobile restarted but it did not dowload update. every time i select mode my phone restards to get builds but it just reboots nothing happens. How to install windows 10 on my lumia 730 .... anyone?????

I m using Nokia Lumia 820 .I can't sign my window insider apps.. Window phone 10 support my device...plss reply me fast ​

I've been tryin to install Technical Preview in my LUMIA 730 but as I select build to download it reboots but nothing happens it doesnot download anything. help????

After update my phone keeps restarting. I'm not sure it complited the update, it started restarting in migrating files part, and it wont stop. What to do?

lumia 920 or 820 os updates to win10 dates.../?

Waiting for Lumia 525 in India........

Guys, I got a Lumia 635, I didn't get the preview, soon I found out that I don't get it now because in Windows Insider app i had chosen the Slow option.... if anyone knows how to switch to the fast option, please reply! Thanks!

I have a Lumia 830, and enrolled to insider program. Then went to phone updates, and it offers me 8.10.14219.341 Is that a Denim Update?? Do I need that version to upgrade to Win10? (currently 8.10.14157.200, RM-984)

Steps to fallback to WinPhone 8.1 from Windows 10 TP https://shahbhavya47.wordpress.com/2015/02/26/fall-back-from-windows-10-...

Hii!! i am havin lumia 830.... can i get the preview.. ?? but in that insider App... it's showing " no build " .... is it working in india ?? help me to update it......

I try to login windows account after click ``get preview builds`` clicking microsoft account.and after enter my enter account information windows insder me send me back to menu windows account or domain account under no builds menu. Can you help me please about that?Anyone maybe :)

I try to login windows account after click ``get preview builds`` clicking microsoft account.and after enter my enter account information windows insder me send me back to menu windows account or domain account under no builds menu. Can you help me please about that? PLS GUYS I NEED YOUR HELP

Can't see the update on Lumia 620 :(

Can anyone help? I open the insider app, it prompts me to get preview builds, and when I hit that, it goes to a lopading screen, where it proceeds to give me the error "A conection error prevented us from dowloading programs for you. Please chec, the date/time of your deice, and its network conenction and try again". The date and time are correct, and im connected to WiFi. The same WiFi it always is. Help???

My phone has been updated to an empty blank screen which does not show anything. However, I can receive the calls.

When i hit the check button or (not) my phone restarts, but after restarting when i check for update it shows your phone is up to date, what to do, i did reset as well ?

It took a little while to get the updates installed. But, it seems stable and working. Thank You.

I'm scared to download it on my Windows Phone 8x!!!

hello all! I ungraded to windows 10 preview. generally all is well, however i have run into a couple snags. 1. Cannot access the settings menu. tried soft reboot and hard reboot and still will not access settings 2 I cannot find the office app. Has that changed? Please help! Thanks!

Sorry I meant upgraded. and I have a lumia 822

Can anyone tell me when this windows 10 will launch finally?
I am using Microsoft Lumia 535 and I put windows 10 on my phone. It is a pretty nice and awesome OS for Lumia user.
But now suddenly I am back to windows 8.1 after giving my all feedbacks for windows 10. The only reason for my switching is the back portion of my camera gets so much heat and also some menu could not show when my phone is in portrait mode.
I hope soon it will launch the stable version of windows 10.

I was update win 10 preview

1) my email is dead. kaput! doesn't work. Like my desktop. 2) windows insider itself is "unavailable" all the time. Like my clients. 3) Your UI guys have been too lazy. Tiles have overlapping texts and blurred icons. Being in the industry myself, aren't they supposed to be a couple of sprints ahead of the devs? Or did they lose a bet? 4) Phone hangs itself to death if I dare to click a picture. Now I can't stalk anyone while pretending to text. 5) cute typography, but bottom icons look like modern hieroglyphics now. Hard to register. 6) Cortana? who? 7) Calendar is useless now and what remains of it has stolen the icon from settings, which itself is a blurred gear. Now I have to get my wristwatch repaired. 8) 6tin is dead. Imagine how many ladies will be deprived of an awesome date until I roll back this abomination. 9) Two stores. one says just store, another says store (Beta) with a bigger and blurrier Bag. 10) the word "search" in the apps list appears as "Şëa̧Γcħ". Mixing up the languages are we? 11) "People" tile icon is horrible. Looks like two old men sitting in a memorial service. Drunk. 12) Finally some sensible grouping. don't overdo it please. 13) The teeth of the gears on the update screen don't match. An engineer can get a panic attack or possibly a brain aneurysm just by looking at that. Increase the number of teeth in the bigger gear to match the smaller one please. cheers.

my nokia lumia 925 having a problems on windows 10 T_T i cant send SMS because my messaging app has been uninstalled. has so many lags and errrors. please help me T_T

it stucks much more than in wp 8 plz fix but the features are good then wp8 plz plz fix it

What is the total size of the update?

I have installed windows 10 in my lumia 830, This is the perfect OS for lumias, This os is has totally different look from other OS, But this is not ready for daily use, I had to face this issues 1) Your lock screen will freeze when you try to unlock your phone, this will cause to restart your lumia 2) You will not recive SMS notification for 50 % of sms so you will fail to respond to some important sms(This was main reason i roll backed to 8.1) 3) All your mails(gmail,hotmail,yahoo) is combined to single application show in tile notification you will not know you have reviced new mail for gmail or for your hotmail 4)No cortana support as of now 5)Play store looks so good and pretty much advanced but too slow and freezes 6)All the apps are responding too slow you will miss the lumia speed processing magic 7)Battery drowns so fast 8) Even if you exit the application it still runs in background, Each in one hour you may need to force close upto 15 running screens for average use 9) No glance screen support missing this 10) There is no any frequent update to fix these issues, so you may have to wait so long with these issue, After all this is perfect os and May even compete with Iphones soon with its new update

Hey, Updated with technical prview of windows 10 in my lumia 625, but not able to find any store...please help me??

I am unable to Restore messages after converting to windows 10

am not able to unlock my mobile aftr updating. ....its not showing the password typing window :'(

why is my phone taking so much time to recharge after the update ?!?!?!!!!!!!!!!!!!!!!! it will take a 6hrs witout touching it !!!!!!!!!!!!

i need your help guys, i started the install win10, instaling was on 70-80% and the battery was under 40% now i cant turn on my phone. if i turn on my phone the update began again from start and again tunr off while the battery is not 40%! Im on fire, need help

Hi, I am stuck with the update. After all the stuff was downloaded and the phone restarted with the rotationg settings icon. It is stuck there. Sometimes the phone reboots but again comes back to the rotating settings screen. Help what do I do ? Thanks, Sandip Das

i need your help guys, i started the install win10 on nokia lumia 520, installing was on 70-80% and my internet(wifi) has stooped then the phone was restart again , but it can't connect to the wifi & can't start phone in normal mode.i was try to soft reset the phone but is not successed ......when i start the phone the logo of nokia is coming after that two circular logos are come then phone get turn off...what i have to do ? please help !

Its Good but... it makes my phone too slow and some applications are not working properly so its hanged my phone now i want to downgrade my old version to 8.1 !!!!! In short I doesn't like it . Store also doesnt work......

Did not work for me. My Lumia 720 kept on restarting and was just displaying welcome Nokia logo. I had to revert it to Windows 8.1.

Installed.. Data migration.. Waiting.. Hopefully, it's worth the upgrade though its just a Preview version.. :) Installing to my Lumia 920..

Guys Checkout this : How To Upgrade Any Windows Phone To Windows Phone 10 : https://www.youtube.com/watch?v=LGUZypYhMmg

https://www.youtube.com/watch?v=oh2nJ1oJevA Windows 10 on Lumia 620 build 10581

Took over an hour to install but it works so well! I'm using a Nokia 830. There's one glitch I've noticed - on lock screen when switching to the next song the screen underneath the pop-down flashes my settings colour twice for a split second - and there might be more but I haven't ran into them yet. Phone isn't slow, runs all of my apps. Heck, my apps open even faster now. Navigation is really smooth, no glitches or lags. I love that they've added a proper flashlight app instead of having to get one from the store. And the similarity to Windows 10 PC is a really nice addition. Settings is so much more easier to navigate and having all of the quick-buttons in the notifications is wonderful. Only irk I have is Cortana...She's still not available in Canada...But at least you can still type to search your phone and the web through Cortana. Edge browser and Groove music are in the update for anyone who hates the Explorer and xBox versions on 8.1; the Office Suite apps (Word, PowerPoint, etc.) are also included automatically on the phone. All in all, I'm liking 10 a lot more than 8.1. If you're brave enough to risk your phone (and if you have the Nokias that are able to get this update), I recommend this.

I cant install win 10 insider in my lumia 525 when it start installing(showing gears) about 8 hours but it seem to be stucked in middle I tried it 2-3 times but same problem luckily i was able to get my healthy phone back but still need help for updating My phone To WINDOWS 10

u cant put big engine in a small car

I want to know the size .. Im about to download but plz inform me the size of the file. I have everything ready, just have to download

Will this crash on Nokia Lumia 521 running Cyan on T-Mobile??

My stupid Huawei W2-U051 wont update anything! Lol

pless help me to my lumia 925 i can,t update to windows 10 i have Windows insider but allways say " no build" what can i do sir?? pless help mi

why can't we download under 14 years not a good app

i wasted my 40k on lumia 1020

I just started a windows 10 update on my Lumia 640 it has stopped at 62% for almost an hour now...now what??

Can't update my L620 to win10.
Can anybody help

everytime i try to install the insider it doesnt show up in phone updates, ive enrolled in the fast ring, my device reboots and then i go to update and nothing. any ideas?
Windows Central Newsletter
Thank you for signing up to Windows Central. You will receive a verification email shortly.
There was a problem. Please refresh the page and try again.