Windows Maps for Fast Ring grabs new dark theme and traffic hub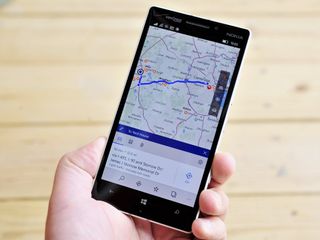 One of the last bastions of non-dark theme enabled apps has just been patched up. Version 5.1609.2581 of the Maps app for Windows 10 on PC and Mobile is now live for those on the Fast Ring and with it some great features.
The full changelog was dropped off by Dave_MSFT on the /r/Windows10 reddit, and it should prove to be quite valuable:
Enjoy dark or light app colors—they now change to match your system settings. If you prefer your apps to be dark rather than light you can now have the Maps app follow your system setting for theme preference or always be light/dark. Plus you can choose to change the map theme too!
Quickly check traffic for your commute, including live cameras, where available. We have always treated your Home and Work places special and now you can check the traffic to your Home or Work locations at any time. Just tap on Traffic in the app bar and you can see traffic conditions to Home and Work and your most recently viewed traffic cameras so that you can stay on top of the road conditions along your route.
The new dark theme changes the navigation bar and various aspects of the app to reflect either your system default or user choice (you can override system).
The new traffic hub gives you a quick glance at your commute home or to work with access to traffic cameras and current conditions. Certainly, traffic hub is one of those nifty little conveniences that we like to see in apps like Maps.
Assuming all goes well regular consumers should see the new Maps app hit their devices in the coming weeks, but for now, it's only Fast Ring Insiders. The update is now live to grab it and let us know what you think!
Download Maps from the Windows Store (opens in new tab)
Get the Windows Central Newsletter
All the latest news, reviews, and guides for Windows and Xbox diehards.
Daniel Rubino is the Editor-in-chief of Windows Central, head reviewer, podcast co-host, and analyst. He has been covering Microsoft since 2007 when this site was called WMExperts (and later Windows Phone Central). His interests include Windows, laptops, next-gen computing, and for some reason, watches. Before all this tech stuff, he worked on a Ph.D. in linguistics, watched people sleep (for medical purposes!), and ran the projectors at movie theaters because it was fun.
Nice! Photos app also received a nice update. Now asks you to remove OneDrive file too. And the headers are bigger... Im wondering if this is the new style/font coming to all apps or it is Microsoft's inconsistency at its best.

The problem I've always had with W maps (And, I'm talking since 7.0) is that they refuse to hold onto settings... Every damn time I open maps I have to configure it to my liking.. SMDH. Now, what's up with that? As a matter of fact, I don't think my dumb ass has ever submitted feedback on this annoying issue, so maybe I will do that right GD now. Yeah, maybe I will...
Hold on real quick; I'll be back.
............
Update: They told me to F##k off. I didn't even know the feedback app had that capability. Time to implement plan B. Hold up,, I be back.
............
Update 2: That didn't work either. ****. I'm open to ideas, and suggestions. ❓

Onklaey beer, and liquor..@nofing els

Reinstall? Maybe a hard reset changes things?

I'm the one.... Nevermind

Cant reinstall. You cant uninstall, go to the store, only offers to launch app...

LOL :D I don't know what you're smoking Rodney, but can I have some, please? :D

What's even worse, some of the settings can't be undone unless you restart the app. Try avoiding toll roads; it will also avoids ferries and mororail. Now try to clear all avoidance boxes and you'll see that it still avoid toll roads, motorail and ferries. This bug has been lingering for several months.

Yeah, well at least ours still launches... Mine crashes at launch, unusable for months now. Gamps works though...

I actually prefer those icons on top instead of boring text. like alarms app and phone app

Still no traffic while driving. Baffling.

What do you mean? It works.

Unless you have a insider version that does this, the current GA release does not keep track of traffic and then offer you a faster alternative route around any traffic issues. Showing me there is traffic while offering no alterternative when I am outside of my home state is not helpful.

@NutmegState, I completely agree that offering an alternate route based on traffic would be good, but I think the current method is far from useless. It does offer 3 routes generally. It's pretty easy to manually select the one without the traffic problem (assuming they don't all have traffic problems -- it doesn't select different routes just to avoid traffic). Again, I totally agree that automating it would be a great improvement. Seems all the tech and pieces are there to do that. Hopefully it's coming soon.

You're in the Atlanta area, good luck finding an alternate route.

If they are wanting what I want, it is for LIVE rerouting based on traffic changes. Waze will sometimes pop up a message that a better route has been found or that traffic is clearing up or getting worse ahead and updates the ETA. That's why I still use that massively outdated and abandoned app. In Los Angeles, that feature is soooooo nice. I'm miserable without it now. Ha

It works. You have to toggle it on in the menu on the side

Doesn't work for me either, while planning the route I see traffic, but while driving nothing is shown...also not the option to show it.I especially miss the highlighted road colours while driving indicating traffic and congestion , or at least estimated delay.

This. It used to work under HERE Drive+. While there are many improvements over that app, displaying traffic while in Nav mode is not one. They need to bring this back. Since it can be enabled in standard map mode, I do not understand why they disabled the ability to use this while getting directions.

Interesting...I am on the production ring (14393.189) but am getting all these new app updates...skype, groove, and now maps.

Teach me the mechanics xD

Splendid. I left insider, so I'll have to wait. Are the maps still sourced by HERE?

Should be. Don't see why not.

Why does it say for fast ring? I'm off insider and can get it, skype preview with SMS that indicated fast ring too.

That's how MS posted the news.

Why are you ignoring my super fantastic, and juice tips?

They've been doing that lately. Ignoring tips for some reason.

Everys since Sam went to the North Pole Daniel Rubinolico has had to make his own elf shoes... No time to answers tah tips. I gotta tip this stupid girl though. Geeze

do you have any clue on how many mails that tips mailbox gets a day? :) They can't really read them all I suppose. I keep sending tips as well and they don't Always come on the site. Perhaps because I was too late with the "news" or it wasn't important enough. So just keep sending them and they'll put them online whenever suited. :)

It's funny how some people rely on WC posting an article based off their tips to justify their existence.

Yes, we know... It's not like we're expecting a serious answer.... #sarcasm

Yeah, I've submitted a couple of tips and haven't gotten any replies. Action was just taken, which is fine by me because that's what I was really after in the first place.

Maps are still sourced by HERE.

Dude above asked the same thing! Y'all should meet for breakfast tomorrow morning.

And... HERE is the best source.

And yet for some reason although the maps are HERE, this app doesn't seem to navigate anywhere near as well as HERE did.

Bring the dark theme everywhere, this is so cool.

So tempted to get back into the Fast ring now that these sweet little updates are showing up... :-)

I'm not.. Lol. Not yet. Show me something cool, new and fun, and I'll try it. iOS10 has this nice little draw in text message feature. Things like that would be cool.

Just click the download link from the article, don't need to be in any ring to get it.

Does it already have the ability to submit real time traffic incidents and speed traps? This is essential for real time traffic awareness of users

Nice, now all dark theme apps needs a light theme (xbox\photo\etc)

And yet still no dark theme for Cortana! #MSFAIL

Technically Cortana has a dark theme, it's just not implemented in the Notebook (which isn't a big deal tbh, it's just settings) and doesn't apply for the cards (which shouldn't be a big deal but apparently is to everyone).

hey there, im living in japan and this default maps app has always been pathetic. no offline maps for as long as ive used windows phone (since 8.0), when i type a business name only locations outside of japan show up (for example if i type mcdonalds in japanese, mcdonald county in missouri shows up), when i type an address nothing shows up, no traffic information and no driving instructions. im not in fast ring but if someone in japan is in fast ring using this maps app, will you let me know if it is better or not? congrats to everyone that can use it properly!

I'm not from Japan but your comment really surprised me !! I thought MSFT had some special treatment for Japanese WP users !

hey there, unfortunately not. i figured the same, seeing how as there is vaio phone, nuans neo, and other windows 10 mobile phones for the japanese market. until there is better support in japan, i have to resort to using other options (sygic has been the most reliable option; at least i get turn-by-turn directions, which microsoft's maps app can't even do here).

I've had offline maps...it's in settings

They historically haven't been serving maps to Japan

hello Chef316, if you can tell me how you got offline maps for japan then let me know!

@Chef316, I thought the same thing and was going to post the exact steps for @k1s23, but realized he's right. Amazingly, Japan is not included in the list of countries for downloading offline maps. For Asia, the alphabetical list jumps from Israel to Jordan. No Japan. I also checked Oceania, just in case. Not there either. Vietnam, Malaysia, Hong Kong, and Thailand are all there, but no Japan, no South Korea. Not sure why or what determines which countries are listed.

I want "Delhi metro lines" 'yellow line, violet line, blue line, etc' back as I used to use only one app "HERE maps" while traveling in Delhi

Nice! I prefer the dark theme

Nice! That Traffic Hub can be really useful. Though I still miss the dedicated transportation matrix that what I used on Here Transit, since I can browse through the matrix anytime. Hopefully they will at least implement UI animations the Maps app. It's not just jarring but feels unpolished when the UI feels so static, as if the UI elements skipping to each other without prediction paths.

Great app, but the ETA is always way off. I also wish you can add a destination along your route like a gas station search just like Google Maps does.

I would prefer automatic change of the light and the dark theme in accordance with light conditions. The light one along the day and the dark one at night.

It does that for turn by turn directions already depending on the time of day...don't you think it's a bit excessive to have the theme change too?

When are they really going to add maps for Pakistan? Its been 7years I can't even use uber. I've signed the petitions upvoted in feedback hub done everything

I'd wish they would get the horrid public transport routing fixed. I am tired of seeing 2-24h trips suggested for when they are only 30min trips. There is so much going wrong with public transport that they better cut it out to stop frustrating people. But hey, we now have a dark theme...yay

Public transit options aren't dependent on Microsoft, it's dependent on the regional transit system themselves and if they want to bring their routes to a platform. My region just recently brought over their route system to Google Maps but not Bing. But if you're talking about the reliability of their public transit system, that's something beyond my comprehension because in Toronto it works effortlessly...

Any street maps of Cambodia yet? Been waiting five years.

Can someone report if the public transport function is still broken? It has not been working since the last big maps update, at least not for Munich, Hamburg or Istanbul.

FIX THE ******* VOICE NAVIGATION! How frigging hard is it.

Pretty hard when you don't specify what's broken...

Uh, voice navigation obviously.

Mine is also broken. No voice nav. You can add(but not delete) a voice, but the download shows an error. Once that error shows, you won't be able to get voice navigation.

Again its a grey and not black dark.... I can't understand how they create the ui. Alarms have different topbar than phone, photos and messaging yet two another variants. Some apps are black, some dark gray, outlook is light gray, feedback hub, OneNote and office apps are white only... Skype looks like ios port... Complete mess

The theme is called "dark", not "black". App bars and menus are supposed to be dark grey. I agree with the inconsistency of headers though.

All very nice but since transit is broken in Hamburg and many others in Germany for months this app is essentially useless for me. And with Here Transit gone and no official app from local transport this mess is the main reason for me not recommending W10. I really don't want to leave W10 but local transport is a must have feature for me.

Yeah, Transit is broken in Sydney as well. Very painful. :(

So where do you change the setting for the dark theme for mobile maps

Still can't import my here maps favorites, it's still in my here account but no longer on my phone, so what will happen?

I love the new traffic hub features with tie ins for the cameras. However, i do have One question. Will this map app ever become cross platform live groove and outlook. I think it has the potential to rival googles offering and it would be amazing to have to android and IOS.

Nice feature, but I want live traffic rerouting.

I've been begging for live traffic rerouting forever. I sometimes go into Feedback just to upvote the many requests.

You could always enable the traffic option

The feature definitely has potential but it's pretty barebones right now. I wish it could show traffic conditions for calendar events, instead of just having Cortana tell me when I have to leave by to make it on time. The dark theme is nice though! A welcome addition.

The app is nice, but I don't have a voice navigation. Is there something I missed in the settings, can't find anything.

Voice only seems to work now if you have your phone connected to Bluetooth.

I usually have it playing Bluetooth to my radio or headset. I *hate* the jarring way it stops music for voice prompts. Can't it just play the voice prompt over the slightly lowered music volume?

Anyone else having problems with using public transport directions

I love this app. Why would I want Google Maps?

Microsoft Maps has street view. It's called street side. It's just not in all cities yet.

A working voice navigation, also that the app doesn't lose GPS signal constantly, also when getting directions to a landmark or business that it actually goes to the correct location and not a different suburb with the same street name as the location.

Voice navigation works flawlessly in MS Maps. My app never loses GPS signal. Must be an issue with your phone hardware. Map location errors are common also in Google maps. They rely on users to submit corrections. Any other imaginary issues you can think of?

Voice navigation literally stopped working after AU. It's software based. GPS has only been recently also, but I'm not sure exactly when it started playing up. And considering the vast number of posts here, in this very comment section, talking about issues with voice navigation I'm pretty sure you're full of ****.

I use my GPS with MS Maps at least once a week and have never had a problem with voice navigation.

I wish i was a lucky as you are. My phone GPS clearly works because the app registers my location when on the map screen and follows me. However if I set up a route and then click on go it says *no gps signal* on the navigation screen and doesn't proceed. I basically have to set my route but not press go and just check where to turn with the blue line on the map screen. Voice navigation for me now only works if I'm connected to a Bluetooth audio device, otherwise it just simply doesn't say anything, also I have never been able to get street names working even though I have it set to say street names.

Interesting. I don't have that problem with my maps app, but I have a similar problem with my Band and the Endomondo app. When I try to track a walk with Endomondo it says GPS disabled, but I know it's enabled because the app shows me my current location, it just can't track my walk. I get a similar message on my Band. It could be a firmware issue with the phone.

I sometimes lose GPS as well. It happens with any app. It's a hardware thing that hopefully the firmware fixes. Come on AT&T...release the firmware.

Still no public transport layer?

Did they fix the app not automatically moving to your current location on app launch?

I don't think that's a bug, tbh. I like that it saves my state in case I need to refer to the map again. And going to your current location is only one tap away anyway.

I use the maps app a lot especially when traveling. But they are still behind when it comes to traffic compared to google maps. I'm currently in Jordan and Google Maps has traffic for the capital Amman, but the windows maps app doesn't have this information available. I hope Microsoft updates their traffic feature. But I think that the windows maps is great and using it while traveling has never failed me so far.

Anyone know if this fixes the crashes on launching Voice navigation when music (Groove) is already playing over Bluetooth? Or task switching/windows Button not working during navigation? (Fast ring 950)

When are they going to add a public transit layer so you can see bus/metro/light rail routes?
When will they let you tap on a stop and show you which lines stop there, and their schedule?
When will they incorporate real-time GPS info for public transit in cities where available?
When will they let us access our Bing Maps collections?
When will they enable live rerouting?

How do you view cameras with that new traffic feature

The maps app Always Work like a serious crap on my lumia 640....the screen goes black whenever i hide the navigation bar and maps get stuck for few seconds... This flickering issue has been for ages on my lumia 640 in maps

I'm sorry, but Microsoft's Maps app still sucks completely compared to the HERE suite. I want so desperately to get those back. I'm so sick of Microsoft producing horrible first-party apps while we lose much better third-party ones.

I agree with this so much.

Want traffic info in driving mode and voice navigation.....

Looks nice Posted via the Windows Central App for Android

My problem with the maps app on mobile is that it is wrong. By wrong I mean it actually puts things in the wrong place. Sometimes it's just the wrong side of the road and other times it's just miles away from the correct location. if you then use Google Maps via the mobile browser everything is in the right place. Use bing maps online and everything is in the right place. Go back to mobile and it's a different story. You would expect data to provide the correct results but it doesn't seem to.

Very nice. My voice navigation is working. Good job.

I miss the livesight feature and such here city lens. Now they are all gone from windows store, and microsoft maps doesnot have that feature. Microsoft, why do you abandon those apps and features? Now HERE complete available on android. It really sucks men.