Windows Maps for Fast ring now lets you submit corrections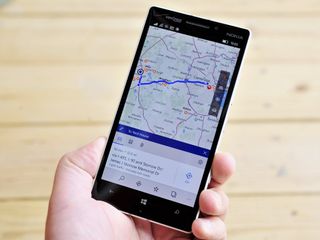 Windows Maps has been updated with a relatively small, but nonetheless handy feature for Fast ring Insiders. Now, if you spot an error on a map on either Windows 10 PC or Mobile, you can submit a correction or addition right from the Maps app itself.
Examples range from a missing road name to a city name simply being in the wrong language. With the latest Fast ring update, if you notice a similar error or issue on a map, you can tap the "Suggest Change" button to submit a correction right away. You aren't limited to what's already on the map either, as Microsoft notes that you can now add new places or businesses by adding their information directly in Windows Maps.
Given that maps are constantly in flux, this is a feature that's great to have in the hands of users — even if you only use it for correcting something like a business' hours. Generally speaking, allowing those who live near the areas on the map to make updates ends up making a better overall experience for everyone.
In any case, if you're a Fast ring Insider, you should be able to pull the update down now. Once updated, your Windows Maps app should be bumped up to version 5.1611.3191.0.
Download Maps from the Windows Store (opens in new tab)
Windows Central Newsletter
Get the best of Windows Central in in your inbox, every day!
Dan Thorp-Lancaster is the former Editor-in-Chief of Windows Central. He began working with Windows Central, Android Central, and iMore as a news writer in 2014 and is obsessed with tech of all sorts. You can follow Dan on Twitter @DthorpL and Instagram @heyitsdtl.
Yes! But I want VENUE MAPS BACK!!!! I used venue maps a lot and miss them dearly. I often wished I could submit corrections to centre maps, and now the feature is here, but centre makes are gone from Windows 10. So sad

YES! This is amazing. I'm from Maine and there is a lot of unmapped areas or incorrect locations and being able to do it while I'm out on the go is a very nice touch, I try to remember when I get home to submit the incorrect data to HERE and BING, but half the time I forget where and what it was. This is awesome!

Especially if you want to chart Mrs. Todd's shortcuts!

TBH I've suggested changes to Bing Local, and haven't seen any changes, and that's in-house. What changes are MSFT going to make to a service they just licence from HERE?

Looking forward to using this, Weird I've already done a lot of suggest an edits that redirect to the bing maps website... do my edits... I get emails shortly after thanking for feedback they are reviewing and then I also get email following up saying thanks and that my change were implemented.

Same, I always get a follow up email in a few days telling me if it's been accepted or not, and if it is, it tells me when the next map update refresh will happen and when I should start seeing the change.

Msft could have just bought the HERE suite. As far as I can tell from the msft vision videos, the acquisition could have been a perfect deal.

Been asking this via the feedback app for some time. When there are roads near where you live that are "new" and you drive on every day, until the map gets updated, driving directions are near useless. Compare this with Waze, where users (including me) can both request updates and even edit the map themselves. So a new road opens and minutes later, every Waze user can be routed via that new road. Likewise, temporary road closures need to be taken into account too.

I'd like to see this happen, I have seen though in major cities some places say construction is going on but it's not even close to Waze. Would be great if they had this feature as it would be nice to know. Also I would love to see them add while you are driving a quick access menu to say I need Gas or find a restaurant. It can pull the data from Gas Buddy (if possible) and you can select your type you use, and for food it should use your Cortana Preferences on what you like to eat and expense wise. (Same with Hotels and what else is handy for when you go on a long trip.) It should also have voice commands too, add a button for people that can't use Hey Cortana and allow them to give commands when using Maps to help keep your hands on the wheel and eyes on the road.

Finally, now I can map my town, hope that MS reward "mappers" like Google.

Yeah, waiting for that for ages. So annoying to not have bike route suggestions i a country like the Netherlands.

Great one, much needed. I would be glad to be able to upload pictures of places in the map if they implement this too.

Bing maps or here maps, i thought bing maps are from here maps! which is which now?? confused

Will traffic rerouting ever arrive? Been requested for a number of years now.

Does any app on Windows Mobile support that? It's a must.

Waze does. Some like CoPilot have it as a paid feature.

I just want it to display traffic when doing voice guided navigation.

Still waiting for off line China maps....

The only problem would be a lack of reviewers for the edit.

I think there are enough people to edit,but is there a mechanism for that?

There are probably never enough of those. Google had many issues with Russian propaganda groups claiming parts of Ukraine, Georgia and Moldova are Russian territories against all international agreements. Or China claiming land of 13 of it's neighbours land/sea territories and so on. In the end, weakly, google settled for different versions depending on the users ID instead of facts. Though good for individual users, in this new age where countries fight each other via propaganda tools, this is an issue MS Maps will be hit by sooner or later.

and the workaround should be to rely on those few that actually provide a correction or edit. It cannot happen that MS says we need a minimum of 100 people to point out an error before we correct it. It will completely defeat the purpose

Now just add some social integration, suggest real-time re-route ala WAZE, and that will make this much more useful.

Great feature! I sometimes found myself wanting this. Hope it gets to Release Preview soon!

I live in a rural area where we have a lot of "Class 6" roads, meaning basically trails through the woods that are not even driveable by a 4x4, but these "roads" often appear on the map, completely screwing up the directions. Worse, you could easily be partway down a road only to have it end, adding 30+ minutes to the drive. Maybe this could be covered by "Road Closed," not sure. I have reported map errors back in the Here maps days, and those changes have been incorporated. But I have no idea how to report that a road on the map is a Class 6 road -- good for walking or horseback, but not for cars. Does anyone know how to indicate this back to Microsoft?

You should look into the options and deselect "Unpaved Roads". That should help you quite a bit. ;)

@radde, hehe :-) I said "rural" -- all the roads are unpaved for miles. Here in the north, we even have a "mud" season for a few weeks every spring (ground still frozen deep down, but top foot thawed, so melt has nowhere to go and road just becomes 1' of mud) during which most roads become unnavigable without at least some basic form of 4 wheel drive. But in April, those are the good roads. Class 6 roads can be impossible for even a monster truck to pass. We need to distinguish maintained dirt roads from the unmaintained dirt roads. I guess the ideal thing would be be able to reflag them as walking paths.

Tough. How can those roads be called as such? Doesn't this defeat the purpose?

@radde, if you're asking about the actual roads that become really bad during mud season, it's one of the downsides to living in the country in the north, but for the privacy, the acres of land, the woods, the wildlife, the snow covered winters... it's easily worth it for us (I have also enjoyed living in a city high-rise on this coast and under palm trees near the beach on the other, and several other places in between, but I prefer this NH farm to all of those place). Obviously not for everyone. If you mean the Class 6 roads, they should not appear as roads on maps. They are on maps really for historic purposes, and by law they are public right of ways, just not maintained by the towns or state. So anyone can walk on them (nearby homeowners can't prohibit it), but they're usually not anything that you can drive on. This is all fine, except that the GPS programs all include these and don't seem to understand that they are not usable connecting routes, which really screws up directions. There's a mountain here that many GPS' think a road goes up and over, but there is no such road. Just an old hiking trail. The only way to get to the town on the other side is to drive all the way around the mountain. Those of us who live here know that, but you can see the cars drive up the road, then about 15-25 minutes later, coming driving back out when they hit the dead-end. A few of those might have just been exploring, but by all the questions these drivers ask, we know many were sent astray by a confused GPS. I feel for them and I've been hit by the same problem when I'm driving in other towns. This is very common, at least in Northern New England.

Maybe not a correction but a high profile new Mall of Africa and surroundings opened six months ago is not on Bing but Google is up to date.

A - W - E - S - O - M - E
I live in Bangladesh and the Map here is very poor in contrast with Google Maps. I can finally have some personal push pins. A great perk for Insiders!

What if I think the entire APP is in error? I want the HERE suite back. I miss a REAL Local Scout, I miss City Lens, I miss HERE Maps. Microsoft's app is a lame joke by comparison.

City Lens was the ultimate AR experience when I had my Nokia 920. My android fellas were impresive when they saw it working on San Jose Downtown, Costa Rica. I can´t understant how MS ditched it!

This is a great idea. 2-3 years ago now I was viewing the place where I grew up in Georgia and Google maps had it correct because of driving threw the county itself but Bing maps had a whole community in the wrong place since then it has been corrected...

This this is a great addition. I'm curious as to how they plan to govern the change requests. I figure they must have people who validate all suggestions before putting them in and that there has to at least be a certain number of requests for the same thing, perhaps coupled with data gathered from peoples gps'es, before anything is added (or removed). If so, that would be a challenge where I live, since I don't think a lot of people are using Windows Maps in Denmark... My biggest gripe with Windows Maps though, is not the correctness of the maps themselves, in terms of where roads are or not. The problem is that search still is and always has been vastly inferior to Google Maps. Windows Maps doesn't have the same number of interest points, businesses, etc. to search for and even address search doesn't work as well. That is the situation for me, your "mileage" may vary ;)

One of the reasons Google maps has far more information is because people can add/edit places on Google maps. Such an input will go a long way to improve windows maps.
I would personally like to flag quite a few changes. All of these relate to some roads getting closed due to construction etc. and in some cases re-opening of such roads. Google is slow, but it still picks up such changes pretty fast, whereas windows maps take so much time that by the time a road is shown as closed, it has already been re-opened or is just about to re-open.

In 2012 I became a Google MapMaker and I joined the Google Local Guides program a year ago. But as a long time Microsoft fan, I am happy that Microsoft is providing such a feature to the general public before Google offers the integration of MapMaker in Maps.
I hope Microsoft will come up with a feature to contribute (360) photos to Maps too.

How do I know whether my edit has been approved or rejected?
Windows Central Newsletter
Thank you for signing up to Windows Central. You will receive a verification email shortly.
There was a problem. Please refresh the page and try again.