Windows Phone 7.8 custom ROMS with RTM build hit XDA for various devices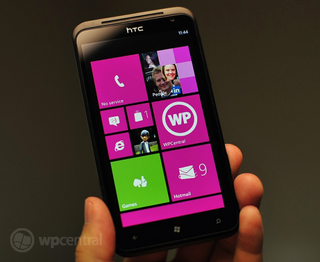 Although we believe the amount of people running custom ROMs on their Windows Phone is very small, it's still a consideration for some of you who don't want to wait until Microsoft (and your carrier, OEM) releases the next big update.
Luckily over the weekend the supposed RTM build of Windows Phone 7.8, version number 8858, has managed to slip out into ROM chef hands, allowing them to create multiple custom ROMS for various devices. Should you be lucky to have one of these phones and brave enough to install, you can find 7.8 ROMs here...
Personally, we're going to wait a little while ourselves to see how this whole 7.8 update rolls out. Specifically we're wondering if Microsoft will allow users to update themselves or is this going to be another carrier/OEM fiasco. If it's the latter, then bookmark these ROMs as they may be your only method for getting 7.8, at least in a timely manner.
To see what's in 7.8 you can read our detailed post on the update here.
Via: WP7RootTools; WMPU
Windows Central Newsletter
Get the best of Windows Central in in your inbox, every day!
Daniel Rubino is the Editor-in-chief of Windows Central, head reviewer, podcast co-host, and analyst. He has been covering Microsoft since 2007 when this site was called WMExperts (and later Windows Phone Central). His interests include Windows, laptops, next-gen computing, and for some reason, watches. Before all this tech stuff, he worked on a Ph.D. in linguistics, watched people sleep (for medical purposes!), and ran the projectors at movie theaters because it was fun.
Anyone knows about the Rooms feature? I realy wonder if it is supported in WP7.8!

No love for the Titan II.

It's ugly. HTC Titan 4ever!

My Titan 1 is supported :P But I'll wait for the real update...

Microsoft seems to love the carrier/OEM fiasco...

Why must these custom ROMs always be filled with the cookers bloatware? Isn't there any 7.8 stock ROM available which I can flash? The Lumia 710 of my GF doesn't need all the Root tools and so on, the pure MS experience would be better for her.

For the titan there is a "stock" rom. The leaked one, I don't think it updated to RTM yet. But you need at least the xap launcher, otherwise it would just be a locked rom.

Hardly bloatware mate. It'll take a a minute to uninstall the advanced programs...

Exactly what they are. If you know what you're doing, those programs are awesome and very helpful.

Bothers me too. You can uninstall all the bloat however.

@mdram & @cannon#wp LTE firmware, i believe that is the issue, the chef might not have it.

More than that...those devices have not had their bootloaders unlocked...nothing to work with.

There is no sign of Lenses, Screenshot support, Xbox Music & Video rebrand. Icons of office documents still the same though the office logo has changed, WiFi always on and bluetooth file transfer are nowhere to be found. Also you can't multi select messages or pictures as WP8.

Xbox Music is WP8 exclusive for WP. I really dislike that idea.

Since when? Was supposed to be WP 7.8 too.

Zune Music+Video will still be there in 7.8 but with WP8 experience. Meaning, it can be adjusted as a double wide tile and the preview of the artist will be the same as with WP8.

The DRM behind the ZunePass and Xbox Music Pass software is different and incompatible. Updating the firmware on the phone would make it impossible for you to sync subscription music collection between your phone and the Zune software (required for 7.x devices). Since Zune is dead to Microsoft, they're not going to update the client software to support the new Xbox Music DRM service. Unfortuantely, unless you upgrade to Windows Phone 8, your stuck on the old music platform. But hey ... at least your purchased videos will sync with your device (unlike on WP8 which doesn't work at all). Go figure.

Using the Samsung Omnia7 version and it's brilliant. Shame the stuff that Ionbraj mentioned above are missing but still it's the best ROM I've had on my phone. Looks great and perfectly stable.

Are you able to use wide tiles with 3rd party apps?

The support is there but it's up to the 3rd party app developers to include the functionality in their app. Personally I only have the Pictures hub and a homebrew/third party clock app made by Ultrashot as large tiles.

Hi Pluspistol
This is Girish here, I too have a Omnia 7, kindly guide me to get WP 7.8
Thanks


I am more looking forward to Custom Windows phone 8 ROMs. As good as WP8 is, devs and their Custom ROMs always make it better as they can usually give us more than MS was willing to. I had a Trophy, and interop unlocking and Custom Roms made my phone experience much better.

Agreed. I miss my registry tweaks.

Att obviously late in the party again...the last time I flash my hd7 I almost brick it... Im happy with WP mango for now.. I'd rather have the wp8 in a new hardware it definitely take advantage of the software kinda like having windows8 on a windows7 hardware the experience is not the same..

You are not having "windows 8 on a windows 7 hardware", windows 7.8 is a complete different build from the 8 one, but it does include some of the features of it and the experience, even on old hardware, is great! try it out!

I can't access http://rhiffsta.ch/ultrashot/Dynamics_2.0_Titan.rar !! Grrr ><

I can't access http://rhiffsta.ch/ultrashot/Dynamics_2.0_Titan.rar !! Grrr ><

I'm waiting. Got the Omnia7 and the AtivS will arrive on Dec 13th. I'm just going to be patient

I flashed the RainbowMod 2.0 for my Lumia 710 yesterday and it's awesome! All the tools included are very useful and the new home screen is much more comfortable. Very stable and fast. We want Lock Screen Notifications though!! Even if it's a 3rd party app :)

Can anyone confirm if it is possible to subscribe to podcasts on the device (after adding 1 via Zune) in 7.8 please?

Someone download and make a video please

There are vids on YouTube. Search for dynamics v2.0.

Come on! Drop something for LG e900h

Yeah, I wish these hackers/chefs/whatever would come out with a 7.8 ROM for the Optimus 7, seeing how LG basically gave us early adopters the finger.

Hey
how bout the lumia900 ?
any custom 7.8 for it ?

I read it somewhere last night its going to be pushed officially on the 28th, that's this Wednesday

It would be great if it's real :)

Then it would be just a cab update... so, I will aso wait...

Crap rumor is crap rumor though. Nothing to substantiate it.

Well hope is what drives the world :) BTW u can do a quick search online for this, anyways i wont be surprised if this turns out to be true...i am ready for the update to come in soon or late...doesn't matter much as i truly enjoy using 7.5 on my L900

htc 7 pro link does not got to 7.8 ROM

Good question. The W seems a bit forgotten amid all these other phones... we don't even have a dedicated forum here at WPC :-/

Same goes for the Surround, I know its not the best WP7 device but its certainly not the worst.

Titan II, Focus 2, Lumia 900 have never had their bootloaders unlocked so no custom ROMs.

What don't you people get about the 900? THE BOOTLOADER CAN'T BE UNLOCKED!!! Deal with it.

Really, seriously, does anyone know how to download?

Have NE1 installed it on a lumia 800?

now m wondering if Omnia w will ever get a 7.8 update. Damn too much wait for what....tile resizing :D

I'd prefer the manual "force update" via manual cab install method... no fuss, no muss. Any word on whether those links are available for Titan?

Windows Update cabs for the OS are not device-specific. The links should get leaked pretty soon after Microsoft puts the files up there and starts testing wide deployment.

Precisely. I'll wait for that... even if it's not officially a supported install method, I at least want official code.

Fantastic! Now I have something to do when I get home.

Otherwise you'd have nothing to do?

Dynamics 2.0 works perfect on my Titan :)

I have 7.8 on my focus but its 8835

Same here, running 8835 (the only leaked build before RTM) on my HTC Trophy...

So when all said and done, for the average phone jockey using his 710, I should chill and see what happens?

If anyone tries these ROMS can you post if there is the ease of access setting which allows for large fonts?

I installed Rainbow 2.0.1 mod for my Lumia 710 and couldn't find any setting to increase fonts size, however, after 2 days of using this ROM I've come back to stock rom because of some Live ID sync issues. I wasn't able to sync my mail and that was pissing me off xD. Other than that, the rom is awesome and very easy to install. It's the first time I do this :)

Thank you,
Aldo Velasco

ctrl+f 'focus' ... DOH!!!

I hope they bring that WIFI fix to 7.8!

I wonder installing custom ROM is complicated stuff or easy as JBing an iPhone? Any idea?
Windows Central Newsletter
Thank you for signing up to Windows Central. You will receive a verification email shortly.
There was a problem. Please refresh the page and try again.