Windows Phone 8 headed to U.S. Cellular later this month? (Updated)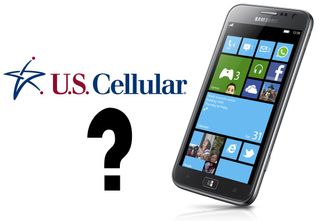 It appears that U.S. Cellular will be offering a Windows Phone 8 device later this month. Or at least according to a recent tweet (opens in new tab) they will.
U.S. Cellular currently has one Windows Phone in their smartphone lineup, the ZTE Render, a Windows Phone 7.5 device. Which Windows Phone 8 device will find its way to U.S. Cellular is still a bit of a mystery. Last year it looked like the HTC 8S was headed to the wireless provider and more recently, the Samsung Odyssey seems to be the odds on favorite.
Then again, Nokia could sneak in at the last minute or we could see U.S. Cellular offer more than one Windows Phone 8 device.
We've reached out to U.S. Cellular to see if they could shed some light on the matter and if we hear anything else, we'll pass it on. For now, it's a wait and see game.
Thanks, Dillion, for the tip!
Update: It appears that the Samsung Odyssey is the Windows Phone 8 device of choice for U.S. Cellular. @TheWinPhan received the response below from @USCellularCares that sheds a little more light on things. The time table for the release still sits somewhere between "soon" and "sometime this month".
Windows Central Newsletter
Get the best of Windows Central in in your inbox, every day!
George is the Reviews Editor at Windows Central, concentrating on Windows 10 PC and Mobile apps. He's been a supporter of the platform since the days of Windows CE and uses his current Windows 10 Mobile phone daily to keep up with life and enjoy a game during down time.
I see the Ascend going there. Probably the 520

I could see the Lumia 520 and 820 getting in there.

It's good to have the big carriers but you need the smaller regional ones as well to boost volume.

Could be the ativ s or the 8xt.... Would be cool if some sort of Nokia 92x or even a 8xx made it there. But I could see a 520 variant maybe.

Anyone on Verizon notice the Verizon section in the store on the main screen? Just noticed it today.

yes they put it there. got mine in UK from EE just 1 week ago out of nowhere

What do you mean? I'm not sure what you're talking about.

Haha, I tipped WPCentral about that this morning.

Tipped them about what? Tip me next!

Look in the WP Store on your phone, on the main screen, the first thing listed should be your carriers name. Click on it and it will show your carriers apps.
For me, the main screen looks like this:
Verizon
Nokia Collection
Apps
Games
Music
Podcasts

It popped up 3 days ago on my 928. It looked so clean without Verizon. Oh well.

Too little, too late. I had the HTC Touch 7, and while it was a good phone, it came to the table too late, it received the mango update 2 mos later than most, and they've fallen flat on supporting Windows Phone 8 like they said they would last year. 7.8 never came and, until now, I had assumed the ZTE was their 7.8 phone judging by pictures on their website, but according to this that's not even true. U.S. Cellular has good service in my area, but their absolute lack of choice in modern phones drove me to the 928 on Verizon. I understand some of it is them getting locked out of exclusivity deals, but I could only put up with being a step behind for so long.

Agreed. I held out 6 months waiting for them to carry WP8. It finally drove me to Verizon. That and them charging me .25 cents per megabyte on an overage.

Samsung Omnia 7 had a great design (was my 1st Windows Phone!), unfortunately new phones are very boring.

EV Leaks posted up the Odyssey with US Cellular branding I think.

Ya, WPCentral posted about that awhile ago.

As a few people have already posted, it will indeed be the Samsung Ativ Odessey. It been in the US Cellular dealer order portal for almost a month now. The are also videos on YouTube that Samsung posted a week or so ago showing how to do a few tasks on WP8. Just Google "us cellular ativ" and they will pop up for your viewing pleasure. As of right now, the Ativ Odessey is the only WP8 phone in the dealer order portal. I've quietly waiting on a WP8 option, as I have US Cellular, who is by far the best carrier in my area. Can't wait till I can finally get a WP8 device...regardless of which one it is. I've been rocking a SG1 for almost 3 years...just patiently waiting.

One other thing...US Cellular is going through some major issues right now. They are selling assests right and left and rumors point to a possible Sprint merger. The CEO recently quietly left, and the really hasn't been too much media coverage of it.

That could be good and bad for sprint folks.

It already happened. My girlfriend is getting letters that she haves to switch to a Sprint account. I made a post below about it as well.

US Cellular sold part of their mid-west region to Sprint back a while back, and Sprint is finally kicking all the original US Cellular customers off that old network. From what I hear, they only have a few months left before the old US Cellular network goes black. The good thing is that all those customers can jump ship without worrying about any fees if they have a contract. That has nothing to do with the possible merger.

Yeah she has until Jan to switch to Sprint or go somewhere else. She wants a WP and is looking at ATT.

Samsung will cater to all carriers on the CDMA side which require full Qualcomm compliance, which is something Nokia is not willing to do at all. And before you mention Verizon, have in mind both Lumia 822 and 928 do not have Qualcomm CDMA code and use components made by Nokia (and all CDMA carriers not carrying Nokia devices are demanding components and radios made by Qualcomm, especially USCC and more obvious on Sprint as the FCC documents for the 8XT show).

CDMA is outdated tech anyways....Verizon needs to get off that shit pronto and go full LTE voice and data.

I think they have to go to a new LTE within a year

LTE only phones by the end of the year I think the CEO said.

And what about when their LTE network goes down (which had happen more times compated to AT&T and Sprint's LTE networks combined)? You will need a back up which will be their CDMA network. VoLTE would be nice in a perfect world if the guaranteed connections required to their hubs and every tower site never goes down.
Verizon would be foolish to decommission their CDMA network that quickly...

My mother is in a conract with USC and she wants a Windows Phone. I talked her out of a cheap Android device and she wants this phone. Great timing.

The only Samsung that I've ever liked was the GSII. How are the WP8 Samsung devices?

The Odyssey is nothing special on paper but the people who buy it seem to love it.

So does the Lumia 520 just does not tickle the fancy of BUDGET carriers since its a budget phone with a very low price for a very good deal? I don't trust T-mobile with the 521. I heard its been selling well but still...

Got my moms a Lumia 521 on T-mo when the phone launched, and it's been running fantastic with zero issues since. Coverage is great in my area (and we were one of the last in the nation to get T-Mo's 4G), despite being limited by a HSPA+21 radio, 4G on the 521 is kicky fast (see photo below), WiFi calling faultless, all the Nokia apps peerless. What's not to like? I mean, unless T-Mo coverage is rubbish in your area. That would be something not to like, obviously. But if you got good T-Mo coverage in your area, and are looking for a budget Windows Phone, I cannot see how you could go wrong picking the Lumia 521.

http://tachyoniccargo.files.wordpress.com/2013/07/lumia-521-speedtest.jpg

Samsung confuses me. You listen to them, and there is nearly no love for WP. Then, they start to pop up everywhere with devices. I will say this little guy fits US Cellular way better then Verizon.

Stupid Samsung can't resist even making this new WP8 device look 'something like' an older iPhone with the design of the Windows key, playing down the prominence of the back & search keys, the design of the earpiece.

Wait, US Cellular was bought out by Sprint. My girlfriend has been getting letters that she will have to switch to a Sprint account or be dropped. So, wouldn't this technicaly be a Sprint phone if this is still planned?

As someone said earlier, what she is getting is from just a local buy out. They sold two regions only, the rest of the country will still be USCellular. Both were mid-west regions, near Chicago.

Ahh ok. Yeah were in Chicago.

FYI...the Samsung Odyssey is now shipping to stores for a July 11th release.
Windows Central Newsletter
Thank you for signing up to Windows Central. You will receive a verification email shortly.
There was a problem. Please refresh the page and try again.