New Windows Phone 8.1 gallery shows off navigation bar and more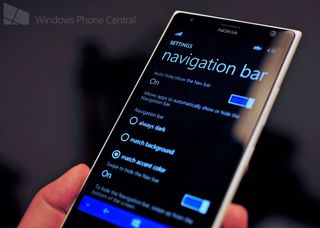 A flurry of Windows Phone 8.1 news has been coming out today. That's mostly thanks to information leaking out onto the interwebs thanks to developers with access to the private Windows Phone 8.1 SDK program. Our heads are still spinning with all the new info coming out, but there's a lot more to come. Over on Twitter, @AngelWZR has shared a ton of new screenshots from Windows Phone 8.1. Check them out below.
Navigation bar in Windows Phone 8.1
First up we have some screenshots of the navigation bar that will be coming in Windows Phone 8.1 (for new hardware with keys). It's a swanky little feature that we're going to come to love. You can control some of the behaviors of the navigation bar via settings. For example here we see that the nav bar can auto hide or auto show and that we can toggle that behavior. We can also select the color of the navigation bar to always be dark, match the background or match the phone's accent color. You can then see how the navigation bar persists throughout the operating system.
Podcasts and OAuth
Looks like Windows Phone 8.1 will bring some dedicated love for supporting podcasts. We'll be able to use Bing to search for podcasts and of course control things like whether to only download over Wi-Fi. There's also OAuth support for when signing into Gmail.
Lock screen, music UI and advertising ID
Here we see the Lock screen, notice that the time is larger. There's the UI for Xbox Music and a setting page for something called "advertising ID". It looks like some apps will be able to look at your behavior across other apps for advertising purposes. You can reset your activity if that's a little too creepy for you.
Project my screen, photos+camera settings and new NFC support
Want to project your Windows Phone screen to a TV, monitor or project? Plug in via USB and you can. It also looks like some devices, probably newer ones, will be able to do this wirelessly. New settings page for photos+camera. Looks like NFC support is getting a little more powerful with Windows Phone 8.1. Here we see support to pay for things via NFC and toggle it to work with a locked screen.
New calendar week view and syncing across apps
New week view for the calendar! Plus a mini month view in the bottom right. The next two screenshots show a cool feature we're looking forward to with all the Bing apps – personalization and syncing across apps. Here you can sign in with your Microsoft account and have your preferences follow you between Windows 8 and Windows Phone for all the Bing apps, this particular example is of Bing news. Actually, developers can utilize account syncing too, so that should be really useful for people with multiple devices.
Share UI, Battery Power Sense and new messaging settings
New sharing screen. Notice how your recent destinations are on top? Good move because it's always a pain to scroll down to Twitter, especially if you use it often. Next screen here shows off a new thing called "battery power sense" which will show you which apps are killing your battery. Messaging is getting an overhaul. Notice how it says "receive texts using"? We're guessing you can select your preferred messaging platform as default.
Ringtone settings, separate volue controls and location settings
Here you can look at the new settings for the ringtones+sounds settings page. Separate volume controls for ringtones/notifications and media/apps. Also shortcut to sound settings. Apps that use your location show that little circle icon. Now you can toggle off whether or not they show the icon when accessing your location.
We'll keep poking around the interwebs for more information on Windows Phone 8.1. In the meantime, tell us what you like the most in the above screenshots!
Get the Windows Central Newsletter
All the latest news, reviews, and guides for Windows and Xbox diehards.