Windows Phone 8S by HTC Review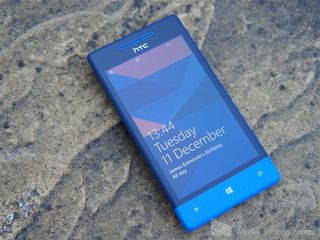 Windows Phone Central's review of HTC's mid-range Windows Phone 8 device
The Windows Phone 8S by HTC has been a quiet little device, which has recently launched in a number of markets to compliment the more advanced HTC 8X. As a mid-level Windows Phone, the 8S sports hardware that's powerful enough to process majority of tasks quickly, but it's main attraction is the affordable price tag.
While the HTC 8X is a strong choice for those who require more power and a larger display, the 8S fits in with those who are new to Windows Phone or smartphones in general, not to mention consumers who either don't require much horsepower, or have enough funds for high-end devices. The issue is there's a lot of competition out there, and Nokia is just starting to get back into the game with Windows Phone 8.
The HTC 8S is available on both contracted plans and Pay As You Go (PAYG), but does not break the bank balance. We'd like to throw out a thanks to Clove for sending us the unit for this review to be completed. The HTC 8S is currently available on their website (opens in new tab). We've been using the device for little more than a week, but what do we make of the hardware? If you'd like the short version: we're impressed, but there are annoyances.
Swipe to scroll horizontally
Solid build quality, much like the HTC 8X, with a large selection of colour choice and a MicroSD slot for further storage expansion, the 8S certainly stands out. It's also inexpensive at a number of sources compared to high-level hardware.

Bottom clip can prove difficult to remove, only has 4GB internal storage for apps and games. No front-facing shooter. The rear camera isn't anything to be excited about and HTC could improve OEM app selection. Going to struggle against Lumia 620 / 820.

HTC has produced a good mid-level Windows Phone to compliment the HTC 8X. The two-toned colour design is an attractive look for the smartphone, and the device itself is fairly light. The price points should attract much deserved attention, but the downsides include limited internal storage and the average camera.
Quick Overview
Latest hardware
The HTC 8S features hardware that's above the minimum chassis requirements for Windows Phone, with a 1GHz dual-core Snapdragon S4 CPU, 4" display (WVGA), Bluetooth 3.1, 512MB RAM, WiFi, non-replaceable 1700mAh battery, and Beats Audio.
Unfortunately, while the 8S does sport a MicroSD slot, the internal storage is limited to just 4GB - significantly less than what's included on the Lumia 820 (here's our review (opens in new tab)) and Lumia 620. If you're one to install a number of games, music files and apps this could prove to be an issue.
We found the specifications to be powerful enough to enable playing of multiple titles from the Windows Phone Store. The battery life is also very good, which is in-part thanks to the 1GHz Snapdragon CPU, as opposed to the 1.5GHz version found in the Lumia 920 and HTC 8X. We managed to last through the day with moderate-to-heavy usage (gaming, calls, SMS, apps, photos and video).
There's lack of NFC and wireless charging on the 8S, which is present on both Nokia Lumia 920 and the Verizon HTC 8X. Even the Lumia 820 has the ability to have wireless charging via an optional back cover. While the 8S is a mid-range smartphone, we'd have liked to see HTC pack that little bit more into the body to compete with the Lumia 820. However, the company does have a minute trick up its sleeve - Beats Audio.
The Beats Audio adds a little touch of magic to the HTC range of hardware. We've always approached products with the Beats branding with caution and believed the technology to be nothing more than a gimmick, but after using the HTC 8X or 8S you can clearly hear the difference (so long as you pair the device with a half-decent pair of headphones). It's a nice feature to have in a smartphone, especially since many consumers rely on said devices for music playback.
You'll need a decent pair of headphones to take full advantage of the deeper bass though. There's a setting that can be manipulated to turn the Beats Audio on and off, handy if you're not particularly impressed, or have no need for it. Note that the HTC 8S does not come with the extra amplifier - that's restricted to the 8X, folks.
Display of wonders
HTC has opted for its Super-LCD display implementation that's also present on the HTC 8X. Making use of Gorilla Glass, the screen can withstand some damage with strong resistance. The resolution is 800x480, which we're used to through Windows Phone 7.x, so that's not exactly a deal breaker. It's no HD, but HTC has continued to improve its LCD technology.
Using the HTC 8S outside in daylight was possible without too much glare on the screen. There's no anti-reflective technology that compares to the display on the Lumia 920 and Lumia 820, but one can use the 8S while outside enjoying the sunshine. We did find the auto-brightness to freak out a few times as it attempted to alter the level depending on ambience.
Since the technology used is LCD and not AMOLED blacks appear darker on other devices when comparing but colours are sharp enough and overall performance is good on the 8S - plus you can make use of the light theme without sacrificing battery life, which is always a bonus.
Through usage we've noticed that the responsiveness of the HTC 8S is just as smooth as the HTC 8X or competing Windows Phone hardware and we've encountered no issues with 'lag' or performance dips when playing games loaded from the Windows Phone Store.
Slim, sexy body
The device comes in at 120.5mm x 63mm, and is just 10.28mm thick. The HTC Windows Phone has some depth to it, especially since the 8X is only 10.12mm. We're not entirely sure what's making the 8S slightly thicker, but even so it's not an issue that'll be noticeable when in-hand. HTC has done a great job at both designing and producing its latest Windows Phone offerings.
Much like the 8X, the HTC 8S has a curved body for it to feel more comfortable and natural in use. The weight of the device is definitely worth mentioning. Much like its more advanced brother, the 8S is an extraudinarily light smartphone only coming in at 113 grams. At first you almost throw the device in the air as more weight is expected when first handling the Windows Phone.
The overall design of the outer shell is definitely aesthetically pleasing, with a two-toned colour scheme that mixes up HTC's choice of colour variations presently available. Our review unit was a light / navy blue version, but combinations including grey / green, red / orange and white / black are also available. It's an interesting twist on smartphone design, and one that's guaranteed to turn a few heads.
When attempting to insert a SIM or MicroSD card we did encounter issues when attempting to remove the lower cover in order to reveal the two slots. This could be a problem if you have no nails or can't figure out the way to effectively remove the cover. It took us a good few minutes to work out the best way to achieve this, which then subsequently proved difficult when attempting to reproduce the process. This could well be limited to either the unit we received, or simply our incompetence.
The buttons on the side are flush with the shell itself, but they're easy to press down and are elevated enough for use when concealed (in a pocket, etc.) The only issue is many 8X owners have complained about the location of the power button, which is situated on the very top. This is the same case with the 8S, but since the screen (and subsequently the phone itself) is smaller it's easy to hit the power button when required.
Next to the power button on the top is the 3.5mm headphone jack. The matte finish is both smooth and even looks comfortable. As is the case with the 8X, the HTC 8S features an LED indicator, something I believe should be on all Windows Phones - but that's a personal preference. The indicator will flash red when battery is low, and will remain solid when charging. A green light will confirm the device is sufficiently charged.
While the likes of the HTC TITAN was metallic and looked more sturdy, HTC has done a great job in designing a unique smartphone that feels like it wont fall apart. Overall, the 8S is well designed, built and performs as one would expect from a mid-range device.
It's still a phone
We tend to forget that smartphones are still just phones at heart. Windows Phone has been praised (and not only by us) for being easy to use and performing well as a mobile device - whether you wish to make calls or send and receive SMS. How is the HTC 8S when used as an actual phone? It's a reliable piece of kit, that's for sure.
Signal reception is good and call quality is good enough with voice being heard clearly through the ear speaker. SMS is as good as any other Windows Phone out there with multiple protocols available out-the-box. The handset warms slightly when in use, but certainly doesn't reach uncomfortable levels.
The only issue we encountered when using the device was storage. I enjoy having a number of games loaded on my Windows Phone (because my Nintendo DS doesn't have infinite battery when playing Pokemon Black 2 for countless hours on end) but the limitations of the 4GB is apparent when my preferences come into play.
The generous SkyDrive allowance, not to mention the option of streaming music over WiFi and data connectivity with Xbox Music helps to soften the blow, but that 4GB limit will always be there. Note the system takes about 2GB (reported on our unit) so be prepared to have only 1-2GB free when apps and photos are loaded.
Draw the shooter
Unfortunately the HTC 8S only has a rear camera, which is 5 megapixel. While no front-facing camera is present for video calls, the rear shooter does feature an LED flash as well as a 35mm F2.8 aperture lens. The mobile phone is becoming the main tool for photography while out and about and the 8S should capture those moments with good enough quality for sharing with other people - but don't expect anything spectacular.
HTC 8S Outdoor Photo Sample
Unlike the Lumia 820, the HTC 8S doesn't feature a focus assist light for low light conditions, which is a shame. There's also lack of a dedicated image processing chip, which the 8X sports. This helps on the 8X to offload the tasks when capturing the real world onto another processing unit other than the CPU, providing the device with a slight advantage in speed. It would seem the manufacturer has really cut back on the camera.
HTC 8S Indoor Photo Sample
The indoor quality isn't spectacular. In fact, when using home lighting (as opposed to natural) the camera almost under performs when we look back at the HTC Radar and Titan, which both produced good quality results.
HTC 8S Outdoor Night Photo Sample
It's a shame that the 8S doesn't feature a BSI sensor as it would certainly improve what we were able to capture. Moving onto video capture...
The 8S Windows Phone can record in 720p video (see the above example) which turns out to be fairly poor if the above example is anything to go by. No OIS (Optical Image Stabilization) is present so a steady hand is required for the smoothest of recordings, but even then the quality isn't great.
Powerful software
HTC has a number of software solutions available for Windows Phone consumers, but unfortunately this has to be compared to what Nokia is bringing to the table with its Nokia Collection (opens in new tab) of OEM apps. As is the case with any other OEM for Windows Phone, apps from both the manufacturer and carriers can be uninstalled if the consumer doesn't wish to make use of the apps available.
The HTC Hub is installed as always, which displays the weather forecast, stock and finance information, as well as latest news bulletins. HTC has also added the ability to have the weather displayed on your lockscreen--a very nice touch. As well as the Hub, a neat little helper Make More Space is pre-installed to provide consumers with quick access to manage storage. The bundle of HTC Apps on the Windows Phone Store include a Flashlight, Photo Enhancer, and Connection Setup among others.
While the collection of apps from the company could be improved, it's good to have some work present on the Store. Will HTC plan to bring anything news to their OEM app vending machine? Only time will tell, but if they wish to be taken seriously by consumers, they'll need to add unique software options to the line of new Windows Phone hardware.
HTC has done a great job with the hardware on its Windows Phone 8 line of products so far. If they're able to pack new features into the mobile devices, we can't understand why it would be such a stretch to have the manufacturer pump more content onto the store. Here's hoping for not another let down for consumers.
The conclusion
I've actually really enjoyed using the HTC 8S the past week. It's proved itself as an able Windows Phone with enough power to get through most tasks that are thrown against it. The only downside is the camera and video quality, not to mention the ridiculously low amount of storage available.
There can be some conclusion with the number of Windows Phone 8 handsets being released, but who is the HTC 8S targeted at? If you're looking for a solution that's just above "budget" then the HTC 8S is for you as it's an affordable Windows Phone. Should you be after a more complete Windows Phone experience, we would recommend looking at a Nokia Lumia smartphone.
This isn't a bias in any shape or form, but Nokia has done a superb job with both hardware and software. We'd like to see HTC pour more resources into app development for Windows Phone as their hardware on Microsoft's new mobile platform are built well. Now the hardware is set with unique features to set them apart from competitors, what's halting HTC from adding that little bit more?
The design is appealing and Beats Audio ensures the sound quality is noticeably better (should you have headphones to take advantage). While the bottom cover can be a pain to remove, we don't believe one will be changing SIM and MicroSD cards often enough for it to be a deal breaker. It's only when you pick up a HTC Windows Phone do you truly appreciate just how the device is put together.
Where to buy?
The HTC 8S is available from a number of sources in multiple markets. Supporting retailers will stock the handset, which starts from $279 / £179.99 off contract. It can be picked up from Virgin Mobile (Canada), Three / O2 / EE (UK), with more to follow as the device is rolled out in locations around the world.
Be sure to keep an eye on our news feed for more information on announcements and details for more carriers and retailers in other markets that are yet to receive the HTC 8S.
Accessories
The HTC 8S is a fairly new device to the Windows Phone 8 family, as such at the time of this review custom accessories are a bit limited. However since this device is expected to t be widely adopted globally, that should change soon.
As of now though, there are plenty of general accessories for the HTC 8S including extra USB chargers, screen protectors and cases availbe. You can find those readily available in the Windows Phone Central Store.
Related
Windows Central Newsletter
Get the best of Windows Central in in your inbox, every day!
Rich Edmonds was formerly a Senior Editor of PC hardware at Windows Central, covering everything related to PC components and NAS. He's been involved in technology for more than a decade and knows a thing or two about the magic inside a PC chassis. You can follow him on Twitter at @RichEdmonds.
This is such a good looking phone. I would have snatched it up in an instant if it wasn't so limited. And if it was on Verizon, but that's another story.

Agreed. If this had at least 16GB of storage, 1GB RAM, a better camera, a higher res screen, an FFC, etc. in the same form factor it would be amazing.

Its a crime to make such a beatific device and cripple it so. The HTC radar was midrange yet still had a ffc and 8gb memory!

Yes, it's crippled when compared to the HTC Radar storage and its lack of ffc but then the price of the 8S is also way below the price of the Radar when that phone first came out.

I liked this device from the day one reveal. Right size, cool domino look, good price, and has enough stuff for me to use it daily. I have an HD7 on T-Mobile so I'm used to being handicapped when new phones are released like the 900 and 920. HTC should bring back the kickstands though!

Looks sharp, but in my opinion it doesn't hold a candle to the 800 series Nokia offerings.

Well, having jsut swapped my Lumia 800 for one I can tell you that it absolutely kicks the 800's butt. The only thing the 800 has on it is a better screen but it is only slightly better. The 8S beats it hands-down in every other way.

I thought all WP8 devices had to have NFC. That one feature missing is enough to make it a no go for me. But sadly the 620 is coming too late, so I guess I have no choice but to get the 8S.

I love love love the design of this phone. I miss 4" displays and light bodies. But the specs are just to limiting. If apple can make a high end 4" phone then why can't anyone else? There really is a market for it.

If it had even just 4 GB more internal storage it would be mine in a flash. A crying shame for such a great low end phone to be compromised most in such a low-cost area.

This would have been a instant purchase for me but the crippling nature of not allowing apps to be installed to the Sd card has made it all but useless got to save up for its big brother I guess.

I'm not getting why people are complaining about lack of space. HTC has microSD slot, so we can expand the memory for userfiles. Right?

My biggest problem with space is offline maps, can those go to SD card? I am always roaming and need alot of offline map storage.

+1 to that. If the offline files cannot be stored on the microsd, it is a drawback. If can, than who cares if it's 4GB or 40GB (IMHO).

What I learned is: Only media files can use the storage card. As all apps are installed in containers in the main storage area, you cannot offload anything else to the storage card.
For those that need to load more than 1 country for offline usage, or install lots of apps and games: better get a device mit 8GB+ storage.

you wrote : ....If you're one to install a number of games, music files and apps this could prove to be an issue."
Music files, photos and documents can go to SD card, we only need internal storage to apps and games.
and do not compare this phone with lumias 920 and 820, the price of lumia 820 is more than twice the price of the HTC 8s in my country, and do not forget that the lumia 620 can have 8GB but has a battery much worse.
sorry for my english :P

I love the look of this phone. I reminds me a bit of the Zune HD.

Fun fact: it costs exactly the same as the 8x at my carrier here in Hungary. Both with and without contract. Kind of makes choosing between them a no-brainer.

It's such a shame that it is so limited in hardware, because I LOVE THE DESIGN of this phone! Better than any Lumia or the 8X. If it had the same specs as the L820 I would buy this without a doubt!

My question is can you not install apps to the sd card or is it just user files like photos and music? Excuse me if I missed something but it just seems crazy to include microsd support and then limit it in that manner. I understand security reasons but don't apps have to be signed a certain way in order to run on the device. So trying to side load non genuine apps would be blocked by the Os. Just confused at how limited microsd implementation is on WP. Somebody help me out here?

WP8 has the mind-boggling limitation of only allowing offline maps and all apps to be installed on the built-in storage.

and just how much of that 4GB do you actually get to keep in this case? I recently got a Lumia 610 for my brother and that is 8GB on paper but the OS eats up almost half of it. Wouldn't 4GB limit you ridiculously in case you can't install apps on an SD card? I guess you can either install on the SD as well (would make sense), or the WP8 is significantly smaller than 7.5 was, which I doubt.

The Lumia 620 is cheaper, has more storage, ffc, NFC, and Nokia's impressive stable of powerful, excusive apps. I'm afraid the 8S is DOA in any market both devices launch in. I love my Ativ, but if the 620 makes an appearance in Canada I won't hesitate to grab one.

I wish I could get the 620, but it is coming too late sadly. I need a global unlocked phone by next month.

How would L620 serve NFC, front-camera, powerful exclusive apps....with that poor battery ?
What does it help you have all those advantages if you hardly can use them?!
I prefer the 8S... design is much better, top quality; even the camera supplies better photos and the sound beats all.
And it's powerful doing all its jobs very quickly and very satisfactory.

this design need to be a high end or at least a mid range
if they add 8g storage and front facing camera NFC 8 migapixel camera i would be first person in the store to get it

I also love the design but Nokia is just offering so much more with the 620. I think that will be the phone I get for my my mum as she doesn't need anything tech savy like the 920 or 820. Hope Att picks it up.

you shouldn't compare this phone to the lumia 820. they are in different class because of price and specs. and when you put it against the 620 it looses in all categories except design. i find the 8s design to be stellar

Still no Bluetooth 4.0 certification? WTF? I don't understand that!

htc 8x Standard battery Li-Po 1700 mAh against nokia lumia 620 Standard battery Li-Ion 1300 mAh, good luck to use NFC and everything on and get to the end of the day with battery.

could u record to video to sim card? does sim card data take longer to load?, how much room does the os take up?, how many gig can you get on a sim card

Does anyone else think the wp8 start screen animation is much uglier and a bit messy compared with wp7/7.5 because it also has the app list fly in on the right?

I love the two tone. HELL, I even considered pasting white tape around the bottom part of my L820! The design is majorly HOT.

I love WP8 but come on. 4Gig memory, 512 MB Ram? Low res screen and no front camera? This is not a mid range device thats a good feel for a first timer getting into Windows Phone. Its hardware and specs that are already 3 years out of date. This has to be the low end of all WP8 devices.

Poor quality of the phone, and even worse support from HTC
This phone is having some serious issues. I got replacement 3 times, and problem wasn't resolve. With poor HTC support I was forced to change this phone for Nokia Lumia 610. To see details visit http://myhtcproblems.com .

Not poor my dear !!! This phone can manage all the expected things quite quickly without hanging...admittedly memory isn't quite the best. Although I love this device....its much better than lumia 620 which is hanging quite often...too much jobs for low hardware.
The 8x is a very good phone !
What do you expect for thic price?
Windows Central Newsletter
Thank you for signing up to Windows Central. You will receive a verification email shortly.
There was a problem. Please refresh the page and try again.