Nokia Lumia 820 Windows Phone Review
By Robert Brand last updated
Windows Phone Central's review of Nokia's mid-range Windows Phone 8 device (Non-branded)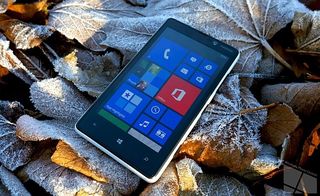 While nearly all the attention on Windows Phone 8 devices has been lavished on the 'hero' devices such as the ATIV S, Lumia 920 and the HTC 8X the Lumia 820 has taken somewhat of a backseat. The 820 does lack some higher end specs of its other Window Phone 8 brethren but it still manages to present a capable and compelling package.
The Lumia 820 is an important product both for Windows Phone 8 and Nokia, as it represents a mass market device the platform and manufacturer need. Unlike enthusiast phones such as the Lumia 920 it will be affordable on either a monthly contract or fit in nicely on a pay as you go plan. The Lumia 800 has become a bit of a hit on lower cost contracts and this paves the way for the 820 to continue where it left off. We have been using the 820 for over two weeks now and would like to share with you why we think this is a device worthy of your consideration.
Lumia 820 Video Overview



---

Great build quality, exchangeable covers, Micro SD expansion up to 64GB, top performance at a good price point.



---

Low resolution front facing VGA camera, it's not going to win many beauty contests, no Gorilla Glass so could be more susceptible to scratches.




---

Nokia have done a great job of producing a well-built device that will serve the mid-range market well without sacrificing performance. There is much to love in this strong little package but its looks are perhaps an acquired taste.
The Body
The Lumia 820 measures 123.8 x 68.5 x 9 milimeters thick with a weight of 160 grams. The phone is made up of the main electronics package and the separate, swappable cover. Unlike the sealed unibody Lumia 920, this has allowed Nokia to pack in a replaceable 1650mAh battery. Removal of the cover requires pulling it away from the top of the unit; once the top is free it is easy to leverage the rest of the case off. Initially this is quite tricky but becomes easier once you're confident on how the action works, be warned though your fingernails may suffer. The cover is designed to fit very snuggly with the body of the phone to improve its durability and overall solidity.
The buttons on the side of the phone work with a pleasing amount of travel and provide good feedback as to when they are pressed. There is no discernible difference between the 820 and the 920 when it comes to button quality. There is no noticeable wobble in the buttons which is impressive considering that they are integral to the Snap-On cover. Around the screen exists a strip of black curved plastic that helps to blend the body to the curved edges of the sides of the casing. When holding the device you'll be hard pushed to find any rough edges due to this blending and the rounded shape of the case adds to that.
Considering this is a phone of two distinct parts it is slightly surprising to find that it feels incredibly solid and well made. The body is ridged and devoid of the squeaks or creaking sounds you might expect with a phone with a replaceable cover. In the hand this phone feels incredibly solid and is pleasing to hold and to touch.
The Display
Nokia have decked the 820 out with a 4.3 inch AMOLED display which provides a resolution of 800x480. The screen is protected using scratch resistant glass but is not the gorilla glass that we see on most other smartphones these days. We have been testing the 820 for over two weeks now without any kind of protective case and have yet to see any sign of scratches.
The screen has the 'ClearBlack' anti-reflective technology now common on all Lumia devices and provides a good outdoor viewing experience. The AMOLED display on the 820 means the device produces very deep blacks and highly saturated colours. The blacks aren't quite as deep as the Lumia 800 but are still good all the same and colours actually look more accurate. The lower resolution of the panel is hardly noticeable unless you are looking very closely indeed. Depending on how good your eyesight actually is will likely determine how much of an issue this is for you. Look hard enough and you'll see jagged edges on text and icons but you simply shouldn't notice at normal viewing distances.
Touch and responsiveness is very good across its totally flat screen and at no time will you feel any lag when using the device. Like the Lumia 920 the 820 also packs the 'Super Sensitive Touch' technology so you can use your phone with your gloves on. Those of us who are now experiencing the temperature drop to single digits will quickly appreciate the joys of being able to use the phone without taking off those gloves.
The Hardware
The Lumia 820 packs the same speedy dual core Qualcomm S4 1.5 GHz processor and 1GB of system RAM and 8GB of on-board storage, of which about 5Gb will be free when you first power up the device. The phone has Bluetooth 3.0, NFC and can support WiFi standards a/b/g/n and mobile data speeds are supported up to 100 Mbit/s via LTE. For a full overview of how the specs compare to other Windows Phone 8 devices, check out our comparison guide.
The phone also supports the Qi Wireless Charging standard so you can buy an optional accessory pad to place your phone on rather than bother yourself with the menial task of plugging it in with a cable. It's worth mentioning that once you have one of these charging pads you'll fall in love with the convenience of it. Have one on your desk or by your bed, it's really nice not having to worry about cables.
For many people the internal storage should be enough but for those of you that have the need to store more data this could be the phone for you. The Lumia 820 supports MicroSD expansion cards so you can add another 64GB of storage to your phone. If you intend to use your phone for lots of media consumption and have plenty of music and videos then an 820 with a 64Gb card could be the solution you have been looking for. Neither the HTC 8X nor the Lumia 920 support expandable memory and are limited to their factory fitted 16GB and 32GB respectively.
Lumia 820 packaging and contents
Battery life on the 820 is very similar to that of other Windows Phone 8 handsets, you'll easily get a day's use out of it. Like the 920 and HTC 8X battery life seems to take a nosedive if you leave NFC and Bluetooth enabled and you'll likely get around 5-6 hours out of one charge. If battery life is paramount and you have some extra cash, grab yourself another battery to keep on standby if you're worried about getting caught out.
The phone feels every bit as speedy as the Lumia 920 and that's down to it coming with exactly the same baseline CPU and system ram. Everything moves along at a decent clip and you won't be left hanging about or experiencing pauses. If you happen to be upgrading from a Windows Phone 7 device you'll notice things really do move along much quicker.
The Sound
Nokia have included Dolby headphone technology into the 820 to provide something of a boost to the overall scale of music played through the headphones. By using some audio trickery Dolby can slightly improve the sound so it seems fuller and richer. You'll also get to play with a graphic EQ too should you need to adjust any aspect of the sound.
We certainly welcome the renewed focus on improving the sound quality of these devices and the addition of Dolby headphone and the EQ are certainly a start. The Lumia 820 happens to sound very good without any extra tweaking but we still see plenty of scope for improvement in this area. The ideal would be to have a final sound output stage that requires no adjustments but as it stands the 820 does a good job.
When it comes to sound output from the built in speaker the 820 does a fair job on loudness but it's quite harsh sounding. The speaker opening is limited to one place at the base of the phone so it is possible to cover it with a finger and almost cut off the sound completely. The main purpose of the speaker is to provide a hands free facility and it is more than able to pump out enough volume to have a conversation, just don't expect it to be too refined.
The Camera
Using a smartphone as a replacement for a simple point and shoot has become commonplace for many folks. Now more than ever we want to take a photo, edit it and share it with our friends, family or social networks. The Lumia 820 comes with a 8 megapixel sensor and dual led flash and optics are supplied by Carl Zeiss. It has a focal length of 26.0 mm and an F2.2 aperture. It also has a front facing camera mainly to serve video calling duties and this is a standard VGA unit.
Lumia 820 sample photo in good light conditions
Even though the camera on the Lumia 820 is not best in class on this generation of handsets that doesn't mean it can't produce great images. Like all Windows Phone handsets you get the dedicated camera button to put the phone into shooting mode quickly and the 820 does a great job of taking photos both inside and outside. Nokia do not apply too many tricks to over sharpen the photos or to hide the noise in the image and that is a good thing. It is far better to apply these changes yourself using dedicated software rather than have the image tainted by over processing from the beginning.
Lumia 820 Macro sample - Taken without natural light, standard home lighting
The 820 improves greatly on close up macro performance compared to the Lumia 800 and the addition of the focus assist light helped produce good photos in low light conditions. In testing the camera was able to provide natural looking images in a variety of conditions. For the purposes of providing a decent alternative to carrying a separate point and shoot the Lumia 820 should be more than enough for most people's needs. The Front facing camera on the other hand is very low resolution and provides what can only be described as a functional way to have a video call. The VGA resolution and high degree of noise means it won't produce pleasing images in low light conditions.
Left - Twilight shot / Right - Inside, no flash, no focus assist light
Video recording quality is good for up to 1080p resolution recording and it does a decent job of capturing the moment but does lack image stabilisation technology of the Lumia 920. You'll need a steady hand like most other smart phones when shooting video.
There are two handsets of this generation of Windows Phone 8 devices which have dominated the conversation about image quality, the HTC 8X and the Lumia 920. Both of these provide stunning optics and low light performance but for many folks this level of quality simply isn't a requirement and the 820 will do a perfectly good job.
The Software
When you first power up the Lumia 820 it comes pre-loaded with some of Nokia's own software but also a few third party offerings. Here in the UK the Lumia 820 had The Trainline, Ebay, World Of Redbull and Trip Advisor present on the home screen. We're not entirely sure why they chose these apps but they certainly aren't useless, if you need to uninstall them you can of course do so at any time.
Nokia Apps Selection..
The range of Nokia value added apps has become somewhat of a selling point in itself due to their high quality and usefulness. When you first power up the device you'll get Nokia Care, Nokia City Lens, Nokia Drive, Nokia Maps and Nokia Music. The quality of these apps is superb and they are most certainly not junk ware, from powerful turn by turn driving directions with Nokia Drive to free Music with Nokia Music, you're in for a treat.
In addition to what comes installed you can find more offerings by heading to the Nokia Collection in the Windows Phone Store. The Nokia Collection now gives Lumia owners unparalleled access to free games, exclusive apps and even more of those Nokia utilities.
Nokia has done an excellent job of building up a compelling set of software and services with their Lumia handsets. By doing so they are making it increasingly more difficult for buyers to switch to another manufacturer. The Lumia 820 has full access to all these apps and services and that means it harbours a rich and powerful user experience.
Accesories
The Lumia 820, while not as high profile as its big brother the 920, does have similar accessories. The Lumia 820 can use the Qi wireless charge pad, charge stand and JBL PowerUp speaker in addition to any third-party Qi charger stations. Unlike the Lumia 920, you will will need the Lumia 820 wireless charging shell to enable this feature, an accessory that the 820 does not come with out of the box. Most of the official Nokia accessories can be purchased through your carrier.
Finally, the Windows Phone Central Store carries screen protectors, extra charge cables, car mounts and various Bluetooth add-ons for the Lumia 820. We will be reviewing additional Lumia 820 accesories when they become available.
The Wrap Up
It is clear that Nokia has walked a tightrope of form and function with the Lumia 820. The design of the handset is so bluntly utilitarian at first sight many may overlook it. That industrial no nonsense design turns out to have a pull of its own, it looks strong and durable. Nokia have set out to produce a handset that is distinct from the higher end and far more expensive Lumia 920 but still give it some appealing extras.
Having replaceable covers allows for some fun colour combinations but more importantly when the case gets old and battered you can simply change it out. It's all very well having a sleek unibody handset but it's a one shot deal, if the body gets chipped or scratched you're simply stuck with it. The 820 also has some ruggedized cases available for it so you can use it in more hostile environments, this could be the ideal phone for someone in construction for instance.
The ability to increase the phones storage to over 64GB is simply fantastic for those who want to take lots of video, photos or take their whole music collection with them wherever they go. If you're lucky enough to have a Surface tablet for instance you can throw your music onto the SD card and swap it between the 820 and the tablet should you feel the need.
I have been lucky enough to have been using the Lumia 920 since launch day and have had plenty of time using both in tandem. If you're wondering what the differences are between them you might be surprised to hear that in practice there's not much in it. The 820 performs like a champ and some of you may even prefer the deeper blacks and more heavily saturated colours of the AMOLED screen.
I spoke of the solid looks of the device, well those looks aren't just skin deep, the body of the phone is ridged, impervious to any flex and doesn't creak or groan under pressure. It actually feels more comfortable in the hand than the Lumia 920 due to it being slightly less wide.
Nokia has cut some corners though and the lack of Gorilla Glass seems to be the most obvious area of concern. It is unlikely that the screen of the 820 will be up to the task of resisting those scratches as devices with Gorilla glass but in the two weeks I have been using it, I see no scratches. How well it does over time compared with Gorilla Glass fitted handsets will only become evident down the road.
The low quality of the front facing camera is also another area worth pointing out, if you plan on doing lots of video calling you may want to consider a different device. In most cases and in good light conditions most will have little to worry about. When considering a Windows Phone 8 device the 820 should not be overlooked, it packs some great features into an affordable package. Some of the features like the swappable covers and expandable storage combined with a replaceable battery might mean it's a no brainer for some. Nokia has managed to produce a handset here that is both affordable and offers some distinct advantages over other Windows Phone 8 devices.
In the States, AT&T is offering the Lumia 820 for $49.99 after contractual discounts ($399.99 off contract). The Lumia 820 is also available through global retailers such as Clove (opens in new tab)or Expansys. If you shop around you can also find the Lumia 820 for free through third party retailers but with carrier contractual obligations.
I will never understand why nokia left out gorilla glass on the 820. Its to stupid to be understood

And why they left out microSD from the 920 and HTC left out from the 8X - single stupidest mistake, and reason I'm not buying either the 920 or 8X at the moment. I shouldn't have to compromise on a flagship phone choice

Where do you put a microSD card slot on a unibody design? Create yet another plastic door tray? They chose design for this one and at least Nokia got it right with 32GB. With all do respect, these companies know what sells and what doesn't in terms of storage. Enthusiasts always want more but the majority of people out there do fine with 16 ore 32GB.

I'd rather feel like I will get long-term software support and free wireless charging with my 920 than a microSD slot I don't need with a Galaxy S III.

Remember that the 920 comes with 32 GB on-board. I'm at about 21 GB with roughly 50 apps and games, 1,800+ songs, and 5 videos (of TV show episodes). I don't need more than 32 GB of storage for my device, but I DO need more than 16 GB.

If you went with an Android device here, I would have to pay twice as much (remember, the Lumia 920's only $100), then I'd have to buy a 16 GB microSD card for prboably another $20-30, then wait for it to arrive to get all of my content I want to my phone.

Going with a lower-end devicel ike a Lumia 820 isn't worth the tradeoffs of the display, camera, wireless charging (and charger), and included storage to get the microSD slot, either.

It would be nice IF the 920 wasn't unibody and had a microSD slot and a swappable battery, but those are the smallest downsides I see when comapring the downsides to the compeition.

The 820 does support wireless charging, so its really only the design, screen and camera that are a trade-off.

I've liked my 820 a lot. Only problem is that the replaceable battery feature (only WP8 phone to have it and a principal reason I bought it) is useless because nobody sells a replacement battery.
Not my carrier AT&T, not Nokia, nobody I can find. How lame is that? Also, the forums report that the micro SD expansion capability is not yet working correctly and is awaiting a firmware update to fix. This, too, is lame. The 8GB that comes with the 820 is not adequate for me, but if I can't reliably expand it, that's a big disappointment. Nokia needs to get these two glitches fixed. Then I will recommend the 820 without reservation.

Are you still encountering the SD issue? I believe the Nokia forum reference it here:
http://discussions.nokia.com/t5/Nokia-Lumia/Lumia-820-sd-card-issues-and...
Thanks,
Murad

That's just Nokia's philosophy. No device has all the features possible. Not even their flagship devices (920 lacking micro sd card tray for instance).

It would be a nobrain update from the 800 if they had included gorilla glass

Even without the monkey glass the 820 is a worthy upgrade.
I miss the curved glass, which made the 800 screen so sexy, but the image quality is far better. The 820 is crystal clear and not grainy like the 800 pentile screen.
It's also worth mentioning, that the standard shells are glossy (and smudgy) which makes them look kinda kitsch like a cheap case, while the charging shells are matt and look much better and more professional IMO.

that's why I upgraded to 920 from 800 :P

How can you say the sound from Lumia 820 is good when GSMarena says it's plain modest for lumia 920? I have a hard time to believe they have a different sound board.
"The Lumia 820 happens to sound very good"
I wish more and more reviewers follow GSMarena with their high demands of high quality sound qualities from cell phones as people these days use their cell phones use their cell phones as a portable music player.
Quote from GSMarena.
"Sadly, the Nokia Lumia 920 audio output wasn't particularly great or worthy of the flagship status of the device. The smartphone has good volume levels, but its output is by far not the cleanest around."
I do own a lumia 900 and am using it with my ear phones Sennheiser IE8i, the sound quality is sadly disappointing with lots of elevator sounds etc. I thought Nokia would do good on this perticular subject hence their previous Nokia music phones.

Not many are taking GSMArena's review seriously, including those in our forums. The 920's sound is excellent and that is the consensus amongst reviews. I'm also not sure what max dB has to do with quality. If loudness is your only metric, then sure, the 920 or 820 are not the loudest. But that's not how all people judge sound. Ultimately this is about personal opinion--if the 820's sound is good for Rob, who are we to criticize?

If all phones sound "good" to someone, then audiophiles are clearly getting nothing out of the sound review.
To most people, all phone's audio output *is* the same. To audiophiles, and professionals, it is not. Sound quality is not opinion- there are merely those who can't tell the difference between good and bad because they have not spent time training their ears. That's fine, but don't start thinking that an audiophile tailored review is false just because *you* cannot hear the difference.
For example, I'm sure there are many people who argue that beats audio is good, and phones that feature them are good. Well, not really. They're marginally better than the consumer known brands, and none of the consumer known/affordable brands were any good to begin with. Beats just has great advertising, and is loud, it's not special. Moreover beats' EQ is *horribly* offset towards bass, not "equalized" at all. Will the average person know this? No. For the average person, all they need to know is if the DAC produces a nails on the chalkboard noise as opposed to the music they were trying to play.
A non audiophile saying the sound is "good" is about as useful or as true as some average joe saying box wine is "good". Well, most people might agree, but I'm sure there are some connoseuirs of wine that might disagree with that statement. I won't torture that metaphor anymore- but the fact of the matter is audio quality isn't really a subjective matter. Moreover it's not surprising in the least that a phone's DAC is bad... how many audiophiles turn to their phones as their preferred listening device? None? There's a reason for that.

It seems odd that we should get stuck on such an issue. Let me go some way to clarify my stance on the sound quality of the Lumia 820. When I say it is "good" I mean that in a fully rounded way. I have compared the normal sound output from the 820 to that of the Zune HD and even dedicated separates to compare the sound. That's using a variety of headphones from in-ear devices that came with the device to expensive studio grade cans. While the 820 and even the 920 go a long way toward sounding great they do fall short of attaining what I would consider excellence. For the record I have been involved with music and sound production for many years and have a vast array of music equipment I use every day. Regardless of all of this, sound is a totally personal choice, everyone has their own taste. I have stated clearly in my review that while the sound is good (add in as many sound related statements as you will) there remains some margin for improvement. As for getting involved in so-called audiophile debates on who can hear what and so on and so forth. I am happy to leave that to the dedicated publications that eek a living out of such gold plated, bi-wired, dual concentric matters. I have stated in the review that I welcome a renewed emphasis on improving sound quality from Nokia. While I personally do not agree with sound colouring or manipulation I do see the need to include it. I welcome any advancements in improving the previously lack lustre performance of audio output on smartphones. This is what I wanted my overview on sound to illustrate. RB

You're comparing with a ZuneHD?

Zune HD has a very good sound quality, close to my Cowon J3.

All Lumia x20 series have the same speaker.. :P

I wish it had the same form factor as the 800/920.

From someone who swore to not go lower than 4.5 in screen size, I'm really enjoying the 820

I agree, in practice the 4" screen and smaller over all body size make this great to use.

I got the Lumia 920 and my wife got the 820. The 820 really does feel great in the hand and it looks good. It's a great phone. Just got her the charging plate and case for her birthday, wireless charging is very convenient.

What's was the reasoning for spending more on the 820 ($50 for the phone, $30-40 for the case, and $50 for the charger) than just choosing the 920 ($100 for the phone and charger, no case needed)? I'm just curious as to what the draw for her was.

Good review, can't wait for the Lumia 810 review. Hopefully it's coming soon.

It is...we have a few reviews coming this week ;)

The 810 is superior in specs than the 820 kinda...only thing sucks is lack of accessories due to not being a global phone

820 is great phone, can't wait to get mine in a few weeks. I would love to see a Camera showdown of 820 vs 920 vs 8x we know the 920 and 8x camera are far more superior.

I really liked the screen protector from Skinomi for my Focus. Gorilla Glass isn't exactly scratch-proof anyway so its omission wouldn't be a deal-breaker for me.

Anywhere to buy the charging shells for the 820?

I bought mine directly from ATT website.

I wouldn't knock the glass on this, unless you test it against GG2 and find it that much worse. Corning isn't the only company that makes scratch resistant glass.

From using the 820 over the last few weeks I'd say the glass is not as good as Gorilla Glass, it does appear more susceptible to scratches.

I really dont care what others say I love this phone it took what I loved from other phones like the 710 changing covers and the amoled display and 4.3 is as high as I want to go with size my only problem is Nokia seems to think smaller means mid range I can't justify getting it and missing out on the tech of the 920 but that 820 with the purple case is very enticing

Wowsers, how small does the 800 look in that video? Still love mine mind you. Waiting for 7.8 before I think about scratching the wp8 itch but think this may be preferable to the 920. I'm locked in a two year contract until May 2014 so its either wait it out or buy sim free. This looks much more affordable and I actually prefer the look of the 820 over the 920 which surprised me.

I am using the Lumia 800 again and it feels tiny after using the 820 and 920 for such a long period. RB

I recently got the 810 (still using the 900 before my number ports) and it feels lighter...though i still prefer the 900's weight..can add up acting like a weapon for self defense when needed :)

exactly, when I unboxed the 920 for the first time, me and my buddy's reaction was "wow that's HUUGE"! :) it made the 800 even cuter

The 820 is a badass looking phone

I own an 822 and i think the 820 is lightyears better looking...

the 810 beats both the 822 and the 820

I like the 810 as well, I think i like the 820 best, and definitley the 822 the last


Removable covers is a big win. It's not a gimmick. No need for bulky cases.

I have Nokia 810 even though the screen resolution is 400x800 then screen is beautiful.

I can't edit, is anyone having the same problem?

Oh cheez ... i didn't know that the 820 doesn't have gorilla glas before i bought one last week!!! Even though this is another downside to those already mentioned, there is one huge strategical misconception: the pricing in comparance to the 920. I could live without having wireless charging from the start, without the great camera of the 920 (however the 820 also has an awesome picture quality) and with that boring product design. But even the difference of 150 bugs without contract is far too little.
Overall i'm really happy with my new phone. I wouldn't like to have a 920, because its far too huge. This and the fact that my carrier doesn't offer the 920 were the reasons for getting me the 820. However, Nokia should lower the price or include some wireless charging and learn from design mistakes including the lacking gorilla glas when considering a successor model.

I dont understand why the Lumia 920 didnt come with headphones?

In Germany, I got nice and really good quality in-ears witch matching device color (yellow in my case)...

Ok ok now stop making us people here in the US jealous :( :P

Robert, have you had any software problems with your 820. I've had two SIM free from Carphone Warehouse in the UK and returned both as faulty. The first had crackling audio and the second would lock up after charging overnight and could only be fixed by removing the battery. For now I'm back to my battered 800, pondering whether to get another 820 and hope for third time lucky as it is a great device, or wait until....god knows...for a SIM free 920.

The device I used didnt show any issues that you meantioned. Odd, especially since you had SIM free (were they carrier unbranded|?) Are you still having problms or have Nokia provided you replacements with newer firmware? RB

Me and my wife had qualified for upgrades. I got my 920 for 49.99 and her 820 was FREE. I spent an extra 36.00 on a speck case and 25 on the screen protector. We both really like our phones. There are a couple of little things that hopefully will be addressed with software upgrades. Otherwise I am a WP8 fan and will not go back to Iphone or Android.


Seems like the 820 does not suffer from the sharpness issue the 920 does...

The 820 is actually a really nice phone but the camera on the 920 is way too good to ignore:

Photo taken using a Nokia Lumia 920 http://www.flickr.com/photos/thenokiagallery/8250214113/in/photostream
Same Photo taken with a samsung galaxy note 2 http://www.flickr.com/photos/thenokiagallery/8250215015/in/photostream/l... (and this is supposedly the best android camera phone currently available.)

As you can see the 920 absolutely blows the N2 away.




The 820 is actually a really nice phone but the camera on the 920 is way too good to ignore:

Photo taken using a Nokia Lumia 920 http://www.flickr.com/photos/thenokiagallery/8250214113/in/photostream
Same Photo taken with a samsung galaxy note 2 http://www.flickr.com/photos/thenokiagallery/8250215015/in/photostream (and this is supposedly the best android camera phone currently available.)

Make sure to expand the photo. As you can see the 920 absolutely blows the N2 away.




I have my 820 for 3 weeks now, and I'm super happy! One question, since you seem to have more covers: does it actually recognize the color of the shell? I ask because I have a design color "grey" (with a black phone), do you get another color with another shell?

Carrying a Trophy now and in two years with no screeen protector or case I've never scratched it's non-Gorilla Glass screen. It rides naked in my pocket or in the console of my car most of the time. Not having Gorilla Glass is a non-issue for me.

Pretty sure Trophy DOES have Gorilla Glass.

I just bought the 820 from Amazon Wireless for a penny! $0.1! So I feel that I made a great choice for my first Windows phone. I have been watching WP 8 for sometime now and have been contemplating switching my platform (Blackberry, Curve 8530/Android HTC EVO). I like the simple and functional UI, the speed of it. I do not need millions of apps just a handful will do. I do not watch YouTube or browse the web a whole lot on my phone. I use my phone for phone calls, email and texting. I have used the 820 at an AT&T store and the quality of the pictures/videos were more than adqueate.
I was thinking of the 920 at first but for a penny I couldn't passs it up. Besides when WP rolls out phones in the future I won't feel so bad about spending the penny for a $50 or $100 the cost of the 920 and 820.
Specs on the 920 and 820 are close. I feel that the "glass", camera and larger storage are really the only differences that and a free wireless charger. As far as the screen goes, I couldn't tell the difference, even when I took a closer look, besides at 44 years old my eyes aren't what they used to be so it doesn't matter. Bright and clear on the 820.
It wasn't too long ago the specs on the 820 were considered the high end. So for the specs on the 820 I feel is still relevent. For those who do not need all "bells and whistles" the 820 is a great value. Depends on what you do with your phone. Again for me; phone calls, texts and emails an occasional pic or two, the 820 is a good fit literally. The weight and overall size is good for me. I did consider the Galaxy Note 2 but that is a whole different device entirely. I am very happy with my purchase of the 820.

Nokia sent me the 822 last week to review for them. It is a great phone, 16GB of internal storage space, larger 1800mAh battery, and a HD front facing camera, but I have to say that I prefer the look of the 820 over the 822. Still both devices are great phones. Nice review.

Dear All,
I downloaded some XAP file from windowsphone site, and I tried to deploy them via application deployment from microsoft, it say that 'not valid xap file', where is the problem?, is there special xap file works only on Lumia 820 or what? thanks

I didn't read the previous comments but I want to add mine hoping that is been posted again. Gorilla glass is not breaks, but unfortunatelly the LSD display do. It is the second time that it has broken and it costs a lot to change it.
Windows Central Newsletter
Get the best of Windows Central in in your inbox, every day!
Thank you for signing up to Windows Central. You will receive a verification email shortly.
There was a problem. Please refresh the page and try again.