JBL Nokia PowerUp speaker: Unboxing and first impressions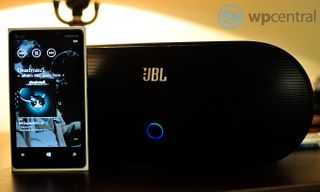 The JBL Nokia PowerUp speaker, much like the Lumia 920, is hard to find these days with supplies running low from many retailers. In fact, cyan and white versions of the pricey accessory are quite rare with black being a lot easier to purchase.
Ours just showed up today so we figured we would give you a quick unboxing and our initial thoughts on the experience. The JBL Nokia PowerUP packs two 10W 2.5" full range drivers, Qi wireless charging, NFC for instant pairing and of course Bluetooth 2.1 streaming all for $250-299, depending on where you go.
So far, we're quite impressed with the little blaster. Volume is good and the sound is very rich—not too much bass, not too much treble. We do sometimes hear a subtle but high pitch noise in the background, which we believe is tied to the Bluetooth pairing. You won't notice it during the main bars of your tune, just at the beginning when there is no music. It's not a deal killer and we chalk it up to Bluetooth streaming but it can be a tad annoying for audio purists (then again, if you're an true audio purist, wireless streaming is not much of an option, is it?).
If you live in a small apartment or for those in dorm rooms, the PowerUp is a killer accessory (albeit a pricey one). It's also good for those looking to have a mini-stereo perhaps in their work space. It won't replace a full on sound system but for what it is, it works.
NFC pairing works without a hitch and is certainly very convenient (you can also pair by pushing the Bluetooth button in front in case you don't have NFC). Wireless charging is a nice plus although we prefer to use our wireless charge pad so the phone stays near us. It's a hefty little speaker but not oddly so—feels just right and the quality, as you'd expect is top notch.
For those wondering and as we demonstrate in the video you can stream more than just music to the PowerUp. In fact, everything but phone calls seems to be a go—YouTube videos, playing games, etc. all can stream through the speaker just fine and it's a neat option to have available.
We'll have more on the JBL PowerUp next week but for now, if you have any questions ask away and we'll try to answer them.
Windows Central Newsletter
Get the best of Windows Central in in your inbox, every day!
Daniel Rubino is the Editor-in-chief of Windows Central, head reviewer, podcast co-host, and analyst. He has been covering Microsoft since 2007 when this site was called WMExperts (and later Windows Phone Central). His interests include Windows, laptops, next-gen computing, and for some reason, watches. Before all this tech stuff, he worked on a Ph.D. in linguistics, watched people sleep (for medical purposes!), and ran the projectors at movie theaters because it was fun.
I bought the cyan. It will come Tuesday. Question, when the phone pairs with the speaker and charges then you take it off, does it automatically pause the music?

No, it doesn't pause...you can charge/remove it without any interruptions.

It's a shame it's so expensive but it's great for those who can afford it.

I agree. The novelty of the wireless charge plate built in isn't worth the price hike. I got to hear a set of these speakers. They are about as good as jawbones jambox. Picked one of those up for $130 today for the black Friday sale. At just over half the price of the cheapest jbl finding, I think I got my moneys worth.

Where did you find this for 130 if you dont mind me asking?

amazon has it for 130 with free shipping. Just checked right now, Saturday evening.

I'm hoping to get this as a Christmas gift for myself. This will be perfect in my bedroom.

I am waiting for the JBL PlayUp, but can't find it anywhere.

I have been having sound issues from my 920 when using it in my car.

Would have been better if both Lumia and the JBL had Bluetooth 4.0 and APT-X wich increases sound quality significantly.

Nice read though, i would like to try a PowerUp myself if they become available in my country.

I have no idea what APT-X is but the JBL PowerUp does have it on board along with Sub Band Coding SBC and Digital Signal Process DSP.

APT-X is a codec used by bluetooth to transfer higher sound quality, thanks Daniel nice to know that it has it on board! I still need to check if the 920 has it, and what version of bluetooth is on board since the specs say 3.1 and the device passed bluetooth sig certification for 4.0...

Yeah, looked it up afterwards in preparation for the review. I'll cover that and the other audio technology for next week's more in depth write-up on the PowerUp. I'll work to clarify the BT situation on the 920 with Nokia but I'm quite positive it is just Bluetooth 3.1.

How exactly does BT 4.0 or APT-X increase anything? I bet you are the kinda guy who think those gold-plated HDMI-connectors increase the sound and image quality significantly. Plz, try to stay with facts. Jeez..

Yes you are probably right let's go back to BT 1.0 then?!
If i have to use BT i would like to have a better battery life (wich is achieved with v4.0) and better SQ (wich is achieved with APT-X), and yes APT-X improves SQ alot it's not like cabled but better than without the technology. I tried it and many others over at Head-Fi.org.

Played with one at Verizon today and I have to admit it had great sound. Unfortunately I was there picking up a charge plate because after 3 weeks I was tired of waiting for my free plate from AT&T.

I had the same high pitch noise issue when pairing the 920 to my car. The fix was to bump the volume of the phone all the way to 30 while it's paired. It will revert back to your normal volume level when it's not paired to a stereo.

Good tip. Confirmed that does alleviate the high pitched noise.

I have mine for sale if anybody is interested. I already have a Beats portable Box...and prefer the Beats instead. Anybody interested ?

Which colour do you have?

Is there something like these speakers, but only the part with NFC/BT control? I mean, some kind of plate, that connects to the phone and then sends all the data to external speakers?
I am currently using a much better system and there is no chance, that something like this JBL will beat it ... however the whole pairing system is just awesome ...

Not that I'm aware of but seeing as the whole NFC/BT pairing thing is new, we should see some more accessories like that in the future.

Thanks for this article and future articles covering the jbl speaker.... It was one of the main reasons I ended up pulling the trigger on my Lumia purchase, and I'm VERY interested to see if it'll end up being worth it.

I suspect Daniel will cancel my ability to post on WPCentral. Overall, I like the reviews. Specifically, the English and Grammar sucks on this site. I've posted the same thoughts on TechRepublic.com and Cnet.com.
I'll be surprised if Daniel lets me post any more on this site.

You guys are a great group. Keep up the good work! Windows Phone forever!!!
Thanks,
Mark L Cooper
mark.cooper@mlc3.com


Darn it Daniel you always get to play with the new toys first.. lol
Thought about this a few times.. Price seems a bit high though.. I am hoping it comes down a bit over time..
Great Review.. Thanks.
@ Mark Cooper.. No one is perfect.. Are you? No one makes you visit this site.. If the English and Grammar bothers you there are other WP sites to visit. I love how people will tell you how easy your job is when they have never done "your job". Maybe a Vacation is in order Mark if your biggest complaint in the world is English a Grammer mistakes on a web site.
Nerve of some people. Amazing.


@newfiend

I suggested in my post that Daniel could have Googled "APT-X" to find out what that meant before he replied to someone that he didn't know what APT-X meant.

Respectfully yours,
Mark L Cooper
mark.cooper@mlc3.com


@ Mark
I did read it.. That was the reason for my reply. So I guess I'll refer you back to my post where I typed "No one is perfect ... Are you?"
Ever made a mistake? I know I have. If he posted regarding something he didn't know about I guess that could have been a mistake.. put he's only human just like you or I. I don't know Daniel personally. I have only read his posts here. I enjoy the site as it delivers a lot of information on Windows Phone(s).
I think that your complaints on English and Grammar are a bit "nit picky" IMO. But hey who am I and why would you care?
I think Daniel does a pretty good job at covering all things WP. If he makes a mistake.. Oh well.. It happens.
Now can we let it go and move along? Don't sweat the petty stuff and don't pet the sweaty stuff.. Life's too short bro.



Personally Mark,I would've binged it

I currently have one of these speakers...i have to admit the sound this little speaker puts out is pretty impressive. I prefer my Beats box instead but nonetheless it fills my living room and kitchen with some damn good music. Also when I come home and just drop my phone on the speaker is pretty convenient.

Does the Beats Box have wireless bluetooth and does it have charging on it? Is the sound much better than the JBL? Does it have bigger speakers?

When I picked up my 2 920's on release day, no charging plates in stock so I picked up the JBL Power up. I have charged one on JBL PowerUp and other with Nokia wall charger and I believe the JBL actually charges 920 faster.
I really enjoy the JBL Power Up and can't wait for the JBL Play Up to be released,hopefully it can sync with powerup and act as a satellite speaker in another room/garage from Power up,as well as being its own kickass wireless speaker. Ilooked at the jambox and Beats offerings,Jambox had nice sound but no wireless charging. The Beats takes how many size D batteries? I don't care for design of the beats portable either maybe if I had HTC 8x I might go beats/beats connection but no thanks.

Thanks for posting this Daniel! I just have one question - Can you use it unplugged as a mobile speaker? I didn't see any evidence of a removable/rechargable battery in the video so I'm guessing the answer is no but this could be a deal breaker for me.

Unfortunately no, you do have to have plugged in and powered :-/

Thanks for the article, Daniel! Now I'm tempted to order a white JBL PowerUp speaker from Amazon.
Regarding other accessories for the Lumia 920, have you heard any rumors as to when the Nokia Purity Stereo In-Ear Headset by Monster will be available in the Lumia 920 colors. Specifically, I want a yellow set to match my yellow Lumia 920. PurityByMonster.com shows them in yellow and red (in addition to the other colors), but only says "available soon". I sent an e-mail to Nokia USA Customer Care and this is the response I got:
"For questions regarding the availability of the accessories for your Nokia Lumia 920, please be informed that nothing has been announced as of the moment. However, we recommend that you visit our website (www.nokia.com/us-en) or follow us on Twitter (@NokiaCareUS) for future announcements." Surely someone at Nokia must have a clue as to when these headsets are supposed to be available. Considering AT&T didn't include any headsets with our phones, you'd think availability should be sooner rather than later.


Weird, I wonder if those are an updated version? Because the in-ear Purity headphones came out back in February--I know only because I have a pair (cyan) and have used them for quite awhile (though the inline control is finicky and started to cause the volume to auto-raise to max--it was an odd bug). But it's true, Nokia hasn't announced an in-ear headphone with the 820/920 launch...I'll see if I can find more info.

Thanks, Daniel. The Purity In-Ear headphones are the same as what was released for the Lumia 900, but now they've added yellow and red to the existing cyan, fuschia, black, and white color options. You can see them here:
http://www.puritybymonster.com/en/#page_in-ear. If you scroll down to the color drop-down box, you can select yellow or red as an option. I've tried hunting down the yellow ones, but no one seems to sell them yet. No one has the new Purity Pro Wireless Headset either. I thought that was supposed to be available in Q4, which we're now in. You'd think they'd want to have these accessories out in time for Christmas.

Just too expensive for my taste.

I was able to get one for $209.00 through my employer 30% discount...so check to make sure if your employer discount can be applied.

If you attribute the 'high pitch noise' to Bluetooth, can you try connecting via cable to test?

Yeah, I'll do the inline cable for the review but it is the Bluetooth. As noted above in comments if you turn the phone's volume up to max (and then balance the volume on the speaker) it goes away, so it's more a of quirk than something you have to live with.

Can you configure the NFC to do anything other than just pair the speaker?

Ah, like the Nokia Accessories option under Settings? Interestingly, no. There is nothing you can do with it as of now, though I *think* Nokia is still tinkering with that function for a future update.

Can you charge the phone without powering up the speaker ( as a simple charging plate )?

Yes. When the speaker is off, you can just place the phone on the charge plate an that part will "wake up" to charge the phone. Quite clever, actually.

Good review Daniel, would love to piclup one of these but so overpriced in the UK

Same in Germany: €350 !!!
That's insane!

Can it be used a an alarm clock with the Lumia being the clock and the JBL sounds the Alarm?

Probably but here's the catch...the PowerUp powers down (har!) after X minutes of being unused. The exact timing of that power down and the environmental conditions for that I need to find out e.g. if the phone is charging, does it stay on the whole night? I'll have more on that next week.

Does it also work for phone calls?

As I say in the video and the last paragraph of the post itself, no.

I might be able to justify the purchase if I could also use it as speakers for my office PC. I see the line-in jack, so my questions are: a) can the unit be left on all the time; and b) if I'm using the line-in to power the speakers, can I also simultaneously use the NFC to connect the phone (obviously, when the phone's connected, I wouldn't be playing anything out of the office speakers)...

Daniel, do you plan to test the playup speaker, too?

I currently use the Kicker ZK350 with my Zune HD for my music but am looking to upgrade my Trophy for a WP8 Device plus accessories. I'd like to see a review with an 8X paired with this device. Wonder if the amp function gives any extra umph or distortion plus if this feature is even compatible while connected via NFC / Bluetooth. Thanks.

Just wondering what the Bluetooth sound quality is like compared with the line in option? Any idea what the transer bit rate is compared to a paired wifi connection. Im not convinced Bluetooth will produce great sound reproduction but would welcome your views

Daniel, off topic but what weather app is that on your homescreen in the video?

I'm going to get it, but sure wish they would have spent the extra $2.00 and included a simple digital clock on the front. It's replacing my iPhone charging/sound station in the office and I'm used to looking there to check the time.

I have a question. Will the equalizer on the 920 work if the phone is paired with the speaker through NFC or Bluetooth, or do you have to physically connect the phone to the speaker? As you know, the equalizer only works when you plug headphones into it, so I'm not sure if it will work with an NFC or Bluetooth connection.
Also, I had been looking forward to the full review this past week, but didn't see one. I hope it's still coming.

...I didn't understand the video.
Do I have to use bluetooth to get any sound from the JBL or does it work directly using NFC?
Because when I tap the NFC-area on my JBL with my Lumia nothing happens - shouldn't there be a pop-up or status-line on my Lumia 920 that the NFC has found the JBL? (Tap&send is active on my 920)


Well, finally splurged & bought a black Power Up for $250 from one of Amazon's resellers.
Was torn btwn white or black, as I have a white 920, but went with black Power Up to save some dough (the white and cyan Power Up's are $299).


Good review; two questions:
o Does it take batteries (doesn't look like it, but that would be useful for outdoor use)
o Can you power it from a car, boat etc. via a "cigarette" lighter stype plug (can we change the namem of those now that almost nobody smokes in a car? ;-)
Thanks

Just bought this speaker setup with a Nokia Lumia 1020 - BAD COMBO!!!
First, the music quality for a JBL speaker is awful. The bass is mushy, the sound reverberates and is not clear, there are NO highs to speak of whatsoever. Think you can fix all this with a simple equalizer app or maybe the inphone equalizer? NOPE! They dont exist. None exist as a windows app. There is an equalizer on the phone, but it only works when the headphone jack is plugged in... kind of defeats the WHOLE PURPOSE of the wireless speaker/charger set up, doesnt it? Pathetic!!! I took a chance on Windows and they cant even get the basics of music right? No equalizer that works with bluetooth? Are you F-ing Kidding me???
HIGHLY disappointed!!! Gee Microsoft, I wonder why most people stick with apple or droid.
GO FIGURE! a waste of time and money, never again MS, never again.

cool story bro. Why are you still here to give a comment?
Windows Central Newsletter
Thank you for signing up to Windows Central. You will receive a verification email shortly.
There was a problem. Please refresh the page and try again.