AT&T customers starting to receive their free Nokia wireless charge pads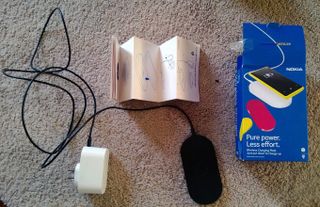 If you're one of the lucky few to pick up an AT&T Nokia Lumia 920 and wanted a free charge pad, looks like they're starting to hit doorsteps today. Reader Corbin B. sent in this photo of his new wireless charge pad, which just showed up.
Currently, AT&T and Nokia are offering once free charge pad with a new Lumia 920 purchase. Most stores did not have them yet it stock so managers often took down the info and had the items shipped when available. Likewise with online purchases, which promised a later delivery date as soon as stock arrived.
We've been using the wireless charge pad for about two weeks ourselves and as we said in our review, for us it is no gimmick. We're using it all day due to the simplicity of just plopping your phone down. We feel like a commoner now when we have to physically plug in a phone (we're adjusting our monocle as we type this).
Did you get your charge pad yet? If so, how are you liking it?
Daniel Rubino is the Editor-in-chief of Windows Central, head reviewer, podcast co-host, and analyst. He has been here covering Microsoft since 2007 when this site was called WMExperts (and later Windows Phone Central). His interests include Windows, Microsoft Surface, laptops, next-gen computing, and for some reason, watches. Before all this tech stuff, he worked on a Ph.D. in linguistics and ran the projectors at movie theaters, which has done absolutely nothing for his career.
They look good not big like they look in pics

At this point I'd be happy with just a charging pad.

ATT sent me a white one with my white 920. Looks sharp...and flat.

Same here, except I ordered a Cyan phone and the charger is black, which is exactly what I wanted anyways. Did you order yours on the phone or through the site? Due to an issue with my account, a representative had to manually place the order for me. This might be the reason why it all came in one package.

I ordered online and had to have a rep send out thr charger. The phone arrived Saturday but still waiting on the charger.

did you have to explicity state to at&t about the free wireless charge pad? It skipped my mind when I phoned in an order several days ago

I received mine on Saturday, a day after launch. I didn't know that no one else has received one!

Got mine in the mail yesterday. Not bad considering they shipped it Friday and we had a holiday weekend. I'm happy with it although I wish it just plugged in via USB. Maybe its a voltage issue or something. I hate silly proprietary cables that, when they break, are expensive and difficult to replace. Not to say I expect it to break, really, but ots something I generally try and avoid.

I got mine yesterday. The device itself is great, not very big at all! As many will point out, the plug on the other end though is huge! It looks like they designed one for use with European and UK outlets and simply changed the prongs on it to fit US outlets.

They're a lot slimmer and prettier than they look in the pictures!

I recieved mine this past Monday when my Cyan 920 arrived. I'm surprised folks are just now recieving theirs.

I got mine on Monday. It's black, and goes great with my red phone.

I received mine yesterday - bought my phone Friday at the AT&T store. I like it. Very easy to use. I will likely get another.

Funny part about this is that I received my free charger last Friday but still haven't received my phone yet.

Oh I thought the other end has a USB port...
I wanted to plug it into my car and just lay my phone there :(
So the other end is attached to a big 'ol wall-brick? Or am I not viewing the picture correctly?

I think they are using micro USB..but I could be wrong.

No, two proprietary plugs on either end of the cable, sorry but no USB

given the slow that is the postal service, I'll likely have mine some time next week.. but I have my phone at last so waiting for the charger plate is a bit less painful.

Mine was in my city for 2 days before they delivered it... Go figure

Mine shipped from memphis.... I live in memphis... 4 days later, phone at last. >_>

Still waiting on mine bought my 920 in store on Friday. Order says "In Progress" still. :-/

I can't even see my order online!

Same here. I wonder if it had to do with color selection.

I bought my Lumia 920 this past Saturday 10 in a ATT store in Puerto Rico. Checking the order status online I get a In Progress which means: Our warehouse is still processing this item for shipment. We'll see what happens. Also, my model is color black.

Where are you looking to check on the order status? We bought our two phones on Friday in the nearby AT&T store. They said they didn't have any chargers in stock but that AT&T would mail ours to us and that we'd receive them in a couple of days. Looking at our account on AT&T's site, there's nothing about any order for chargers. We called the store to ask about the status and they said they don't have any ability to check the status but that they were sure we'd get ours Real Soon Now. Do we have to call AT&T? Should something be showing up on the AT&T site?

When I bought my phone they asked for my email so they could send my order confirmation. I got the email and it links you directly to where you can check your order status on the ATT site.

Did you guys get any sort of updates when it was shipped? I have only received an email saying that the pads will be shipped but that was all :/

Yes, and it gave me a tracking number.

I received a changing pad.

Send it back for a charging pad :)

Is it just black? Or do they color match your phone?

Does the rug match the curtains? I believe is the saying.

Some people on the forums have stated the free one only comes in black yet others have been able to get the color they want.

When I bought my Lumia 920 in my local at&t store Monday, the sales associate told me I could pick whatever color I wanted. He said since they were out of stock, and he had to put in an order, I could pick whatever color I wanted. Of course I chose the white to go along with my white Lumia.

I went to the att store today and they are shipping me a cyan charging pad.

I recieved mine on Monday, I love it. Nokia is smart, having it makes me want to get another as it currently sits on my night stand and I wouldn't mind having another in the office.

I've been traveling, so mine is probably waiting for me when I get home. Can't wait!! :D

This makes me wish Nokia enabled that site now so I can put my info in to get my free one here in the UK....
Why can't it be the 16th now :'(

Best Buy Mobile didn't get any of the chargers in stock so I have to wait and use the free charger website http://www.nokiafreecharger.com/ on the 16th

There's that elusive yellow 920 again. Nokia really knows how to market a color option that's generally unavailable!

I was shocked when mine arrived at the same time as my phone. Wireless charging was the one thing I still missed about WebOS... I can finally let go and move on. I hope the world embraces the qi standard as I want to eventually have chargers in all my key places--a costly investment that is a lot easier to justify if it'll work with future devices too. One thing I like about this compared to my old touchstones is it's nowhere near as finicky about precise placement. Now I just wish there was an option to not lock the screen when docked.

I want the wireless stand to use as an alarm dock. Snazzy! But I also received mine the same time as my phone via the website. I was quite surprised.

Got mine yesterday. I'm going to try to get a credit to apply it toward the charging stand.

BS!! They said there not giving me one and I bought it last week nd told me to come in today for it wtf att

I'm so jealous... still no accessories are buyable here in germany :( but I want a wireless charging stand so badly :(

As of Monday, I had not received mine. Called AT&T and discovered that they had not processed an order to send ours. So they put in an order and said it would arrive in "a day or two" via priority shipping. I got an e-mail with an order number, and have been checking on it to see the status. As of this afternoon (Wednesday), it is still listed as "Processing."

I called AT&T and asked what's up. It took forever for the Customer Rep to figure out the status. She says she's being told that they're out of stock and waiting for additional units to arrive this week. She said she was told to "guarantee" (her word) that I'll have our chargers by the end of next week, but that's the best she could do.
At my suggestion, she was willing to check with our local AT&T stores to see if there were any chargers in stock. If so, she would arrange for me to stop by and pick them up, then cancel the order. However, after calling the two closest stores in my area, she said the managers told her they're out of stock, and that they're waiting for more units as well. Like her, they were told to promise customers that they'd ship in time for delivery "by the end of next week."
At this point, with all the runaround I've had from AT&T, and with the obvious lack of communication to representatives and between departments, I don't know what to believe. Very frustrating.

My roommate's just got delivered, but to our old address. Thanks ATT!

Preorderd via premier. Gone mine last Monday :)

I got mine on Monday but on Sunday I picked up the charger that stands the phone up. It was the only one that att had.

Is the FatBoy pillow available anywhere? That's what I really want.

This would be great news if and only if I weren't still waiting on my pre-order 920 to finally get here.. Supposed to come tomorrow though. at&t, smh...

Mine hadn't shipped yet, as my power up speakers and yellow 920. -_-

I received mine 2 days ago and its actually small. It looks big on video but its total opposite .

Got ours when we bought in store. Not bad, perfect for desk at work.

I received two from fedex yesterday. I also just received a shipping notice for my yellow lumia 920 from AT&T. Should get it in 2 days!!! My 3rd plate is still backordered though.

I got my charging pad Monday morning from FedEx.

I still haven't gotten mine :(. The stores claims they have not received any units. The salesperson took down my number.

Thats the same thing my store is saying. they have no clue of when they will be in stock


Got mine with my phone it's so excellent...can't wait to get the charging stand that's on backorder for my desk :D

I received 3 confusing emails the evening of Nov. 14th stating some items are backordered; one of them includes a FedEx tracking # w/ all the items listed; yellow 920, charging pad, & SIM; 2-lb. Pkg coming Nov. 16th.
Oh, I'm a Premier customer.
Not sure what's being delivered.

Mine apparently still hasn't even shipped. Ordered it last Saturday when I got my 920 because they didn't have any in stock.

I love the fact people are receiving their charges when most att users havent received their phones, I pre ordered first day and just got the notice it shipped today

Really, Im still waiting on two more 920's,a red and blue one for my kids.

I got my free charging plate yesterday. The better news is that my yellow Lumia 920 that I ordered on 11/7 finally shipped today! I can hardly wait for it to arrive! Then I can finally try out that charging plate.

Got red Lumia 920 yesterday charge pad on backorder, but is on order will ship when in stock. Ordered my wife a yellow 920 they say order only right now yellow and cyan only. All other colors in store. Got mine at store for same price as WalMart I walked in a print from walmarts page and got 3 phones @ walmarts price 2 920's@ 49.00 each 820 free nice.

I bought a red Nokia Lumia 920 from AT&T last Friday without asking about the wireless charging pad. I called them back later that day and they ordered the pad (black). I received the pad yesterday! It looks great and I was satisfied to see how cooperative AT&T was.

ordered from Walmart. don't have a free wireless charger as a result :(
Windows Central Newsletter
Thank you for signing up to Windows Central. You will receive a verification email shortly.
There was a problem. Please refresh the page and try again.