Nokia Lumia 920 Review
Windows Phone Central's review of Nokia's highly anticipated flagship Windows Phone 8 device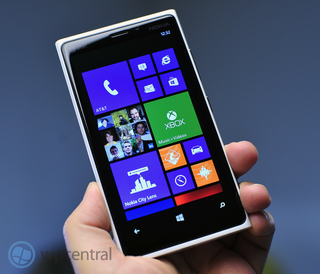 If there were one device that the tech world is focused on for measuring Windows Phone success, it would be the Nokia Lumia 920 (available now on AT&T; $99). It is considered by many to be the "flagship" phone (a term we find to be ill defined) for the platform and as such it has a lot riding on it.
We've had the AT&T Nokia Lumia 920 for well over 10 days now so we figured we would finally share our thoughts. The reason for the delay? Simply put, the device was not available to most of you and we happen to believe in spending more than 48 hours with a phone before deciding on the pros and cons. Some reviews, in our opinion, have glossed over some issues, others have missed new developments and most have focused on just a few aspects e.g. the size issue.
The too long, didn't read it version? We like the Lumia 920 a lot and it is easily the best Windows Phone to date. It's perhaps not for everyone but Nokia have done a great job.
Swipe to scroll horizontally

Wireless charging, NFC, Super Sensitive Touch display. Greatly improves upon the Lumia 900, bringing top of the line hardware, gorgeous design and a formidable camera. Easily the best Windows Phone to date. It's also a steal at $99 on AT&T.

The PureView camera underperforms during the day, resulting in soft photos with muted colors. Phone may be too big for some but the weight issue is overstated. Limited carrier availability.

The Lumia 920 is the pinnacle of Nokia engineering. It has great build quality, filled with the latest technology and it also looks really good while doing it. We found nary any issues with the hardware and if you're comfortable with Windows Phone 8, this phone is your best option…if you want the best. The PureView camera, while not perfect, gives outstanding night photos and shoots the best video of any phone on the market today. The plethora of Nokia software like GPS navigation only sweetens the deal.
The Hardware
The Nokia Lumia 920 has some of the most top of the line features for Windows Phone 8. Although there are still minimum chassis requirements for the OS, most hardware manufactures have great leeway with this latest version.
The Lumia 920 does not disappoint as it comes in with a 1.5GHz dual-core Snapdragon S4 CPU, 1GB of RAM, 32GB of onboard storage (27+GB available on boot), NFC, Bluetooth 3.0, WiFi and a quite larger 4.5" IPS display. In addition, it features wireless charging and Nokia's 8.7MP PureView rear camera.
The Display
Coming in at 4.5", the Lumia 920 has one of the largest displays for a Windows Phone 8 device, only bested by the yet-to-be-released Samsung ATIV S. It also features Nokia's ClearBlack display technology (basically dual polarizers to reduce glare and make the colors sharper), Super Sensitive Touch display and Corning's Gorilla Glass. Basically, Nokia packed as much tech into the display as possible except for an oleophobic layer to reduce smudging from greasy hands.
This combo of high-end technology works out well for the phone. Users can wear gloves in the winter and operate the display (a first for modern smartphones) get a boost in brightness when out in the sunlight, great scratch resistance and have vibrant, accurate colors.
One area where we are a little disappointed in is the lack of AMOLED display. Nokia opted to go with IPS instead, which provides excellent viewing angles but lacks a bit in one area: deep blacks. Here we're comparing it to the Lumia 900 (see our review), which did have an AMOLED screen. On that phone, the difference between the black background of the OS and the black bezel of the phone was indistinguishable. But on the 920, the blacks have a lighter look to them allowing you to see the bezel versus display.
We're nitpicking here though as the 920's display is one of the better ones we have used and the lack of PenTile Matrix for many is a welcomed addition (however, we would not have minded an HD Super AMOLED with traditional RGB matrix). The auto-brightness is tuned very well and adjusts to the ambient light appropriately. This may seem odd to point out but many companies get this wrong—too bright when in a dim room, too dim when outside.
The Super Sensitive Touch technology, developed by Synaptics, works well enough and assuming that Nokia can market the advancement, could be a great selling point. Should one be worried about the display being too sensitive, you can quickly disable the feature in settings. The technology mimics yester-year's resistive displays (where you had to press to get a response) with the more modern capacitive screen. As a result, you can use the display with gloves or even objects and we have to admit it's very cool.
Finally, the Gorilla Glass is a curved, allowing the display to taper off on the edges. The result is a much better tactile feel when using the device as your thumb glides off the phone. To conclude: the display on the Lumia 920 is admirable and arguably one of the best around.
The body
Like its predecessor, the Lumia 920 uses a polycarbonate shell. It also comes in numerous colors such as grey, black, cyan, white, yellow and red with the latter three being "glossy" and the former "matte". This time around, Nokia has wisely curved the back of the phone, which gives a much nicer feel to it when being held. The device is smooth where it needs to be and easily feels high quality. No creaking, no loose parts. Likewise, the buttons have gone from silver to a dark-metal ceramic which promises to not scratch as easily. This was a particular problem for the chrome bezel around the Lumia 800 and 900 and we can say that from our experience, that problem has been eliminated completely. Button had excellent tactile feel (much more so than the HTC 8X0 and travel of the button in our opinion is perfect.
Even the SIM tray near the top aligns more straight on the 920 with no-give like it had on the 900.
What can we say? Nokia has taken the Lumia 800 and 900 and evolved it to perfection on the 920. It's solid as a rock, granted a slipper rock. That's probably the only downside we can think of is that device is a tad slippery, mostly because it's smooth and dense. We're not calling it a complaint though—it's like calling a Ferrari too nice. Sure, you can say that but you sound ridiculous. Besides from our experience if you do drop the Lumia 920, the only thing you should check is that you didn't crush and small animals or crack the floor. Which brings us to…
He's not heavy, he's my phone
If there was one constant complaint we have come across about the Lumia 920 it is in regards to its size and weight. Every review has mentioned it with some calling it a "tank" or even a "brick". In fairness, most have also said such things with positive aspects, only noting the difference when compared to other phones. So, what's the deal?
The Lumia 920 weighs in at 185 grams. In comparison to the new "super thin" iPhone 5, that's about 73 grams heavier. That sounds heavy though, right? Well, yes and no. As a popular image post on Reddit (made by Victor P.) has pointed out, if you added 2 slices of deli turkey to the iPhone 5, it'd weigh nearly the same as a Lumia 920.
The reality of the situation is yes by comparison the Lumia 920 is a big, solid phone and weighs the most. But the phone in our opinion is not prohibitively heavy, meaning most of you will walk into an AT&T store, pick up the device and say "Really? That's what everyone is talking about?".
That's because the Lumia 920 doesn't feel like it has wasted weight. It has 32GB of storage, a massive 2000 mAh battery, wireless charging coil, high-end camera with optical image stabilization (OIS), NFC and more all in a solid body. Instead, when you pick it up you it feels like quality, that it is something substantial.
This is not to say everyone will be happy with the size and weight. Heck, people were complaining that the iPhone 5 is too light, so it makes sense that others will go in the opposite direction with this phone. People who don't want or don't prefer a 4.5" display, those with smaller statures or who don't like feeling their phone in their pocket may be dissuaded from the 920. In a way, that's a shame as something like young kids, women and large dudes, use the iPhone 5. We don't think the same will apply for the Lumia 920, thereby limiting some of its audience.
From our personal use, we had no complaints with the phone's weight and size. Yes, it is larger than most phones out there but in our opinion, not freakishly so. Our recommendation: if you are really hesitant, just walk into Best Buy or AT&T and try it out yourself and use that 14-day window.
We would not complain if the Lumia 920 was thinner (and slightly lighter), don't be silly. But its size is not playing into our decision on whether or not to use it everyday. The other aspects of the phone more than outweigh the size issue, forgive the pun. But in our opinion, the 920's weight is a non-issue and way overblown.
Under the hood
As we mentioned, the Lumia 920 is powered by a dual-core 1.5GHz CPU with 1GB of RAM and 32GB of onboard storage (no expansion). Besides the storage issue, the 920 is run of the mill for high-end Windows Phone 8 devices and that's a good thing. That Snapdragon S4 processor is super fast, pushing the OS to a comfortable pace and allowing very quick app and game launches.
Does it get warm? Yes, it can. Not always but if that radio is straining to find a signal, or you're downloading a lot or you're playing an intense game you may feel the back of the device (near the top) warm up a bit. It's actually surprising seeing as the Lumia 900 did not do this but seeing as this has two cores, is clocked higher with a faster GPU it's not unheard of either.
In our opinion, 32GB of storage, even if can't be expanded, is more than adequate for most users. On first boot you'll "only" have 29GB of space. With a lot of apps coming in under 5MB, storage won't be a problem.
Reception on the phone was excellent with no dropped calls and a strong, reliable signal. Likewise, 4G LTE (where available) was blazing fast with no more bottlenecks coming from neither the hardware nor OS.
The speakers are placed on the bottom of the device, which has the benefit of not being blocked when placed backside down (unlike the HTC 8X). There are two speakers on the bottom and for music and games, it can crank quite loudly though for speakerphone it is just so-so. One downside to having the speakers on the bottom though is when playing a game and holding the device horizontally, you may block the speakers. But it's not too bad since there are two areas for the sound to leave the device.
Battery life on the phone is decent. It won't set any records nor will it send you running for a charger every few hours. The Snapdragon S4 is said to be very nimble with the battery (here at 2000 mAh) and so far from our experience this is accurate. After 8 hours of heavy usage—a few phone calls, lots of photos, 30 minutes of a gaming, push services—we're at 54% with a whopping 18 hours of estimated battery left. In short, no complaints and we think Nokia got the right balance here.
Even if you don't find the battery adequate, the wireless charging pad (and other accessories) makes getting a quick charge out of the phone effortless. By just tossing the phone down on the pad (free for AT&T users), the device starts to trickle charge away. While it is not as fast as straight USB (we'd put it about 75% efficacy by comparison), it is more than enough to get a quick boost to the device.
The wireless charging pad really does make re-powering the battery a breeze, though we couldn't help but wish there were some alignment magnets similar to those found on some webOS devices (allowing a more secure "click" when placing on the pad).
Conclusion: wireless charging is not a gimmick. It really is preferred.
The PureView Camera
A lot has been made about the 8.7MP PureView camera on the Lumia 920. Here, Nokia concentrated on low-light performance in comparison to the over-sampling of the massive 41MP sensor found in the PureView 808. PureView, after all, is a set of technologies for Nokia and not a single device or even a camera. So how does the Lumia 920 measure up?
Low-light performance is nothing short of astounding. We've taken photos in our backyard at night, in bars, restaurants and from our hotel window. Every time we were shocked at the resulting bright image. We saw things in the pictures we could barely see with our own eyes, which recall our experience with more high-end cameras like our new Samsung EX2F and Nikon DSLR.
The secret is a combination of various technologies including a backside illuminated sensor (BSI), optical image stabilization (OIS), decent sized sensor and Nokia software "tricks". BSI sensors let more light in from the lens, making scenes more bright; OIS helps steady the camera by having "springs" around the housing allowing you to take longer exposures and Nokia is doing some ingenious software tweaking to give some highly impressive pics.
But let's be clear: the Lumia 920 camera does have a few downsides, though nothing we see as game ending. Let us explain.
Daylight shots look just "ok" on the 920. By that we mean the photos come out but they tend to be soft. The reason for this, as far as we can tell, is Nokia is not applying any type of sharpening to the images during the JPEG processing. When compared to the HTC 8X and iPhone 5 we consistently found the 920 to under-perform.
Don't get us wrong the Lumia 920 still does well especially for light balance. But the images are soft and it does bother us. The good news is two fold: (1) You can always add sharpening after the photo using software like Thumba or the excellent Nokia Creative Studio and (2) Nokia can easily tweak this in a firmware update.
To be fair, number one is not ideal. To ask people to buy and use post-processing software is a bit of a copout on our end, though it is a viable option. And Creative Studio by Nokia is a well made app. Number 2 is also a bit of a downer as people buy the phone for what it is, not what it may be.
Nokia has publicly acknowledge that the Lumia 920 does not perform as well during the day as they would like and they have said an update will tweak things to make the photos better. People who bought the Lumia 900 know this very well as that camera went from sub-par to very good with one solid firmware update. While the Lumia 920 does not have deficiencies nearly as bad as the 900 had on launch, it is safe to say that Nokia will optimize the camera in short order. As we mentioned, we actually think this should be an easy fix as fine-tuning JPG algorithms is common practice for camera companies.
That brings us to another unique complaint: options.
On a lot of Windows Phones, users can control things like metering, saturation and sharpness via the Settings option. Ironically, the super advanced PureView camera on the 920 has none of these settings.
You do have ISO, white balance, image size (only 16:9 or 4:3), exposure value and Scenes but nothing else. That's a shame as typically we would just tell people to bump sharpness to something higher and in this case, also increase saturation (images are perhaps a bit too neutral in color). But users cannot do that on the Lumia 920 and "auto correct" only tends to fix brightness.
We think that's because Nokia wants you to trust their algorithms more than you fiddling with settings but here we think they may have erred a bit—images are soft and color is a bit bland. As previously mentioned, both areas can be compensated for by using third-party software but that is far from ideal.
A bit soft and washed out in color
Some people have asked about the Focus Assist Light (commonly called AF lamp on cameras). By default the Lumia 920 shines a light on the object before a photo is taken, regardless of the flash settings. This is to give more light to the camera, which can then properly focus on the intended object. While very useful there are plenty of situations where one would not like to have that one e.g. plays or anywhere where one is trying to be inconspicuous. That feature is easily disabled by going into Settings and tapping it off and yes, even in low light and no Focus Assist Lamp the Lumia 920 still performs well.
And video? It's outstanding. The image stabilization is unlike any other phone today on the market. Video is truly more consistent with that subtle shaking completely eliminated. Even low light performance, while not as impressive as still photos, is more than ideal. Really we have nothing bad to say here outside of the fact it does very well (though do note that by default, the 920 uses 720P meaning you'll have to switch to 1080P if you prefer that resolution).
The Lumia 920 at night
In conclusion, the Lumia 920 has an excellent camera—one of the top found on any phone today, especially in low-light situations where other cameras easily fall short. Ironically it is during "normal" situations (e.g. well lit) where the Lumia 920 becomes simply mediocre. It's not bad just not as impressive. The good news here is this appears to not be a fatal flaw of hardware but rather a lack of attention to post-JPG processing.
If Nokia simply bumps default sharpening and saturation slightly, the 920's camera will become an all-around powerhouse. Unfortunately, we'll have to wait until Nokia pushes out an update to optimize the hardware for this change. That being said we would not in the slightest give it up for any other camera out there.
Accessories
The Lumia 920 has a limited stock of accessories though Nokia and JBL have made a few that are highly specialized. Things like the JBL PowerUp speaker features NFC pairing, wireless BT streaming and wireless charging. Folks on AT&T get a free wireless charging pad, which we found to be an excellent addition. There's also a wireless charging stand for your bedside and Purity Pro headphones. None of those items are cheap but they are high quality.
For more information on accessories like cases, screen protectors and more, head to the Windows Phone Central Store for the Lumia 920. We'll be adding stock of new items as soon as they become available on the market. We'll of course be reviewing as many Lumia 920-specific accessories as we can, so make sure to check in regularly.
The Software
We're not going to delve too deep into the Windows Phone 8 OS here. For that you can check our full OS review and overview here for more information. Obviously Microsoft prevents their hardware partners from modifying the OS is any significant way and although Nokia technically could do so, they have not. There are still a few areas that we can talk about.
Stability – Although the firmware we were running (1242) and OS (89903) technically are not finalized, we had no significant issues with stability or crashes. Our device did not reset, signal strength remained strong and basically we did not have any complaints
Customizations – We already covered what additions to the OS Nokia have made in our previous video, which can be seen here. Nokia has added the ability to disable the Super Sensitive Touch, Dolby Headphone and a Graphic EQ for sound—all good stuff
New Lenses for Windows Phone 8 and the Lumia 920
In addition to the above, Nokia has embraced "Lenses" for Windows Phone 8, which can be thought of as mini-camera apps. Here they have Cinemagraph, Panorama and Smart Shoot.
Cinemagraph takes a series of photos and makes animated GIFs, which can be uploaded to Skydrive or shared with Email. The GIFs can be larger, often hovering around 10MB. While they certainly look good (see our examples on the web version of this review), the fact that you can't see them in action on Facebook, Imgur or Photobucket limits their usage. That's not Nokia's fault exactly—FB doesn't support animated GIFs and Imgur and Photobucket have size limits—but it is something to consider when asking how people will view them. You can see them on Skydrive after sharing the link but only if you hit "view original", something we're not sure if most people will do. Having said that, Cinemagraph is darn cool.
Panorama is Nokia's panoramic Lens for their Lumia line. You take a photo and a neat little guide will direct you to the second shot and then to the third, etc. So long as you pan slowly the app works very well.
Smart Shoot operates in a similar fashion to Cinemagraph by taking a series of photos. But instead of stitching them together like a mini movie, you can go through and "erase" any errant objects, people walking in the background, etc. It's a niche app, much like Cinemagraph but it works well.
Nokia Drive…Music…City Lens…Maps…Transit...
If there is one other serious reason to consider the Lumia 920, it has to be the apps. Nokia has created a whole ecosystem of super useful tools that greatly expand upon the value of their Lumia line.
Nokia Drive+ Beta, which we've detailed before, is an all-in-one GPS navigation system that works with Nokia Maps. It allows offline navigation by downloading whole maps for states, greatly speeding up the experience (for reference, all of New York was only 153 MB). Those offline maps are shared between Maps and Drive+ too, reducing redundancy. While Nokia Drive started off as an "ok" navigation solution months ago, this latest version is quite amazing. Between the voice packages, accuracy, 2D and 3D views, smoothness and integration with the OS, it is a monstrous value for those of you who commute. Whatever features it may lack, Nokia is constantly improving it with frequent updates. And considering it is 100% free, you have to include it as a top ten reason to get the Lumia 920.
Nokia Music allows you to download a few hours worth of music playlists, an incredible value even if you already have Xbox Music.
City Lens is Nokia's augmented reality app—also a Lens now in Windows Phone 8. You simply hold your phone up in public and it will show you where food, bars, attractions, etc. can be found. It's a neat app and works well enough though we do find it a bit gimmicky at times. Your mileage may vary though we'd rather have it and not use it then to not have the option.
Nokia Transit is yet another location tool that helps you get from one place to another using public transportation. Whether trains, buses or subway the app is quite handy when you're in a new city.
In short, Nokia's apps including their increasingly growing selection of exclusive games, all of which can be found in the Nokia Collection, are a huge value for the phone.
Wrapping it up
Enough with the review formalities: if you're here there's a good chance you're already a Windows Phone user. Maybe even one who owns a Lumia. So you may be wondering what is my personal opinion of the Lumia 920?
Quite frankly, I'm thrilled with it and yes I consider it better than the HTC 8X (even though I adore that phone too).
Nokia has in my opinion taken all the best aspects of the Lumia 800 and 900 and improved upon it greatly with the Lumia 920. The device is better built, feels nicer in the hand and packs a punch in terms of raw specs. Throw in that low-light camera ability, fantastic video-capture, the super smooth and clear display and I am sold.
A lot of people when first holding it may quip, "It's a brick" but soon after they immediately notice how right it feels, commenting on the craftsmanship. On paper and when compared to other phones, the Lumia 920 does appear to have some extra mass. But when you actually hold and use it, it's the last thing on your mind. Having said that some people just don't want a large display and prefer 4.3" or even 4" devices. Fair enough and that is why you should go to the store to try one out first.
As a hobbyist photographer, the 920's camera is very impressive. But as I note, Nokia can improve the daylight performance especially when it comes to sharpness. I firmly believe they will get this right with a firmware update so I'm quite okay to settle for the softer images for now. Why? Because I mostly shoot at night anyway and there the Lumia 920 is unmatched.
Whether it's the excellent sound quality, the extremely useful wireless charging or that curved display, the Lumia 920 is a powerhouse of a phone. As a fan of the Windows Phone operating system, I do consider this to be the best offering for 2012 and the near future. For the price on contract with AT&T ($99), it's a huge value for what you are getting. And even compared to the iPhone 5 and whatever Android is floating this week, the phone certainly holds it own.
In using the phone for the last 10 days I have had not one serious complaint—no bugs, no issues and no quality problems with the hardware. Others may find some and we'll be paying close attention to what users are experiencing, but Nokia looks to have done right with this phone.
For all of these reasons, we enthusiastically recommend the Nokia Lumia 920.
Related:
Windows Phone Central Lumia 920 Forums
Windows Central Newsletter
Get the best of Windows Central in in your inbox, every day!
Daniel Rubino is the Editor-in-chief of Windows Central, head reviewer, podcast co-host, and analyst. He has been covering Microsoft since 2007 when this site was called WMExperts (and later Windows Phone Central). His interests include Windows, laptops, next-gen computing, and for some reason, watches. Before all this tech stuff, he worked on a Ph.D. in linguistics, watched people sleep (for medical purposes!), and ran the projectors at movie theaters because it was fun.
Great in depth review,,I would like to see this kind of effort and passion put toward the HTC 8X review not just "heres the other flagship WP8 phone it has a nice screen and good specs but its no L920."

The 8X shouldn't really be compared with the 920, which is significantly more expensive. The 8X really is a competitor for the Lumia 820, which has almost the same price. The pros and cons of those two actually make it a fair fight.

That's redicolus. The 820 is NOT in the same league as the 8X.

And why wouldn't it be? Cause i carefully analyzed both of them and decided they actually are on par and I chose the 820 for a few reasons.

That's your opinion,,spec wise the 8x in more on par with the with L920,and I wasn't asking for a comparison,,just that the 8x is given the same attention to detail in the review as the 920,,go in to full detail and mention ALL the pro's aswell as the cons and not just gloss over stuff.

What specs are you talking about? The specs I see make the 8X fall way behind 920, and even 820 has stuff that the 8X doesn't have:
- extendable memory
- wireless charging option
- ergonomically located power button
- nice round edges
- ClearBlack AMOLED display
- proper resolution and aspect ratio of the screen
- super-sensitive display (works with cotton gloves too, not only with leather!)
- headphones come in the gorgeous red/cyan/yellow color of the phone
- the AC-50E charger is also superior
And still to be confirmed are battery life and photo quality of the main camera (the FFC on 820 sucks donkeys, 8X is clearly a winner in that category). I won't be surprised if they tie.
There is a reason why the 8X and 820 are both sold for circa $600, and the 920 for like $800.
The 920 cleary is superior to both of them, but that's because they play in different price leagues. It's simply unfair to constantly bash 8X for not being as awesome as the expensive 920.
And I was going to order an 8X from amazon UK yesterday, but I got an email in the morning that the 820 is in stock in my local store, so I just went and bought a red one and I love it. But I do still have the urge to purchase the blue 8X to trial and compare it.

I'm not eve gonna try to form an arguement because it pretty obvious your mind is already made up and any arguement I came up with valid or not would fall on deaf ears. But I'll just say this. Paul Thurrot a very knowledgeable person in the windows and windows phone community that has written numerous books and articles on subject says that in his opinion the 8X is not only by far the best WP8 phone but the best smartphone available on the market today. So I think I'll go with the expert on this one.

Wow you a real dumb user please go away ihtc fan becuase you dont know shit the 820 specs and desgin eats even the htc 8x so please go post your dumb fanboynism somewhere else the guys above are right you on other hand are blind buddy -_- not them
Youre a hater so go hate yourself dakken

Fanboism is looking at all the specs and only picking out the good ones for a particular device and ignoring the good ones from another device to make that one device look better. The guy that posted above me didn't even mention any "specs" he stated personal opinion,,since when is the placement of a power button a spec? When is an AMOLED screen a spec?or having rounded edges a spec? Or having matching headphones? None of those are specs,,,those are personal preferences in design. so you can take your hating somewhere else because the 8x is far superior to the 820 and anybody the took the time to read the "actual specs" and not spout uneducated nonsense would clearly see that. Thanks for trying comeback when you have something inteligent to share

The biggest difference is the DPI really, the Lumia 820 has a 800x480 screen and the 8X is 1280x720, other than that they are very similar and it is down to preference...

Very true. Its all about preference when it come to buying any new item be it a cell phone or a new car. But ignoring hard facts to justify a purchase is just idioc. I wouldn't buy a V6 mustang and claim its better than a V8 supercharged shelby even though there both Mustangs. I know its not the best analogy but close enough,,,the 8x and 820 are both WP8 phones the 8x just happens to be better.

Let me put it this way,,,I'm on Tmo were getting the 8x and a 820 variant called the 810 I believe,,,if all I could afford was the 810 I wouldn't get it and claim its better than the 8x because I know its not.I would just be happy knowing I got the best windows phone I could afford.

820 is the same price as the 8X, silly. And the only thing better about the 8X is the wide-angle FFC, which you probably don't consider a spec. Meanwhile the 820 has wireless charging and OLED ClearBlack super-sensitive screen. But you don't consider them to specs either. What do you consider to be spec then?

The 8x not only has a better front camera it also has a better rear camera both of which have didicated imaging chips. 4.3 inch screen with the highest density of pixels of any smartphone on the market. It also "features" beats technology with not one but two built in amplifiers one for the rear speaker and one for better headphone performance.an 1800mha battery which according to some testers is good for up to 20 hours of use before needing to be recharged. I'm not gonna say which looks better because those are purely subjective. But I "prefer" the look of the 8x

The 8x not only has a better front camera it also has a better rear camera both of which have didicated imaging chips. 4.3 inch screen with the highest density of pixels of any smartphone on the market. It also "features" beats technology with not one but two built in amplifiers one for the rear speaker and one for better headphone performance.an 1800mha battery which according to some testers is good for up to 20 hours of use before needing to be recharged. I'm not gonna say which looks better because those are purely subjective. But I "prefer" the look of the 8x

AMOLED screen is not a spec? Dude, you need medical care, seriously.

AMOLED isn't a spec its a preference. 1280X768 is a spec supereLCD2 isn't a spec either its a preference. And the Verizon version of the 8x will have a wireless charging option,,,but even that is more of a gimmick. The 8x also has a layer for better daylight visibility,,and super sensitive screen is a feater not a spec.

Is anyone having problems signing into a Microsoft Account during set up of Lumia 920? I keep trying but it's saying that it can't connect even after when I go to add an account. Anyone having this problem?

Having used the 920 for a little over a week I don't feel like the weight is a knock against it. At first I was surprised how hefty it felt, but now that I'm used to it other phones feel a little too 'airy'. Can't wait to get the update to help with daylight photos.
Annnd.. .great review Dan :)

I'm the same. To me quality many times happens to be about weight. It's actually why i liked the original iPhones because they were quite small and still heavy. They felt dense and had quality.
I feel similar for Lumia 920 and i wear tight jeans. Of course we are all difference, but i have no problems carrying my phone on my suits pants or my free time jeans. I actually prefer the weight,

i completely agree its the same reason people find hyundai and toyota 'cheap' because they dont feel substaintial they feel plasticy. You see much the oppisite with say german cars they feel substaintal and you have a solid thunk when you shut the door. people view density and weight as a since of quality i think nokia will do very well despite reviewers calling it heavy because most see that as a plus


Just FYI, Heav phones= good battery, I know it's strange but, this is coming from someone who works for nokia.

Does it come from someone who works in Nokia's marketing?
Here in the real world the Lumia 800 is heavy and has poor battery life.

I have a Lumia 800, i keep all services up during the day (WiFi, Location, 3G, push services for 2 email addresses and a number of other applications) and i can easily do a day's job with one charge. Where is the poor battery life?

Lighter phones can do a day's job or two too. Where's the correlation between phone weight and batter life?

I agree here, for me the 920 isn't heavy at all. But I'm coming from the HTC G2 and that thing is a brick. I really like how solid this phone feels. And I feel like this phone is made solid and doesn't feel cheap in any way. This was an incredible deal, this phone is worth way more then the 99$ AT&T is charging for it.

I agree, the weight it barley noticeable. Bought 5 920s, 1 for both kids and my parents. Nobody thinks its heavy. I also do not think low carrier avilability should be a negative for the phone... Only thing I do not like about the experieince is the Snyc software, and thats not Nokia's fault either...... Come on Microsoft Fix Xbox Music and the Whidows Phone App, they are horrible.

Heft can in many cases mean high quality, just like a hefty price tag can mean high quality. The only reason all the so-called techbloggers and journalists are slamming the Lumia 920 for being heavy is because the iPhone 5 became lighter. However, nobody was bitching about "new iPad" when it became heavier. That's today's journalism in a nutshell. Kissing the leader's beehind.

Just got mine today. Loving it so far. Nice to see a review from somebody who used it more than 1 day.

Miss couple things though, like "controls for music on lock screen" I loved that; radio of course, simple thing but still, and when last played artist stayed on music tile

Agreed with last played artist

Wait, so you can no longer pause/go forward/go back from the lock screen? And you can't listen to fm radio anymore?

You can but now its in a volume control bar not lock screen itself

So wait, I can't just hit the power button and then resume play of skip a song anymore? Now I have to hit the volume button to bring up the controls? Ugh, it's like they are actively trying to annoy me with every change they make to the music experience.

No when you press power button volume bar pops out you don't have to press it separately, what I meant its not on lock screen anymore its on volume bar, plus it looks kind of ugly to me, takes 25% of the screen

Can you make a printscreen of the lockscreen?

I would, but I can't figure out the combo for taking screenshots.

Just press the Start and Power buttons simultaneously. Then it will show up in your photo hub under screen shots

There you go: http://i.imgur.com/kR9k2.png The deal is: The controls are no longer overlayed on the wallpaper. They are on the black volume bar. Also, if you turn on "show artist on wallpaper while playing" your lockscreen turns grey, cause the Xbox Music player cannot find an artist image for your mp3s, which the Zune player could just fine.

He's reviewing a phone, not WP8...

And don't forget about mixer settings. I've never seen a phone with a mixer on it.

No Radio FM?
hm...
This is - for me - a deal breaker.
Waiting for Ativ. :(

I read somewhere that FM radio would come as an update, i don't know how far true it is. It not Nokia but Microsoft's OS (windows phone 8) which disabled the FM radio. the hardware is there on NL920.

Maybe its a dumb question, but is there any way to have password on your phone but disable it on kids corner? I can't find it, thanx

What do you mean? Password is never there on Kids Corner - you just swipe left.

That's the thing, I have password on mane part of the phone and when I swipe to the kids corner I still have my password there, its weird

Ditto! Kinda stupid and pointless.

Ditto what? Kids corner is swipe left and up. If not, you enter your PIN and use your half.
Can you explain more clearly what you mean?

When u make a kids corner account, it asks if you would like to make a passcode for YOUR phone account. :-)

Too late for that lol anyway to reset it?

So unstoppable, when using your WP 8, how does it work. Because for the rest of us, if we turn our password on, and we swipe tot he left, the PIN has to be entered in kids corner. I am curious hoe you work around that on your phone.

Sounds like either a bug, or you're pressing the wrong button :)
Can you video it, and upload to youtube so we can see?

I just did reset for my phone trying to set up kids corner without password, don't matter I skipped password option and it still has password after I made one for my screen, dumb af

From your account
Settings > kids corner
turn it on. then from your lock screen swipe to the left. When you swipe up it should not prompt you for a PW.

Dude no sh*t really? No offence, but there's no other way to configure kids corner, what I was saying as soon as you put password on your main screen it automatically applies to kids corner too

No, it doesn't. You are doing it wrong.

No he's not, for some reason mine did the same thing. Is really strange and doesn't make sense

Well mine didn't. Did you try turning it off and on again?

All right here is what's going on. You need to set the Require password after (x seconds). Now, if you lock and unlock, it won't require password for either your or kids account foe x seconds. If you are playing around in kids corner for x seconds, then it'll activate the password requirement for it. But, the kids corner should still be accessible for next x seconds. Its a lol weird but better than no protection.

Finally, the review I was really waiting for...

Daniel, do you know if the daylight performance can be fixed with a firmware update? Another website said something about it but I wanted to see what you thought about it.

Absolutely and I say as much above. All Nokia need to do is bump saturation and increase sharpness. Maybe even tweak the focus a bit. It's very superficial though as you can use Creative Studio to fix 'em right up. It looks like they focused completely on night performance and then phoned it for daylight. (Look at all the puns!).

So the sharpness isn't a hardware limitation? I hadn't heard of being able to take clearer pictures with a software patch before that article, but since you said it's possible I'll trust it.

Of course. Devices like the 8X use heavy sharpening. All cameras have this defined by their JPG algorithm..some do better jobs than others. If you apply post-photo sharpening to a 920 photo, it's hard to distinguish it from the iPhone, 8X, Android, etc.

The question remains is why Nokia neglected the sharpening algorithm.

because it sucks for editing, just another auto layer you have to deal with if you are a photographer/enthuisiast. Although it is great for just the common consumer, Nokia needs to get the lead out on a software patch for the camera. Then this thing is a fingernail away from being perfect.

Reminds me of the 900 bugs all over... Quality control. After the bugs with the 900, I would expect this phone to be perfect in every area. This is a little disapointing for a camera that has been over hyped to be the best out there.

I hope it's fixed soon...


Agreed. The phone sounds to be quite amazing but in the end, as a 900 user, I want to the full package and it sounds like the day time pictures aren't up to snuff. I was considering buying the 920 full price thinking it was the ultimate camera phone but now I'll just stick with my "OK" 900 until WP8 round 2, or until a patch is released to fix the day time quality. Somehow I think round 2 will show up before the patch.

Would have though round 2, and Windows Phone 8.5 will be 1 year away. Id rather have the better phone for a whole year, wouldn't you?

I think what he's saying is it's not worth off contract price since he is still under contract.

I'm not gonna lie... I was pretty dissapointed by the sample pictures I took at ATT today. I was hoping for a bit more. I'm glad to hear it is fixable with an update. How long do you think it will be before Nokia release a patch for the post-photo sharpening?

lame... I posted the same comment several times on accident. Such a fail.

And what about the FFC in 920? Why no mention of it? Is it that bad?
Cause in the 820 the FFC is appalingly bad, the photos are worse than taken with a $5 webcam, they are just too rubbish to even publish for comparison. At least the main camera in 820 is pretty decent, way better than in Lumia 800: http://i.imgur.com/J7pHM.jpg http://i.imgur.com/nHL7l.jpg - both taken with flash off and auto settings.
I know the phone is probably fooling me with postprocessing, but the result on 820 is simply satisfying, wheras the 800 was just frustrating.

Wasn't it Engadet that reported pre release software was sharper? Looks like its a FW thing. Nokia does like to improve software as time goes on so hopefully it will be changed soon enough.

i have heard it before. also, the lady from engadget said she was surprised by the daylight performance because when she toured the nokia facility and tested the phone, she didn't have these issues.

I'm not gonna lie... I was pretty dissapointed by the sample pictures I took at ATT today. I was hoping for a bit more. I'm glad to hear it is fixable with an update. How long do you think it will be before Nokia release a patch for the post-photo sharpening?

Someone at Nokia sais that the softness was because the lens is kept open for longer. Thisis essential for those night time images, bur blurs day time foto's through minute movements.

Actually my question would be, can you adjest the camera settings, save those settings, and get sharper photos?

As we say in the review, no.

No worries all. Daniel is right and knowing Nokia, they will fix it like they did with the software issues on the 900. At least this time there are no hardware complaints. (ahem, lack of BSI sensor in 900.)

Got mine this morning and loving it. I want my Splinter Cell back though

Just got my 920 before lunch today. Loving it. Feels solid and well built, and makes my previous focus flash feel like a toy.

This is the review I have been waiting for. Daniel you are the man, if anyone I know would take the time to review the product in an honest unbiased way I knew it would be you. Now I really want this phone, too bad I'm stuck in my contract with the 900 and will have to wait. Not sure if I'm ready to fork out 400+


i have the 900 as well but when i went to the att site, i was surprised to see that i was eligible for an upgrade only 7 months into my cantract. i jumped at the chance and preordered without a problem. my phone shipped this morning. whether it was error or not i have no idea but im excstatic to receive my 920 any day now!


I hate all of you that have the 920 already. :,(

Same. My yellow is coming Thursday. :'(

Its awesome I know you guys will enjoy yours

I had the same reaction when I held it in the store, "they're complaining about this!? The weight feels fine". Also, why in hell do blogs keep comparing the weight of a 4" screen phone with a 4.5" screen phone? That makes absolutely no sense.
Funny thing at the store: the rep told me he'd be getting the Yellow Lumia himself. I asked why, and he said "it's so unique!" and he pulled out his phone and said "Look at my iPhone! [an iPhone covered by a Yellow 3rd party rugged casing -- how much does that iPhone + case weigh?]".


Listen, the average consumer is going to compare an iPhone 5 to "everything else". That is just what Apple has (successfully) done with their brand. It makes absolute sense in that people looking for a phone that perhaps isn't the iPhone 5 are going to want to know these things. And let's face it. That .5" isn't making up for a near 50% increase in weight. Had Nokia dropped this thing to 4" it would still be the heavier phone.

My GF is a "normal" non geek consumer. She talks about COLOUR, she talks about BRAND, she talks about SIZE....

NEVER
N E V E R ever ever ever, as she mentioned weight.

An absolutely TECH NERD only debate, much like mobile phone CPU spec wars and fanboi ranting.
I could probably load my pocket with 10kg of pocket change. The weight is a non issue and boring discussion point, can we all just park it. Yaaannwwwwnn...

But does she mention girth?

this made my day. thank you

Exactly, in reviews many were saying that it's a "brick." When i held it for the first time i thought "wow this is so sleek." I couldn't believe people were actually saying it was big and heavy. Yes the screen is big, but that doesnt make the phone a brick.

Great review Daniel!
Do you guys know sites where I can buy one unlocked? Already checked out mobilecityonline, gsmnation.. any suggestions?

Daniel - will you be doing the 8X review as well? If not, can you do a separate article going into further detail comparing the two phones and flushing out what you say above about the 920 being better than the 8X? I was originally thinking 920, but after reading Thurrott's gushing review of the 8X, as well as the one really extensive thread talking about both ohones in the WPC forums, I'm really in a bind trying to figure out which one is best for me, so I was hoping one of you guys would be able to compare both phones instead of separate people talking about the separate phones (not that there's anything wrong with that either - I'm just looking for the same analysis from one person on both phones).

Yes to both of your questions. The 8X is a fine phone but it has a few more issues than the 920, not to mention it costs more. It's still outstanding looking though.

That's AWESOME to hear - I'm looking forward to both articles!! Thanks!!

8X doesn't cost more. It costs around $600 just like the 820.
The 920 is like $800.

For AT&T on contract, the 920 is cheaper than the 8x.

On contract prices are bogus.

The 920 is $450 off contract at ATT...

That's cheaper than the price of a retail Lumia 820. There's some catch like the phone is carrier-locked and subsidized. Or do you really think Nokia & AT&T are giving away phones for half-free?

Does it drive anyone else crazy that Nokia Maps is there instead of Bing (that part is completely fine) but when you use Local Scout or Bing to search, it opens to the hidden Bing Maps app?

Srsly? LOL!! Also, is indoor maps gone?

No, indoor maps were brought into Nokia Maps.

I liked Bing maps better I used it to find local phone numbers for businesses and it doesn't perform as,wall as Bing maps did in mylimeted time using it I'll try again tomorrow and c if I can get it to work better I'm in wp8 overload I think need to go to bed whew

Reviews don't do this phone justice. I said I was going to wait for the next WP device. But after seeing and holding it. I don't think I will be able to hold out. I look at my 900 with disdain now!

It's here! Thanks for your work Daniel

Now the 8X review
Then the 8X vs 920 review
Then the 8X vs 920 prizefight (CNET)

Then the 8X vs 920 dogfight (Phonedog)

There is no fight, the 8X is great.. *** BUT *** HTC 8X = BATTERY FAIL.
Simple as that. Flawed phone. Sad, as I would have got one because I prefer the look/colours.
Bad battery= bad phone.

Just got the red 920 less than 11 hours ago. I have no complaints... LOVE EVERY MILLIMETERS OF IT....

im experencing phone envy, right about now


im experencing phone envy, right about now


I stopped in to handle the 920 this morning. Were it a toss up between that and the 900, the 920 is the obvious winner. Regardless, it's just too damned big. I then called the MSFT store to see if/when they had the 8x on display, and the guy there told me that he'd handled both devices and found the 8x camera to be superior to the 920 camera.

For daylight, the 8X is sharper. But the 920 kills it for low light and video. Not even close.

Will soon when Nokia releases a software patch, will the sharpness bug be fixed?

But the 8X can record stereo, 920 can't

Hasn't that been refuted already?

Im pretty sure the 8x is mono record as well. But more importantly for me, the 920 has the rich recording mics and can record live music without distortion.

That's really disappointing to hear that the phone with beats audio has - according to you guys - subpar audio recording capability. Is it really that bad?

Nice. I like stereo sound, but honestly, on a device as compact as a cell phone, with no external directional microphones, the stereo imaging performance would be a joke even if it did record in stereo.
The ability to handle high spl sources without distortion adds a high level of utility to musicians who just want to record rehearsals as a general reference, or even concert bootlegs.
At last, my field recorder is going up for sale on craigslist. It's not like I've ever trusted it over dedicated condensers when recording for an actual release anyways.

@Chemicals React You keep saying this "8X records in stereo" nonsense. It's false, it records mono. Even more, no one cares.

I saw a spec sheet that said records 1080p video with stereo sound.

Specs sheets sound nice. I have the 8X--actually two of them--and have recorded video and the audio is mono. What's more, there is no option for anything else: Evidence.

You have two eh? Let me know when you want to offload one :)
EDIT: also great review! Thanks for adressing the weight, all the other sites were hounding it for that. Good to hear somebody coming from a "This is how it will feel day to day" perspective.

Have you actually listened to the recordings from videos taken with the 8X vs videos taken with the Lumia 920? Te sound quality on the videos taken with the 920 is superior in my opinion, plus I don't think I can get any sound separation when recording videos on any phone, making recording in "stereo" not a big advantage if it even does it. Just my 2 cents.

Great review. Got mine this morning and as soon as the AT&T rep took it out of the box I had to compare the weight to see if the complaints were justified. Personally, I couldn't feel a difference. After a bit more time holding it I can feel the slight increase in weight. However to call the phone too heavy is rediculus, it makes me want to just slap those who are knocking it for the weight like the Gizmodo review. Also, the size of the battery still hasn't sunk in. Tried to charge it up to 100% after I got back from the AT&T store, takes so much longer than the L900. Also, the new charger runs at 1.3A while the one included with the L900 runs at 1A.

Because the NL920 has a bigger battery.

nice review! someday I will have 1 xD

I checked it out myself and this is a really nice phone, and an absolute steal at $99. Its good enough to be $299 with 32g like the iphone..nokia is really great and committed

This thing is god damn beautiful..I wanted the cyan but got the black and I'm loving it so far...damn it's fast.

Alright! This review seemed to be nearly as anticipated as the phone itself!

I´m waiting excitingly for the cyan version.
In the coming months I´m starting to save money
also for the wireless chargable speaker,
purity pro wireless headphones and a wireless charging stand.
All in cyan if possible.
With my blue curtains and blue glass dolphine on my table,
I like what I see and use.


LOL - I'm weird that way about the matte cyan color too :) I won't upgrade my 900 until I can do so with another matte cyan phone.

The video shows the unboxing, not a video review. :'(

Awesome review.
The only concern I was worried about was the weight, but that comparison infographic explains it nicely.
Who doesn't have an iphone case these days? You simply have to because of the sharp edges on their volume and silent switches...
I'll be making the switch to this baby as soon as it's available in Australia

I went to my local store. Finally saw it in person... I passed. No, it wasn't heavy! Loved the design and all, but it seemed that screen was too yellowish and dark. I also took pictures and I wasn't impressed. My focus s seemed way better. I also played with the 820, the 820 took better pics in my opinion, tho, the design looked cheap. I was disappointed. They didn't have the 8X on display either. I left without anything. Also, I did not see any banners or lines! I was kinda disappointed by that. People were still going in and asking for the iPHONE 5 and Note 2. At&T needs to help push WP8.

That is true..... Nokia 920 is an amazing device... it tops IPHONE and GSIII... but people will be change eventually...

Three guys and myself were waiting outside when the AT&T store I went to opened. They all came for 920s. While I was waiting and playing w the 920 display units, which happened to by right by the door, there where two people who came in for Galaxy Note IIs, no iphone 5s, several billing or additional line issues - regular customer service, and 4 more 920 customers.
So 7 920 customers, plus myself, over the first 30 or so minutes the store was open.
All the AT&T staff had blue Windows 8 shirts on, there were 3 920s (two black, one white) and 1 820 units on display, and there were three banners/posters with the 920 on it. The most prominent banner in the store, immediately behind the service desk, was a wall sized Lumia 920 made out to look like it belongs to Santa... with the messaging live tile showing a couple million. It was nice.
Two of the staff had Lumia 900s themselves. I mentioned the wireless charger and they knew what I was talking about. The only disappointment I had with their marketing is that if you showed up looking for a new phone knowing nothing about the 920, you'd have no idea you get a free wireless charger with it... and the salesmen didn't seem to point it out to anyone when they were talking about the phone. A 920 for $99 plus a free $50 accessory is a pretty sweet deal. I expected to hear it touted more.

You are right in a way. The phone is very good and the deal is sweet. The phone will sell itself. No need advertising much. They need to help selling other phones, that are not that popular.

Great review Dan, I got the white one also. This phone is amazing, well worth the switch from TMo

BTW my charger is in the mail, ordered by my ATT rep

Bought it today and I love it.

Got my Red L920!! Love it!!

Ok I tweeted this numerous times..
The 920 is the best hardware out there ita solid,its flawless,the thing I noticed is the black are not really black compared to my 900..
The size didn't bother me at all im big tall dude and I can do biceps curls with it..the only thing I don't like are the 2 knots at the bottom of the phone..i don't like it all..my 900 didn't have any screw or bolts exposed..
Wp8 software is the shit,fast stable and customizable UI..
My conclusion is,even with the great hardware design I skipped this phone...its too similar to my 900 now the catch is get the yellow,red,gray so people know it's the 920..im waiting too see what's the next design cuz I know in my heart it will change..slimmer,bigger,lighter

Where did you get that photosynth app in lens. I don't seem to find it

I noticed this as well. Can't find it anywhere. I had photosynth on my 900 and as I was reloading all my software from the windows phone webpage it said that it was incompatible with my version of WP. Several apps said that actual. I assume with photosynth its due to going from an app to a lense...

Does the wireless still shut off after a few minutes if inactivity? Can you turn off LTE if you live in an area without coverage?

Of course you can turn off LTE, just like you can in WP7. You can adjust the "highest connection speed" under the "mobile network" settings. ("cell network" in the US?)

I just read that Joe Balfore said there is a fix for the wifi shutting off when the lock screen is enabled. No ETA, but good news for sure.

Daniel, I would be very interested to know what you think of the audio quality of the phone and the HAAC microphones. There are also a few comments floating around that are praising the Dolby sound in the 920 and how natural the sound is. It would be great to get some thorough feedback on what seems to be an overlooked feature of the phone.

To answer your question, I have,the 920 and the sound is AWESOME I was. Shocked because,Nokia never said much about the sound quality its delicious great crisp and loud

Awesome phone. Got mine today in the mail. The display is gorgeous. Noticed a difference right away compared to 900.

Nice review. Thanks for taking the time to do it for us.

Thank you Daniel for the great review. I'm looking forward to going into a at&t store this weekend to check out the 920. Looking to finally upgrade from the Samsung Focus I've had since the day that phone came out :)

Well, if this is what washed out and soft looks like on the Lumia 920 in daylight, Nokia can shut up and take my money.
Edit: Well the original comment I replied to seems to have disappeared but they had a link to some good photos taken by the 920.

Nice review, dude. I'm currently waiting for Nokia Malaysia to announce the date and the price over here. Really excited about the camera and Nokia Drive, HD7 user here and the offline map is a little slow :

I love this phone. So glad I said good bye to my iPhone

Ordered my Cyan colored 920 today!! hurry up and get here!!!!!

BET YOU BRO DOESN'T EVEN LIFT.

Daniel you are the Rumplestiltskin of reviewers. You spin words into gold.

This needs to be Daniel's article signature ASAP.

I have a kind of, let's say "philosophical" question: Why do only Apple and Android reviewers apply hype to their articles? For an example of what I mean: Daniel here says that the screen on the Lumia is one of the best around, while that's all well and good, an Android or Apple reviewer would have no qualms in proclaiming it to be THE. BEST SMARTPHONE SCREEN EVERRRR!!, why Daniel, and any other WP, or even RIM reviewers for that matter, don't apply that kind of hype, it works, just look at Google stocks compared to Nokia or RIM. Their hype sells, and I think WP8 and Nokia needs all the hype they can get.

@Lenin17301
I partially agree with the part that hype sells, and it is very common to hear fanboys (of any platform) say empty arguments like "the display is the B E S T EEEEEVAAAH" without any reason why, without even knowing what's the display technology, resolution, or what actually makes it the "best". Hype might help sell, but that's not the intention of the review here. To me the intention of a review is to point out pros and cons of a product, its prowes and weaknesses. While hype may move masses, I personally prefer an objective review such as Daniel's here. :-)

I agree with Lenin. WP blogs are not as partial/biased towards WP as Apple and Android blogs are.
No doubt about that. One way it is good, but bad overrides the good here, according to me. For a phone like Lumia and with the screen it has, I don't think it's an overstatement or bias to write that it's the best smartphone screen ever.


This is the phone I want. I've been on Android since the Hero and am looking for a change. Unfortunately, I'm stuck on Sprint with no WP8 phone in sight. Even worse still, ATT sucks in the area of Virginia where I live so switching carriers is no help either.

I got my phone today and after having LG quantum's, HTC Titan, HTC Titan II, iPhone 3gs. This is by far the best phone I have ever owned.

Paul, I currently have an LG Quantum - and love it - and was going to wait for a wp8 with a physical keyboard, but since there doesn't seem to be one coming anytime soon, I'm considering getting my first non-physical keyboard smartphone. How is typing on the 920? Fat finger problems?

Same here. Tempting to break the Sprint contract with my beloved Arrive, but then I realize how many times per day I pop out the keyboard-- even though I've been testing by typing on the virtual keyboard to see if I can handle moving to a phone without a physical one. Surface Phone by Microsoft on Verizon in Q1, please have a wafer-thin physical/magnetic-close keyboard. Wishful thinking, but every inception begins with an idea.

Remember those patents Microsoft had? Those might come on the surface phone.

Keep waiting for a surface phone.

I can bet blidnly, that if surface phone comes out, whenever it does, the first one will atleast not be a keyboard one.

4 years ago I had a touch-screen phone. Can't remember the name but I know it was not Nokia. Worse keyboard EVER. Sold it 2 months later. So, I was afraid, like you, buying another phone with a virtual keyboards. I took the bull by the horns and bought an N8 2 years ago. Then a L610 two months ago for my wife. Both had very intuitive keyboards, and were a pleasure to type on them. I'm from Romania and L920 is supposed to be here 1Q2013. I can't wait...

Quite a noob ish comment is the screen flat or slightly raised like the 800? Cheers

It is curved, more like the 800 than the 900.

It was good to read a review by someone who actually knows what they were talking about. I've read reviews this week that complained that windows 8 should have used the same alphabet screen on their app list as their contacts. (not knowing of course that it shows up once you get to a certain number of apps.) Another complained that it was "impossible" to edit a word without deleting the whole thing and starting over. (of course any WP user knows you can do this by long pressing to create a cursor you can put anywhere you want.) The point is, though some may think Rubino's review biased because he is a windows phone lover, I see him as better representative of us here who are already invested in the ecosystem and want an honest opinion of which phone is our true flagship without half the review space wasted by the obligatory "I can't find any of the apps I like to use" complaints. (which only identify the user as already leaning towards ios or android.) THANKS, DANIEL!

Any clue as to how heavy the verizon version 8X is?

I think I read it was essentially the same as the regular 8X (wireless charging was negligible difference) so around 130g

I'm locked into a 2yr contract with my Lumia 900 so I'll have to grab the Lumia 940 when it comes out.

Excellent review. Liked how you pointed out flaws as well and being honest.

If the images from the camera and display on the phone are clear, sharp, and bright, and beats the all the iPhones, then we have a winner.

Does the NFC not work with payments? All I'm getting is app and music purchases as an option. Is it SIM based and AT&T is working on it?

Thanks for making the wait even harder!!! Good review Dan!

I've had mine for most of the day. Taken some pictures and videos. Can't really complain about it at all. When I put it. Side by side with my iPhone 5 you can see the weight and overall size difference. But this 920 is too nice not to use everyday.

Nice review Dan.
Just got back from the ATT store in Elk Grove on Laguna. Corporate store so they gave the chargers and knew everything about them. Everyone is wearing blue Windows 8 shirts. Several colors were sold out but more coming this weekend. Salesman told me there was a line of about 100 people this morning. The girls behind the counter were seriously excited about the yellow one. They thought it was the greatest color ever. No HTC 8X in stock, they didn't get those yet. Huge Windows Phone banner behind the cashiers.
So I go over and check out the working models they had. A white one and a black one. Holy crap, that screen is awesome. I've got a DVP. Its been a good phone to me so when you say the 920 is built like a tank, I gotta laugh. This DVP is built like a tank. The 920 is very comfortably light. For me no problem. Then this guy (customer) comes up and picks up the other color and starts to complain and always the camera is slow compared to the Android phone. I looked at him and said, what the hell are you talking about? That 920 crushes everything in here. Then I started going on about the camera specs and he developed a glazed look in his eye. Lol. I'm a WPcentral member son, I'll school your ass right here if I need to.
Anyways, gotta make sure my contract with Tmobile is done and then go back a get a cyan and white one this weekend. Overall good store, helpful and knowledgeable. I heard the cyan was the first to sell out.
With the lack of advertising, I am genuinely shocked at the turnout.
Cheers from Sacramento!

Oh, how I miss Sacramento/Elk Grove. I now reside in the high desert of Lancaster, CA. I'm glad to hear that there are Windows Phone fans out there. My brother just picked up a red Lumia 920 today, he jumped from the iPhone 4. So far, he is enjoying the speed and the gorgeous HD screen of the phone. As for me, I went to check out the phone in Palmdale today. Man, the Lumia 920 is ridiculously beautiful. I was so excited about the phone; I had the biggest smile on my face when I picked up the phone. HAHA! Anywho, good to hear about Sactown/EG. Cheers from Lancaster!

Oh, how I miss Sacramento/Elk Grove. I now reside in the high desert of Lancaster, CA. I'm glad to hear that there are Windows Phone fans out there. My brother just picked up a red Lumia 920 today, he jumped from the iPhone 4. So far, he is enjoying the speed and the gorgeous HD screen of the phone. As for me, I went to check out the phone in Palmdale today. Man, the Lumia 920 is ridiculously beautiful. I was so excited about the phone; I had the biggest smile on my face when I picked up the phone. HAHA! Anywho, good to hear about Sactown/EG. Cheers from Lancaster!

Nice review but, I would expect nothing less Daniel.... Thanks for that.

Now wishing this phone hit Verizon but, that is like beating a dead horse.

Great review. Can you please follow this up with a full review of the 820 or the 822? I can't find one anywhere, its like the phone doesn't exist despite it being released today as well. Interested in seeing how its camera performs and the battery life in particular, but a comparison to the 920 and 8X would be good as well since its the only Nokia option available to non-ATT US customers.

Worth the wait, great review. :)

The buttons and camera detailing are ceramic...

Dislike the heavier and larger phones as they are problematic in my pocket.

Just got it today, and its freakin awesome! So happy with this phone

Good review...just objective enough to be believable. Although, you all might want to hire a proofreader/editor. The highschool grammatical errors don't exactly enstill confidence in the article's points. Sorry, I couldn't help being distrated by this as I read.

"distrated"? If you're going to point out grammatical errors, make sure your posts are flawless.

This from a person that does not know to separate 'highschool", and is wanting to be "enstill"ed! Hilarious. What in the world does "distrated" mean anyway?

They don't instill confidence either. ;)

I believe you all have missed the obvious here. The gentleman is no doubt from a rural area of Kentucky, Virginia, West Virginia or perhaps Arkansas. This is evident by his use of the term "enstill". Apparently, he is a producer of moonshine, a process in which a liquid must be "enstilled" in order for it to develop its alcoholic properties. Distration, to distrate, or the past tense distrated, simply refers to the process in which impurities are filtered from the alcohol while it is being enstilled.

The next time you all look to mock someone, I beg you to at least do some homework and make sure your mockery is necessitated by appropriate cause. Thank you. ;)

Wow! Deep!... So Ryan_linz equated Lumia 920 to alcohol beverage... Very poetic!

The grammar in this one comment was so bad that it almost had to be a veiled attempt at sarcasm, correct? It was as if he tried to make at least two grammatical and sentence structure errors per sentence. ;-)

Daniel, don't let this dude distract you from giving us honest and objective reviews. Ryan_Linz does not instill confidence with comments like that.

Thanks Dan! One question (for clarity) if I currently have a 3G phone (Focus) is it likely that I'll need to purchase/aquire a new SIM card to get 4G speeds on the 920? I heard you mention it in the unboxing video I believe but wanted to double check.

I appreciate the detailed review, have a great weekend.

No, when you buy the 920 they will check your account and see if you need a new SIM. They *should* include one with the phone. It's important because (1) It needs to be Micro and (2) Needs to have 4G LTE enabled on the SIM card. If any issues, swinging by an AT&T store will solve your problems and won't cost you a cent.

@daniel thanks for the lengthy and thorough review. Seems like another well balanced review.
Also thanks for the upfront "conclusion" - appreciated.

Actually 'washed out' colors are not 'washed out'. They're just closer to reality than all the over-saturated photos. You can't go back with saturated photos but you can always tweak a "original" colored photo anyway you want.
But then, I guess the mass market is all about point-shoot-bang.


I agree with you in principal but two things The colors are really muted, even for my tastes They removed the choice in the camera settings to control Saturation. At least leave the option to the user if they want muted or more saturation...removing that is quite weak for what is a "high end" camera

I really can't judge it because I wasn't at the scene but you should be most clear about it so I guess it really is washed out a bit. I was skeptical because in most cases, even for DC's, - either the screen is set at high saturation -> which leads to washed out (or "reality" photos) when imported to PC. or the photos are taken with high saturation. Like you mentioned the immediate end result is what matters nowadays, and everything seems to be viewed on a smartphone or tablet only so it doesn't really matter anymore (which is kind of sad). But if there's a patch for it coming out then I'm cool!

You're joking right? Those shots are not reality.

Can you guys sneak in somewhere somehow and get info on the Hong Kong release ;-)

Well I can honestly say I hate this phone, and the review made it worse. That being said I am a verizon customer and have no chance of getting this at least for six months. I am up for an upgrade now with four other contracted accounts...sigh. Man I hate Verizon so much, such a great phone. I really feel like seeing if my Trophy can make it that long.

You hate the phone, but it's a great phone and you want to buy it? O_o

It's a love hate thing....I know what he is talking about and kind of agree with him (Verizon customer)

Playing with my black 920 and I just keep thinking to myself, man the weight is a total non issue. I'm coming from using a 4" focus, and I really don't feel all that much difference. If anything it just feels better made. Nice review Daniel!

I can't get my phone to see my ringtones.i put them in the ringtones folder and I still don't see them, anyone got a clue?

They might be not in MP3. Or (as was the case with me) you didn't scroll up enough on your ringtone select page. :)

Psh. that's not heavy, u know what's heavy? An HTC Arrive. Having used that phone for the last 6 months has been like a p90X program and has made the Lumia 920 feel nice and light. not feather light like an iPhone 5, but it feels just right.

For Goldilocks, this phone is too heavy, but for the average bear, it's just right.

Is it lighter than a "pick-a-nick" basket? ;)

Great Review!
"The Pureview Camera underperforms during the Day"
this is Great IMO
http://www.flickr.com/photos/pureviewclub/8163529074/sizes/o/in/set-7215...
BTW If YOu Said the Camera in day ligth is bad, i would like to see some Versus Pics, Thanks.
Anyway, Everything Is Better Than My lumia 800 LOL


Fantastic review! Great job! This is how a review should be, and this is what a reviewer must do. Use it day to day for period of time then only review it. Most reviewer complaining how heavy 920 is, but failed to explain why the weight. The weight is the result of great stuff Nokia put in: Pureview, NFC, wireless charging, 2000mAh battery. With all these great stuff, the weight is acceptable. With what Nokia had done to the Lumia, and all the exclusive apps, this is a powerful smartphone. With this, I think Nokia should be the most innovative company.

I agree with you Ahlun Lee... I think Nokia is an awesome company. Nokia has moved so fast with Lumia 800, 710, 900, 610, Asha, 920's, 820's, 510... Nokia apps...Just sheer lightning speed.
My wish is that Nokia launches a lot better with more phones in stores and launches quickly after product announcement.
Just not good business to announce products in September and have few phones in stores on November.

Have my 920 for like 12 hours now and I'm in LOVE, its so fast the 4g on a WP is amazing, its big display is delicious for web surfing, camera is also great couple pics didn't come out all that crisp but w.e not a big deal(4 out of 100 pretty much) the weight did seem a bit too much first time I grabbed it but by now I'm way used to it. I got mine from a att,employee who didn't know shit about wp8 or the Lumia, and almost got into an argument with an iPhone sales guy who chuckled when saw me holding and talking about the Lumia and said iPhone is the way to go, jerk face! Have not,found a bad thing about this phone other than I can't put it down!!!!! I've had android and iPhone before but this is by by far the best thing I have ever held in my hand

I'm glady that you love you new phone and i understand that kind off sales persons.

Thanks for the review Daniel.

Got my 920 in red after work, there was no way I was gonna pass this phone up. I came from a titan 2. Definitely worth it.

Picked up my black 920 tonight. Typing this on it. :) really digging it.

I just got my 920 today, by far my overall fav phone, I have had my share of OS/hardware. This one is the best "for me."

Just dropped my less than 12 hour old 920 on a tile floor and cracked the screen. So much for the gorilla glass.

Gorilla Glass isn't supposed to be impact resistant. It's only scratch resistant.

I'm sorry for your 920 but you can't blame GG here.

Technically, it's scratch resistant AND damage resistant. But, is neither scratch proof or damage proof. But, you're right. Can't blame the Gorilla Glass for not surviving a fall.

I used mine quite a bit today. Had a few more issues than what this article goes over. If anyone is interested, take a look at the forum link. :)

http://forums.wpcentral.com/lumia-920/201715.htm

lordofthereef. Interesting observation on the freezing. My friend was having freezing on his Lumia 800.
Turned out to be the headphones (3rd party - with control button) plugged into his 800.

He changed out the headphone, his phone has not frozen ever since.
I wonder if the Music app is the common denominator. Anyway, if you were usnig headphones - try changing them.

Thanks for a great review. How did you get Photosynth on there? I thought it wasn't available yet for WP8.

Haven't had any issues. Love the phone and loving windows phone 8. I hope Skype and tango make it to WP8 soon

This is a well formed and wonderful review. I hope both AT&T and Nokia can market this well. Apparently (from what I heard from Nokia), the accessories and demo displays planned for the AT&T stores are delayed due to Hurricane Sandy. So.... to me, that's not much of an excuse. I would have tried to pull all other resources to see if we can get at least demo units at the AT&T stores. They can always provide a coupon voucher for phone buyers to go back and snag a new JBL PowerUp.

Hi Dan, The review is very well done. But when it comes to your comment that in Daylight "HTC 8X images are sharper than Lumia 920", I very strongly disagree. Reason is we have at least four comparisons which show that even in daylight Lumia 920 beats HTC 8x's camera. Laptopmag, CNET, ZDnet, AAS all have reached to the same conclusion that 8X cam can't match to Lumia 920's cam in whatever lighting conditions.
Also if you are a hobbyist photographer then ideally you would like natural colors over saturation that iPhones and others do to their images. For your info N8 and 808 PureView are the untouchables of smartphone camera world and both produce natural unsaturated colors and the true professional photographers have rated them highly for that.
Just my 2 cents :).

nano, to be fair, I've read 2 other reviews that reach the same conclusion as Daniel.
iPhone definitely does over saturate colour though. Your reference to N8 ad 808 has no bearing on it, and is wasted typing. We are talking about the Lumia 920.

You would because your a blind nokia fanboy.

IF You like your windows phone like I do please do not visit or download (the verge or Engadget ) weg site or their app they don't deserve for us to even read or see what they have to say of any WP after the bad reviews they did of the Lumia 920 wich is a wonderful and powerful device so please run the voice to every site you visit pleaseeee we have to let them know that we know why they are doing this bcuz apple is advertising their products in those sites. And is olso obvious that the money thay are making have more Value than their moral thanks a million

Yup, Engadget is biased toward Apple SCANDAL . I know that "shill" is said a lot and I didn't believe it, but go check out their iPad Mini review and what happened following its publictation. Basically, Tim from Engadget did the review - and was overly gushing.
People in the forums were outraged by the biased review.
But Engadget had their soldiers ready. They had several moderators on hand to DELETE COMMENTS THAT SAID it was BIASED or not correct. I am talking hundereds of comments ever few minutes being hand selected and deleted if anyone dared to criticise the article.
It was a shcoking eye opener to me on just how much Engadget do to protect their pro Apple articles. One can draw conclusions but I can only assume they get finanical support from Apple?
People were rightly outraged by the heavy moderation and lack of free speech allowed in Engadget forums. I lost a lot of respect for Engadget following this recent event. I can no longer consider them impartial.

BTW Josh Topolsky is very complimetary about Windows Phone.
So much, Steve Ballmer quoted Josh Topolsky at the recent BUILD conference.
I quote: "Who would have thought that in 2012 Microsoft would be the company with the boldest phone and software design?" : Josh Topolsky from the Verge via Twitter

i have to agree with you. I can't remember the last time i went to engadget website.

What do you think about the Verge. I am slowly disliking it.

Excellent review as expected.

Excellent and objective. This is what we want to see

Just got my red 920 today. Loving the phone, but had one question for others that got a 920: my windows button has a yellow tint to it while the back and search buttons glow the normal white. Has anyone else seen this?

I have a white 920 and my search button is a slight yellow. ITs not a huge deal to me.

Daniel (or others) does the front bezel stick out on the 920 like it does on the 900? I hate that about the 900 as it digs into my ear when talking. Also hearing complaints about the vibration again like the 900. Has that been remedied (sounds like no)?

No, the front glass is curved like on Lumia 800 so no problems here. As for vibration, can't really say much: haven't used it enough, really.

The vibration is a problem here, trying to find out if it is for everyone else.

What about puremotion see any difference when scrolling, playing games?

We need to see comparison between Lumia 920 and HTC 8X
Just wondering 1) If I don't care about the pureview camera, 4.5" screen, exclusive apps, shall I buy HTC 8X and I won't feel any difference in WP8 performance ? 2) The photos and videos took from standard camera and transferred to the phone is it better in 8x because of the PPI or lumia 920 ?

Wow youre a dumbass really -_-
htc 8x = nokia 820 dude
there's no way you can compare it to the 920
Well also to answer your question
let me see
1.Cool nokia Apps
2.Better Support
3.Btter Phone construction
4.More features and hardware are in Lumia 920
So there it is if you still gona buy a 8x then you a ihtc fanboy

Your a numbnutt if you think the 8X is not a top wp. Nokia apps meh Better support not from my experience Better phone construction that's a joke the 920 has more faults than the 8X More gimmicks are in the 920 such as slow useless wireless charging where the 8X has a useful amp and better ffc.


Wow youre a dumbass really -_-
htc 8x = nokia 820 dude
there's no way you can compare it to the 920
Well also to answer your question
let me see
1.Cool nokia Apps
2.Better Support
3.Btter Phone construction
4.More features and hardware are in Lumia 920
So there it is if you still gona buy a 8x then you a ihtc fanboy

Now thats a great review! Screw The Verge, Cnet and all those BIAS gang! Ordered my yellow Lumia920 already - christmas in NOV YAY!

Hi there, this is really a great review. However I have something to share. This link shows more detailed picture info and quality which you can see how great he camera is. Found the images to be astoundingly good. See for yourself. http://www.hardwarezone.com.sg/feature-morning-lumia-920-photo-journal

This "super advanced PureView camera " also lacks one important feature: HDR mode. And this is really useful feature. I really can't get it why Nokia hasn't included it in a device they advertise as a camera monster. OS limitations?

Awesome phone!
Good choice with the White 920, Daniel! (does the glossy scratch easily?)
When is the Lumia 920 coming to Sweden?

I'd like to get the music from wireless charging device commercial as ringtone... Anyone knows where I can get it?

"Whatever Android is floating this week". LOL

Thank you for the great review Daniel!
I am curious if there is anyway you can contact Stephen Elop direct and ask why ATT stores have so few 920 phones on launching day... can't sell millions of phones with limited supply...

Here here, sah! I had to hit 3 stores just to get a black one!


Fantastic review...only 1 more week till I get my red 920

Two questions
1you said two loudspeakers at the bottom. Isnt it one speaker and one mic?
2 the white balance in video seemed jumpy and inconsistent. Where you in auto or outdoors mode on wb setting. If auto that needs to be adressed together with the soft images.
Other than that excellent review.
I am getting one when they fix wb and photo softness for sure :)

Don't know about the number of loudspeakers, but a quick test with my handy Acoustic Bio-Attenuator (aka my left thumb) shows that each of the two sets of holes drilled in the bottom output about the same amount of sound.

So frustrating that this an AT&T exclusive.

why dont you buy a new lumia at a store without contract, and then put your sim card from your old phone to the new? I never buy phones with a contract. I have the same contract for many years, because it fits my needs, and if I want a new phone I buy it and just change the sim cards :-)

He/she most likely can't afford the phone full-price.

My thoughts exactly. Why would this phone be considered the "flagship" when it's only available on one carrier? Having great specs is only one part of the equation to having a flagship device. It needs to be available on multiple carriers to truly be the flagship phone.

Now THIS is how you review a phone. Not like Engadget where they are enraged that the Lumia 920 is more innovative than their precious iphone. Thus they constantly complain about the size and weight because they need to nitpick at something...
great review guys!

Engadget (and some others) really dislike the lack of google integration and heavily rely on google services. It's a little silly when reviewers talk about how the phone fits into THEIR work or THEIR life, the review is not for them, it's for others. I know they can't talk about how it works for others, but remaining objective and not scoring things down (or up) on personal preferences that may not apply to everyone. Myriam was gushing over the Nexus 4, it's not a better phone than the 920, but it's Android, so in her mind it's better. Engadget really changed their tune from their time in Finland to their review unit. She seems to hate Apple too, and is pretty obvious about it. She's an obvious fandroid, kinda ruins here credibility.


I was excited about this phone at the beginning - but when I saw the weight I said to myself 'no way'. Sure, it may be comfortable to put it in your jeans' pocket but anything else would bring an uncomfortable feeling I guess, judging by the fact that using an iphone 4 in my jacket's inner pocket makes it awkward already.

iPhone 4 is MUCH more awkward. Trust me on that. Actually, don't. Just go ahead and try it for yourself.

FWIW, from the image as it looks on my computer screen, I think it doesn't look "washed out and soft". I think it looks pretty natural. Obviously I haven't seen the original scene. I think the phones sometimes make reality look "jazzed up" and "hyper". So the photo looks GOOD to me. I would just hope that one could change the settings to make it look the way you want. Or else, as you said, you could post process it.
What about focusing? Does it do facial recognition and allow you to pick something to focus on? Or does it just do something like "center" focus. I would like MORE camera control over these things and not less. Let it default to auto everything, but let me change things if I want.

That was a very nice read!
I have one question though. In my country almost everyone uses whatsapp. Whatapp on WP7.5 is just so so, how is whatsapp doing on WP8?
There was also a Nokia exclusive Whatsapp announced with 'panorama mode'. What about that? Is it released already?

Awesome review. Battery life sounds great!

Just wanted to say great review! =)
Love the pictures that you added: they show useful info quickly. Quick note: in the Good/Bad section, the two collums are a little too close to each other (I read "easily the best windows issue is overstated" :P).
Oh, and I picked up a mistake: " Button had excellent tactile feel (much more so than the HTC 8X0 and travel..." instead of " Button had excellent tactile feel (much more so than the HTC 8X) and travel...".
Keep up the good work Dan!

Thanks Daniel, this is the review I've been waiting for. I was already heavily leaning towards the 920 and this pretty much cements it. I too am sure Nokia will fix the Pureview daylight issue. Cements it as long as I'm able to get a unlocked, unbranded cyan/yellow one. Or I may have to settle for an 8x if I can't becuase it is way past the time to move on from a HD7.

Thanks. Nice Review. Smart design windows 8 mobile!

Daniel, did you use any of the Exchange features in the phone? or do you use an Exchange server at Mobile Nations? I run Android as my primary and my last windows phone was back on 6. I'm not very familiar with the new software. Part of my job though is recommending phones for employees at our company. Exchange support is a big part of that recommendation. We use Exchange and Active Directory to push policies to phones. I would love it if you could weigh in on it.

Thanks!

Haven't been able to play with WP8 yet, but I can say that WP8 will be the "Blackberry Replacement of Choice" for a lot of larger companies and many smaller ones due to it's tight integration with both On-Prem and hosted Exchange (office 365 integration is great). Here's a whitepaper that should help: http://kurtsh.com/2012/11/09/whitepaper-windows-phone-8-0-exchange-activ...

Thanks for the information. It definitly helps as we add new phones to our servers.

Hi there. I've synced it to my Exchange server. When you add an Exchange account, it actually warns you that "Adding an Exchange account will allow a network administrator to remotely clear the contents and the settings of your phone".
There is also an option in the Settings menu to add a corporate account that allows remote sideloading of apps, encrypting storage, disabling SD card (if any), and remotely clearing contents and settings.
I don't know the details, but it seems to me like a pretty solid MDM integration right there.

Yes, Android and iOS have similar warnings. The remote abilities are very handy, especially being able to side-loading and/or uninstall applications. I'm looking forward to someone picking up one of these so I can test all these features.

Weight and size are WAAAAY over stated in other reviews. It is a NON-Issue, PERIOD.
Lack of camera features like ability to adjust megapixels, and spot focus are almost inexcusable at this point, as is the lack of sharpness before adjusting. But considering the quality of the camera overall I can forgive them one more time. Far ahead of the pathetic Lumia 900 camera. Also can't take closeups without going in to close up mode, which other cameras are much better at.
5 years ago, I was able to use the FREE Bing app for WinPho 6.5 and speak the words "Navigate to: Contact Name". 5 years later, I still can't do that on any Windows Phone. As someone that drives around to customers houses quite a bit, I am stunned at the lack of integration with the Phone's contacts.
Where is the list of the last 6 contacts that I have been in touch with? This seems to have changed from WinPho 7.5. That was like a kick on the stomach for me. Maybe not for others.
Those are my only complaints at the moment. Phone gets a 9 out of 10 from me otherwise. And ATT gave me $75 for my Lumia 900 which was huge, and then they did not have the free charging plate at the store so they knocked another $50 off the price of the phone.

Navigate to: Contact Name seems awesome. Right now, though, you could only do that if they share a location with you in some way (e. g. with an MMS - attachment/my location in Messaging).

As for the last contacts you talked with, they are now TWO screens to either side from the main contacts list. :)

It took a day for my "recent" contacts to show up. Gald to have that back.

Maybe it was mentioned somewhere, but did they fix the vibrate rattle? This is by far the most annoying thing about my 900.

nope, the vibration in the lumia 920 sounds cheap and rattle much. this should be add to the review on the cons side...

Agree, upgraded to the 920, it sounds like something isn't completely tightened, but i hope that when i add a case to it, that will muffle it some.

Love every atom of Lumia. Wish I have that phone too someday.

So I went to AT&T yesterday to finally check this phone out... Had been interested in the lumia line since 800/900 days, luckily my upgrade didn't kick in until just after wp8 was announced so I didn't get burned there. I'm really sorry to say that the reviews on other sites were spot on: This phone is amazing, and way too big. It's not even just a weight thing, it's the size, the screen, etc. Totally unwieldy. I was really disappointed when I actually held it in my hand and tried to use it... I'm a girl with relatively large hands and I had trouble one handing it. I can't imagine any of my friends being interested in something that big. The 820 sitting right next to it, on the other hand? Perfect size. But I know I'd be losing so much with the screen etc. really torn right now don't know what to do.

4.5 - 4.7 is exactly what I want but I do believe Nokia should have made a premium smaller phone as well. They will probably have one before long. Though even with the 820 missing some premium features I don't think there is a better <= 4" phone on the market. You could always try the 920 for a week or two to see how it works for you.

You should check out the HTC 8X. It's a beautiful phone & feels so good in your hand. They did hella of a job with that one.

Nice unbias review Great Job WPCentral i'll be waiting for this phone in my country :)

Just hate it that the equalizer doesn't work on Bluetooth music streaming like on my Galaxy S2 and the iPhones. So disappointed with my 920 on that area but I think its a Windows Phone restriction though.

Your equalisation should be done on the outputting device, not the source.
For eg. I stream in the car, and I adjust the equalisation on the cars system.
(Otherwise you'd have an equalisation software layer in front of Bluetooth, as the current equalisation is done on the output stage / hardware for the headphone socket. You wouldn't want to do that in software. Think about it)
Do your equalisation on the output device.

I returned my Lumia 920. My truck does have an EQ which sounds good with my Galaxy S2 with an EQ app enabled. And it is all done through bluetooth...

Awesome review, Daniel! Best one I've seen, hands down!

Danial,
I don't see many of the apps that I had installed on my WP 7.5 available in the marketplace of my WP8. For example 6 Weeks training, Reinstaller. Are they not compatible for WP8? Why I don't see them?
Thanks,
Jignesh

Did they remove the radio functionality?

Is there a setting in L920 that allow you to disable orientation? It's important when you use the phone in bed!

Nope, it's up to the app developers to implement it. For instance, Weave (a news reader) and Nokia Books (Nokia-exclusive reader app) do have it.

Anyone figure out how to reinstall your paid apps. Example, bought WP Central app on my Focus. Now on my Lumia, i downloaded it and it is that free version with ads (boo!). It doesn't recognize that i've bought it already. All my accounts are the same. Looking in the forums next, web search doesn't come up with anything.

That's strange. Me, I have downloaded several paid apps (games mostly) and they were recognized as purchased. Perhaps you tapped 'try' instead of 'buy'? You just need to hit 'buy' and the store will tell that you've already got it and ask if you'd like to download it.

+ 1000 haha.. using the phone in bed is a chore... Also, is it now possible when listening to a song to tap on the timeline and move the song forward? and have they fixed the annoying moving cursor you get when you tap and hold while typing a message? At the moment the cursor just moves like it has mind of its own .. hope they have made it a bit more smoother now so that it moves in the direction of your finger and where your finger is at the moment. trying to get the cursor inbetween the letters of a word is just a nightmare. What I've always wanted, but never got, was to be able to tap the music player on top of the screen [when you bring it down from the homescreen using the volume rocker] and it opens the Music Hub. :( wouldn't it be cool if you want to change the song you're listening to; you tap the music player; it opens the music hub and you're done. [ahh.. wishful-hopeful]

The orientation lock is implemented if the app developer wishes to implement it (e. g. Nokia Books). The cursor behaves a bit better now, though that might be due to the larger screen. Also, I've checked the thing about going to the Music Hub from the lock-screen music player. Guess what? IT WORKS! I didn't even know or expect it. Thanks man. :)

Sounds like this phone is plagued by the same issues as the 8x, telling me that WP8 OS is to blame. What a shame.


Thank you for the well thought out review, Daniel! Appreciate it!
Tech Question time... does your AT&T 920 have pentaband support for use on T-mobile and WIND? Kinda like the Dev versions and initial Rogers release? Just trying to figure out if we can expect all 920 units to have pentaband support or it it's more an anomaly than the norm.
Thanks!

Sorry if someone already hit on this, couldn't get through all 256 comments. Does 920 camera still have "macro" focus option? I used that constantly.

How about changing wp central to Nokia central and as for Nokia's superior build quality it would appear to have more faults than the apparently worse build quality of HTC 8X

How about you go to hell? Worthless commentor...

Very Professional... Idiot!

build quality faults? I haven't seen anyone say anything other than the quality of the build is top notch.

Maybe try reading the forums then i have seen: dents out of the box / overheating / freezing up / battery problems / screen displaying gray instead of white / intermittent sensitive touch screen / phones vibrate causing internal parts to move and emit noises etc

My 920 keeps trying to download Nokia music. I get an error code 8103010 d. It won't download and actually locked my phone up!!! It is trying to update Nokia music and I don't have it installed!! Wtf??

Wow! At least at night, the camera is amazing! It was between this and the 8S (for the size) but the camera may have just sold this for me! Hopefully an update improves the daylight performance just like Nokia did for the 900.

Thanks for the comprehensive review. How is the phones call clarity, one of my biggest gripes these days is that the earpiece call quality is lacking, too quiet, distorted at higher volumes, or unless you put your ear exactly in the right spot hard to hear. Also the mike pickup on my current phone (OG EVO 4G), picks up other sounds and makes it a hard to hear my voice by the other person sometimes. thanks.

Oh do I understand you... Thankfully, the call quality is great. On my Lumia 710, I've often been unable to hear anything over traffic and stuff. Here? I've never cranked the call volume to more than 7/10. On 10/10, I actually felt deafened a bit by how loud it was.

That is real good to hear, haha.

I haven't been this excited about a smartphone since... ever. Previous owner of BlackBerry, iPhone, Android, Palm, and WP7. Enjoyed WP7 the most. Can't wait for my 920 to arrive Monday!

hey , i need a quick answer :P somebody help
when nokia releases the new firmware update to fix the camera issue , will i be available for every country or only some selected ones ???? :O need an answer , and is there a difference between the US version and the international version ??

hey everyone.
I got the 920 yestarday and i have to say i love it.
I wanted some opinions:
Do you think it needs a screen protector?
or a full body case to protect the camera?
att rep says the screen scratches very easily but i think he was full of crap to be honest.

Just as anything else with a Gorilla Glass. So, in short, no. Just keep it away from diamonds and make sure there's no sand (quartz) in your pocket before you shove it in. :)

As for the full body case, it remains to be seen. But I'd say that for the camera the situation is about the same as with the screen. The phone body itself is considerably softer and it will, of course, scratch much easier than glass. However, with polycarbonate this won't be much of a problem as all the scratches will be the exact same color as the body. So they'll be mostly invisible to a casual observer.

thanks, in my pocket it goes

Att sells the candy shell which I bought cuz its a hard case enclosed in rubber and they have the usual rubber cases as well

Can't believe that, while you did a beautiful job walking through all the major points of the display, forgot to get into the reason why it is even called puremotion: the faster refresh rate which minimizes blur during scrolling. Maybe you can add this.
Also, maybe I missed it, but it would be good to mention the screen resolution and aspect ratio of 15:9 (/5:3/16:10) and how it compares to other screens which are 16:9. (As tall as 8X screen, but wider = More vertical space in horizontal. As wide as Ativ S screen, but not as tall = Same vertical space in horizontal).
Apart from that, nice, balanced and realistic review.

I didn't mention it on purpose because I think it's more marketing than anything substantial. Basically, I didn't even notice it. Plus it's not new on smartphones as the iPhone has had it for awhile now...

Well, I definitely can't read the words on the tiles when I scroll on my 1stgen device. They become fuzzy. I thought that the PureMotion's higher screen refresh rate would minimize or eliminate that.

wait?!?!? You mean it isn't so heavy it is unusable? Tht's what the limp wristed pillow biter over at Jizzmodo said, so it must be true!

I visited an AT&T store today, just to see the 920 in the flesh and inform myself on this "size issue." After handling the 920, I honestly couldn't tell what all the flap was about. The weight difference, compared to the feel of the iPhone 4S/5, was unnoticeable to me. In terms of size and dimensions, the overall package seemed very svelte and well proportioned given the fact that it has a large screen.

This, coming from someone who's currently toting around a miniscule Palm Pixi Plus (until my 920 pre-order arrives). I honestly don't understand all the fuss about 920's size.

Yea I don't know what the reviews are talking about when it comes to weight. I'm coming from a Samsung Epic to the 920, I don't know what the weight of the Epic was but the 920 feels lighter and when I drop it into my pocket I barely know its there.
I think when it came to the reviewers they see this large phone and so in their head they see it as a heavy phone, that whole mind over matter thing.

Yea size is definitely overrated went to att to play around with it and fell in love again can't wait till Monday I even bought a candy shell case while there kinda nice even though employees didn't know much about it too busy selling old people IPhones, and the display was horrible it was hidden in the corner and no 8x where there looked like a dumper display

This phone was just not ready for release, they would have done better to just implement the WP 7.8 update and released WP8 when the the OS,hardware and the apps presented a more mature experience! Also a monkey with a flashlight and a note pad could've done a better job of promoting and launching wp8.

I was so happy with my Lumia 920, sadly I had to return it the next day after I bought it. The reason I returned it is because the EQ that I had so wished for so much does not work when streaming music over bluetooth. I was very sad that it only works with headphones or a aux cable. I have a new f 150 with Microsoft Sync and the Sony sound system. My Galaxy S2 sounds very good with an EQ app through bluetooth. The Lumia 920 sounded super flat, haven't heard anything as flat as that...

I would try the 8x then. I believe their Equalizer will allow you to tweak it over BlueTooth. I too find it rather odd Nokia doesnt allow this, but I am sure they can address with a update.

As someone else on another thread pointed out - you really should be doing the equalizing on the head unit anyway not before the audio is streamed via bluetooth. Equalization should be done on the last device where sound is emitted from.

After 5 years with T-Mobile, I made the switch to AT&T not even an hour ago for the 920. This phone is the best effing phone I've ever had the pleasure of owning.

I agree about the screen. I loved the AMOLED on my 800 and was disappointed to see the "grey" black on the 920's screen. And I have the horrible vibration noise. Overall the phone is awesome, but there are some subtle things on my 800 I miss already. But no phone is perfect I guess.

It's weird, for months now I've been wanting a920, but after going to ATT today, I was really impressed with the 820. It has a nice size and feel to it, and I loved the oled screen compared to the LCD screen of the 920. I'm kinda torn now...oh and the 920 really didn't seem too heavy at all. My biggest gripes I guess was missing the deep blacks on the 920 and because of the size and design, the corners of the 920 kept digging into my palm as I was trying to hold it. I guess if I decide to get it, I'll have to find a comfortable way to hold it.

Daniel, I don't understand why you take pot shots at another great WP device (Windows Phone 8X from HTC).... It seems you should really be interested in the ENTIRE WP platform succeeding, regardless of manufacurer. Knock the One X, or GSIII, or basically any other phone on the market for having the loud speaker on the back... Why choose to knock the other premier Windows Phone currently on the market. (You also knocked the camera button on the 8X).
Look... I get it. Nokia is completely locked in to the WP world, and the Lumia hardware is completely sexy. HTC is kinda treating WP like the hot girl who may be interesting if their girl friend keeps treating them the like $#!*... But it seems to me that you should be happy that there are multiple high end WP8 options (and highlight the strengths of all- including the ATIV S) rather than produce straight Nokia fanboy material.
Maybe not... as your current audience is mostly Nokia fanboys/girls themselves. But it seems likely that your audience will shift more in the coming months- as the L920 is not available to the majority of your target, English speaking audience.
Anyways, I would buy the L920 over ANY phone on the market today, but it is not in the cards for my carrier. I agree it is the best piece of hardware on the market today. It just bothers me that this site refuses to acknowledge the existence- and quality- of the devices other OEMs are producing.

What the hell are you talking about? I really like the HTC 8X and have said publicly numerous times--just listen to the last podcast. You'll see when my review goes up but yeah, if I had to choose one it'd be the 920. That's not a potshot at the 8X it's a preference.

When can we expect that review to post? Just want to put it in my calendar. :D

Am I the only one concluding that Nokia 920 is just too big?? Both my wife and I have Samsung Focus at the moment, and are looking to upgrade. I've been eagerly awaiting WP8 to arrive, what a disappointment - there is no device that fits in a pocket anymore... Every maker of WP8 has gone the way of "bigger is better". Among Nokia 920 / HTC 8X / iPhone 5 - the latter is a clear winner for my wife - thin, light, and sized for a woman. I could go with the 920 or 8X, but 920 looked too gigantic for me, and I haven't seen 8X in person yet. I would hate to go back to iPhone, after switching to WP7 two years ago, but I feel that my options are limited. So frastrating...

Man if you and your wife can't handle a 8x, I don't know what is wrong with you? The 8x is thin, and light! Too light for me though! Screw iphone5!!!

I haven't held 8X, since it's not available in stores yet. From specs 8X is just a tad smaller than 920, so I doubt it will make a huge difference.

Look at the Lumia 820 or the HTC 8S, as they are smaller in size than the Lumia 920 and the HTC 8X, though neither of the latter are overly large.

Nokia 820 is the first WP8 I saw - and it seemed too clunky to me.. too wide and thick. I still don't get it, why Nokia decided to supersize Lumia 800, which was a great little device, comparable in size to iPhone. As it stands now, there is no competition to iPhone from the WP8 camp. If I could install WP8 onto iPhone, I would.

LOL - too clunky? iSheep....

One more thing about the display, the PureMotion HD+. I don't know if we can clearly recognize the difference it brings, but at least you should mention it. It's Worth mentioning~

I didn't mention it on purpose because I simply don't notice it.

Then I guess many users don't notice that...OK, Whatever, great review

Did you do side-by-side comparisons with other new wp8 devices(ativ, 8x or 820) to test the difference? If the other new wp8 devices scroll perfectly without any blurring, then fine. The PureMotion is a gimmick feature. But I wouldn't call it just "marketing gimmick" since there is research and tech behind it. I think its really a shame that Nokia puts efforts in the research and the technology in Lumia 920, and users wont even notice it. A BIG FAIL from nokia if its true :(. I think they should have left the PureMotion out to make the device cheaper.

A 12 oz cup of coffee in a styrofoam cup is more like 355 or 360 grams, not 250!

Those capacitive buttons are a HUGE turn-off.

I want one! But I have to wait two years :(

For all the noise I heard and read about its weight, I was worried that it might really be a big and unconfortably heavy phone. BUT, I went to AT&T store and checked up close for the first time, and....I loved it. It looks and feels better in person that in picture. I just can't decide what color I want, Black, Cyan, or White!

My wife and I bought the 920, we are simply impressed with Nokia, great hardware design, awesome OS. Great weight balance, outstanding camera. We are loving the 'kids corner' & the 'family room'. Our kids are already mastering the OS... FROM MY WINDOWS 8 SAMSUNG ATIV SMART PC

Been messing around with the 920 for a day now. It is simply stunning through and through. The only issue is photo softness in regular lighting situations and they already stated a fix is coming.

I agree with the review, and coming fromm iOS this has been a simple and smooth transition. just about everything with the phone rocks with the exception that my battery life is horrendous. Granted I have been playing with the phone extensively, however it was fully charged before going to bed, and I wake up to 30% left. All background apps were shut down, therefore nothing should have been accessing the battery to drain. Tried Nokia's "tips for battery life" to no avail.
I do have a ATT microcell and wonder it the phone switching between a tower and the cell would cause excessive drain.
Any thoughts?

Wonder if a exchange is the only solution.
FYI - My friend had the freezing OS issue, took his back to ATT and the new phone runs perfect.


I absolutely love the Nokia Lumia 920 (black). The screen is gorgeous, the low light and video capabilties are outstanding. The huge storage capacity is appreciated, especially since there is no SD card slot (HTC...you would sell more phones if you didn't limit it to 8GB and no SD slot...just FYI...). The responsiveness is amazing, and the screen touch sensitivity is as advertised. The look is professional yet "sassy," and the build quality and feel is absolutely solid....
...but it IS very heavy for a cell phone. I had my Samsung Focus (the OG, SON!) for two years, and always appreciated the slight build and light weight of the device, along with its snappy performance (until recently, that is....it most certainly started to show its age just a little...). The discrepancy in weight is not really that bad until you start to hold the phone for long periods of time. I am a big fellow (over 6'3'', 250 lbs), and MY arm starts to hurt after a moderate session of Fruit Ninja or Infinite Flight. Now, I understand how much is actually packed into the casing (3 radio types (GSM, UTMS/HSPA+, LTE), and the Qi charging system, AND the 2000 mAh battery, AND the image stabilization platform, AND that gorgeous screen, AND...well, there's a lot. I don't see why this device has to be close to half a pound....although I think it is built like a tank, as one of the blogs noted, and it should last the ravages of time very well....
That's my only beef with it folks...well that, and Microsoft....COME ON MAN!!! Give us custom sounds for emails, SMS, and voicemail....bloody 'ell, sahs! Also for Microsoft...how can you NOT have a Skype app ready to rock with the phone's launch?!?!?! COME ON MAN!

Does anyone know (or have an opinion) whether or not this phone or an equivilent phone will be available on Verizon? I am not interested in signing another contract with AT&T.

-Finally, an honest and in-depth review of the Lumia 920!!! :D

I just got the 920. I guess I am the only one who likes the camera? I like pictures that mainly look like real life and as it stands now the pictures I have taken so far match what I see with my eyes. Colors are almost exact.

Why do I want more vibrant colors then what I actually see?

Picked up a black one from the store yesterday. I was concerned about the weight. I can say that It's a non issue. Coming from iPhone 4s, it doesn't feel heavy at all.

So how does everyone feel about international version getting a superior GPU with the snapdragon pro chipset?

My Lumia 920's battery life is just about 12 hours per charge, with several photos but no gaming at all. Anyone in the same situation?


Looks amazing! If I wasn't holding out for Blackberry 10, I would totally jump for this.

Wow youre a dumb ass really -_- The 8x = the 820 there's no way you can compare the this phone to the lumia 920 To answer your question troller 1.Best of Nokia Apps 2.Better Support 3.Better phone Construction 4.More features and hardware

is grey available on AT&T?

I don't care about the weight, but the phone is a brick! It's just too bulky for me. I need to carry it around the entire day in my pocket. Unfortunately no company is able to keep up with Apple in the field of form factor. Especially for WP: If you're into smaller phones with screens around 3.7" to 4" you have to go for the mid-range phones which have a lower screen resolution that are just slightly better than my one year old L800. There is no WP which can keep up with the iPhone in this form factor range. I understand that there are people who want these new features of the L920. However, there are also a lot of people who don't care about the PureView technique or Wireless charging.

"However, there are also a lot of people who don't care about the PureView technique or Wireless charging."

There's you and... who else? The Samsung Galaxy S III is now the best selling device in the world, and it has a 4.8" screen.

sh1bb - I have the black and I noticed all 3 of my buttons had a yellowish tint to them. I don't think its the light thats yellowish as when they're not glowing, they appear almost gold/bronze/copper in color.

Overall, I think my biggest complaint is the photo performance in daylight. I noticed that pictures were coming out "softer" and not as sharp as my samsung focus. When using touch to focus, the shot would look almost always look sharp but as soon as the shot was taken, you could see it get noticably softer.

I have had one unexplained reset. Within about 2hrs of activation, it rebooted itself while streaming music. The phone also froze up when playing with the nokia panorama app (the phone was effectively MIA for about 10 minutes before it sorted itself out).

I do have a minor issue with "Nokia Drive" which is still in beta. Whenever I "Stop Navigating", I'll continue to hear occasional beeps. At first, I couldn't determine the origin of these "beeps" (was it an app? was it some notification?). However, towards the end of the weekend, I noticed they only occured after using the app and turning off the navigation. Even then, the turn-by-turn navigation experience is a huge step forward. It was nice before, but now it looks and feels like a full fledged gps.

Other minor quirps. I don't like the volume button being on the same side as the power and camera buttons. The button layout was perfect on the Samsung Focus as it was on the left. Being left handed, I've become accustomed to adjusting the volume with my thumb and locking/unlocking with my index finger.

The Data Sense application isn't here as well. Apparently, this will be a Verizon exclusive (for now?). AT&T's app, when configured with your account, will show data useage - but I would have preferred to use a "Native" application.

Can any 920 users tell me if the volume issue has been fixed in WP8? If you owned a WP7 device like the 900 then you're well aware that having the volume set at 1 is like having the volume set at 50 when compared another phone. This is really annoying, I often have to put the phone on vibrate because I can't stand the loudness.

I feel like i need to re-iterate this a bit... This phone is absolutely the best phone in direct sunlight. Been using it for 2 days, I cant put it down! This phone + WP8 feels like I jumped ahead 10 years after using my 1st gen Focus.

Picked up a red 920. All I can say is WOW. Was on a plane back from Denver and another passenger caught a glimpse of the phone and was like, "OMG, Windows Phone 8, thats a sexy phone." He then waived his phone in the air. WP, also. Hehe. I'm still playing with my new toy, but I'm so very pleased to be an early adopter of the platform. I couldn't imagine much of an improvement over WP7 less little things here and there. But I am amazed. Seriously, go to a store and play with a device. Additionally, I checked out a Samsung ATIV tablet and WOW the UI is so fast!! Need to check out a MS store now.

Picked up a Red 920. Love the phone, came from an iPhone 4. However, there are few issues that need to be addressed. 1. Bought phone on Saturday, by Sunday night I noticed the front camera had pocket lent in it. 2. The speaker phone isn't loud enough (atleast not as loud as the iPhone) 3. Something locked up with the OS and I wasn't able to lock the screen. Only way to fix the issue was to reboot the phone.

As much as I would like for Wp8 to be successful, it is not on the same level as the iPhones. The screen size is the only advantage for the new Wp8, and that's only if you prefer a larger screen. The camera deficiencies, immature OS, lack of apps, along with the weight makes Wp8 esp. the L920 a tier below the iPhones and Galaxies of the world.

The camera definciencis can and will be addressed with software updates, but as long as the hardware is in place - it can be tweaked accordingly. The general consensus does not seem to be complaining about the hardware - just quirks that need to be ironed out.
What do you use regularly on iOS / Android that you cannot do in WP? Can you check your email? Play games? Text Message? Browse the web? Take pictures? What is lacking? NFC? Oh wait, iPhone doesnt have that yet.
There are specific apps that people miss, but it does not mean that there are not alternatives. This is relative as well.
Weight is relative. iPhone5 is too light. Lumia 920 is too heavy. Galaxy S3 feels like a cheap toy.
At least there are options for people to choose from, that is the best feature of all.

First,let's stop with the too light argument. Nobody leaves a phone at home because it's too light. Everything about Nokia and Wp8 has been underwhelming, from the launch to the camera, to the missing apps that were displayed during the wp8 launch. Don't bother to mention NFC,because it won't be relevant until Apple comes onboard anyway. You asked what I use regularly on the iPhone,the next time you're in a at&t store pick up an iPhone and a galaxy Slll and see how easy it is to purchase an HD movie. Then pick up your outdated L920 and do same thing, and don't tell me you need to buy an Xbox console to stream movies. Also,saving an email video attachment on Wp8 is unheard of. The ringtones suck,need to download 3rd party app to get rid of ridiculous volume bar from music player,no screen orientation lock,unwelcome text notifications' can't be disabled,while hardware is good it takes more than that to make a great phone.

I own a Lumia 800 and I intend to get the 920 very soon. I just hope the battery life of the 920 is much better than the 800.

A lot of people are having some major battery issues, myself included. Battery is down to 90% in a matter of minutes, which is ridiculous. Some of them have manged to fix it by draining their batteries and full charging them. I'm not happy about it at all, if my battery doesn't improve within the next few days, this will be my last Nokia phone.

To my fellow Canadians,
Does the Lumia 920 have the new Bing interface? Scrollable interface with movie showtimes and local deals? Or did we get screwed on that too? Man I wish we had Nokia Music!

I got mine a week ago and have to say there is no comparison. This is the best phone (any OS) I have owned. The weight problem is a pure fantasy, it is lighter than half the iPhones my students carry due to their cases but more substantial and able to take a drop than those other phones. I loved my Samsung F

I know I'm late to the article so this probably won't get acknowledged. Can you compare the daylight photo to a dslr shooting in raw mode?
Raw mode typically looks "washed out" to people but is the most accurate representation of reality. It seems Nokia went the route of what dslrs do and limited the on camera auto processing. Then you "ripped" them for it. I'd be highly disappointed if the Nokia daylight pictures turned out to be equal to raw photo sharpness and saturation. Then through a firmware update that was changed. If Nokia does end up changing it, I'd hope they'd add an option to turn jpg processing off (on by default for the majority of course).

Photosynth on Windows Phone 8? Really? I searched for that and couldn't find it on the MS Store app for the Lumia 920. WPCentral must have some good contacts to have that app in the screenshot.
Battery life is okay. As soon as you use NFC and leave it on all day, it drains pretty quick. I use a microcell at home, and it seems to drain the battery as well.
I can't comment on the wireless charging docks as I pre-ordered two of them when I ordered my Lumia 920 and I haven't received them yet. I did get my phone on 11/13/2012 so I'm not complaining.


very good phone. kinda expensive if they want to compete with nexus 4 but i'm definetly in it when it comes to Greece

Very impressive and easy to read review. I'm interested in the 920, but am afraid I'd miss the apps I use on Android.

I just picked up this phone 2 days ago as well and it's everything it says here an more. I can't remember loving a phone this much and can't find a single thing to complain about. This is IT!

Didn't see this mentioned, but, did Nokia fix the utterly horrible vibration that was on the 900? Also, I had never gone over my data-limit until I had WP 7.5 (I guess that it was the live tiles when I was on the road and out of wifi) and was wondering if it was a setting I missed or what.
I'm currently on a Note 2 and while I love the phone itself, I really loathe Android. Kinda missing WP.
Thanks all!

Reminiscing and wondering whether this flagship phone will ever get a Win 10 upgrade? Its still a great phone, with Nokia's makemanship shining through but its or rather the OS is showing its age.
Windows Central Newsletter
Thank you for signing up to Windows Central. You will receive a verification email shortly.
There was a problem. Please refresh the page and try again.