Nokia Lumia 900 Review
WPCentral's Review of the AT&T Nokia Lumia 900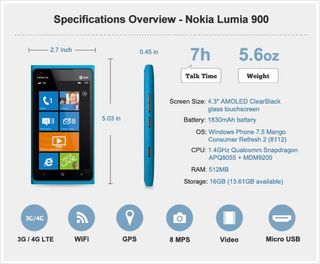 "With one of the best displays for a Windows Phone around, a $99 price point and Nokia's svelte and sexy design, the AT&T Lumia 900 is one of the best values for a smartphone today. For those people upgrading from a first generation Windows Phone to those folks just coming on board, the Nokia Lumia 900 is sure to impress."
Swipe to scroll horizontally
Design:
The Lumia 900 is designed and manufactured to perfection. This shows in the end result, while not as smooth as the Lumia 800, it's still beautiful.
Feel:
Unibody, check. Single piece of injection molded polycarbonate, check. Feels great to hold and use? Check.
Performance:
Powered by Windows Phone Mango Release 2, a 1.4Ghz processor, 4G LTE and an 1830mAh battery, the Lumia 900 will keep you going throughout the day.
Quality:
AT&T, Nokia and Microsoft have done a great job with the Lumia 900. It's not perfect but it's certainly close.
Swipe to scroll horizontally

Solid 8MP rear camera and outstanding 1MP front camera make the Lumia 900 a great video phone. The polycarbonate unibody design makes this device one of the nicest looking on the smartphone market and the 1830mAh battery ensures great battery life even when using AT&T's blindingly fast 4G LTE. To cap it off, the 900's AMOLED screen is one of the nicest we have used.

The rear 8MP camera could stand to use a BSI sensor to reduce noise and increase brightness in low light situations. The non-removal battery may be an issue for some and the rattle from the vibrate feature is cringe worthy.

For $99 on contract, the Lumia 900 is one of the nicest Windows Phone on the market today and for the foreseeing future all at a great price. It has solid hardware including super-fast 4G LTE and the latest version of Windows Phone Mango ensuring a great experience for new users and veterans looking for an upgrade. Plus the device oozes with Nokia's quality craftsmanship making it a device many will want to talk about. With all the hype around this phone, this could be the next "it" device for the summer.
The Nokia Lumia 900 on AT&T is the most anticipated release for the Windows Phone since the system was released back in October 2010. There's a lot riding on this launch for Microsoft, AT&T and certainly Nokia, with the latter betting everything on the fledgling mobile OS from Redmond.
In fact, this is the first time outside of Microsoft enthusiasts that a Windows Phone actually has some buzz in the mainstream media, partially due to Nokia's rapid buildup with the Lumia 800 and Lumia 710 along with those respective advertising campaigns.
Does the AT&T Lumia 900 live up to the expectations? We gave the 900 high marks for its display, super-fast 4G LTE speeds, mesmerizing design and solid battery life. All of which exceeding most of our expectations. Yet, all is not perfect though and there are few minor complaints, especially around that rear 8MP camera. Still, the Lumia 900's esthetics and visual appeal will make up for any deficiencies it may have in the long run.
Read on for our definitive AT&T Nokia Lumia 900 review...
It's all about design
There's an odd thing about Nokia Windows Phones so far that we've noticed. They're not spec-monsters with the latest, greatest and fastest technology on the planet. In fact, they're kind of conservative. For instance, on paper, the Lumia 710 (review) is an average, middle of the ground Windows Phone; yet in reality, even we love to use it despite the "enthusiast" moniker.
The reason for this is because Nokia gets design. The Lumia 900 is no different in this regard. While the specs (more on that below) are solid, it's that first experience of holding the phone that many of you will remember.
The polycarbonate uni-body design of the 900 makes it feel like a piece of art. It's smooth yet odd – is it plastic or is it metal? – you're just not sure when you pick it up. All you know is that your brain is telling you 'hey, this is nice'.
Coming in at 5.6 ounces (160 g), the phone has a bit of heft to it. By way of comparison, the HTC Titan (review) weighs a comparable 5.64 ounces, the super light Samsung Focus S (review) is a nimble 3.9 ounces and the much smaller Apple iPhone 4s is in-between at 4.9 ounces.
That's right, the Lumia 900 weighs the same as an HTC Titan. In fact, they are basically the same size except the Titan has a 4.7" screen while the Lumia 900 has a 4.3" one. This is either a selling point or a knock as not everyone likes carrying a heavy device. Having said that, we're okay with the size and weight as it gives the phone some substance to it—it's not too heavy but it feels solid, something worthy. Plus with that weight you are getting a massive 1830mAh battery - but more on that later.
Looking at the smoothness and minimal design of the 900, it has great visual appeal. The matte black gives the phone some tact to it when handling it and due to the single color (i.e. no accents) the device has a deep, absorbing look to it. Flip it over and the back is just a smooth, uniform body with that single chrome strip around the f/2.2 Carl Zeiss camera (and yes, that chrome strip is prone to scratches).
The Lumia 900 has three chrome buttons on the side, volume, power and camera which stand out but don't distract. Button design is always tough – they can't be too prominent but they can't be buried either – luckily, the 900 finds a nice balance.
Considering you use those physical keys numerous times a day, nailing their design is important to your smartphone enjoyment and Nokia gets it here. They keys are not loose (they don't rattle), they have just enough play when depressing them and you can feel them without looking.
Everything else from the earpiece to the bottom speaker to the ports blend nicely into the body. They don't distract from the phone's design which is a good thing. For instance, there's no chrome grill for the speaker which is popular on many devices.
There's no doubt that the 900 is, dare we say, a "sexy" device. There's just something about it that makes you want to pick it up and touch it.
Lumia 900 Display
The Nokia Lumia 900 comes with a 4.3" ClearBlack AMOLED display. We've covered Nokia's ClearBlack technology before, but to recap, it's a sophisticated set of polarizing layers that eliminate glare and remove certain wavelengths of light, giving a rich, vibrant look to the screen.
We're going to cut to the chase: the Lumia 900's screen it outstanding and easily the best we've seen on any phone, let alone any Windows Phone. The colors are vibrant and clear and the screen brightness is just right. The blacks are "wet" and on the matte black of the device, blend seamlessly between the body and the screen. With ClearBlack, viewing the screen out in the sun is quite easy (though even our Titan and Focus S do an admirable job in this area) and the resulting viewing angle is very high.
In short, the 900's screen is stellar. With Corning's Gorilla Glass on board, scratching or breaking your screen should be less of a concern than on other smartphones.
Still, the 900 is missing the "3D" curved glass of the Lumia 800 (review), which is a bit of a shame as that screen design gave that device a more rounded, smooth feel to it. Instead, the Lumia 900 opts for a flat screen with a slight metal ridge around the edge. That edging distracts a bit from the uni-body design though it does serve a purpose: putting the phone down flat on the screen will keep it from touching the surface, ergo less scratches. The 800, by contrast, is not a phone you would want to put face down anywhere, even with Gorilla Glass.
Responsiveness is high with this 900 but we found the Lumia 800 a tad faster when using the diagnostics tool (see more on that app here). So far we can't really say this has translated directly into our user experience, though it's a curious thing.
Finally, yes, it's a fingerprint magnet. Although Nokia may have ClearBlack, they would be wise to invest in some type of oleo phobic technology to better repel oil from the screen because right now, the Lumia 900 easily suffers from "greasy screen syndrome" much like its Lumia 710 brother. This is really just more of an annoyance than anything but Nokia could do slightly better.
Lumia 900 Software
The Lumia 900 runs Windows Phone 7.5 (7.10.8112.7) which is also known as Mango Commercial Release 2 (Mango + LTE). That's a whole lot of words but all you need to know is this is the latest version of Windows Phone available in the United States and it fixes previous bugs in older versions like the disappearing keyboard and some Gmail sync issues.
Besides support for AT&T's Visual Voicemail, Internet Sharing, 4G LTE and all the previous fixes rolled up, the OS is nearly identical to what is currently on AT&T's Windows Phone lineup.
Pre-installed OS apps include Microsoft Office (Word, PowerPoint, Excel, OneNote), SkyDrive support, Xbox Gamer Hub, Internet Explorer 9, Outlook email and built in support for Facebook, Twitter, LinkedIn and of course, Windows Live services. Also there is AT&T's carrier software like Code Scanner, Navigator, Radio, YPmobile, Tango Voice Call and U-Verse Mobile, all of which are un-installable.
See our Windows Phone 7.5 Mango review for more on the OS .
Nokia software is a bit sparse with just ESPN and App Highlights pre-loaded. Other titles from Nokia, such as their offline navigator Drive, Transit, and Maps , are available for free in the Marketplace in the Nokia Collection.
The only customization in the OS is the addition of the "Nokia Blue" Accent color used for changing the Lumia 900's theme. "Nokia Blue" is a deeper, richer blue color than the standard blue also included with Windows Phone. It's the default Accent when you first turn on the device and we simply love it.
Lumia 900 Hardware -- Do specs make the device?
The Nokia Lumia 900 features a 1.4GHz Qualcomm Snapdragon APW8055 + MDM9200 CPU along with 16GB of storage (13.61GB available) and 512MB of RAM. In terms of hardware specifications, those are fairly normal figures for a Mango Windows Phone. What it means for the consumer is fast, zippy performance. In this regard, we have not seen much difference in performance between the Lumia 900 and the HTC Titan (1.5GHz) or the Focus S (1.4GHz).
Sure, technically the Titan and the Titan II are slightly faster and this is reflected in benchmarks (using WP Bench), but in daily use, the Lumia 900 holds its own.
While the 16GB of non-expandable storage (with 13.61GB being available on boot) will leave some people wanting more space, we're okay with it for our usage and we think most users will be okay with the capacity.
The device does have a compass, gyroscope, proximity sensors, accelerometer, Bluetooth 2.1 + EDR and Wi-Fi (802.1 b/g/n) which are all standard fare on high-end Windows Phones these days. Unfortunately, Windows Phone does not yet support the more advanced Bluetooth 3.x or 4.x standards.
4G LTE – Is it all that it's cracked up to be? Yes.
The Nokia Lumia 900 on AT&T is one of two new Windows Phones that have the ability to use Long Term Evolution or LTE for "4G" connectivity. We use "4G" is quotes because despite what AT&T and Verizon advertise, technically it is not 4G as determined by the ITU-R organization. That official distinction is reserved for LTE Advanced, a standard not due for a few more years.
Having said that and in being in New York City, one of the few areas where AT&T's new LTE network extends, we'll say it is fast. Damn fast.
Using the app BandWidth, we had speeds peak and even maintain near 30Mbps downloading a 17MB file with average speeds hitting around 20Mbps. And that was indoors. Upload speeds went as high as 11Mbps though they usually averaged between 2 and 8Mbps. Network latency was often well below 500 ms, going as low as 88 ms on one test.
In short, AT&T's 4G LTE is borderline ridiculous for speeds. Going further, once we hit Queens, NY coming from Long Island, coverage was at full strength for the entire NYC-Metro area. It's as if AT&T blanketed the region with towers. We never saw our signal drop, meaning our speeds weren't just a fluke but a constant experience. That was a pleasant change.
So yes, we're impressed -- much more so than AT&T's "4G" HSPA+ which the phone defaults too when LTE is not available. Those speeds were more sobering, often trailing around 1-2Mbps for downloads and less than 1Mbps for upload.
To preempt a few questions: battery life seemed okay on LTE with no rapid drops in power, though presumably if you're downloading a lot and using that connection, it will. And no, you cannot disable LTE though we see no reason to do so as using it did not significantly alter our perception of battery usage. Finally, you still can't download large files e.g. some Xbox LIVE games over LTE. The Wi-Fi restriction is still in place for apps over 20MB in size.
Lumia 900 Battery Life
Battery life for the Lumia 900 is claimed to be 7 hours talk with 300 hours standby. We found in our testing the phone to last easily a full day of use though you'll still want to charge at night. In a pinch though, you could easily go a day and half without a charge. Using WP Bench, we stressed the battery at a constant 100% CPU with the battery dying after 3 hours and 41 minutes.
Considering AT&Ts LTE is at no extra cost on your data plan, we're very happy with the Lumia 900's performance. Now if they can just ramp up national coverage…
Lumia 900 Front and Rear cameras
Much has been made of the Nokia Lumia 900's cameras. The rear sports Carl Zeiss optics with a 28mm lens, a large f/2.2 aperture and an 8MP sensor resulting in 30FPS 720P for video. It's flanked by a dual LED flash to the left, giving ample illumination in low-light areas. Meanwhile the front of the phone features a 1MB camera with an impressive f/2.4 aperture and 30 FPS video capability at VGA resolution.
The 8MP rear camera is certainly one of the best we've used so long as there is ample light. Taking photos during the day results in clean, sharp photos with excellent color rendering. Pictures are not over-saturated and the white balance is quite accurate with it leaning towards pink just a tad under certain lights. You can even achieve some background blur, aka 'bokeh ', when focusing on nearby objects in Macro mode.
The camera is augmented by the supremely fantastic Creative Studio software which can be found in the Nokia Collection in the Marketplace. That app features the ability for panorama (x4 shots), various "face warps", "live styles" for effects and various image editing tools.
Where the Lumia 900 camera disappoints is under low-light conditions. Here the front-illuminated sensor shows its weakness versus the preferred back-illuminated sensor (BSI) found on the Apple iPhone 4/4s and HTC Titan, HTC Radar and HTC Titan II. When not using a flash (and even when doing so to lesser extent), image noise is greatly increased resulting in very grainy photos with loss of color and detail.
To avoid high noise, you can manually set the Lumia 900's ISO to 100 or 200 but in doing so, you'll slow down the exposure speed resulting in a higher chance of image blur from movement of the camera, your subject or both.
Because of this, we're slightly disappointed that Nokia still won't embrace back-illuminated sensor (BSI) technology. Those sensors can result in more light (photons) hitting the sensor, increasing it from 60% to 90% of the scene. As a result, images in low-light conditions are brighter and have less noise.
The good news is the front 1MP camera used primarily for video chat is easily one of the best we have ever used or seen on a smartphone. The large f/2.4 aperture gives one of the brightest images and trounces the Samsung Focus S and HTC Titan – it's not even close. Because of that difference, we have to say that the Nokia Lumia 900 will make an excellent video-chat phone.
No Tango Video Calls over 3G/4G/LTE?
The Lumia 900 comes with the popular Tango Video Calls software already installed on the device for making video phones calls -- but this is a special, custom AT&T version. That software is a free service that allows users to make video calls to iOS, Android, Windows Phone and even desktop users. However, on the AT&T site, they note with a tiny asterisk that video calls cannot be made over 3G/4G/LTE but instead you must use Wi-Fi, which is curious.
And sure enough, if you try to make a video call using the pre-installed app, even over the superfast LTE, you'll be greeted with the above image noting that you must use the software over Wi-Fi instead.
While that is certainly a bummer it is easily circumvented by simply uninstalling that software and going to the Windows Phone Marketplace and downloading the non-branded, non-AT&T/Nokia version of Tango Video Calls. Finally, yes, even Skype beta will work work over 4G LTE or even 3G and is not limited in any way.
Lumia 900 as a phone
We must not forget that people need to use this as a phone and not just a camera or data device. For that, the Lumia 900 gets high marks for excellent sound quality and reception.
The device has a "diversity antenna array" to "maximize RF performance" which is fancy engineering talk meaning Nokia has really thought about your signal reception. For our purposes, we've have not dropped a call, and, as we mentioned in the 4G section, had excellent data reception.
Call quality through the earpiece is top notch and the phone is decently loud though it doesn't get ear shattering loud either. It should get the job done for most people. Likewise, the speakerphone is solid though not extremely loud so some of you may have some issues hearing it in the car (of course we recommend using a hands-free headset at all times in the car for safety and better audio quality).
One thing we noticed when using the Nokia Purity HD Stereo Headset by Monster was the exceptional clarity. During a call when there was silence between the two parties it was so quiet that it felt like the call had been disconnected. It was almost a bit surreal to have such a clear phone call.
The one downside is the same ding we give to all non-HTC Windows Phones: there's no LED for a missed call/voicemail indicator. We realize these are not as in vogue as they once were, but we still like having a tiny blinking light for such an important feature.
Finally, the Lumia 900 does support AT&T's Visual Voice Mail system. To enable it, simply make sure you have an LTE plan on your account (it's the same cost as your standard data plan) and then setup your voicemail by calling it. After the prompts and when you hang up, the device will setup your Visual Voicemail for you. The service gives you the option to directly listen to the voicemail without dialing in, delete the message, call back the contact or view their information if they're in your People Hub.
Other odds and ends
The vibrate feature is noisier than we would like as it has a metallic, electric razor type sound that just cheapens the experience. Sure it's a sufficient vibrate so you should feel the phone in your pocket, but the sound it makes in cringe worthy.
The device can get warm with 4G LTE . Not hot and not uncomfortable but you will feel the CPU about mid-way in the body of the device if pulling data for some time i.e. GPS navigation.
The chrome bezel around the camera will scratch, not the camera itself, just the bezel. Accept it now.
The front capacitive keys (Back, Start and Search) only light up touched and then remain on for a few seconds, they will then toggle off. This is probably to save battery life but it differs from the Lumia 800 where they stay on the whole time.
The Lumia 900 takes a micro SIM. We hate it but so long as you don't swap SIMs often it shouldn't be a problem (and the phone comes with one to activate along with a tool to open the SIM tray).
The phone comes with a USB wall charger and cord
The phone does not come with any headphones or a case
The Lumia 900 has internet sharing aka Wi-Fi tethering though you'll need an approved plan to use it
The wrap up
The Nokia Lumia 900 is a solid and simply gorgeous Windows Phone. For $99 on contract (and often even cheaper) or $450 off-contract, the price is perfect to win over many new converts.
With 4G LTE, an above-average rear 8MP camera, a stellar front-facing camera and one of the nicest looking designs for the phone body around, it can certainly hold its own against the iPhone 4S or the top Android device.
Is it a perfect device? No, we do wish the rear camera had a BSI sensor to make it even better, the non-replaceable battery may be tough for some, the vibrate feature is grating and if you don't have 4G LTE around you (like most) then that feature is of minimal value.
We have seen an odd occurrence where our Wi-Fi connection can receive data but outgoing data crawls. We're not sure why that is but haven't seen it before on our other Windows Phones which causes us to raise an eyebrow. We've also had a few reports from early users noting the same behavior. Toggling the Wi-Fi on/off for a few minutes seems to do the trick but we're a little concerned that this may an early bug.
Still, those are small nits compared to the overall device. The screen is the nicest we've seen on any phone even with the 800x480 resolution, CPU and RAM are more than enough to make the Windows Phone 7.5 experience pleasant and the Lumia 900 makes a great phone for actually calling people.
The bigger picture here of course is that the Lumia 900 is Microsoft's best shot at getting Windows Phone into the mainstream. Between AT&T's influence and Nokia's legacy, this Windows Phone represents a great combination of design aesthetics for the masses, solid hardware for the enthusiasts and a user experience unparalleled to any device on the market.
Because of all of that we give the AT&T Nokia Lumia 900 a solid thumbs up.
Windows Central Newsletter
Get the best of Windows Central in in your inbox, every day!
Daniel Rubino is the Editor-in-chief of Windows Central, head reviewer, podcast co-host, and analyst. He has been covering Microsoft since 2007 when this site was called WMExperts (and later Windows Phone Central). His interests include Windows, laptops, next-gen computing, and for some reason, watches. Before all this tech stuff, he worked on a Ph.D. in linguistics, watched people sleep (for medical purposes!), and ran the projectors at movie theaters because it was fun.
One thing I was wondering... I know the review says you can't use Tango video calls over LTE, but can you download larger apps from the Marketplace over LTE? Or are those still Wifi only as well?

No, Wi-Fi only for large apps. Tried last night with Xbox LIVE games and it was a no-go.

20MB+ (or is it 25?) apps need wifi to download still.

This came out of nowhere. I had to read the title twice to make sure I'm not seeing things. Thanks for the review, guys! :D

Why can't you use Tango over LTE?

It's an AT&T restirction. Like I say in the article, you can just use the regular Tango app in the Marketplace. In other words, it's not a big deal.

Did you happen to try the Skype app to see if was WiFi only as well?

Skype is Skype. Works over 3G/4G/LTE whatever. Tango has personalized software for Samsung, HTC and AT&T. So AT&T crippled it but you can just get the free commerical version and you're all set.

Seriously ATT? I mean really? They might as well call that Tango - Cocksucker Version. What a bag of dicks. It seems anything ATT touches is suddenly turned to shit. WiFi only...wow...you tools. I encourage everyone to give that version 1 star in Marketplace.

So glad I quit you f-ing f-ers and went with Straight Talk.

Jeez guy chill out there's a simple easy workaround thattakes care of the issue which is a non issue! Enjoy T Mo and straight talk.

Straight Talk is on both, I'm on ATT coverage with ST.

WiFi only Tango calls is certainly not a big deal. Do people still use Tango? just asking.

I guess my other question would be, why would it be less smooth than the 800? I did get a chance to hold one. I definitely like the feel better than either the titan or focus s.

The polycarbonate feels more dense on the 800. My guess is Nokia made it less solid on the 900 to make it lighter. Just speculation. With the non-curved screen, the flat screen with ridge on the 900 breaks the smooth-feel of the body. It's not bad, but the 800 feels nicer in the hand, in my opinion.

Ahh! Yes, I thought you meant performance smooth. I completely agree. There was a tiny bit of "hollow" feel, but the overall feel in hand and button placement was a great fit for me. Thanks for the review, anxiously awaiting Friday's FedEx delivery.

What would you choose to keep it as personal phone? I remember reading from the European reviews that some of them prefer 800 over 900 just because of what you just mentioned, the 900 feels like a watered down 800 except larger.
But not having the front camera on the 800 is definitely the deal breaker for me tho.


I love the 800 to death but I type better on the 900, so that's a big factor for myself. If I could type well on the 800 and have LTE, that'd be the best. If money doesn't matter, yeah, I'd get the 900 although the Titan II ain't too shabby either.

What would you choose to keep it as personal phone? I remember reading from the European reviews that some of them prefer 800 over 900 just because of what you just mentioned, the 900 feels like a watered down 800 except larger.
But not having the front camera on the 800 is definitely the deal breaker for me tho.


This was a fantastic review of this phone. Easily the best one I've read so far. Most reviews have had very little to say about performance but this was great and answered some questions I've had about the phone but never gotten answers to. One small comment though, you said:

"The one downside is the same knock we give to all non-HTC devices: there's no LED for a missed call/voicemail indicator. We realize these are not as in vogue as they once were, but we still like having a tiny blinking light for such an important feature."

This is really a non-issue because of the Metro display. The first tile is the Phone tile and it ALWAYS shows not only missed calls or voicemails but HOW MANY missed calls! I would much rather have this display than a flashing LED. I used to have a Samsung flip phone years ago and I hated that flashing LED - especially if I got a call after I'd gone to bed and was woken up in pitch darkness by that freaking, flashing light! This is much better.

Anyway, thanks for the great review. I've been trying to decide whether or not to replace my 1st gen Focus with a 900 or just wait until this winter for a new WP8 phone. Chances are really good I'll just buy one of these and wait for a new phone later. The price is just too tempting not to take advantage of the upgrade!

I have not missed not gaving the notification blinker on the tilt2 in my focus not will I miss it on my Lumia 900 when I get it. Its a matter of personal preference if you have to have it stick with HTC if not ... there are a lot of non HTC windows phones.

I actually really like the notification LED because you don't have to touch your phone to see if you have missed anything. In the night I just always flipped my phone screen side down ;)

Good review guys.
Sorta off topic but...
Any idea why the Lumia 900 has dropped heavily in the "Best Sellers" on Amazon the past several hours? Apparently the black was #1 earlier today but now it's down to #8.
Is that type of fluctuation within the same day common?

Those stats are literally updated hourly, so yes, dramatic changes can happen. Kind of curious though, we'll have to watch and see what happens.

Maybe because Mossberg panned the 900 in his review? Wait, he pans everything/anything that doesn't start with an "i"

Great review. Sure I wish there were not the simple to 'fix' camera issue, but hey, for $99 on contract you (I) shouldn't expect perfection.
Also, my Focus S has the identical data issue described at the end of this review. It really sucks and others with this phone see the problem too - it's just that Samsung, AT&T and MS don't recognize it.
Im sorry to see the same issue with the latest phone and OS refresh.
Also, I now wish I ordered the black and not the cyan - your description of the black model was off the mark! :-)

Great review, sending article to my friends waiting for review on 900. Personally I'm hoping this launch resonates, and can trickle love towards Verizon/Sprint in the fall.

I'm ready to get one u kno we need more stupid apps and shut down apple

Thanks for the review :)
really interested in seeing how the L-900 camera compares with the iPhone 4S (the craze from the iFanboys was just out of control, claiming it was better than Canon S95 or Mk-ii ಠ_ಠ)
Now the million dollar question: BLACK or CYAN? ahhh I can't decide -_-


Black with a cyan gel case perhaps?

If you want a camera comparison, look here:

http://www.phonearena.com/reviews/Nokia-Lumia-900-vs-Apple-iPhone-4S_id2...

Nice review! I just read the review on the Verge and it was the worst review I've read in a while.

Riiiiight. Because it's doesn't fully fawn over the phone as you wanted to. I read from those guys and others (WSJ/All Things D, NYT, Endgadget, CNET, etc.) before I go to fancentric sites such as WPC, Crackberry, Android Central, etc. There's a reason why those guys have big presence at CES and inside access to all the tech mfgs. You think The Verge got Tom Warren or inside access to Microsoft skunkworks for being tunnel visioned? Been using the Titan since Nov and agree a lot with Topolsky. The novelty of the how "different" the O/S is just doesn't impress me as much. No doubt WP has a lot of better features than Android or iOS but a lot of it lags behind them as well. But having used it daily for a few months, I can say that the apps suck ass. Even if they are the same apps on iOS it Android, their quality is subpar. Additionally, I now understand Mattias Duarte's comment on the Metro design's lavatory signage crtique. After reading ALL the reviews, there's no f#cking way I'd "upgrade" from a Titan to the 900. With the exception of LTE and that polycarb casing, its not that awe inspiring. And don't tell me about that AMOLED Black display being state of the art. On 800 x 400 screen. Puhleeze. Look at the iPhone 4, Galaxy Nexus, HTC One X. I wasn't that impressed using it at CES and I'm not impressed now. Want the real WP hoopla? Wait till fall for WP8 with real hardware that have contemporary CPU and GPU with higher resolution. Until then, the 900 is just an the average phone and and it shows with the "intro" price.

I had an iPhone, and there isn't one app that I miss on the iPhone.
So I have no idea what you're talking about.
Secondly, I don't know what kind of hardware you're expecting, but even the first gen. WP devices run the OS very smoothly, and That should tell you something about the "hoopla" of WP7! The same cannot be said about Android ICS which requires dual core CPUs, and even then it's still laggy!
Thirdly, Nokia have always built phones that actually work and you don't have to worry about "holding them wrong". From a design point of view, I personally think it's the best phone I've ever seen. I'm getting one (if it works on my carrier).

Bummed out about the lack of curved glass, but it does serve a purpose.
Would you recommend this phone to someone knowing that WP8 is right around the corner? Frame your answer in regard to the specs of this device, CPU/display/etc, and that most people will be on a two-year contract with it.
Thanks Daniel!

That's really a question about money because yes, I would recommend getting this device now but you'll want those WP8 devices too ;-) They're suppose to be really high end so resisting them may be tough. Still, you should get a solid 8-10 months from the Lumia 900 and if you have LTE around you (or getting it soon), it's just awesome.

I checked out the Black Lumia 900 and it's nice but I have HTC Radar 4G already and loving it coming from Android and iPhone. I'm waiting also for WP8 with two of my friends that uses Android and iPhone.

One of the best reviews I ever read period. Thanks very much for the effort put into this. Not a deal-breaker of course, but i can't believe it rattles on vibrate--WTF Nokia, how did that get by you? Now I need to find the best way to get one that will run on Bell.

My market gets 4g from ATT in five days, just in time lol! Great review, but I'm going with the Titan 2, when can we expect that review? Reading this review it seemed you have one already?

Read the critical review Engadget gave it. Called it a decent mid range phone. I held it and then ordered it and I WILL be more than happy with it. This review was awesome.

I found the Engadget review pretty fair. Keep in mind that Engadget has to compare this to other flagship phones that run iOS or Android while WPCentral only compares it to other Windows phones. And compared to other flagship devices the lumia 900 is just a decent mid level phone.

The Endgadget review was a terrible review written by Volpe who is a known Microsoft hater and complete idiot who restorts to distortions and lies to slander anything Microsoft. For instance he stated the WP marketplace has 40,000 apps. Endgadget stooped to a new low letting such a biased writer do the review for the biggest WP launch ever.

It was a joke and the 40 thousand was clearly crossed out w a 80 thousand in its place. Like zacman said I thought it was pretty fair. The only thing that still bugs me is how anybody that doesn't own a windows phone simply can't resist saying it only has one core despite the fact its faster than nearly every single multi core phone on the market. the other thing I was curious about was how he literally glossed over the screen and display like it was nothing special yet Daniel specifically said it was the best cell phone display on the market. Id be curious to see Daniels take on that. That's a pretty huge discrepancy.

Think of it this way, a windows phone is like a Mini Cooper John Cooper Works, despite it only having 210hp, it can still easily keep up with the competition on the road and its plenty fast at around 170mph I believe. Then you have the giant truck (aka android) which has 500hp but not as fast as the cooper.

Nice analogy LOL! I've used Android for some time and like it but I'm a recent convert to the WP platform and love it!

I played with the 900 at an ATT store the other day and I think WPC contention that this is the best screen on any phone is a bit over stated. It was nice, but it didnt blow me away.
I thought the review on the Verge was terrible. It spent more time on the OS than it did the phone.

Agreed its way overstated. It didn't blow me away either. Disagreed about The Verge's review. Thought it was balanced in both HW and SW. Josh nailed it: "But like a book with a beautiful jacket and a plot full of holes...The problems with Windows Phone are myriad, many small. But it's a death by a thousand cuts." Again, I'd trust their reviews over fancentric site that is obligated to promote the platform.

Hardly and not even close. Daniel hasn't seen the HTC One X.

Would you still recommend an upgrade if i have a titan(plenty of us im sure bought it for a penny) or is this good but not much better than a titan?

Like you, I got the Titan for a penny and I'm loving it. I briefly considered getting the NL900 but love the larger screen on the Titan and am willing to wait for the WP8 devices due out this Fall. At that point I will have had the Titan for around a year (another Black Friday one penny sale, anyone?) and would be willing to consider the cost of an upgrade - and it helps that my employer pays $300 towards new phones :)~ I'd hedge your bets and wait for WP8 devices, that'll make the upgrade cost more worth it (IMO anyway).

Techiedude

About the Visual Voicemail: You mentioned that you have to have a LTE data plan. What about us who have one of the Grandfathered Unlimited Data Plans? I was told by AT&T that I would not lose this, nor did I have to upgrade my data plan to an LTE plan. So in theory I should be able to use Visual Voicemail on my 900 when I get it? I remember that I had to call up AT&T when I switched from my iPhone 3GS to the Focus and have them switch off Visual Voicemail; would I be wrong to assume that I might have to call them up and revert back to Visual Voicemail?

I have a grandfathered unlimited AT&T data plan and while I was there Sunday pre-ordering my Lumia 900, they moved me over to the unlimited LTE plan. No change in price or performance on my Surround. But I expect things will get better when they plug the micro SIM into the 900.

Good review, and informative. I don't think I've seen a review that went in depth with regards to the settings...so, a big Thank You for that!

I really hope that ATT has to restock this device on a weekly basis :)



I have owned both iPhone and Android devices. Windows in my opinion is better than both, especially the iPhone. Only minor tweaks need to be made; as more and more apps are developed others will come around...

Does this phone when off, if put onto a charger to charge will automatically turn the phone on? I think that is the most annoying feature.

Every windows phone does this.

I think most smartphones in general do this. I haven't seen any that don't. I'm prob wrong though, and I'm sure someone will point it out. :-)

Slightly off topic, but I keep seeing BandWidth used to test networks; yet, I have had very sporadic results with it. Microsoft Research now has a Network Testing app in the Marketplace that seems much more reliable to me.

The Verge review by Josh Topolosky was, IMO, rather unfair. He harped on everything negative and refused to admit to any positives. How you can ignore the Nokia apps, the Skydrive integration, the ease with which WP7 handles Office documents, and the rest of what the OS does well is beyond me.

The good thing about the verge review is that finally the flaws of wp7 get named. Before everyone just said how smooth the System is ignoring the important fact that a lot of apps are not. App starts are often way too slow compared to the iOS or Android version (i.e. WhatsApp). Often the apps are very laggy, like Facebook. And what's even worse: The FB app was written by MS, so who can blame other developers if their apps are laggy when even MS can't develop a decent smooth app for their own OS. Therefore it's good that these glitches are now on the table so MS really has to do about it to get more positive reviews in the future.

I was very disappointed with the Verge review because it seemed uninformed. The way he spoke about the OS made it seem as if he has never used it before. He mentioned that some tasks take longer than on any other OS and that the process was clunky. I have used an iPhone for 3 years and an Android for almost the same length, and my experience with Wp7 has been nothing but the opposite of what he explained. I can do everything 2-3 steps faster than any of the other mobile OS'. He even goes as far as going through the app menu to open the camera! Why would you do this when all that is required on Wp7 is to hold the dedicated camera button? I am not a "fanboy" as I am always willing to give the other guys a fair shake. I am also not opposed to going back to one of them based on handset design. But I will say that out of all the mobile OS', Wp7 has given me the most enjoyment. I may not have all the app options in comparison but everything I need is here and most of the time looks better with the Metro theme. I have my 900 in Cyan ordered already and I cannot wait to turn heads with it.

What do you expect with the name Josh Topolosky. Sound like a Polak!

Obviously you know d#ck about tech industry writer, Dick.

I'm not. My experience has been opposite as yours. The UI has already worn out on me and no longer that "refreshing.". The squared/rectangular look with sharp corners have dated itself back to the early days of computing when designers couldn't design out of the box. Be it Cyan or Pink, this phone is average at best.

I use both Android and WP (can't speak on iOS since I don't use it), and all those apps you mentioned... you don't know what you're talking about! I've read all your postings and you are just a troll!

The facebook app wasn't written by MS...it was written by an outside firm that I can't remember the name of right now...:-/

I was thinking about it when someone in the verge said is was written by MS but why would they make a facebook apps when it's already integrated with their OS. Thanks for the information!

Yup, I agree with you. The Verge's review was probably the worst out there. Even worse than Engadget's (which for once have a fair review in my opinion, lol).
I don't wan't to analyze the whole review, but just the 5/10 rating for OS and 4/10 rating for the ecosystem are crazy. I don't have anything against a lower rating for Windows Phone OS versus iOS or Android in a tech review, since it takes some getting used to and the app selection isn't stellar. But 5/10 and 4/10 is basically just means 'crap', which is clearly wrong.
Engadget was quite right by removing the numerical scores. Calms the fan(boy)s, disarms the haters.
/rant
Oh and yeah, great review WPCentral! One of the most adequate (and useful) of the many out there.
BTW, maybe the vibration issue was device specific? Can't find a mention of that in any other review.


5/10 means average, 4/10 slightly below average.

iOS is 5/10 means average, Android is 4/10 slightly below average is what's the truth!

To prevent the band around the camera from scratching could you cut out a custom sized screen protector and put in over the band? Would this work? How are the fingerprints on the screen? Initial videos showed a lot of fingerprinting, is a screen protector necessary? I love the review though, reassuring. I'll be using my 2 year upgrade on the 900 when it comes out.
Only thing I'm really disappointed about that is not OS related is the lack of BSI Sensor, Mr. Rubino hit the nail on the head with that one.

I already ordered my full body Zagg protection kit to help against fingerprints and I hope it has something to cover the chrome piece; if not im sure I'll most likely have a case on it in no time, lol!

I am not a fan of cases or screen protectors for that matter, but I'm thinking about getting a cyan bumper. It will hopefully match the phone, raise the chrome enough to minimize scratching, and protect the corners if dropped.

that is what i am thinking of doing as well, but i want to see one in the store before dropping money to buy one.

anyone know if they are in att stores yet?

Great review! Love everything about this phone and I do believe this will rally many new adopters to windows phone because at the end if the day, this is one hella good looking device and with the same processer as my focus s, its guaranteed to be silky smooth. While I definitely wouldn't mind the upgrade to 4g lte , I think my focus s is just as amazing so no need for me to upgrade just yet, but im sure its gonna entice my friends, and for that Nokia, we thank you! ;)

Thanks for the great review! This one is reasonable, I'm done with the sh!t review of TheVerge. I'm considering getting one when the current contract ends.

I agree with you and check out technobuffalo by John Rettinger this is his new phone.
http://www.technobuffalo.com/companies/nokia/att-nokia-lumia-900-review-the-windows-phone-youve-been-waiting-for/


Good review, and for those wanting the hardware details (including the camera breakdown and comparison), the review up on Anandtech is very detailed (and very fair, unlike the others mentioned here). Yes, the flaws and positives are all laid out, but without bias in true AT style.

Check out this site it's about iPhone and Android apps. Who crashes the most?
http://mashable.com/2012/02/04/ios-apps-crash-more-than-android/


I having been using windows phone since Christmas on my Titan which I am a big fan of aside a few drawbacks coming from ios. I really miss and want to hear/ see how Visual Voicemail works on winows phone. @Daniel Rubino

There's not much to it. There's an image of it in the review above. You hit play and it plays the message, that's really about it...

Is it worth upgrading from 800 to 900 ? Or it's better to keep 800 and wait for WP8 device. I don't have LTE in my area !!

@Daniel: I'd be interested to know your opinion on direct Titan vs Lumia 900 comparison and eventually read Titan II vs Lumia 900 article.
Thank you and keep up the good work ! :)

Bump! I'll second this request/idea :)

Mr. Rubino's next assignment: NL900 vs Titan vs Titan 2 ;)

Techiedude

I'm sorry but what weather app are you using in the video?

Hi, what app did you use to compare lumia 900 with lumia 800?

I guess they can just put on the 41MP thing in there and its all perfect then? PureView FTW!? I think so yeah..

"Perfect" is a moving target that will never be achieved, but I think right now, the closest to hardware perfection is the HTC One X. Man, if they put Apollo on a device like that... I must have.

I agree about the One X spec-wise, but i'm not very particular to the design. Especially the protruding camera lens. I think when Nokia is able to put the high end stuff into their phones with Apollo, they are gonna blow people away. I plan on starting an off-contract phone fund as soon as I get my 900. Lol.

In my circle, the HTC Titan was the most anticipated Windows Phone release on AT&T...lovin my Titan.

Thanks Daniel for the review, hence making my decision to get either the Focus S or the Nokia 900 even tougher. :) Keep up the good work.

i had a focus s (and an OG focus as well) but the design and nokia apps are what sold me into getting the l900.

well, that and i get LTE in my area. :)

Thanks for the great review! Engadget really did a horrible job with theirs. Phone Arena has a comparison to the iPhone: http://www.phonearena.com/reviews/Nokia-Lumia-900-vs-Apple-iPhone-4S_id2996.

This phone was never meant to be a company saver, no matter what reviewers say. The phone lacked many things in order to meet $99 point. Shareholders would never allow Nokia to assemble a $300 phone and sell it so cheap. Corners had to be cut to meet that price point. This phone will sell, it will let shareholders and analysts know that Nokia can make cheap, great looking phones if they want. Higher spec Nokias will come with WP8, this is just a beginning and even now Lumia 900 is the best phone that has WP.
Everyone calm down. Don't know about you, but come April 8th, I still will be first in line to get cyan.

Thanks for this great review!

What are the chances OtterBox will make a case for this?

I'm starting to think that Walt hates any device that does not have an i in front of it. Great review guys I'm glad that i saved this one to read last.

So what happen now, if the phone hangs?? U can't pull the battery??

Does any one one know or heard if the latest Lumia 900 supports below 3 features.?
1) TV out or HDMI out function
2) International font support for reading Indian languages sites
3) Is there equivalent of apple's airplay in lumia? in other words DLNA support ?


hello ganesh, have you figured a way to read indian language sites on the lumia 900?
thx

If the phone freezes, hold the power button for 10 seconds. This will trigger an automatic reboot.
Nokia does have an app in the marketplace that does DLNA.

Can't believe someone mentioned Josh Topolsky in here. He brought up valid points but his score for the review was unjustifiable for the little things he griped about.

This phone is as good as you can get, I love it!!!
Windows Central Newsletter
Thank you for signing up to Windows Central. You will receive a verification email shortly.
There was a problem. Please refresh the page and try again.