Nokia Lumia 900 Review
WPCentral's Review of the AT&T Nokia Lumia 900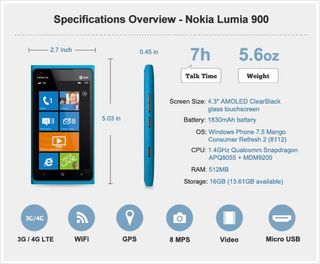 "With one of the best displays for a Windows Phone around, a $99 price point and Nokia's svelte and sexy design, the AT&T Lumia 900 is one of the best values for a smartphone today. For those people upgrading from a first generation Windows Phone to those folks just coming on board, the Nokia Lumia 900 is sure to impress."
Swipe to scroll horizontally
Design:
The Lumia 900 is designed and manufactured to perfection. This shows in the end result, while not as smooth as the Lumia 800, it's still beautiful.
Feel:
Unibody, check. Single piece of injection molded polycarbonate, check. Feels great to hold and use? Check.
Performance:
Powered by Windows Phone Mango Release 2, a 1.4Ghz processor, 4G LTE and an 1830mAh battery, the Lumia 900 will keep you going throughout the day.
Quality:
AT&T, Nokia and Microsoft have done a great job with the Lumia 900. It's not perfect but it's certainly close.
Swipe to scroll horizontally

Solid 8MP rear camera and outstanding 1MP front camera make the Lumia 900 a great video phone. The polycarbonate unibody design makes this device one of the nicest looking on the smartphone market and the 1830mAh battery ensures great battery life even when using AT&T's blindingly fast 4G LTE. To cap it off, the 900's AMOLED screen is one of the nicest we have used.

The rear 8MP camera could stand to use a BSI sensor to reduce noise and increase brightness in low light situations. The non-removal battery may be an issue for some and the rattle from the vibrate feature is cringe worthy.

For $99 on contract, the Lumia 900 is one of the nicest Windows Phone on the market today and for the foreseeing future all at a great price. It has solid hardware including super-fast 4G LTE and the latest version of Windows Phone Mango ensuring a great experience for new users and veterans looking for an upgrade. Plus the device oozes with Nokia's quality craftsmanship making it a device many will want to talk about. With all the hype around this phone, this could be the next "it" device for the summer.
The Nokia Lumia 900 on AT&T is the most anticipated release for the Windows Phone since the system was released back in October 2010. There's a lot riding on this launch for Microsoft, AT&T and certainly Nokia, with the latter betting everything on the fledgling mobile OS from Redmond.
In fact, this is the first time outside of Microsoft enthusiasts that a Windows Phone actually has some buzz in the mainstream media, partially due to Nokia's rapid buildup with the Lumia 800 and Lumia 710 along with those respective advertising campaigns.
Does the AT&T Lumia 900 live up to the expectations? We gave the 900 high marks for its display, super-fast 4G LTE speeds, mesmerizing design and solid battery life. All of which exceeding most of our expectations. Yet, all is not perfect though and there are few minor complaints, especially around that rear 8MP camera. Still, the Lumia 900's esthetics and visual appeal will make up for any deficiencies it may have in the long run.
Read on for our definitive AT&T Nokia Lumia 900 review...
It's all about design
There's an odd thing about Nokia Windows Phones so far that we've noticed. They're not spec-monsters with the latest, greatest and fastest technology on the planet. In fact, they're kind of conservative. For instance, on paper, the Lumia 710 (review) is an average, middle of the ground Windows Phone; yet in reality, even we love to use it despite the "enthusiast" moniker.
The reason for this is because Nokia gets design. The Lumia 900 is no different in this regard. While the specs (more on that below) are solid, it's that first experience of holding the phone that many of you will remember.
The polycarbonate uni-body design of the 900 makes it feel like a piece of art. It's smooth yet odd – is it plastic or is it metal? – you're just not sure when you pick it up. All you know is that your brain is telling you 'hey, this is nice'.
Coming in at 5.6 ounces (160 g), the phone has a bit of heft to it. By way of comparison, the HTC Titan (review) weighs a comparable 5.64 ounces, the super light Samsung Focus S (review) is a nimble 3.9 ounces and the much smaller Apple iPhone 4s is in-between at 4.9 ounces.
That's right, the Lumia 900 weighs the same as an HTC Titan. In fact, they are basically the same size except the Titan has a 4.7" screen while the Lumia 900 has a 4.3" one. This is either a selling point or a knock as not everyone likes carrying a heavy device. Having said that, we're okay with the size and weight as it gives the phone some substance to it—it's not too heavy but it feels solid, something worthy. Plus with that weight you are getting a massive 1830mAh battery - but more on that later.
Looking at the smoothness and minimal design of the 900, it has great visual appeal. The matte black gives the phone some tact to it when handling it and due to the single color (i.e. no accents) the device has a deep, absorbing look to it. Flip it over and the back is just a smooth, uniform body with that single chrome strip around the f/2.2 Carl Zeiss camera (and yes, that chrome strip is prone to scratches).
The Lumia 900 has three chrome buttons on the side, volume, power and camera which stand out but don't distract. Button design is always tough – they can't be too prominent but they can't be buried either – luckily, the 900 finds a nice balance.
Considering you use those physical keys numerous times a day, nailing their design is important to your smartphone enjoyment and Nokia gets it here. They keys are not loose (they don't rattle), they have just enough play when depressing them and you can feel them without looking.
Everything else from the earpiece to the bottom speaker to the ports blend nicely into the body. They don't distract from the phone's design which is a good thing. For instance, there's no chrome grill for the speaker which is popular on many devices.
There's no doubt that the 900 is, dare we say, a "sexy" device. There's just something about it that makes you want to pick it up and touch it.
Lumia 900 Display
The Nokia Lumia 900 comes with a 4.3" ClearBlack AMOLED display. We've covered Nokia's ClearBlack technology before, but to recap, it's a sophisticated set of polarizing layers that eliminate glare and remove certain wavelengths of light, giving a rich, vibrant look to the screen.
We're going to cut to the chase: the Lumia 900's screen it outstanding and easily the best we've seen on any phone, let alone any Windows Phone. The colors are vibrant and clear and the screen brightness is just right. The blacks are "wet" and on the matte black of the device, blend seamlessly between the body and the screen. With ClearBlack, viewing the screen out in the sun is quite easy (though even our Titan and Focus S do an admirable job in this area) and the resulting viewing angle is very high.
In short, the 900's screen is stellar. With Corning's Gorilla Glass on board, scratching or breaking your screen should be less of a concern than on other smartphones.
Still, the 900 is missing the "3D" curved glass of the Lumia 800 (review), which is a bit of a shame as that screen design gave that device a more rounded, smooth feel to it. Instead, the Lumia 900 opts for a flat screen with a slight metal ridge around the edge. That edging distracts a bit from the uni-body design though it does serve a purpose: putting the phone down flat on the screen will keep it from touching the surface, ergo less scratches. The 800, by contrast, is not a phone you would want to put face down anywhere, even with Gorilla Glass.
Responsiveness is high with this 900 but we found the Lumia 800 a tad faster when using the diagnostics tool (see more on that app here). So far we can't really say this has translated directly into our user experience, though it's a curious thing.
Finally, yes, it's a fingerprint magnet. Although Nokia may have ClearBlack, they would be wise to invest in some type of oleo phobic technology to better repel oil from the screen because right now, the Lumia 900 easily suffers from "greasy screen syndrome" much like its Lumia 710 brother. This is really just more of an annoyance than anything but Nokia could do slightly better.
Lumia 900 Software
The Lumia 900 runs Windows Phone 7.5 (7.10.8112.7) which is also known as Mango Commercial Release 2 (Mango + LTE). That's a whole lot of words but all you need to know is this is the latest version of Windows Phone available in the United States and it fixes previous bugs in older versions like the disappearing keyboard and some Gmail sync issues.
Besides support for AT&T's Visual Voicemail, Internet Sharing, 4G LTE and all the previous fixes rolled up, the OS is nearly identical to what is currently on AT&T's Windows Phone lineup.
Pre-installed OS apps include Microsoft Office (Word, PowerPoint, Excel, OneNote), SkyDrive support, Xbox Gamer Hub, Internet Explorer 9, Outlook email and built in support for Facebook, Twitter, LinkedIn and of course, Windows Live services. Also there is AT&T's carrier software like Code Scanner, Navigator, Radio, YPmobile, Tango Voice Call and U-Verse Mobile, all of which are un-installable.
See our Windows Phone 7.5 Mango review for more on the OS .
Nokia software is a bit sparse with just ESPN and App Highlights pre-loaded. Other titles from Nokia, such as their offline navigator Drive, Transit, and Maps , are available for free in the Marketplace in the Nokia Collection.
The only customization in the OS is the addition of the "Nokia Blue" Accent color used for changing the Lumia 900's theme. "Nokia Blue" is a deeper, richer blue color than the standard blue also included with Windows Phone. It's the default Accent when you first turn on the device and we simply love it.
Lumia 900 Hardware -- Do specs make the device?
The Nokia Lumia 900 features a 1.4GHz Qualcomm Snapdragon APW8055 + MDM9200 CPU along with 16GB of storage (13.61GB available) and 512MB of RAM. In terms of hardware specifications, those are fairly normal figures for a Mango Windows Phone. What it means for the consumer is fast, zippy performance. In this regard, we have not seen much difference in performance between the Lumia 900 and the HTC Titan (1.5GHz) or the Focus S (1.4GHz).
Sure, technically the Titan and the Titan II are slightly faster and this is reflected in benchmarks (using WP Bench), but in daily use, the Lumia 900 holds its own.
While the 16GB of non-expandable storage (with 13.61GB being available on boot) will leave some people wanting more space, we're okay with it for our usage and we think most users will be okay with the capacity.
The device does have a compass, gyroscope, proximity sensors, accelerometer, Bluetooth 2.1 + EDR and Wi-Fi (802.1 b/g/n) which are all standard fare on high-end Windows Phones these days. Unfortunately, Windows Phone does not yet support the more advanced Bluetooth 3.x or 4.x standards.
4G LTE – Is it all that it's cracked up to be? Yes.
The Nokia Lumia 900 on AT&T is one of two new Windows Phones that have the ability to use Long Term Evolution or LTE for "4G" connectivity. We use "4G" is quotes because despite what AT&T and Verizon advertise, technically it is not 4G as determined by the ITU-R organization. That official distinction is reserved for LTE Advanced, a standard not due for a few more years.
Having said that and in being in New York City, one of the few areas where AT&T's new LTE network extends, we'll say it is fast. Damn fast.
Using the app BandWidth, we had speeds peak and even maintain near 30Mbps downloading a 17MB file with average speeds hitting around 20Mbps. And that was indoors. Upload speeds went as high as 11Mbps though they usually averaged between 2 and 8Mbps. Network latency was often well below 500 ms, going as low as 88 ms on one test.
In short, AT&T's 4G LTE is borderline ridiculous for speeds. Going further, once we hit Queens, NY coming from Long Island, coverage was at full strength for the entire NYC-Metro area. It's as if AT&T blanketed the region with towers. We never saw our signal drop, meaning our speeds weren't just a fluke but a constant experience. That was a pleasant change.
So yes, we're impressed -- much more so than AT&T's "4G" HSPA+ which the phone defaults too when LTE is not available. Those speeds were more sobering, often trailing around 1-2Mbps for downloads and less than 1Mbps for upload.
To preempt a few questions: battery life seemed okay on LTE with no rapid drops in power, though presumably if you're downloading a lot and using that connection, it will. And no, you cannot disable LTE though we see no reason to do so as using it did not significantly alter our perception of battery usage. Finally, you still can't download large files e.g. some Xbox LIVE games over LTE. The Wi-Fi restriction is still in place for apps over 20MB in size.
Lumia 900 Battery Life
Battery life for the Lumia 900 is claimed to be 7 hours talk with 300 hours standby. We found in our testing the phone to last easily a full day of use though you'll still want to charge at night. In a pinch though, you could easily go a day and half without a charge. Using WP Bench, we stressed the battery at a constant 100% CPU with the battery dying after 3 hours and 41 minutes.
Considering AT&Ts LTE is at no extra cost on your data plan, we're very happy with the Lumia 900's performance. Now if they can just ramp up national coverage…
Lumia 900 Front and Rear cameras
Much has been made of the Nokia Lumia 900's cameras. The rear sports Carl Zeiss optics with a 28mm lens, a large f/2.2 aperture and an 8MP sensor resulting in 30FPS 720P for video. It's flanked by a dual LED flash to the left, giving ample illumination in low-light areas. Meanwhile the front of the phone features a 1MB camera with an impressive f/2.4 aperture and 30 FPS video capability at VGA resolution.
The 8MP rear camera is certainly one of the best we've used so long as there is ample light. Taking photos during the day results in clean, sharp photos with excellent color rendering. Pictures are not over-saturated and the white balance is quite accurate with it leaning towards pink just a tad under certain lights. You can even achieve some background blur, aka 'bokeh ', when focusing on nearby objects in Macro mode.
The camera is augmented by the supremely fantastic Creative Studio software which can be found in the Nokia Collection in the Marketplace. That app features the ability for panorama (x4 shots), various "face warps", "live styles" for effects and various image editing tools.
Where the Lumia 900 camera disappoints is under low-light conditions. Here the front-illuminated sensor shows its weakness versus the preferred back-illuminated sensor (BSI) found on the Apple iPhone 4/4s and HTC Titan, HTC Radar and HTC Titan II. When not using a flash (and even when doing so to lesser extent), image noise is greatly increased resulting in very grainy photos with loss of color and detail.
To avoid high noise, you can manually set the Lumia 900's ISO to 100 or 200 but in doing so, you'll slow down the exposure speed resulting in a higher chance of image blur from movement of the camera, your subject or both.
Because of this, we're slightly disappointed that Nokia still won't embrace back-illuminated sensor (BSI) technology. Those sensors can result in more light (photons) hitting the sensor, increasing it from 60% to 90% of the scene. As a result, images in low-light conditions are brighter and have less noise.
The good news is the front 1MP camera used primarily for video chat is easily one of the best we have ever used or seen on a smartphone. The large f/2.4 aperture gives one of the brightest images and trounces the Samsung Focus S and HTC Titan – it's not even close. Because of that difference, we have to say that the Nokia Lumia 900 will make an excellent video-chat phone.
No Tango Video Calls over 3G/4G/LTE?
The Lumia 900 comes with the popular Tango Video Calls software already installed on the device for making video phones calls -- but this is a special, custom AT&T version. That software is a free service that allows users to make video calls to iOS, Android, Windows Phone and even desktop users. However, on the AT&T site, they note with a tiny asterisk that video calls cannot be made over 3G/4G/LTE but instead you must use Wi-Fi, which is curious.
And sure enough, if you try to make a video call using the pre-installed app, even over the superfast LTE, you'll be greeted with the above image noting that you must use the software over Wi-Fi instead.
While that is certainly a bummer it is easily circumvented by simply uninstalling that software and going to the Windows Phone Marketplace and downloading the non-branded, non-AT&T/Nokia version of Tango Video Calls. Finally, yes, even Skype beta will work work over 4G LTE or even 3G and is not limited in any way.
Lumia 900 as a phone
We must not forget that people need to use this as a phone and not just a camera or data device. For that, the Lumia 900 gets high marks for excellent sound quality and reception.
The device has a "diversity antenna array" to "maximize RF performance" which is fancy engineering talk meaning Nokia has really thought about your signal reception. For our purposes, we've have not dropped a call, and, as we mentioned in the 4G section, had excellent data reception.
Call quality through the earpiece is top notch and the phone is decently loud though it doesn't get ear shattering loud either. It should get the job done for most people. Likewise, the speakerphone is solid though not extremely loud so some of you may have some issues hearing it in the car (of course we recommend using a hands-free headset at all times in the car for safety and better audio quality).
One thing we noticed when using the Nokia Purity HD Stereo Headset by Monster was the exceptional clarity. During a call when there was silence between the two parties it was so quiet that it felt like the call had been disconnected. It was almost a bit surreal to have such a clear phone call.
The one downside is the same ding we give to all non-HTC Windows Phones: there's no LED for a missed call/voicemail indicator. We realize these are not as in vogue as they once were, but we still like having a tiny blinking light for such an important feature.
Finally, the Lumia 900 does support AT&T's Visual Voice Mail system. To enable it, simply make sure you have an LTE plan on your account (it's the same cost as your standard data plan) and then setup your voicemail by calling it. After the prompts and when you hang up, the device will setup your Visual Voicemail for you. The service gives you the option to directly listen to the voicemail without dialing in, delete the message, call back the contact or view their information if they're in your People Hub.
Other odds and ends
The vibrate feature is noisier than we would like as it has a metallic, electric razor type sound that just cheapens the experience. Sure it's a sufficient vibrate so you should feel the phone in your pocket, but the sound it makes in cringe worthy.
The device can get warm with 4G LTE . Not hot and not uncomfortable but you will feel the CPU about mid-way in the body of the device if pulling data for some time i.e. GPS navigation.
The chrome bezel around the camera will scratch, not the camera itself, just the bezel. Accept it now.
The front capacitive keys (Back, Start and Search) only light up touched and then remain on for a few seconds, they will then toggle off. This is probably to save battery life but it differs from the Lumia 800 where they stay on the whole time.
The Lumia 900 takes a micro SIM. We hate it but so long as you don't swap SIMs often it shouldn't be a problem (and the phone comes with one to activate along with a tool to open the SIM tray).
The phone comes with a USB wall charger and cord
The phone does not come with any headphones or a case
The Lumia 900 has internet sharing aka Wi-Fi tethering though you'll need an approved plan to use it
The wrap up
The Nokia Lumia 900 is a solid and simply gorgeous Windows Phone. For $99 on contract (and often even cheaper) or $450 off-contract, the price is perfect to win over many new converts.
With 4G LTE, an above-average rear 8MP camera, a stellar front-facing camera and one of the nicest looking designs for the phone body around, it can certainly hold its own against the iPhone 4S or the top Android device.
Is it a perfect device? No, we do wish the rear camera had a BSI sensor to make it even better, the non-replaceable battery may be tough for some, the vibrate feature is grating and if you don't have 4G LTE around you (like most) then that feature is of minimal value.
We have seen an odd occurrence where our Wi-Fi connection can receive data but outgoing data crawls. We're not sure why that is but haven't seen it before on our other Windows Phones which causes us to raise an eyebrow. We've also had a few reports from early users noting the same behavior. Toggling the Wi-Fi on/off for a few minutes seems to do the trick but we're a little concerned that this may an early bug.
Still, those are small nits compared to the overall device. The screen is the nicest we've seen on any phone even with the 800x480 resolution, CPU and RAM are more than enough to make the Windows Phone 7.5 experience pleasant and the Lumia 900 makes a great phone for actually calling people.
The bigger picture here of course is that the Lumia 900 is Microsoft's best shot at getting Windows Phone into the mainstream. Between AT&T's influence and Nokia's legacy, this Windows Phone represents a great combination of design aesthetics for the masses, solid hardware for the enthusiasts and a user experience unparalleled to any device on the market.
Because of all of that we give the AT&T Nokia Lumia 900 a solid thumbs up.
Get the Windows Central Newsletter
All the latest news, reviews, and guides for Windows and Xbox diehards.
Daniel Rubino is the Editor-in-chief of Windows Central, head reviewer, podcast co-host, and analyst. He has been covering Microsoft since 2007 when this site was called WMExperts (and later Windows Phone Central). His interests include Windows, laptops, next-gen computing, and for some reason, watches. Before all this tech stuff, he worked on a Ph.D. in linguistics, watched people sleep (for medical purposes!), and ran the projectors at movie theaters because it was fun.