AT&T Samsung Focus S - Review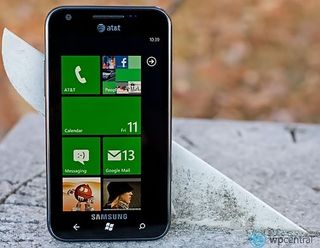 On November 6th AT&T released the Samsung Focus Flash and Focus S to their Windows Phone line up. We've already taken a look at the Focus Flash and now turn our attention to Focus S.
Similar in design to the Samsung Galaxy Android devices, the Focus S sports a 4.3" Super AMOLED Plus screen. While the surface area of the S is large, it's size is diminished by being only .33" thin. The Focus S feels comfortable in the hand, has a very nice screen and comes with all the bells and whistles Windows Phone Mango has to offer.
The Focus S's pricing point and features will make it a high-end Windows Phone when compared to the Samsung Focus Flash or HTC Radar. The S is a solid performer and if you're a fan of large screen, well built Windows Phones the Focus S a very good option to pursue. To find out all the details on the Samsung Focus S, just make the jump past the break.
Swipe to scroll horizontally
| | |
| --- | --- |
| Design: Comfortably designed. Thin form factor, large screen, light weight, just an all out well designed phone. | Feel: Not too big, not too small, just right. Not as pocketable as other Windows Phones but manageable. |
| Performance: With the 1.4ghz processor and Windows Phone 7.5 the Samsung Focus S is a solid performer that zips along nicely. | Quality: Overall quality from screen to camera to build is very good. |
Note: The HTC HD7S has a Super LCD, not a Super WVGA screen.
Swipe to scroll horizontally
Nice looking screen, 16gb of storage, thin form factor, large (but not too large) Super AMOLED Plus screen, and a really nice 8mp camera.
While the screen is nice, it can come across as dim at times when compared to other Windows Phones.
The Samsung Focus S is a feature rich, well constructed, solid performer. The Windows Phone uses a thin, light weight form factor to balance the larger screen to avoid becoming too large. The Focus S gives Windows Phone users a big screen alternative without feeling uncomfortable. It's really difficult to find anything too critical with the Focus S.
Design
I had mixed thoughts when I first took the Samsung Focus S out of the box. First, I thought "WOW, what a big phone!" then almost immediately I thought, "But it's so thin!".
The Samsung Focus S measures 4.96 x 2.63 x .33 inches and weighs only 3.90 ounces. The Focus S is almost half an inch taller than the Flash but .2 ounces lighter. Samsung has done a good job of minimizing the large 4.3" screen by making the Focus S so thin. The end result is a large screen Windows Phone that has no bulk and feels really comfortable in the hand.
Going around the Focus S you have the power button and camera button down the right side, micro-USB slot is at the bottom of the phone, on the left side you will find the volume rocker and up top is the 3.5mm headphone jack.
I didn't mention this in the Focus Flash's review but I liked how Samsung has spread out the ports on these new phones. The original Focus at times felt cramped having the 3.5mm jack and micro-USB port at the top of the phone. Placing the headphone jack up top and micro-USB to the bottom gives users a little more elbow room.
The Focus S has the traditional trio of capacitive touch buttons at the bottom of the screen, an 8mp camera with LED light to the back of the phone and a 1.3mp front facing camera in the upper left corner of the phones face.
The Focus S fits really nice in the hand. The curved sides, light weight and thin form factor helps a large phone not feel so big in the hand.
The only weakness in design may rest with the battery cover. To be blunt, it feels cheap and flimsy. Have you every purchased something in a plastic blister pack that has the back of the package perforated? To open the package you just peal back the perforated section? In an nutshell that is what removing the Focus S's battery cover reminds me of.
The batter cover is a paper thin sheet of plastic that attaches snugly to the frame of the Focus S by a series of plastic tabs. I realize plastic technology has come a long way and I'm sure the plastic battery cover on the Focus S is more durable than it appears. It does sit flush with the Focus S frame and I really like the texture (nice grippable surface). I just wish it didn't bend so easily when off the phone.
All in all, the Focus S is a well designed, nicely constructed Windows Phone. It will take you a little while to get used to the battery cover but how it contributes to the thin form and its textured surface negates any reservations its appearance may have.
The Screen
The Focus S is fitted with a 4.3" 480x800 Super AMOLED Plus screen. The screen has rich colors, nice contrast and provides a nice amount of "pop" to images.
What's the Plus? Super AMOLED Plus increases the number of sub-pixels by 50 percent which means twelve sub-pixels instead of eight. This makes the screen more visible in bright light, and should help make text and the edges of images crisper. Super AMOLED Plus also claims to be more energy efficient. Compared to the plain old Super AMOLED screens of the Focus and Flash, the "Plus" isn't that noticeable but outdoors the "Plus" does give the Focus S an edge.
Unfortunately, the Focus S screen shares the same quirky nature as the Focus Flash in that at times it appears dimmer than it should. The issue seems to be associated with the light sensor when the screens are set to auto-brightness. There are times I can leave the Focus S on and with no change in room lighting, the screen will dim or brighten. Thankfully, even with this quirk the screen still looks good, just dimmer. As with the Flash, this issue seems to have improved. We're just not sure if a recent update to the Extra Settings did the trick or if it's just a case of our eyes getting used to things.
Outdoors, the Focus S screen performed really well. The higher contrast of the Super AMOLED Plus screen helps keep the screen viewable outdoors.
No complaints with regards to the screen's touch responsiveness. All in all, the 4.3" screen gives you plenty of real estate for typing, viewing, and gaming. While it does have the quirky auto-brightness, the dimness isn't constant or at the level of being a deal breaker. Everyone should be pleased with the Samsung Focus S's screen.
Under the Hood
The Samsung Focus S is powered by a single core, 1.4Ghz processor that gives the phone a little bit of giddy-up. Apps loaded promptly and ran smoothly. The Samsung Focus S is also a 4G phone from AT&T giving the Focus S an added boost as well.
The Focus S memory consists of 512mb of RAM and 16GB of storage. After loading Windows Phone 7.5 the storage drops down to 14.07GB of storage remaining.
AT&T does have it's software suite (MyWireless, FamilyMap, Radio, Navigator, Code Scanner and U-Verse Mobile) and YPMobile preloaded that drops your storage down around 13.5GB. The nice thing about the pre-loaded software is that it all can be uninstalled.
The Focus S, as with the Focus Flash, is fitted with a gyroscope and digital compass. Settings are identical and includes Internet Sharing (gotta sign up with AT&T to use it), Extra Settings and High Fidelity Positioning (improves your GPS performance).
You've got a 1650mah battery under the hood that provides ample power to the Focus S to get it easily through the day. On a typical day, I'm using the Windows Phone to make calls, check emails, update apps, download apps, test apps, play a little Trines Hangman (currently ranked 150th) and surf the internet. I'm ending the day with about 25-30% battery life remaining on the Focus S.
All in all, the Samsung Focus S is a solid performer under the hood. While many had hoped for 32GB's of storage, the 16GBs will do just nice. It would be nice to see an expansion card slot on the Focus S but with all the headaches experienced with the original Focus's expansion slot I can understand the reluctance to give it another try.
Camera
The Samsung Focus S is equipped with an 8mp camera that has a f2.8 lens. The lens is a little slower than what we've seen with the Flash (f2.6) and HTC Radar (f2.2) which gives the Focus S a slight disadvantage with indoor shots. Slight... not significant. The 8mp camera is a very nice performer indoors or out.
Software driving the camera is your standard Windows Phone camera software. You have standard settings that include AF Mode, Image Effects (Outline is neat), Wide Dynamic Range and Anti-shaking. Settings can be saved and offers your a decent amount of control over the camera.
Image quality was nice but a little disappointing given that this is an 8mp camera. Outdoors is where the camera shines capturing nice, sharp and bright colors. Macro Mode was a bit of an oddity. I was able to focus within 6 inches of my subject but the framing wasn't as tight as I've seen on the Focus Flash or HTC Radar. Not sure what the focal length is on the Focus S but I'm guessing it's a notch wider than what you have on the other two Windows Phones.
The LED light is about par for the course. I've never been a fan of these little lights and there's nothing to set the Focus S's light apart from any other LED camera light. As with other LED lights, images do tend to have a color cast to them but it's nothing that can't be corrected with post-processing software.
Video quality was very nice using either the 8mp rear camera or the front-facing camera. The video sample includes two out-takes. The first was shot at the lake and where my son is trying to skip rocks is in the shade. The video adjusts for the low light of this area without blowing out the brighter area around the water. The second half was shot at our State Capital on a very overcast day (forgive the jumpiness...I was shooting on the go) and the camera performed really well under low lighting conditions.
All in all, I think most will be pleased with the Focus S's camera. Still images were nice (performs the best outdoors) and video capture was very good as well. I don't think I'm ready to give up my DSLR but the Windows Phone cameras has progressed rather nicely.
Phone Quality
With respect to phone quality, the Samsung Focus S ain't too shabby. Call quality was good, speaker volume is loud and clear and the microphone filters background noise out nicely.
I wasn't thrilled with the vibration feature. Where the Focus S had a light saber feel to it, the Focus S reminds me of that fly buzzing around the house when it's across the room. Just noticeable enough to know it's there but not strong enough to make you get up and find the fly swatter. I'm guessing the thinner form factor limits the intensity of the vibrator. Any stronger it might rattle the battery cover loose.
As far as the Samsung Focus S's phone performance goes, I think everyone will be pleased. You'll just need to remember to dial down the ringer volume when in meetings or other situations where the Gummy Bear Song ringtone wouldn't go over too well.
Summing it all up
It's really hard to find anything to complain about with the Samsung Focus S. It's not perfect but it is a really good Windows Phone.
Will it suit everyone's fancy? Probably not. If you like to pocket carry your Windows Phone, you might find the Focus S too large. If you're on tight budget, the Focus S is more pricey than other options with the lowest price I've found being $179 (with contract) over at Amazon Wireless (opens in new tab). While some may not be attracted to the Focus S, those who are will find a very good Windows Phone in their hand.
The 8mp camera does nicely and shines with video capture. 16GB is a nice storage size giving users plenty of room for apps, music and other files. The 4.3" Super AMOLED Plus screen looks really good and is a solid outdoor performer. Sure, it has that dimness quirk but it's manageable (and hopefully Samsung will find a solution soon).
Some will find issue with the flimsy battery cover but most will remove it once in the phone's lifetime. I've pulled it off about a dozen or so times and it hasn't lost any of it's ziplock tightness. Throw in internet sharing, 4G capability, respectable battery life, good phone quality and you have a very well rounded, quality Windows Phone.
The Samsung Focus S's strongest competition will likely come from the HTC Titan (and HD7S if it sticks around). We'll wait until the AT&T Titan hits the shelves to make that comparison but compared to the HD7S the Focus S has a better screen and has a thinner and lighter form factor. Personally, I see my HTC HD7S beginning to collect dust on the shelf and unless the Titan makes one heck of a compelling argument (and we'll know this in about a week), the Focus S will be my primary device.
The Samsung Focus S joins a growing field of quality second generation Windows Phone devices. It may not fit the bill with everyone but for those who choose the Focus S, you will have little to complain about.
Windows Central Newsletter
Get the best of Windows Central in in your inbox, every day!
George is the Reviews Editor at Windows Central, concentrating on Windows 10 PC and Mobile apps. He's been a supporter of the platform since the days of Windows CE and uses his current Windows 10 Mobile phone daily to keep up with life and enjoy a game during down time.
So it has 512MB RAM and not 1GB?

Like all of the windows phones, it should.

Ok, because I just talked to a rep and they said it had 1GB of RAM

Reps are generally not known for their knowledge of phones. Some reps seem to think "Windows Phone 7" is equivalent to Windows mobile. They also seem to think the iphone 4S doesn't have a dual core processor...

I have contacted Samsung support about the amount of RAM 3 times. The first time I was told that it has 512MB and the second time I was told 1GB. So, I just called them again and the support rep assured me that from their internal documentation the phone has 1GB. I asked if he could send me any official documentation stating the amount of RAM and he replied that he was unable to do so. Then he reassured me that I was talking to a Samsung technician and their database shows the phone as having 1GB. I believe that WP7 Mango can only address 512MB but this phone physically has 1GB.

Hmmm... Interesting point. If that's the case then the Focus S is future proof and would be able to handle Apollo better than the rest of Mango devices.

It has 512. It is what it is. The phone runs fine and 1gb wouldn't even change anything since WP holds apps to a RAM limit regardless of how much RAM is available and since there is such limited multitasking you'll never even come near 512. Relax on calling Samsung. It has 512. That's what it is. That's what all WPs are for the time being.

geez just go to Samsung site for real specs. bunch of newbies

Have you even been to their site?

Not only that, their site for the Focus S, up until recently, was a straight up copy of the Galaxy SII (non USA carrier branded). Flash support and all.

The lesson is don't talk to reps. If you pay halfway decent attention to blogs then you already know more than they do.

I've confirmed it has 512MB of RAM. If you run the "System View" app, you'll see that it reports the phone having a total of 512MB of RAM of which 354 are available while the rest are dedicated to the GPU. No 1GB of RAM.

Yeah, I can't say that makes much sense, because it ALWAYS says 354MB available, no more no less.... so the system never ever uses any more, even when other apps are still stored in memory, or background apps are running, or something is downloading? And it's exactly 354MB for every Focus S I'll tested, as well.If you take a original Focus it shows something like 468, I forget the number, but again it just shows some number, that doesn't really represent what is actually there. My guess is these apps don't actually have a correct way of accurately measuring it, or something else is going on.Besides it could vary well be possible that it does have 1GB physical memory but the system can't actually use that yet until and update, but I can't say I've ever heard that being the case.

Also, why were you able to get 1080p on your video? I thought the Focus S maxed out at 720p?

Why, oh why, is this phone not coming to Europe? I would buy it.

:( man... you Europeans make me want to cry. You got the Lumia 800 and want the Focus S. I can buy the Focus S anytime and I am dying for the Lumia 800 and can't get it yet. Trade? :)

I live in Finland and we have no idea when we are getting the Lumias here. I thought we would get them right after Nokia World, but no, we have to wait till sometime next year. I'll probably get the 800 once they release it here.

Waiting to see what Nokia will have in 2012.

"There are times I can leave the Focus S on and with no change in room lighting, the screen will dim or brighten." This is not a Win Phone only "feature." I have the same problem with my iPad2, especially when using in a darkened room. It tends to be irritating.

Good phone. 720p video is lacking compared to the Lumia 800. Check it:http://youtu.be/QQk1fwIEI1Ehttp://youtu.be/fSyporR8dsoSeems like the video is sharper and which results in better details.

I don't see a good reason to upgrade from the Focus to this.

Mistake in the design section. Should be It. "[I] does sit flush with the Focus S frame and I really like the texture (nice grippable surface). I just wish it didn't bend so easily when off the phone."

The Specs Overview Image shows that it has 5MPS too instead of 8

Somewhat recent LCDs on HTC devices have disappointed me, but I have yet to see an S-LCD in person. I actually have been thinking of iphone 4S simply because all headphones are now made for it, and it has the most quality apps. Then again there's always a Nokia WP7...

big mistake troll on iphone 4

Nice phone but I'd still go for the Titan. Of course since I'm on T-Mobile I won't be going for either. :(

It really is a nice phone. With regards to the battery cover, it only feels flimsy and cheap when you take it off. When it's on, it's air tight, doesn't move and has a nice feel with it's matte rugged surface. And that's what counts.

I'm interested to know if the reviewer had any issues with the remote on the earbuds. I, along with a few others in the forums, have noticed an issue where the pause/play/next track functions won't work, or will only work sporadically. This is true both on the stock remote and any aftermarket units that might have worked on previous models (focus). I'm suspicious of the jack design on the phone itself, being elliptical in shape.

Honestly, I didn't use the earbuds but will take a look at them this afternoon and see how they work.

I've had this same issue with my Focus, and now experience it with my Focus S. In my case I believe it was related to my workouts. Essentially, the pause/play/next track functions stopped working, or worked inconsistently after I had used them during my workouts. I attributed the malfunctions the controller button getting wet from my sweat. The first pair (from Focus) had malfunctions of the volume control as well. I purchased a replacement repair from Amazon, and after a few workouts the pause/play/next track stopped functioning properly, i.e. I have to press very hard to stop the music or finagle it to move to the next track. Lesson learned. I have not used the new headset from the Focus S for my workouts and I don't plan on it. I personally don't believe the design of the phone that is at issue. I would rather point the finger at the design or construction of the headset. I really find the Samsung headsets some of the most comfortable to wear.

I'm sorry to hear of your troubles, but the problems myself, and a few others in the forums are having, are similar to this but not the same. The stock focus s headset will work fine with my old focus. The stock focus headset will work fine with my old focus, as will the controller on my beats headphones. However, none will work with the focus s. Only the volume works with the focus s. It is not a problem with the headset, or the controller. It is a problem with the focus s.

Understood. I have to say however, I have been using the stock Focus headset with my Focus S with out issue up until the point I used them while running in the gym. Then the control button started to malfunction. I have to push very hard to stop the music and finagle with it to skip tracks. Which is the same issue I had with my original Focus headset using my Focus. I still suggest it is faulty headset design rather than phone. Ask me about my sons HD7s and his headset issues and I may tell you a different story. He has the over the ear Beats and we have gone through so many so called "monster cables" fraying, launching voice control, raising the volume inexplicably. I finally purchased a replacement for him from the shack and that cable did the same exact thing (brand new). The only cable that now works is some cheap retractable cable I bought at Target. So is it the phone, the beats, or the cable? If you have any ideas on that feel free to let me know.

Seeing how Mango is Mango and we all know what it offers, a WP device is really judged by the hardware. This was a very good review. I am very interested as to how the Titan measures up on AT&T since the international reviews have been good. Fun choice.

I'll be picking up a Titan on the 20th and will work on a comparative review once the main review is done. Oh... also working on a head to head with the Samsung Focus Flash and HTC Radar. Should be up in a few days.

Too plastic-ky for me. I'm going for the Titan next week! This phone feels too cheap. Nothing is "premium" about this phone except maybe the OS and the Super AMOLED. Beyond that, everything about this phone says "cheap"!!!

After having the Focus S for almost a week and a half, I have to disagree with you. In fact, most people I have shown my phone to, including my wife(iphone 4), were very impressed with the look and feel (thin, light). I appreciate the fact that I can slide the phone in my pocket and barely know it's there. There is Definitely a demographic for the Focus S. Only mistake is not producing the phone in different colors. I cannot comment on the Titan as I have not had the phone "in hand" to make a comparison. I plan on checking out the Titan this coming Sunday when it is released.

I used to think that, I've had a few beautiful metal HTC's in the past and now that I've had the similar Focus for the last year I don't plan on ever going back for that "premium" feel. The biggest reason is that I'm never afraid for my phone. It's good looking but has a little give. I can drop the heck out of it and it always comes through fine. Try dropping a unibody aluminum HTC or a glass iPhone and see what happens. I chuck my phone all the time and have no fear.Furthermore, everyone that touches my phone is amazed at how light it is. This high end plastic is just so much lighter than metal. But go with what you like.

It will be my NEXT Windows Phone on AT&T. As soon as I can get out of Shawshank. aka Sprint.

Grammar FAIL: "performed really good"

Any hotspot/tethering capability?

Yes it does, but you have to have it unlocked by your carrier (At&t) I had to buy the 4GB tethering plan for it to work, which was $45/month for data I believe. An extra $20/month is too much if you ask me, but I needed it, so it was a new brainer. For you it will come down to your needs.

at&t offers tethering with the 4gb data package, so you get a higher data cap along with tethering for $20, but i agree that it should be free on all plans, especially since caps are in place, it shouldn't matter how i choose to use the data i've paid for.

It's a nice, zippy phone, but I'm waiting on the Titan. Only 6 more days!!!

The issue with the screen changing most likely is because of the "extra settings" feature of automatically dimming the intensity of the screen depending on the amount of white being displayed. And for me, even after that "app" updated, it still wants to turn itself on even after I manually turn it off. Which then I have to go back into the app and manually turn it off again.Basically it does what the original Focus did by dimming on brighter screens, like mostly white screens, but the Focus S version is either slower or faster, and cause it to spaz out even when there are small changes on the screen. Interestingly enough, while the screen quality does look better with it turned off and looking at a full bright page, like the mail app, it is really f#cking bright, and I'm suspect that it does infact drain the battery much faster. So i've been playing around with having it on or off.As for the 1GB RAM, apparently neither the At&t or Samsung webpages say anything about the amount of RAM for the Focus S, they oddly neglect to have a section for it. The closest reliable page I can find is Amazon's page, which does in fact show 1GB of RAM. I'm still not convinced, and even if it does have 1GB of RAM maybe it doesn't actually use of all it, but even so if the physical memory is there than that is a nice thing to know.I have to say I do love my Focus S, but I've tested 4 different Focus S devices, and they all shared a series of problems.--There is a typing audio and input lag when system sounds are on, the causes typing to act like a horse trot, making it annoying and hard to type. Turning off system sounds actually seems to temporarily fix this.Here's a video from Tom Warren from WinRumors showing the issue:http://youtu.be/iKC8pFAoAHQ--The auto dimming issue with the "extra settings" wanting to turn itself on.--I'm still seeing color banding on the Focus S, which I thought the SAMOLED+ was designed to fix. Not only are colors separated, but on grey gradients, like the test in the WP Bench app for gradient test, the grey scale alternated with a tint of redish or greenish. You can notice this effect in any place that uses grey, and especially changes the shade as you'll see it change in tint from redish to greenish or vice versa.I will say that colors above 50% grey seem to fair better than color below that 50% threshold, not sure what to think about it, but an interesting observation none-the-less.--There have been connectivity issues with Wifi, where it not only take far too long to reactivate or connect to a Wifi connection, but also doesn't seem to have proper connection. It seems like it has something to do with priority off Cell data connection over Wifi, as turning one or the other off usually fixes the hang. I also notice issues with connecting to certain things, as if a connection protocol wasn't working right. Where I could access a webpage, other things wouldn't work like the login in an app, or accessing the marketplace. What is odd, is if I grab my original Focus it all works perfectly and smooth even in the exact same place and same network.--I've also noticed strange things happening with Game sound and headphones. Adding, removing, or using headhphones seems to make game sounds become incredibly quiet, while game music becomes ridiculiously loud. At first I thought game sounds were turning off completely, but after testing it, they are just super super quiet and the game music is drowning them out. Usually without headphone everything sounds just fine, but add headphone and it all starts to break. I went back and tested it with my original Focus and to my surprise I noticed the issue happening too, but maybe not as bad. Is this just an issue with the OS? with Samsung? or the chips the use?--Speaking of audio, there is a fairly strong static-like noise you can hear when using headphones and listening to audio. What's interesting is when no audio is active it's dead silent as you would expect, but start playing audio and even if you turn the sound down to 0, the static still exists. The static often has a repeating type noise to it, like a pulse of some sort, which reminds me of the hum of an warp engine on star trek ;) .... (don't mine me I've been watching too much netflix lately). The Focus S I have now doesn't have this as bad as the other 3 I tested, but it's still annoying. If you turn up the sounds loud enough they mostly cover it up, but for things were the audio get quiet again, it's quiet annoying to hear the static come back.--Oh, and there has been some odd things with the touch screen. Input can seem slightly delayed on the first touch. Like if you go to swipe and slide, your finger hits, but it moves a certain distance before the system recognizes that it actually made contact.Also, sometimes I'll have the start button pop up a TellMe request, when I only barely touched it for a split second.Even with these issues, I have to say I still love the Focus S. I have to say it's thinness makes it feel way way way better in my pocket then any other phone I've ever had. You totally forget that itself even there because it is so light and thing. And despite the color banding and grey scale problem, the screen is still much better than than the original Focus, especially because it doesn't have pentile Matrix for the pixel arrangement. It really does make things look far more crisp and solid colors more even and smooth, like in the tiles, or on flat pages like websites or apps.Most of the issues I've found in the 4 devices could be fixed with a firmware. My hope is that they fix it sooner than later, as I really love the Focus S, but these problems are annoying.

Samsung has until Sunday to release a firmware update or I feel many people will abandon the device for the HTC Titan. I will be one of them. These bugs are far too annoying and, frankly, give the Windows Phone platform a blackeye, while it has nothing to to with the WP OS.

I still find it extremely and incredibly bizarre that this device has gotten no reviews by the non WP centric tech blogs (i.e. Engadget, The Verge, GSMArena, Phonearena, Gizmodo, fonearena, MobileBurn, Pocket-Lint, etc.). These very sites reviewed the Titan (even though it wasn't available in the U.S.), but no review for the Focus S. No promo by Samsung; no commercial/promo by AT&T; no reviews....a definite red flag with regards to this device.It will sell, but it won't sell well. I expect a price drop very soon.

while the lack of website reviews is extremely perplexing, the lack of mainstream commercials for it isn't as weird. samsung just came out with one for the flash, and as the holiday season ramps up, i'm pretty sure att and samsung will start their marketing campaigns, especially since the phones are new, and att was the only carrier to have any sort of wp ad with 1st gen devices. i don't think we will see an at&t push until the titan is out though

Engaget: http://www.engadget.com/2011/11/17/samsung-focus-s-review/
First impressions on Gizmodo: http://gizmodo.com/5856297/samsung-focus-s-first-impressions-big-tasty-w...

dimming crazyness aside (although it hasn't really been that much of an issue for me) the non pentile samoled+ screen is so much better in sharpness and quality compared to the samoled screen on my old focus it's not even funny.everything looks crisper, and there's none of that fuzzyness to the edges of things.aside from the little quirks that can hopefully be fixed in a firmware update (aside from the headphone control issue, which i have as well) i love this phone even more than i did the focus, which i really liked a ton as well.i just wish they had made a 32gb variant.

This phone is pretty cool but I just won the HTC Titan tonight at the Windows Phone event in Atlanta! Its the perfect phone

congraulations on your win Write a review of your experiences with the Titan as soon as you can and post here or in the forumds. Thanks

Would be awesome if the default auto-brightness could be turned up one notch so the screen is always brighter.Bei337WPwallpaper.com

Is Mango really Mango or am I missing something? I just went over to check out the Focus S and the apps list doesn't have the UI to jump to any letter. It made me wonder if that's a setting now or what? Small thing but one has to wonder right?

There has to be a total of 45 apps for the letter grid to show up...

I played Fruit Ninja on the Titan at the Chicago event and it seemed very laggy. When you do a review on it make sure you test out games on it.

Should I buy this phone or HTC TITAN or just wait for Nokia Lumia 800 or 900 ?

How many people which is best color theme for windows phone 7 do you think blue is best color?
Windows Central Newsletter
Thank you for signing up to Windows Central. You will receive a verification email shortly.
There was a problem. Please refresh the page and try again.