WPCentral Review: Windows Phone "Mango" (preview release)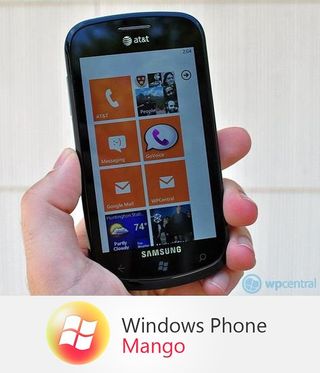 To say "Mango" for Windows Phone 7 is a large update is a bit of an understatement. It's massive. Although we have had two updates to our fledgling OS, both have been relatively minor. "Mango", however, is Microsoft's attempt to fill in all the gaps left from the v1.0 release last fall. Can it succeed?
We've been able to handle a preview release of "Mango" for the last few days and have put it through various tests, comparisons and the all important "just using it like a normal phone". Our device was the venerable Samsung Focus running Windows Phone 7.661.WP7_5_Trial (mojobld).20110607-1957, which means this is a relatively late build (June 7th) and as you can see, Microsoft seems to be going with "7.5" for this release.
How did it fair? What did we learn? Lets just say you won't be disappointed and yes, it's basically everything Microsoft has been touting it to be since February--no smoke and mirrors here. So hit on past the break for our hands on review, four videos, photos and more. Then you can hit us up in comments and we'll try our best to answer.
"It's the little things that matter"
"Mango" of course brings "intelligent multitasking" and Internet Explorer 9 to the table--no small feature set. But before we get to those, lets talk about all of those "small things" that Microsoft has done, because it's those that go to show the level of care in detail that Microsoft is giving to the OS.
"Mango" is certainly fast. While it's not as big a boost as "NoDo" back in February, Microsoft has continued to shave off a half-second here, a half-second there. "Mango" is a little more zippy on launching apps as well as closing them--it's a small change, but one you will certainly notice when using it everyday. We loaded up 'Benchmark' (Free) by Schulte Software in the Marketplace and let it run through it's barrage of tests on both Samsung Focuses. Neither device has an SD card on board, but both do have apps installed. We're a bit surprised by the results, but after 21 passes, the Focus with Mango performed much faster than the NoDo version. Is that luck or the improvements to Mango? After 21 runs, we think it's Mango, but we're willing to consider other opinions (upon a 2nd set of 21 tests, NoDo improved slightly, but was still below Mango):
The tiles too are easier to move around and manipulate--while not a cool new feature, it shows Microsoft is paying attention to the small annoyances that we've had since launch e.g. getting tiles "stuck" near the top of the screen when shifting them.
The Zune buttons both in the player and toast notification are are larger, making it easier to change tracks or play/pause. Likewise, the volume meter is gone, replaced instead by a larger, more "Metro" numeric system. Going to programs, you may have seen the new "jump list", similar to contacts, that allow you to find your apps more easily by tapping the first letter. What's interesting is that jump list won't appear till the magic number of 45--meaning you have to have at least 45 items (including native apps) in programs before you get the jump list. The threshold seems appropriate because less than that and scrolling is short enough to eyeball your listings. Smart.
Other little things include the Battery Saver options, which disable all background services (e.g. automatic email fetching) and apps that run in the background. You can of course still use those features, just manually. Battery saver kicks in at about 20% battery life and you'll see a little heart-icon over the battery to let you know. Of course it is completely optional too, in fact you can enable it without hitting the 20% threshold.
Some other little changes include the shutdown screen. Similar to the lock-screen in design and function, when you hold the power-button to shut off the phone, a screen slides down now giving you one extra-step to power down. We suppose it's a good "safety" function to prevent accidently power offs as well as giving the process a little flair.
Oh and did we mention Wallpaper? While not listed under the Pictures Hub, in Settings under the Lock Screen section there is a "Wallpaper" button that will take you to the Picture Hub and also a wallpaper gallery built in with (currently) 28 sleek wallpapers, including solid-colors that match Themes. Nice touch.
Intelligent Multitasking
Multitasking in "Mango" is certainly interesting. While it's not the full-blown system that Android uses, "Mango's" is a little more refined. When in an app, if you hit the Win key to go back to the start scree, you've basically added the program to the multi-task window--a card like system similar to WebOS. However, if you hit the back-arrow instead, that essentially "exits" the app and it won't go to the multitasking window, giving users a bit of control over how the system handles. For limits, it appears that you can have six apps in memory at a time, which while not a huge number, it should be more than enough for your most used functions. There is no performance "hit" with the number of apps that are frozen--in fact, you would never notice the system unless someone showed it to you (hold down the back arrow).
It's not clear yet if apps need to be coded for this feature using the new SDK, but we did notice some odd behavior.[Update: Indeed, you need to recompile your app with the 7.1 SDK to get "fast resume" to work, which is why this feature does not work with current apps. Thanks, Arif, for the info!] Native apps e.g. email appeared instantly, right where they left off, but third-party apps had to refresh themselves i.e. pull-data before you could use them again. This included Xbox LIVE games, like "Sonic the Hedgehog", "Doodle Jump" and "Hydro Thunder Go!", which would have to re-start their level if you exited out of the app and hopped back in using the cards, somewhat defeating the purpose of multitasking. Other games though, like "Pinball League The Juggler", "Orb", would pause the game, allowing you to continue when you resumed.
IE9--the hardware browser
Does IE9 live up to the hype with its hardware acceleration? In short, yes it does. Scoring 95/100 on the Acid3 Test and rendering pages more quickly than any other browser we've seen, IE9 is the real deal. As we mention in the video, some folks lament the idea of a dual-core (CPU) Windows Phone saying we don't need the power, but if IE9 can take one of those cores, we could see some serious mobile browsing in the future.
But what about now with our single core devices? It still loads web pages extremely fast, is compliant with most standards (HTML5, CSS3, SVG, DOM, XHTML) and is just a pleasure to use (especially over WiFi we bandwidth is less of a concern). Third party browser add-ons like SurfCube still work too, meaning nothing seems to have been broken by the update.
We had no crashes either and we're told it has "Protected Mode for browsing safety and Hang Protection for browsing reliability", ensuring a consistent experience. The shifting around of the address bar to the bottom works well and it's great to see it in landscape too. By reducing "chrome" you essentially have a full-screen browser on the device now, making it visually more enjoyable with little distraction. Finally, in the release-version of "Mango" you'll be able to directly Tweet or share via Facebook any page you're on within the browser--a nice addition.
Bing gets overhauled
Bing was always a little anemic in Windows Phone 7 and NoDo--sure it was there, worked well, but we were missing a lot of the cooler things that the Bing team was working on. Finally, in "Mango", we get a more bull Bing-experience.
First, the hardware key for Bing aka the magnifying glass, universally takes you to Bing Search. Not even in the Marketplace will it search there (they added a soft-search button for that). It's a bit of an odd change, in fact developers were hoping that Microsoft would relax the control on that search key so that devs could use it for in-app searches, but alas Microsoft has gone the other way, taking it completely for Bing. Quick Cards are also a new, unified way of presenting information that is searched for anytime you use Bing--movies, books, CDs, etc. all presented with "About", "Reviews" and "Prices" (if applicable). It's a nice touch and makes Bing very fast since, once again, there is no "chome" aka UI frippery.
Second, Bing Images is there, thankfully. Any search you do will also bring up some pictures which is pretty sweet. The downside? You can't do anything with the pics--can't share, can't download, can't use as wallpaper, just stare at them. At least there are plenty of "image search" apps out there to fill in that gap, but we hope Bing Images gets an update before release.
Local Scout is certainly one of the highlights of "Mango". While it can be extremely useful for travel, it's just as useful for your hometown. Let us explain. When you first launch it, it of course uses geo-location to pinpoint your location. From there, you have four sections: "Eat + Drink", "See + Do", "Shop" and "Highlights". "Eat + Drink" and "Shops" are pretty basic--they show you what places are around you, allowing to tap for more information including hours, address and reviews. But "See + Do" and "Highlights" are dynamic, meaning they change regularly. Specifically, "See + Do" will show you things that are going on today around you--events, concerts, live performances, fairs, you name it. It's a way to discover things to do instantly and with no effort. Very impressive and one of our favorite new things.
Bing Music is still being developed but it certainly works. Like Shazam, Bing Music will identify ambient music around you, then search for it in the Zune Marketplace, allowing you to stream, purchase or download (if you have a Zune Pass). It worked well enough for mainstream music, was a little rougher on more obscure things, but seeing as it is still in development, we expect big improvements by launch. Either way, it's great to have such a function native to the phone.
Finally, Bing Vision is the other big deal. By actively using the camera, you can scan barcodes (US only), QR (many regions), Microsoft Tag (many regions), commercial media (CDs, DVS, Books, Posters and Magazines--but may be limited to US only) and finally even translate text into/from English, French, Italian, German and Spanish. It's the Swiss Army Knife of camera scanners and it works very well. We used it regularly to try and scan all sorts of items and had a high percentage of success--in fact it was fairly enjoyable to use. Once an item is identified, a results screen comes up with information, reviews and prices (if applicable) from various merchants. In theory, if the merchant is someone like say Amazon.com, it should launch into the Amazon app (or so we believed) but that feature does not yet seem complete in this build.
Games Hub
The Games Hub, where all things Xbox LIVE are located, received some updates as well, though no major new features. Some of the changes include having your avatar completely animated from within the app, instead of using Xbox LIVE Extras. That's because XNA and Silverlight can live within the same app now. Some aesthetic changes include making it all white, using smaller icons in a list, adding friends/messaging tiles and "Spotlight" where you can get the latest Xbox news. While these changes are small, it unifies the look and feel of the Games Hub with the Xbox LIVE branding and system. Adding those tiles and refining the look goes to show you how deep and careful Microsoft is considering appearance here and we approve.
And yes, game requests are there for what we assume will be multiplayer (asynchronous) game play in the future. Finally, Xbox LIVE Extras is relegated to the task of avatar customization via the Marketplace. It's still an optional download and only there if you want to change your features, style or purchase new items in the Marketplace. It works well enough and is quite zippy.
Zune Player
Of course the Zune Player gets some nice additions as well, specifically Smart DJ which will allow you to basically create a Pandora-like streaming experience: you pick your favorite band or song, select Smart DJ and from their the Zune system will create a dynamic playlist based off of that style. It's been on the Zune HD player for awhile so nice to see it brought to WP7.
Other little changes include moving of the play/pause, forward/back buttons to the top of the screen and making them larger. This is now 100% consistent through they system. In addition, you have your Favorite button ("heart"), repeat and random buttons all accessible on the player screen.
While podcasts have been supported via the Zune Desktop, you can now do it over-the-air via the Zune Player/Marketplace. You can download a single episode or subscribe (and manage) any podcast, and video is supported as well. Of course there's a catch: you can't download any podcasts (audio or video) over 3G but have to be on WiFi, similar to how downloading large Xbox LIVE games works now.
The other cool thing is now 3rd party streaming apps like Last.fm and Slacker can take advantage of background tasks, allowing for streaming in the background while using the Zune Player controls--a very nice addition.
Oh and 'Marquee' has thankfully be re-named to the much more specific 'Apps' for 3rd party app integration. Some other minor changes include modifications to the UI e.g. 'History' now scrolls only down instead of overlapping to the right.
Hands-free Messaging and Speech
Yes, the Microsoft TellMe speech system is still in effect in Mango and has received some nice upgrades. First and foremost, you can now say "Text
[[ person x ]] " and it will create a text window for you, then ask you to say your message. Once completed, you can "cancel' , "try again" or "send" for a complete hands free experience. Likewise, when a message comes in you can have it read to you and respond--all very cool stuff and it worked as well as any other speech-to-text system we've tried e.g. Android.
Calling options are now expanded too. You can now say "Call John, on mobile using speakerphone" and get exactly that--a perfect setup for in car driving. You can also use the speech command while on a phone call, using "Call" to call another person or "press" to press a number.
Facebook, Twitter, Threads and Groups
No doubt "Mango" steps up with social networking and keeping in contact with friends and family. If you're a Facebook fiend, you'll appreciate how "native" it is now in Windows Phone 7.5--specifically from your "Me" hub you can check-in via Facebook (and Windows Live), post a message and set chat status. You can also finally receive notifications via Facebook and Windows Live right within the OS--so forget that Facebook app. In addition, native chat for Windows Live and Facebook is here, making this all but a Facebook phone (though currently, the feature is not available in this preview build). Finally, Facebook Events can be added directly to the Windows Phone calendar and include the ability to see the description, attendees and decline/accept from within said calendar--very nice.
Twitter is almost here. We know it will be in the final version and Microsoft has talked about it. Unfortunately, we do see "Twitter" under "Add an account" but it's listed as "Coming soon!" for now. However, we can see that it will require you to connect your Twitter account via Windows Live, not a stand alone. Microsoft did, however, provide us with a screen shot to get an idea of what it looks like and we can say it will feature: Tweet, reTweet, comment, replay with @ mention, share web pages (via IE9) and share photos via the Photo Hub.
Threads, to refresh, is the ability to combine text messaging, Facebook and Windows Live Messaging all in one place. The idea is that you can seamlessly continue a conversation with some regardless of medium. This is done by linking the person to all the various accounts under the People Hub and then the OS "knows" to combine everything together. Seeing as we were unable to test Facebook Chat, we'll have to leave a more in-depth review later. Needless to say, the theory is at least sound and should make a much more sane experience in today's multi-client world.
We should also mention "face recognition" is here too. From your photos in your Picture Hub to online pics (SkyDrive, Facebook), a little square will appear over a face, which then allows you to "tag" them. This goes even deeper with Facebook since they're starting to automatically identify and tag faces, which is a little creepy. Still, for those of you who tag your friends in photos for uploading, this should be a great feature.
Finally, Groups is something we've seen earlier: it's the ability to create clusters of contacts e.g. family, friends, co-workers and then have all of their information under one hub, including "status updates, photo updates, check-ins, missed calls, new SMS, email, IM, or voicemail". From their you can even create a Live Tile for that Group and the above information will dynamically change as information rolls in. It's truly a new and different way to keep up socially with your friends and family. What's neat too is the system will recommend a Family Group based on the last names in your People Hub.
Loose Ends: Email, Maps and Marketplace
Last but not least are the changes in email, maps and the Marketplace. While significant, they're a little less exciting then some of the previously mentioned changes.
Email first and foremost now has threaded message. That is easily one of the best changes yet and it works pretty well, although it does take some getting used to, specifically the way the headers work is a bit different (it's an extra line of information) and the ordering is the opposite of Gmail with the newest message first and previous emails below. That actually makes sense when you think about it, but some of us have been "trained" by Gmail to have it in a descending order so at first glance things seem a bit off. Likewise there are significant changes to Outlook support, including:
Read IRM emails
Alpha-numeric PIN
Set Out of Office messages
Search email server for messages
View & sync multiple Calendars on an account
Sync To-Do list
Then there is the ability to create a unified email box (numerous accounts linked together as a Live Tile--very convenient) and the new function of creating a Live Tile from a sub-folder. That last part is real useful. For instance, we have a WPCentral sub-folder in our Gmail account. Normally we have to open email, choose Folders and then select the folder we want to see new messages. Now, we can create a Tile that goes right to it on the Start screen. Moreover, you'll now get notifications for that sub-folder. In essence, you've created a whole new in-box and in theory, you can do this unlimited times. However, in doing this change, Microsoft did move the Folder button to the list and in turn, the Sync option gets its own button. Some may find that a bit jarring at first but it seems to make sense in a traditional email way.
Maps finally gets turn-by-turn driving directions. While not as full-featured as some 3rd party offerings, it is free and works well enough. Also, you can now have the maps "Rotate with my current direction" or "Always orient north", something we think will benefit from the addition of a hardware gyroscope.
Last but not least, the Marketplace gets a nice make over. Before, when you chose an app in the Marketplace, it's information was all on one screen. Now there are four that flow nicely with Metro. Those four screens are 'details', 'reviews', 'screenshots' and 'related', with the latter smartly giving a list of similar apps (it's actually really accurate). Since each area now has it's own section, detail is great, the screenshots are laid out in a better fashion (smaller, tiled) and reviews are easier to read. Plus, you can now see an app's rating before you click on it, allowing you to pass over those 1 or 2 star apps. The other neat feature is the ability to get suggestions as you type in the Marketplace, speeding up the process of getting that app.
Conclusion
Whew! Did you actually read all of that and watch those videos? Than congratulations, you know as much about "Mango" as we do now. So what did we learn?
In our opinion, Microsoft has so far done a fantastic job with "Mango", delivering many new features, fixing complaints from users and expanding the usage of our smartphones way beyond what "NoDo" has given us. What makes "Mango" so interesting is nothing feels tacked on. It's not like Microsoft saw what the competition was doing and decided "we can do that too!", resulting in an OS that has features haphazardly slapped together, but nothing to unify them. The changes in Windows Phone 7.5, on the other hand, feel like an extension of a vision, of a philosophy of how our mobile phones should work. While Apple has simplicity down (just one button!) as their guiding force, Android seems to have a "throw the kitchen sink in there too" mindset, resulting in a more chaotic, inharmonious experience.
It's almost odd to see such an approach from Microsoft, who's more often been associated with pragmatism not elegance. But "Mango" aptly demonstrates that Windows Phone 7 was not just a one-hit design, but rather the beginning of a whole new ecosystem (which we're now seeing extending to Xbox and the PC).
The most odd thing about "Mango" is the lack of a "killer feature". That's not a put down either. What we mean is there are so many new things on board, that there can't be an agreed upon single "wow" feature. Instead, the user is allowed to pick and choose what they feel is the best. For myself? The performance improvements, IE9 and Bing are all amazing, with IE9 being ground-breaking. For others though, the tight social-network integration or Office improvements could be their killer feature. In short, there's something for everyone in this update.
Is it all rosy? Perhaps not, there's still some "Microsoft control" over the OS is still present, the permanent "tool bar" above the keyboard takes away precious real-estate, the inability to download podcasts over 3G seems over-protective, etc. But these come off as more nits than full on criticism. With so many fixes, new features or expansions of old ones, it seems a bit difficult to levy serious criticism. For being a "preview release" the OS is substantially stable, with only the rarest of hangups and demonstrates how far along in development Microsoft is with "Mango", making that fall deadline extremely plausible (and hey, it works on the Focus already--heck, Sammy even gave us a new firmware update this weekend).
But there's another half to this "Mango" equation: developers. A lot of things in this update won't shine until devs start cranking out new or updated apps that leverage all the new APIs, gyroscopes, augmented reality tools, new Live Tile system, address book access, socket support, multi-tasking, etc. When that happens, we an really be prepared to be wowed.
Microsoft has added frosting to last year's cake, now it's up to devs to add the candles. In short, Mango is delicious.
Mango Image courtesy of: VanSoaked (DeviantArt)
Daniel Rubino is the Executive Editor of Windows Central, head reviewer, podcast co-host, and analyst. He has been covering Microsoft here since 2007, back when this site was called WMExperts (and later Windows Phone Central). His interests include Windows, Microsoft Surface, laptops, next-gen computing, and arguing with people on the internet.
Great review. I'm so looking forward to Mango on my focus! However, is there a way to quickly revert back to the music screen from anywhere? It takes a little while to go to music, click music, swipe left two times to play list, and then choose something. Also, can apps now utilize the LED light like for a flashlight app? This is something I'd like to have. Go WP7!Also just checked out the new bing features and voice command. Wow!

"apps using the led light" is a gimick. dont fall for that iOS trash. Apps are supposed to be software programs, not gimicks utilizing a camera light.

Really? A gimick. I certainly wasn't a gimick when I was hiking down from Upper Yosemite Falls and night started to fall. And that was on an AT&T 8525 made by HTC running Windows Mobile 5. Not something iOS brought to the world.

You can just click the now playing information in the volume drop down and it will jump back to the now playing screen

Hitting the volume key and clicking on the playing song takes you directly to Zune's "Now Playing" screen. He demonstrated that in the video.

If you have a HTC phone there is already an app for this that has been released by HTC, in the HTC section. It acctually works really well. :D

"can apps now utilize the LED light like for a flashlight app?"They can do it even without Mango, used it many times on my HTC...this is not Apple's "wrong use of hardware therefore banned" world.

Don't forget that this is an HTC-only feature. I needed to developer unlock my Focus to get the same functionality.

Well, now...didn't know that. Sorry.

I think that it is just a matter of the right people writing an app for it. I got the flashlight app from HTC and it uses the LED. Even has a flashing mode and 3 brightness levels. That's on my no-do Trophy.

Awesome review Daniel. I absolutely cannot wait for Mango to be in my hands!!! And with Nokia phones coming later this year, and Microsoft pulling together all of there assets, it is starting to look very good for Microsoft and it's users!

What a tease, until Mango is actually released. Great review though!I was so hoping when you demonstrated multi-tasking that the cards could be swiped away, ala, webOS. Oh, well maybe homebrew can fix that.

Excellent review, as usual, Daniel!It's surprising to see Mango in such a mature state right now considering it won't be shipping before September. I guess Microsoft doesn't want any update hiccup anymore.

I have a feeling testing will start for mobile carries alot sooner maybe even by july so come fall everything is ready to go and there won't be any delays out of Microsoft's hands like NoDo

Any word yet on the still missing features that would bring WP7 back up to par with WM6.5:• Full landscape support for home screen & throughout the OS (not just selected applications)• Ability to use phone memory as flash drive• USB sync with Outlook• WiFi teathering• Custom MP3 ringtones

I would also love to know if Custom MP3 Ringtones are finally becoming part of the WP environment. It seems so very tertiary, until you realize how useful it is when you waiting for THAT call or text. =)Phenomenal review, Mango can't get here fast enough!

Customised ringtones are coming!http://www.wpcentral.com/wp7-keynote-summarised"Personalized ringtones is displayed, adding new files with ease".Also USB sync with Outlook is actually a step BACK not up to par. Outlook via the cloud is much better. Great review. I personally can't wait for Mango. I never knew about the face tagging and the tellme "loudspeaker" is exactly what i was hoping for.

It would be awesome if they let you create ringtones from your Zune Pass music as part of your subscription. Maybe like 2 or 3 per month.

USB sync with Outlook is NOT a "step BACK", especially if the option is provided so that the user can choose whether or not to sync with the cloud or via a desktop.

right now you can use outlook connector for hotmail and you can get your hotmail calendar on your desktop as an additional outlook calendar you can move whatever outlook contacts drag and drop into hotmail contacts theres a youtibe video from pocketnow that shows how.

And here's where a lot of us disagree. I think now ANYthing that absolutely requires Outlook is a step backward. The Outlook Connector works just fine. The only part that's missing for those who actually use it is the Tasks. Although in Mango "To-Do" is Tasks renamed, and it will work with the Hotmail and Exchange, it still won't work through the Connector.Mango will allow you to add custom ringtones as MP3 ONLY (no .wav files).I don't understand why anyone would want the start screen in landscape. That's just plain ugly, and not the normal way you hold & use the phone.WiFi hotspot was announced back in MIX. And, you guys would be correct that the carriers--particularly AT&T--aren't about to let that go without an extra chunk of $$.

The start screen in Landscape would be perfect on the HTC Arrive and any other side sliding keyboard models; having to flip back-and-forth between landscape and portrait orientation would be annoying. As to Outlook here is my scenario: I use my TouchPro2 and have that synced to my cooperate exchange server, but at home due to firewall restrictions I cannot sync outlook to the same exchange server (unless I do a VPN connection which then shuts down all other network traffic), so at home I get my cooperate email via IMAP in Outlook, and my calendar that is synchronized to my phone wirelessly then syncs the calendar via USB to my home computer creating a perfect calendar sync solution. I'd get my hand slapped by my cooperate IT guys if they found out I was syncing the data via a third party account (Hotmail). I'm sure there are a number of other folks who cannot use the Outlook-Hotmail connector due to cooperate IT restrictions or that simply do not want/trust their data to Microsoft's cloud. I'm not saying to get rid of the current options, but having USB sync with Outlook should still be included as an option.Along the same lines being able to use the phone as a flash drive is simmilarily important; simply emailing my self copies of documents is a waste of email space, and having the a synchronized documents folder is a must have.Overall I'm excited about WP7 but I'm still holding on to Windows Mobile 6.5 for now until they put the polish on these minor things that complete the user experience. I'd bet I'm not the only one who things like this. Microsoft are you listening?

I agree with @mizzourob. The idea is to have a DIRECT connection between my desktop home computer running Outlook and a WP7 phone should be one of the OPTIONS and NOT REQUIRED. Users should have the option of moving personal data, particularly banking and other private data directly from machine (PC) to machine (WP7) and not through the cloud, for the sake of security.

I thought they would be adding ring tones, but I haven't really seen it in writing. As for tethering, even if it was supported, the carriers wouldn't allow it without charging you 20 more bucks a month to useu the SAME amount of data your phone can use.

@mizzourobFull landscape support: nope, no changes except IE9Use phone as flash drive: nopeUSB sync w/Outlook: nopeWifi tethering: nopeCustom MP3 ringtones: should be there in final release, but not now

Cant apps use landscape? So messaging apps can only be used in portrait mode?

Messaging can do landscaping now. Basically anything you can type in can do landscape.

Hey Daniel, just a nostalgia post here to remind you how far we've came and also for some entertainment, crazy reading about mango! I loved this time :)

Nothing about backup at all?

What does the windowsphone.com do in the settings?

Apparently thats the name for "find my phone", but it still says "find my phone" at the top once you open it. Wonder if its an accidental input in this build. windowsphone.com doesn't make sense. UNLESS, they are going to roll out the new 'my phone' as 'windowsphone.com' for backup of your phone settings & messages ect. Wouldn't that be something?

We probably wont hear anything about that until they release information on the next Zune software release. It's coming, or certainly something to take it's place.

I imagine we will hear something about "myphone" and skydrive closer to release.

Daniel, just as a sidenote, I can't seem to find any official statement from Microsoft about full device and storage encryption (as specific in this thread: http://answers.microsoft.com/en-us/winphone/forum/wp7-wppeople/corporate... )My company currently requires this in order to connect to Exchange. My WP7 is booted off due to the lack of this feature...Do you have any info?

It's on their list of things and it's a big concern, but they have nothing to announce as of now :-/

Thanks... That's a big disappointment :(

im almost positive they switched functionality of the search key to "always bing" and remove marketplace search because of confusion. People expect a hardware button to do the same thing all the time, and not change functionality depending on a circumstance. it makes sense, and makes it all more cohesive. im sure they did marketing research on this.

Not that I believe Android to be the "end all, be all" of UX design, but isn't the hardware menu button app-contextual?I very much appreciate being able to hit the hardware search button in the People Hub, the Marketplace, etc., so I for one am hoping that they haven't changed how it functions.

If the hardware search function goes to "Bing" only now, are they making a change in email for a search function? I use the button now to sort for a particular person.

I love how they left "no stone left unturned." I mean, even the marketplace UI got a makeover. the iphone app store has looked the same since forever and it certainly isnt the epitome of interface design.

Microsoft isn't kidding around anymore. They've gone all in this time, and I feel it might just pay off.

Seems like there is still no week view for the calendar. I can hardly manage My appointments with the given Views

I kind of agree. The month view leaves the font way too small to really see anything. The agenda view is what I like the most, but I wish we could kind of zoom out and see the next couple of days instead of just a day or two. Maybe a livetile that would cycle through appts. for the day (or the first thing tomorrow) would be cool.

Hi Daniel great review! You need to switch to WP version 7.1 as target in Visual Studio, recompile and deploy and you are ready for fast resume :) More on that here http://www.windowsphonegeek.com/articles/Switching-between-Windows-Phone...

Ah, that's the info I was looking for. Much appreciated.

I knew i struck gold with this OS, damn Im loving it. Yo man great review.

Mango on focus??? How the **** did that happen???

Does Mango have seperate volumes for ringer/media/headphones?

No, single volume. Though there is a 3rd party app that can help with that. Search for "Media volume" here on our site.

Thanks, Daniel - one of my few annoyances.I fall asleep to music on about volume level 2 - which is useless for waking up to an alarm.

My main issue has been leaving the volume loud enough to hear when the phone rings, but soft enough so my keyboard clicks aren't super loud. I really wish they would leave it as just media volume and then put other volumes for notifications, ringing, typing, etc. in the settings menu.

Great review!And performance improvements are definitely there (you are not seeing things) as a lot of work went into optimising .NET runtime in Mango.P.S. I love that they sent out Samsung hardware - shows that owners of Samsung phones won't have problems this time around :-)

I'd better get to work on the Mango version of WPCentral sometime soon then, take advantage of some of these awesome new features!Great review Daniel, something I'd like to know though: does the Xbox live messaging now have auto-correct when composing messages etc? Really bugged me that Xbox live extras didn't have auto-correct in the messaging

>Does the Xbox live messaging now have auto-correct when composing messages etc?Indeed auto-suggest/correct is there ;-)

I'll definitely read the review on my way to work today. Question: XBL allow for listening to and creating voice messages?

>XBL allow for listening to and creating voice messages?Nope, just text.

Thanks. I hate it when I'm using my WP device and I send someone a text and they'll respond by voice, in which I'm unable to listen to. Hopefully one day, we'll get that.

Can you search the calendar with Mango? I would envision hitting the search button while in a calendar view. Right now, doing so takes you to Bing search.

>Can you search the calendar with Mango?No search in calendar. The search button ONLY does Bing 100% of the time now, no contextual use of it.

I'm pretty sure it was demoed before somewhere - but not via the hardware button.

Great review..Can't wait for Mango. I'm looking forward to the SkyDrive stuff. Mostly accessing Docs on SkyDrive via the Office Hub. Also sharing and playing Videos through SkyDrive will be a great added feature.http://windowsteamblog.com/windows_phone/b/windowsphone/archive/2011/06/... Good job Microsoft, now get the carriers on board with pushing this update and help pushing the Advertising.

I'm not sure if the carriers are really in control of much with windows phones. When I got NoDo it was only through the Zune software (which was flawless for the most part). Even the preinstalled AT&T apps can be easily uninstalled. Beautiful :)

Really like the new, larger Zune controls. It also looks like they enlarged the dark grey background panel behind the buttons, so it covers the applist arrow, which in NoDo and earlier is so close to the "Ring/Vibrate" toggle button that I often hit the wrong one!Nice overview. Especially cool to see it running on a stock Focus, which is what I have. I am encouraged that the Focus will last til my next upgrade cycle in Spring 2012, when, hopefully Nokia WP7 gear will be out.

The new Zune controls are very nice indeed. I'm glad you can click the artist name when changing volume or track to go straight to the music app. Right now I have to click music, click music again, and swipe twice to get to my playlists again... Not a huge issue, but yeah.

Question on the shutdown screen... Does Mango force you to go through the shutdown screen, or can you still powerdown the phone by holding the power button?

Probably you have to swipe. Power button will likely just cancel the shutdown option. It is welcome for me because I often accidentally shut off the phone just by holding the button too long.

"Oh and did we mention Wallpaper? ..." --- This is not new... I do not see anything different from what is on it now or am I missing something? I can go to settings >> lock & wallpaper >> click on the "change wallpaper" and get that same optionAll in all I cannot wait for Mango :-D

These wallpapers are not on all phones at the moment. I actually thought that they are not provided by Microsoft but by Samsung.

So the search button now does Bing 100% of the time?... No more Google when in IE? For real and for true?The best choice though, would be the option to pick your own search engine in Settings.

When did search button launch Google in IE?

That's a carrier/manufacturer customisation :) I noticed it because on my Omnia7 on 3 the search key in IE brings up Bing, whereas my Father's HD7 on O2 goes to the Yahoo search page, so he'll be glad to be rid of that stupid design decision with Mango!Personally I'm a bit disappointed we're losing contextual search, I like tapping search and knowing it would be related to wherever I am (like the music marketplace when in Zune)

Yeah and in my IE I get T-mobile's Google search when I press it. Shame that's going, I hate Bing :/

100% of the time, even in IE9.

love the review, any sign of VPN yet?

MANGO NOTIFICATION QUESTION:Is anything changed in the way notifications are handled?For example, today you can turn on the screen and check the little icons at the bottom or check your tiles to see if there is a number in the tile to tell you messages or voice calls you have missed.However, some phones have small LEDs and for years I have had phones with audible sounds to let you know you have a new message. Both very usefull if you are away from your phone otherwise you always have to keep turning on your screen.My understanding with the current OS is that there was an API that needed to be made public but it was all possible, anyone know if this will be available with Mango?

Great review. Thanks so much for taking the time to write it all up for us! Did you happen to notice if free/busy information is now available when setting up meeting requests on an exchange account. That is a crippling absence at the moment in the enterprise environment..... Cheers! DavidM

Great review!I have one question regarding emails :) Does Mango do the two way sync? As I struggle today with the email updates. Changes such as reading/deleting emails on WP7 device are not synces until a new mail arrives from the server. Manual sync does work, but it is not convenient.Thanks!Arnie

The two way sync exists now, it just depends how often you update your e-mail. For instance mine updates every 15 minutes, so if I delete an e-mail from my phone it'll be deleted from the server 15 minutes later when the sync goes through

Ah, ok. Thanks for the info. But what if I set it to "as items arrive" (as I have it now)?

Errr good question, you're probably right it will only occur when new e-mail arrives or you send new e-mail effectively syncing it

Exactly :/ Anyway, thanks a lot. I hope, Microsoft will fix it. It starts to be a little annoying :)

You get Mango and I do not even have nodo yet....! :(

I am so sorry... I have a focus and I got NoDo and yet I'm hearing of other people having these issues. I hope Microsoft learns its lesson for Mango.

How about a notification light? I would love for the power light, or one of the soft buttons to flash when I have a message and the screen goes to sleep, this is really the 1 feature that I really need.

The hidden wallpapers folder has been there since day 1

Hey Daniel, assuming your Mango device is dev unlocked, meaning you can install a Reg Editor, you would do your readers a great service by confirming that the most serious live tile bug has been squashed.Looks like you already have several push/live tile apps installed, so go to HKLM\Software\Microsoft\PushClient and make note of the ManagedEndpoints & Endpoints counts. They should be equal. Now soft reset your phone and wait about three minutes, then go back to the same registry key and see if the MEP & EP counts have remained static. If the keys were equal to start and nothing changed after a soft reset, that's a very good sign. Otherwise, it's back to the drawing board.

OK, little question: Can you choose the reply address when using a gmail (or I think it applies to any email) account? So I've got all my email coming into my gmail account, but I don't want to reply with my gmail address, I want to reply from the address to which the mail was sent.Really that should be automatic, as can be enabled with the gmail web app. But WP7 doesn't even provide the option to select an address manually every time.Could you please check that out for me?There's a note on it here: http://windowsphone7community.uservoice.com/forums/84435-feature-feedbac...

Any word on BT audio streaming when watching videos?

bluetooth (AVRCP/audio) for videos?! i hope it's one of the yet to be announced fix. for this very feature i still carry a KIN (just for the media player).

Can you swipe away the bigger media controls whenever you hit the volume rocker? That always annoyed me when I just wanted to make a minor volume adjustment and it had to stay on the screen for 3 or more seconds.

Haha I know what you mean. I guess there would be too much similarity between a press and a swipe on such a small area of the screen. I'm just excited to jump back to the music screen from the volume bar rather than having to swipe through to my playlists again through music.

I am guessing here, but in the one video, you mentioned that the link should have jumped to the app but went to IE. From my understanding what you had happen was correct, you were looking at the prices page, which would take you to the webpage associated with that result that you touched. What was missing was the "extras" panorama which is where your apps would appear. My assumption is that if you are not running the mango enabled apps for ebay, amazon, IMDb etc., you are not going to get the extras tab. The way I understand it, is that the developer "registers" his app saying that his app handles books or movies or whatever. Then you would get that missing Extra's panorama and the functionality of the deep app linking. Great review, and I can't wait to have some Mango Frosting!!

Does Mango put an end to that pesky 160 character text cap?This is something so minor but it drives me insane, especially coming from an OS that divided the texts for me in the background.

What are you talking about? Nothing like that on my pre nodo focus 1.4. Maybe it is your carrier?

I have a HTC Arrive, I thought it was the OS but maybe it's just the Arrive...

It might be a sprint or Verizon thing. I write messages that are like 400 characters, other people seem to receive them just fine. Hope it gets fixed though.

Ohh hey Daniel. My biggest fear with what is taking so long for Focus rev 1.4 and NoDo is that it will lead to a huge delay in 1.4 Focus geting Mango (or something just wrong with the hardware preventing it from coming to rev 1.4).Make me happy and tell me that the Focus with Mango they sent you is hardware rev 1.4?!!

Daniel, do you know if they've changed any settings with POP emails, for example, it leaves the message on the server when downloading, but if I want to delete the message on my phone AND the server, does it have that option? Also is 15 minutes still the lowest option to choose for checking?

aside from a homebrew hack i hope soon they address the vm ,call email notifications as like others mentioned here. A one time sound just does not cut it for me. I loved the option in WM6.5 to force a repeatable audible alert or light every x seconds until i retrieved the vm, text etc.also Bluetooth for videos, [might be headset specific] - cannot watch movies via my BT Plantronics cans.

Great great review Malatesta. This all looks awesome from afar, the problem is, when will MS be able to let all of us at it. They HAVE to get it to us before the new year along with new hardware (preferably before the new iPhone is released) to have a chance at gaining more marketshare.

I think Mango will be out within a few months. I'm not sure that releasing a software update would pull too many more people away from iphone or Android, but all in all it would be a huge help for anybody considering the platform. Now we just have to educate salesmen who still think windows phone doesn't have copy paste...

Do you know if it will have wireless tehter or does mango have this feature included in the mango updates?

This is not good. No, it's not good at all. in fact it outright sucks! I've read all of it, saw all the vid's and Your saying hey we tossed you a bone this is what we will see come the fall. OMG that's 3-4 months down the road.I tuned on my device just now and thought !@#!@#@!# it's not Mango yet. Yea pretty much everything that everyone wants and needs and been hoping for. now the wait game. and god help the carriers who hold this update back.

I don't think the carriers have much of a say anymore. NoDo came through the zune software, and you could easily uninstall the preinstalled AT&T apps. I hate waiting too, but what we have now isn't too shabby either. It will be well worth it :)

Carriers get to test the update prior to releasing it to their customers. They then tell Microsoft that its ok to release it on this phone, then MS via the Zune software updates your phone. Now, if you have an unlocked phone, which the Zune software knows, when MS releases it, you would get it.The reasoning behind the carrier testing is because they are the ones that provide the support on it, so they get to check and make sure that it's stable. They will all get it at the same time, RTM, that is when the clock starts for the carriers. Then comes the next milestone, the Release date, from then on, it's crunch time for the carrier to approve it. But if they sit on it too long and another update comes up, MS will push the older update automatically. The issue with the Focus is, (from my understanding) a firmware issue which is why they don't have NoDo yet.

The only thing i don't like so far is that they removed the "back" animation - you know, where the tiles swiped back on the screen. I kinda liked this "out" and "back in" movement of the tiles while launching/quitting an app.

I agree. It gave it sort of a dynamic feel. This might not be the final cut though.

What Office improvements were made? Were you able to review them?Can you "unify" only primary inboxes, or pinned folder tiles? It'd be neat to have a "My Girlfriend" live tile which unifies my "Match.com" folder from gmail and my "The Wife" folder from Outlook.

With the new history in Zune, does that mean you can resume a playlist, song, or the shuffle all after watching a video that's stored on your device?Currently, watching a video that's on the device (recorded from the camcorder or sync'ed from a computer), removes the miniplayer from the volume dropdown. It seems to be the only way to remove it without turning off the device, but, unfortunately, Zune doesn't remember where you leave off afterward with songs/playlists like it does with videos.

Best mango preview on the web. Thanks a whole heap.

Something that I'm hoping made the cut is a feature from WinMo 6.5 that I miss a lot - having ActiveSync be able to sync your text messages inside Exchange, so you can even send SMS messages to other people from Outlook on the desktop?

Awesome review! Cannot wait to get it. One quick question but can you voice control zune now? Would love to be able to choose songs in the car through voice

How about the option to leave WIFI when the phone goes to sleep? It is so annoying to wait for it to connect to check anything as I only have the 200mb plan on ATT and keep 3G turned off most of the time..yes, I know why MS did this but I would like to decide if I want to kill my battery faster..As jimski mentioned need our non-working Live Tiles fixed. Also would would like count of unread emails stay on the email Tile. Kind of dumb to have to number disappear just because you go into email.

Amazing...ive read the review twice now!!!Not sure if Daniel is still keeping up with comments butbi have a question with zune player...is there a way to force continuous play rather than a pause and fade to next track?Moat of music I listen are continuous/nonstop DJ sets (electronic music)...Thanks help in advance.

i'm confused. that whole "wallpapers" thing is already in my phone. it shouldn't come with Mango?

Thanks Daniel Rubino for the awesome review of Mango. You did your thing man. You really did. Watching the videos and reading through this is a welcome breath of fresh air. I can't wait to put my Android up for sale and get a Windows Phone 7. Thanks again.

I went from android (Galaxy S) to WP7 (focus). Even with just NoDo I think WP7 does everything it can do VERY well. My android was constantly force closing and lagging. Email was inconsistent at best. Battery life was severely lacking. The focus almost never crashes or even so much as slows down. Battery life is wonderful. Any complaints I have (music control shortcuts, color bit-rate, multitasking) are being fixed in just a few short months. You might be better off waiting for the newer generation of windows phones (like maybe Nokia?) if you want to switch. However, the focus is a really great phone with a beautiful screen and good camera. It wouldn't be a bad choice even this late in it's life.

Wow. Very nice guys; only some questions:Does Mango still add the extra contrast to pictures?And does it make the lockscreen images darker?Does it still elongate square pictures?Can I set a delay for the passcode lock?

What I would love is something for podcasting on the go. Right with other devices you could record a live show and email it to a service. Maybe I'm missing something in the inner workings but I'm just a photographer not a complete tech guru. Was there any mention in the press briefing of emailing more than MS docs & photos?

Ugh...still no full landscape support? /wrist =P

the power down lock screen was part of Zune HD! Glad they bring it, and pretty much shows that Windows Phone 7 is upgraded version of Zune HD!

Are notifications and live tiles faster and more consistent cause atm im not so satisfied and dont receive all notificationsThanks halilhalil55
Windows Central Newsletter
Get the best of Windows Central in in your inbox, every day!
Thank you for signing up to Windows Central. You will receive a verification email shortly.
There was a problem. Please refresh the page and try again.