Skype Windows Phone app hits Beta!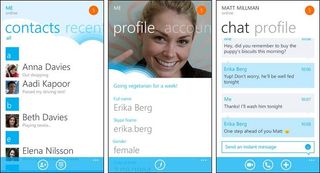 We've heard rumors about a Windows Phone Skype app and now a Beta version of the Skype App has hit the Windows Phone Marketplace. The app will allow you to:
Make and receive voice/video calls and instant messages to anyone else using Skype, whether on a Windows Phone, iPhone, iPad, Android phone, Mac, PC or television.
Use your Skype account for free at home, at work, or on-the-go (WiFi connection or mobile data plan required).
There is a disclaimer pointing out that this is a pre-release product and you may come across occasional bugs and issues. You can find the Skype Windows Phone here (opens in new tab) at the Windows Phone Marketplace.
Windows Central Newsletter
Get the best of Windows Central in your inbox, every day!
George is the Reviews Editor at Windows Central, concentrating on Windows 10 PC and Mobile apps. He's been a supporter of the platform since the days of Windows CE and uses his current Windows 10 Mobile phone daily to keep up with life and enjoy a game during down time.
woot installed and looking good

Damn this is awesome. I'm stoked! Looks good for a beta too!

Went to download this and just got.
"You're already using your Windows Live ID on the maximum five devices."
I only have one device...

Yes......i got it after trying 10 times..i guess it takes five minutes after its announced..lol

just did my first call using my Trophy.. works brilliantly. so happy skype (beta) is here!!

How did that work without a front facing camera? Awkward?

Finally the long promised Skype grail has been delivered to the faithful community :D

Can anybody test if you can receive calls when app is not open like how tango app does...app looks great though

Have it installed, very happy to have it at last :), it is a bit surprising there is no push option for call notifications etc, can anyone confirm that the only way you will receive a notification of a new message or an incoming call is to have the app open?

Yes!! So Excited to give this beta a go! My wife let out a cheer when I told here about the skype on her windows phone.

It looks great. The video quality is better than I expected. But no push notifications. No background task. You DO go offline when you hit the Windows button. Maybe it will get added.

I'm on Verizon's Trophy.
I can confirm that you cannot recieve notifications (message or skype call) when the app is minimized.

Mind you, I said minimized not closed.

- Regards

I didn't see a way to add new contacts. Could someone help me out? Hopefully I'm over looking it :/

WTF is up with the Skype site.

Got the app and went to Skype to register an account with Skype.

After filling in all the required info and pressing the button it says that I am not able to create an account right now! Tried it like five times and no joy :-(
Is Skype having problems?

And now I tried to create an account from the phone. Same page, new error. I filled in every field and a approved unique user name.

Still it says "review your entries" every time. Thanx, skype for nott telling me which f-king field you are having problems with. How are a person going to get thorugh this bloody worthless registration page?
Guess I wont be using skype...

I'm having the exact same issue. Downloaded the app and went to set up an account and... Well same crap you are getting. What's up wid dat?

Yay I got mine cant wait to try this bad out haha. I hope the official come with more features though. But looks good for a beta :-)

Why are some people freaking out? Its a BETA so of course it isn't going to work perfectly yet.

Worked like a charm on my HD7.

By default the video is disabled, if we enable it takes the back camera since the HD7 doesnt have the front facing one. Some initial feedback below
Initial feedback: When you have an incoming call you press accept and the wery next call screen has the end call placed right where the accept button was. So i ended up accepting and cutting my very first call
Send Feedback is not working




Not reported here, but in the press release they expect the Gold version to be released in April, FYI.

I tested with my wife's iPhone 4S & my Samsung Focus S:
Landscape-only for Windows Phone. That sucks, but like everyone said, it is beta.
My face showed up on her phone with a very sharp focus, looked great other than showing my face. ;)
However, her image on my phone was very pixelated. Not sure if it was her phone or mine; we were on the same WiFi connection.
I will test from a PC webcam & report back if I have time this morning so we know if the iPhone or Windows phone is the one giving a pixelated image.
***UPDATE***
I tested with my HD Microsoft camera on my PC. Confirmed that the Windows Phone app on my Samsung just will not get anything better than a blocky or pixelated image from iPhone or full Windows client. It is certianly useable, but not near the quality that I'd expect.
The odd part about that is that the video that is sent FROM the Samsung Focus S to the PC or iPhone is great! I'm going to just assume this is a bug in the software that will be resolved in the gold release.

Hmm I can't find this in the marketplace.

If your reading WP Central through the app, you can swipe over and click the "download app" button. Otherwise, not sure what else to tell you

Finally!!! Will test it out soon

I know it's a beta, but I expected more from MS with software they now own on a platform they need to succeed. No video, had to add a + to the phone number of all my contacts so they would show up, only mobile number shows up, no push, I could go on. I really love windows phone, but this was half-assed, plain and simple.

I don't care about all the features and goodies that will be added later. All I care about is does it work. I downloaded it on my HTC Radar and it does and quite well I might add! This is only the beginning!:D

Its a Beta so no bitchin here. Works fine for sending calls, messages and video calls on my Titan. Video quality on both ends is excellent over AT&T "4G" AS LONG AS you keep the phone still. The blockiness sets in quickly when you start waving the phone around.
Major limitations of this Beta are that the App exits when you press the windows button - it has no background client - so while it works great for sending calls etc its useless for receiving them unless you know ahead if time to open the App. The other annoyance is that the front racing camera is oriented in landscape so it's a but awkward to use it u less you are sitting down.
A good Beta version, although you would have thought that MS could have had a version that takes advantage of Mango by now. This will be ok for the new limited Tango devices that can't run background tasks, but for the existing base its a limitation that really needs to be lifted asap!
Props to the Dev Team for a smoothly function Beta version!

Spoke to my mate in thailand (I'm uk) and the call quality was excellent. We did lose the call about 5 times due to me touching the back button and really windows key and some other key with my face. The screen doesn't dim to stop you pressing keys like it. Does when you're on the phone. Also I had someone else calling me and. That was liud in my ear. I understand why this is happening because. It's an application and not the phone. But it would be nice for Skype to act like a phone. Apart from that I'm impressed. For first beta.

What is strange is that I seem to receive calls even when my app is not open...they come in from "unknown". At first I thought it was people calling my cell from skype, but it turns out that they are calling me as it shows me logged into skype.
So i think that this is actually running in the background but I agree that I do have to log in everytime i go back to it.
anybody else notice ability to recieve calls from skype?