Skype for Windows Phone gets maintenance update to make you more sane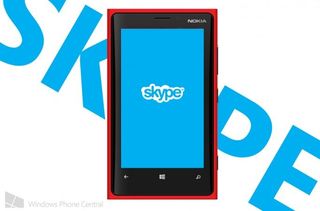 Skype for Windows Phone is a constant work in progress, and it looks like Microsoft is serious about making sure it's up to task. So it's great to see version 2.5.0.135 (up from the previous 2.4.0.108 about a month ago) get published to the Windows Phone Store within the last hour (indeed, it's so new we're having trouble downloading it).
Those looking for some major new features though will be disappointed as this looks to be a patch for the previous version, fixing up some little errors and performance issues. Indeed, the changelog just states "General fixes and stability improvements", which while not much still makes the app much more pleasant to use.
From a few reviews, it looks like in certain circumstances the previous version was freezing up on people or having a difficult time resuming from the background. We're hoping that issue (and any others you have experienced) has been fixed with 2.5.
Update: Skype has published (opens in new tab) a full changelog of v2.5:
The good news is in theory, if this version is stable the Skype team will continue to add new features and design changes for the next update.
You can download version 2.5.0.135 here in the Store. Windows Phone 8 only, 512MB devices OK. (Note, this update is super fresh, so if you have trouble updating, just try again in a few hours).
Thanks, afgzee, for the tip!
Daniel Rubino is the Executive Editor of Windows Central, head reviewer, podcast co-host, and analyst. He has been covering Microsoft here since 2007, back when this site was called WMExperts (and later Windows Phone Central). His interests include Windows, Microsoft Surface, laptops, next-gen computing, and arguing with people on the internet.
I had to uninstall it. I won't reinstall until it allows to log out. It can be really annoying when your phone starts ringing at phone, and since it's skype the fact that my phone is on vibrate mode does not matter.

*edited to add: This new version does have the switch accounts option, last time I tried it, it wouldn't let me sign out in any way.

Seriously? Go to your profile, menu, SWITCH ACCOUNTS.

Just hit your ID image in the corner and "switch accounts". You'll be logged out. That's been there for awhile.

it allows you to log out but the option for finding it is a bit strange.
touch the green (or grey) dot on the top right hand corner. then click the 3 dots on the bottom right corner, select switch accounts and it'll log out.

Yeah, I had no idea that was there.

Last time I tried it it wasn't there, it would only allow me to appear invisible, even that didn't help. I might try again.

This new version does have it, it was not there last time I tried it.

perhaps you didn't update, i've had it since the last update at the least which was probably a month or so ago.

Probably is, it isn't that easy to find. The whole interface is not easy to use.

I always run all updates, but perhaps it didn't update properly? or maybe there was another one since I uninstalled a few weeks ago? Anyway, at least it's there now.

Maybe uninstall and reinstall Skype all together?

It's there from previous update.

Are you serious?.... You're an idiot. It's people like you that's a bane to devs' lives.

Thank you, but the option was not there last time I used Skype, and I had read the information about the previous updates. I just tried it, and it is there now. No need to insult people.

You have to poke around in an app before you downplay it and decide to uninstall it because it doesn't do something you thought it should.
Most devs i've written to have actually replied very promptly with answers to questions/issues i have. Obviously Skype is going to be a bit different in that respect, but still....

and people like you who make this site a little less fun to visit.

Dude,have you eaten today? You seem a little cranky.

It's people like you that are a bane to nice and civil people's lives.

Good. People stress me out, i'm just returning the favor to society.

This is the devs' own faults for not making it intuitive.

Actually, I did poke around, followed the directions others had given before as to where the option to sign out was (as I have already stated in different posts on this thread), and the option was not there. I HAD TO UNINSTALL IT so it wouldn't ring at work, I am pretty sure I stated that as well. Now after I reinstalled it, the option IS there.
Thanks again for the insults.

Devs should make such a popular app and a used feature easier to find, its people like you that make me angry :)

well you dont there is switch account option it will sign out you


Will it still obliterate my battery even if it's not getting used?

You can stop you phone from using the battery by switching it off

Is there a way to turn off Skype or are you being a smartass and just telling me to turn off my phone?

You can log out of Skype now. And it doesn't even do anything in the background anyway

Yea, logging out I guess works but you still have to sign back in if you want to use it. I'm not sure if what it was doing but when I had it installed previously it killed my battery. Uninstalling it fixed the problem.

There was a bug in the initial release that ate battery. That was fixed a while ago. These days it works correctly, the server maintains your 'online' presence. If you get messages or a call, your phone gets notifications and shows the incoming call screen. But until it gets started by a notification, the app won't actually be running in the background. At least, not beyond the most recently used apps that are suspended in the background.

go to settings, swipe left, go to background tasks. see if skype is there, if so, you can block it from running in background. if not, go to advanced and do it there.

There is no option to disable skype from there. Looks like staying logged out will have to be the 'solution'

interesting..., cause i have skype disabled from running in the background. good luck though!

Well - before adding new features i would be pleased with messages appearing on wp8 and w8 - at the same time - with the same content - this inclused sent and recieved messages. When read they might as well be marked as read on the other system. if they found a solution for this - please give a little training for the MS Facebook development team. Edit: did i mention landscape view already?

so I guess WP7 Skype development is dead.

I think XP development is dead to - sorry to tell you but you are just in the phase of the product support life cycle

I would not agree with that comparison. WP7.x and XP are not the same situation at all. Look, even if you forget about the users that bought the phone in say, June, a couple of months earlier than the WP8 announcement, let's not forget they are selling brand new devices running 7.8. (Lumia 505 anyone???).
Honestly, the Skype version for 7.x is not great, what it really needs is a way to send push notification to the users when there's a new message or a new call, like say WhatsApp does but I don't see that happening at all. Having said that, my point was that the majority of WP users are still on 7.x according to the latest stats so people are still very much coding for 7.x. Is really nothing like XP.
Much Love!

I would have thought there would have been an update for 7.8 as well. There is no reason why there shouldn't be. If Microsoft wants users to adopt Windows Phone, they should be taking all updates seriously and stand behind the platform.

Obviously an update for 7.8 is coming, they simply developed first for the wp8 version ( for obvious reasons) and are now working on the 7.8 version as I type.

Either you are a developer or overly optimistic. Seeing that serveral Skype updates have already been skipped, unless I haven't been getting update notifications I am still on 1.3.0.3 for WP 7.8. I don't expect that will be changing anytime soon if it is the latest verison.

I agree it's dead.. It's business, that's the way it is..

I'd say it's hard to tell at this point, honestly. A lot of developers are still pushing their apps on the WP7 platform and are reluctant to add the necessary changes to make them useful in WP8, while other developers are pushing their WP8-specific apps and leaving WP7 in the dust. For the most part I believe WP7(.8) support is pretty strong, but the lack of updates on Skype for WP7 does annoy me.

i dont u the video chat often, but the messaging feature on skype is nothing less than frustrating.

For group texting, no notifications and even if i open the app up, it will not show new messages unless i message and sometime it takes hours before it shows up.

Skype texting needs to be on par with the other 3rd party texting apps like whatsapp/viber/kik/ etc

try reinstalling if notifications dont work - fixed it at my end

That doesn't fix the issue with group texting. Notifications works with person to person, but there is not notifcatino for group which i am ok with for now. THis was confirmed by skype support which is bad considering they purchased group me if i am not mistaken.

The problem is new messages in the group chat doesn't not show unless i text a new message. so a message could of been sent 2 days prior, but even if i open the app, it wont show unless i send something and find out the mesages were from 2 days prior.

Yes - grouptexting experience sucks in general when it comes to WP8 :)

Full changelog: http://blogs.skype.com/2013/04/15/skype-2-5-for-windows-phone-8-update/#fbid=N6J8KAuNy5L

That means 8x users will receive an ota update today?

I'm also curious about that last point. Are they referring to an old update or one that's about to roll out? Seems like they're talking about an old update, but I did that update a while back.

In the change log it doesn't say that its in preview anymore...

I wonder if in the future, if my wife tells me to fix something, and later I inform her that the coffee table has undergone "General fixes and stability improvements", I wonder if she'll be satisfied? Hmm...

Seriously, Skype for WP7 sucks. This week I came so close to buying WP8 or whatever else at a full retail price. I was in Mexico on biz trip and had my data turned off and had to rely on hotel's public wifi. my wife in US just couldnt get hold of me on skype since my phone wouldnt retain wifi connectivity, and even when wifi was on, while switching from app to app skype would go "off the foreground". and it just wouldnt receive the call. and guss what? my battery was FULL. We make fun of android devices for draining battery. My question is, whats the point in having full battery if the damn device doesnt work?

You know that WP7 Wifi disconnect when it goes to sleep, right? Skype also doesn't run in the background like WP8.

So if stability is up with this version, can we expect to start seeing feature parity updates? I'm hoping for attachments in chats and the ability to leave/view video messages.

what do you think this is?? iOS????

leave video messages? I can't even get it to video chat. It should be easy, but nothing is with this thing.

yo video messages would be the shit. But apparently the skype team has a masters and phD in ios coding, but when it comes to windows phone they're still working on their associates -_-

Hahahah lmao! You're right though.. How u gone own something that's waaaaaayy better on other OS's.. Smh at Microhard to figure out how to make a working OS..

I wish it was integrated better with windows. I have people that for some reason have two emails, and only one is obviously tied into Skype. Even though both those accounts are linked in the people hub, they still only show up in Skype as the email address, not the persons name. And when you are in someones name in the people hub, you should have an option to Skype video chat, etc. The integration just isnt very good right now.

Skype is supposed to replace messenger? Please. W8 logs in fine, wp7.8 does not. Not with MS account or secondary account that I made.

Hey there, Skype latest update has connectivity issues. Anyone experience the same?

Here's my dealio. I always install these updates that supposedly include stability improvements. I update my phone (920) and my gf's phone (820) and then try to skype call her while STARING at her phone. And alas, it never goes through. She has to be IN the skype app for it to go through. I love using skype on windows 8 but at the moment it's currently useless on windows phone 8 for me. And if anybody responds to my message in an asinine internet-age rude way, I'll kick your ass

I have the exact same thing man. Did you already test it with this latest update? I'll test it myself as soon as I get home.

the gf working a double today. She gets out at 8 so I'll be testing it around 9pm EST and report back sir

I uninstalled skype with the last update when I STILL was not getfing notifications. Is anyone else having this poblem? I have yet to receive a single notification. Peolpe think I'm ignoring themwhen they call or IM. Has this been fixed with this update? if so I will download it. Otherwise not going to bother. HTC 8X/Verizon.

my problem too. Starting to think it's a windows phone problem, not skype, But maybe I'm wrong because for instance... games like alphajax never fail to notify me lol

I've had working notifications with the last update before this and they still seem to be working today, had a convo with no problems. I wonder if this is a network thing? On att with a 920.

Yeah, there's nothing that declares it as beta version (at least in the german description). they removed that beta hint ;-)

which Lumia is that? It needs more bezel.

Ya, it's lacking a little in that area.

I think this is photoshopped. Looking at my Nokia Lumia 920 (and yes I have the Skype app), the side bezels are not that thick. It feels like WPCentral took a 720 pixel width screenshot and plastered it onto the black screen area of a 920 which has 768 pixel width (creating a different aspect ratio).

can you see if somebody sends you message while app is closed?

Seriously, will Microsoft simply forget about WP7 like this? Geez, the last update for the WP7 was in July 2012 and it still doesn't support Microsoft account

Update for 7.8! Microsoft account!

I have an 8X and my wife has an iPhone 5 on Verizon and chatting between our phones has never been good. The video is always choppy and we get some awful 'electronic' sounding feedback when we try to talk. Doesn't matter our network situation. We've tried it where we've both been on Wi-fi, where one of us has been on 3G/LTE, and it never seems to get better. She gets a bit frustrated with stuff like this because I'm always tinkering with our tech stuff so we don't really try too often. Does anyone else have issues between different devices like this? I don't know if it's my phone or hers (I know Skype on iPhone has a terrible rating) but would definitely like to get this to work.

Thanks for the rec but it's not about voice calls for me, it's about video calls. I've tried WeChat which seems to work but it's just frustrating to have to sign up for yet another account with another service when we both already have Skype.

Does Skype loses its beta name with this update? Cause it sure looks that way!

Everytime we get a new version we see the same comments, no live for wp7. Sorry to break it to you guys but it will only ever be for wp8 you just don't have the infrastructure in your is for it.

Yet it is supposed to replace messenger across all WPs. Genius idea.

What does it mean when it tells me, your data connection may be used even if wifi is connected? Why would it do that? I would rather be able to stop it using my limited data at all.

Yes, Skype really have less lags and bugs for me now!

Message notifications and preview on live tile is a welcome new feature.

Message notifications for Messenger buddies are now on by default? Why? Why would I ever want that? Skype is already screwed up on Windows 8 because now I get a pair of notifications for every Messenger message and you can't turn it off without uninstalling Skype.

Now they're making that the default on Windows Phone too?! This is insane. Microsoft: your Skype implementation of Messenger is horribly incomplete and far inferior to the native, integrated Messaging capabilities in both OSes. Why would I ever choose to use Skype for Messenger when the OS supports it natively; or in the case of 8/RT, with the assistance of a high-quality first-party dedicated app? This is incredibly frustrating.

Don't make Windows 7.8 users disappoint please.we chose a 300 eur phone over android. Please

These comments are the best.

Good. but still needs feature updates
File Transfer??? this is available everywhere else! (even Windows 8)
Skype/MS need to merge the contacts on the servers moving forward as Messanger dissapears
Import of Skype Profile Pictures into People Hub. (I've got a lot of blank entries now)
Windows Central Newsletter
Get the best of Windows Central in in your inbox, every day!
Thank you for signing up to Windows Central. You will receive a verification email shortly.
There was a problem. Please refresh the page and try again.