Nokia releases Creative Studio for Lumia Windows Phones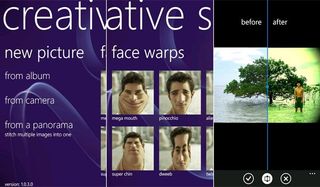 Nokia has released Creative Studio for Windows Phone, available to all Lumia handset owners. This app is a simple (but free) photo editing suite that enables users to alter and then share photos taken with the smartphone. A number of effects, filters and tools are available to turn that snap shot into a more visually appealing photo.
What's also neat is the patented technology used in the app which allows live, in-camera effects to be active so users are able to see what the end result would be without taking the shot. As well as this, we also have a panorama feature, which many desire as built-in functionality. Hopefully, with the recent news of said functionality coming to Lumia handsets, we shouldn't need to rely on an app soon enough.
You can download Creative Studio on your Lumia Windows Phone.
Via: Techin5
Windows Central Newsletter
Get the best of Windows Central in in your inbox, every day!
Rich Edmonds was formerly a Senior Editor of PC hardware at Windows Central, covering everything related to PC components and NAS. He's been involved in technology for more than a decade and knows a thing or two about the magic inside a PC chassis. You can follow him on Twitter at @RichEdmonds.
Thanks for the Post Rich! Funny because I was just saying on Twitter not too long ago that Nokia need's some more exclusive apps.
Thought I would add that it's not showing up under 'Nokia Collection' but you have to search for it or find more apps by Nokia to get it.

Not available in Germany yet :/

Not showing in the Nokia collection yet, but either search for "Nokia Corporation" or use this link http://windowsphone.com/s?appid=55a4097e-d65f-4a77-81a3-7fec8bacdedd

Thanks for reminding me :-P

Don't think the link works for me?
Edit: Doesn't from computer, might from a Lumia phone :)

Does indeed require a Lumia :-P

Thanks man. The link didn't work, but searching for "Nokia Corporation" did the trick.

Downloaded, nice!
If listed in Nokia Collection will be nice for Lumia users!

Best implementation of panorama I have come across yet. Automatically snaps the picture when you get the shot lined up. Only a few artefacts at the joins.

Got it....installing.
Its good app as Nokia will not release craps

Just got it and it works well. Panorama looks really good. Would be nice if there was an option to take more than 4 pictures for it though. Some of the effects are pretty cool to. You have to make sure you save the picture after you take it so it can be accessed later.

Select any Nokia app and then click "others from Nokia" and it will be listed ;)

Is there a good aging app for Windows Phone yet?!

the panorama is really quite good, even better than HTC's I believe and that was implemented great too. Very cool app, but as said in the article it needs to be part of the native camera app!

Ok this is a start.. Now if they can give us a nokia hub,nokia sound manager.. I missed those 2 things in my hd7

This is exactly the sort of apps that should be OEM exclusive, not mainstream apps like CNN or EA games. And I say that as a Lumia owner.

So why is it called Kreative Studio post-install?

Actually 'Kreativ Studio'. The app appears to be picking up the locale from the carrier branding (Telekom), not from Region/Language settings, or even from SIM. A bug surely?

Ok... Nokia is WP! I'm almost to the point of thinking if Nokia was the sole WP device available then I would be OK. Nokia seems to be the only vendor who is smart enough, or has enough balls, to truly support WP. I guess the other boys are sitting back and waiting to see how thisworks out for Nokia. The only missing link?? Advertising. Marketing has to pick up, not just on Nokias end, but with the other device makers. Marketing will solve all of WP most crippling issues. TELEVISION!

In the UK, Nokia's advertising has been mental. I believe it was the case in most of Europe. In the US that should come with the Lumia 900.

I think you're right - we will see the Nokia sponsored advertising when the Lumia 900 is ready to launch. So far, I've not seen anything from Nokia, but I have seen the T-Mobile Lumia 710 ads.

I just hope that Nokia goes 'all out' with the marketing/advertising in the U.S. as they have in the U.K.; I really like what I've seen with the U.K. marketing.

How many fucking times do I have to tell u that there is advertising on TV. I'm always seeing a 710 commercial

What's wrong with you man? You have a serious issue with people criticising WP, do you work for Microsoft? Maybe he doesn't see as many ads as you do, you don't have to insult him. Geez

Well he insulted my people in a comment on the Nokia Luna article

And I live in the US as well and while there are a decent # of 710 ads, the advertisement for WP itself still sucks in general And yes, you truly need to get a grip. If anything doesn't help WP, its nutty behavior like you display on these comment sections

I think Nokia has done a good job on advertising thus far. They are the only ones making a true effort at least. I think they are just getting started. Wait till Apollo hits and I think the advertising war will truly begin. Especially after it has completely set in with everyone that Nokia is WP. Also, it still needs to set in with people that WP is NOT WM. Still some people I talk to who ask what kind of phone I have say they heard Windows mobile sucks after I tell them I have a WP. I have to explain WP isn't WM.

Great news! I really like what Nokia is doing with WP; and I think it is great that they Panorama functionality is built into this Creative Studio app. On my N8, the Panorama app is separate from the Photo Editor app, so I am really looking forward to only having to use the one app to use all of the features! It's all the about integration, I guess.

I am really looking forward to WPCentral's review of the Creative Studios app (hint, hint)...

Lumia only? Ah well. Fantasia Painter gets the job done just fine for me.

Nice. They need a nice two tile wide weather app like the HTC hub too, I'd really miss that tile if I bought a Lumia

Can somone else take a few face warp photos and see if you photo button still works. I had to switch the phone of then start it again before I was able to take a picture again.

Yep. Works for me. No problems.

Nokia have done a great job with this app. Great to see some quality exclusive apps come to the Lumia devices. Works well on the Lumia 800.

Russian marketplace: not found. Sad
Windows Central Newsletter
Thank you for signing up to Windows Central. You will receive a verification email shortly.
There was a problem. Please refresh the page and try again.