Tethering to launch with Lumia 610, 900; Coming soon for 710 and panorama for 800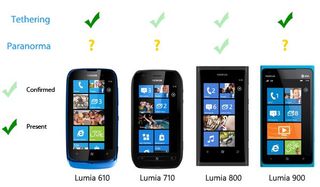 In a Lumia 900 FAQ we recently covered, Nokia has confirmed that the WiFi hotspot / tethering feature will be present on the Lumia 610 and 900 Windows Phones at launch. As for the 710 and 800, which are currently missing this highly desired functionality, we'll likely see an update in the future to activate it. It's pleasing to know that it's actually on the way for owners.
What's more is that Damian Dinning, camera guru at Nokia, has confirmed on Twitter that the company are looking to introduce a panorama feature on the Lumia 800 - something the Windows Phone lacked for many trigger happy users. Unfortunately, there's no word on a date or if we'll see this introduced on other Lumia handsets, though it makes perfect sense to expect such a roll out.
Source: @PhoneDaz, via: PocketNow
Windows Central Newsletter
Get the best of Windows Central in in your inbox, every day!
Rich Edmonds was formerly a Senior Editor of PC hardware at Windows Central, covering everything related to PC components and NAS. He's been involved in technology for more than a decade and knows a thing or two about the magic inside a PC chassis. You can follow him on Twitter at @RichEdmonds.
this is nice news , just comfirms what justin said int he pod cast! but still!
awsome for nokia phones

I am hoping and this some serious hope that the 710 and the 800 were like beta test products and that the 900 is the most polished and finished. so the updates they pushed out to fix the battery life are already incorporated into the 900. that they got real world experience and customer feed back to make the 900 the amazing lumia.

normally that's what they always do , its rare you see a second GEN of a phone come out with the SAME problems. lol NOkia was just having a hard time getting the tethering to work on the WP nokia , but it seems they figured it out :)

Great news! But what is with the "paranorma" feature? Will I be able to contact my long gone Compaq Aero with this phone?

Lol I didn't even notice it.

For the phone functions, wp7 still behind Symbian.

@carlosliang...Perhaps; but from a modern looking and desirability standpoint, Windows Phone is light years ahead :)

Anxiously waiting to put my N8 in a drawer as soon as the Nokia Lumia Apollo devices hit the shelves!

With AT&T involved you'd be wise to believe it when you see it.

@carlosliang - Function/feature-wise, WindowsPhone 7 is behind Windows Mobile 6. Microsoft needs to get there act together and merge all of the lost features from Windows Mobile 6 and earlier with the WindowsPhone 7 interface, and they will have an unstopable winner IMO.
Microsoft is ALWAYS taking 1 step forward, then 2 steps back with all of their products/brands.

I agree with regards to WM 6.5 vs. WP 7.5, but I don't know where else they've taken one step forward and two steps back. The shift from WM 6.5 to WP7 was a HUGE bummer for me, but the consumerization of IT is what it is and this is where we are now. I do, however, appreciate the speed and reliability of WP 7.5. I guess you take the good with the lacking. Before WP7 I was looking forward to better device management, whole disk encryption, a projector, better navigation, etc. What we got was better entertainment and social networking, but no precise input method since they killed the stylus. WP 7.5 is at least useable. Eagerly awaiting WP8, though, which is said to have more business features.

@ lippi: just accept it these devices are now mainstream they're not some it elitist property, am stylus?! Really... ?

The F are u talking about? Since mango I'm able to do just as much with my HD7 if not more than I was with my TP2.

Here are but two examples I experienced just now. I received an appointment reminder. I can't set it to snooze for 30 minutes. Additionally, it was a recurring appointment. I went into it and couldn't set an end date for the recurrence. These are basic functions, not "it elitist" stuff some moron mentioned.

Another example. Receive an ICS file. Can't add it to Calendar.
Can't take a Screenshot.

I love WP7, but it needs fleshing out.
But yer, Stylus? I don't get that either :-)


Nice to have the feature built in, but At&t will want their cut. Paying extra for built-in features blows.

I was thinking the same thing. There's no way in hell that AT&T is going to give us tethering for free.

That's why the Quantum is so awesome. Tethering that AT&T need not know about.

I got tethering for free on T-mobile

For ur kind info would u mind guys tell me what's tethering???

When u share ur cellular connection with other devices via WiFi

Bout time, some Lumia 710 tethering :D . Its great that tethering is for free on tmobile ;)

Thanks @elcaporegresa for info.

I have an unbranded Lumia 800 that I'm using on AT&T. When we get the tethering update, will AT&T know if I tether? I read somewhere that when you tether with an unbranded phone, the tethered traffic looks the same as the phone's native traffic. Can anyone confirm if this is true?

There is a new Nokia app, it has a panorama mode.
The LG app seems better though.

You mean paranorma? Lololol

Please someone explain what the panarama mode is/
Tethering is there on some Nokia's already bt I guess its operator specific e.g my sons 710 has it on 3 UK.
Windows Central Newsletter
Thank you for signing up to Windows Central. You will receive a verification email shortly.
There was a problem. Please refresh the page and try again.