US & international Nokia Lumia 900 FAQ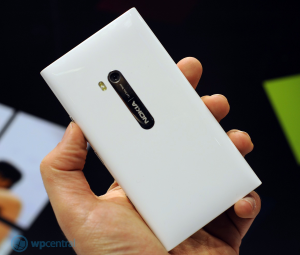 Have some questions regarding the Lumia 900 (both U.S. and international)? Perhaps this fairly brief FAQ will help you out when deciding whether or not the Lumia 900 is the best Windows Phone for you. Questions range from the design and availability to battery and volume / speaker improvements.
This FAQ wont answer every burning question you may have on your mind, but at least some will be taken care of. It's interesting to note that the 900 is destined for Australia too (confirming the pre-order at MobiCity), something that will certainly please local Nokia Windows Phone fans who desire a more advanced device than the Lumia 800.
Source: Nokia Connects; thanks damthman for the tip!
Rich Edmonds is Senior Editor of PC hardware at Windows Central, covering everything related to PC components and NAS. He's been involved in technology for more than a decade and knows a thing or two about the magic inside a PC chassis. You can follow him over on Twitter at @RichEdmonds.
As a former webOS junkie, it's disheartening to read the words "in the coming months" in regards to the AT&T availability question. Those words became a running gag of sorts over at Precentral.

Same here sir.. I am also a former webOS faithful (and currently extremely satisfied with WP7) and I know all too well how "in the coming months" can kill all buzz and excitement surrounding a new product..

Former? I am still rocking the touchpad. it failed on me and harangue the webos support and since I was till under warranty they fixed it. while it was gone, i really felt empty. so you will pry the touchpad from my cold dead hands. on the other hand I am very excited for the coming months but yes waiting and waiting and waiting always dampers my fire. but then it is released and I am raging ball of excited goo!

My firesale TP is still going strong thankfully. It would be bad a$$ to dual boot Windows 8.

Definitely because windows 8 sees to be an intuitive as webOS. when the TP was in the shop, I kept tying to sweep up on my Nook Color and was getting pissed it wasnt working. then I had to remind myself it was Android and not webOS. I wish that BN would build on webOS Nook but I know that is a pipe dream. granted i also want a windows 8 tablet and a windows phone (ie Lumia 900 or Nokia Prodigy). i want it all!

I found this rather interesting...
Q: I know you were asked about pentaband already, but what is the reason that your Symbian 3 devices are all pentaband and your Lumia's so far haven't been? Is this a chipset/hardware issue and would you do pentaband windows phones if you could?

A: We're using a Qualcomm engine in Lumia products and no other OEM using the same chipset supports pentaband either. Isn't the Rogers/Canadian 710 Pentaband?

yes it is,

unfortunately the Lumia 710 is the only Nokia with the dreaded 1700MHz band,
What's weird is that Telus (Canada) state on their site that their Lumia 800 has 1700MHz.. no idea what that is all about!

Interesting that the tethering updates are coming!

I am starting to not care even if I love wp7, and the reason is I am on Tmobile. They show no sign of getting a top wp7 handset. I have an HD7 but I need front facing camera and the Radar which my wife has is to small for me.

I had thought about selling my Titan to hopefully cover most of the cost to upgrade to a lumia 900 but in light of the Apollo upgrade question I think I will wait until Apollo is out and get a 3rd Gen phone instead.

Twist that knife and push it in a bit deeper...because everytime I read a 900 article it painfully reminds me I'm on Verizon...:'(

Just buy the phone outright, make sure it's network unlocked. Done

But for those 4 gut-wrenching letters: CDMA


Does anyone know if the unlocked international version works on T-Mobile US?

See my reply to WilliamC1972 below.

Man, based on reading comments, its clear that most people love phones, but HATE the cellular carriers.

Will not work on T Mobile U.S network. Doesn't support there 3g 1700mhz band.

the internation version or the At&t version?

T-Mobile is currently in the process of a spectrum refarm to move their UMTS network to 1900MHz in order to free 1700MHz for their future LTE network, which is scheduled to begin rolling out next year. Because of this, devices that were designed for AT&T like the Lumia 900 and iPhone will work at full HSPA+ data speeds in some locations ((unlocked devices, of course). Unfortunately, T-Mobile has not released a roadmap of the spectrum refarm, so it's impossible to know when 1900MHz HSPA+ will be available in your area. More information is available on TmoNews.com and HowardForums.com.

Hello all
I got a video from friend on whatsapp but i can't download it to my lumia 900.
Anyone tell me how to do ?
Windows Central Newsletter
Thank you for signing up to Windows Central. You will receive a verification email shortly.
There was a problem. Please refresh the page and try again.