Nokia Drive+ Beta now available for Windows Phone 8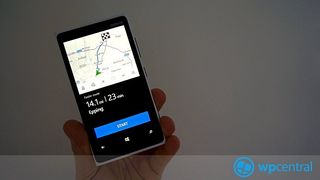 Yesterday we did an extensive run through of Nokia Maps 3.0 on Windows Phone 8, and now the underlying maps platform has been enhanced it has picked up some nice new features. Today we see the arrival of the Beta version of Nokia Drive+
Drive+ picks up some nice additions that we're sure many existing Nokia Drive users will really appreciate, chief amongst them is the ability to fine tune how you want your journey to be planned and improved multitasking. We take a good look at what's new.
Interestingly this version of Drive has a version number of 2.0, interesting because Nokia Drive on Windows Phone 7 devices are now at version 3.0. In fact, Nokia have completely re-written Drive to take full advantage of the new OS.
The main feature many will be pleased to see in Drive is the ability to carefully tailor your journey. In use when you set your destination you'll be presented with a strip between your map and the destination details. If you click that row of icons you can now choose to allow or ignore certain routing paths.
Here is what you can now choose from
Smart Routing
Faster Route
Shorter Route
Economical Route
Ways to go
Motorways
Toll Roads
Ferries
Tunnels
Unpaved Roads
Motor Rail Trains
Video demo of how it looks for your viewing pleasures...
Map performance
The next big change from Windows Phone 7 devices running Nokia Drive 3 is that the maps are now incredibly smooth, the screen updates with a very high frame rate so it all whizzes along like a healthy clip. This, like Nokia Maps we saw yesterday, is attributable to the platform enhancements that Nokia and Microsoft have worked to bring to Windows Phone 8.
Multitasking
This one caught me by surprise in testing at my desk, I navigated to another app and while carrying out another task the directions continued to chime. That's right folks, Nokia Drive on Windows Phone 8 now multitasks in the background. It will continue to give you directions, as long as you're not in a call or using the voice dictation features. I have been out this morning to test this and can confirm it works as you'd expect. The only thing I missed was being able to see the directions on screen, just for confirmation. This improves how it worked before where it would need to be resumed after navigating away.
Also when listening to music over my hands free kit in the car I found the muting of the music to give direction prompts much better than before. On Nokia Drive 3.0 on Windows Phone 7 the volume of the announcements was almost double that of the Music so it was impossible to set the correct overall volume in the car leading me to doing one or the other.
Some clarification about Nokia Drive
Nokia Drive+ or Nokia Drive?
What is Nokia Drive plus? On Nokia smartphones running Windows Phone 8 it will be labelled as Nokia Drive+ while on other Windows Phone 8 devices it will simply be called Nokia Drive. We do not know when the Nokia Drive app will be available for other Windows Phone 8 devices but as soon as we know, we'll do a post.
Sounding off
This is certainly not a review of Nokia Drive+ as it's still in beta form but initial first impressions are this is a great improvement over what we had on Windows Phone 7. Notably the app continuing to give directions as a background task. We're beginning to see the first sightings of the real benefits that we were promised with Windows Phone 8. The platform upgrade is going to significantly change how we use our devices. Drive is still in Beta and we're assured that both "My Commute" and synced favourites are coming to Drive soon. We can't wait.
Grag it from the Windows Phone Store
Liking what you see or still feeling like there's something missing? We're always keen to hear from you guys and where possible I'll try and answer any questions you have in the comments bellow..
Get the Windows Central Newsletter
All the latest news, reviews, and guides for Windows and Xbox diehards.