Windows Phone app Outsider experiencing technical difficulties causing Store re-purchases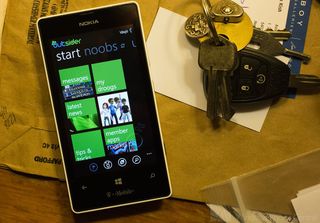 Outsider is a Windows Phone community app from Liquid Daffodil, who also brings us the Twitter client glƏƏk! and the lockscreen utility Locksider. We've been notified by the developer that a glitch in the Windows Phone Store is requiring those who have already purchased Outsider to re-purchase the app.
Microsoft has been alerted of the issue but in the meantime, Liquid Daffodil has made Outsider free to avoid users from having to re-pay for the app. The change is already live and should be reflected in all regions in a short bit. The free offer is only for the next 48 hours though.
You can find Outsider here in the (opens in new tab) Windows Phone Store and it is compatible with both Windows Phone 7.x and 8 devices. And if you're already a fan of the Outsider and need a little help with the Easter Eggs hidden throughout the app, check out "The Outsider Uber Guide for Noobs (opens in new tab)". It should get you pointed in the right direction.
George is the Reviews Editor at Windows Central, concentrating on Windows 10 PC and Mobile apps. He's been a supporter of the platform since the days of Windows CE and uses his current Windows 10 Mobile phone daily to keep up with life and enjoy a game during down time.
Since they're so awesome I'll wait until it's goes back to paid, and then purchase it :)

I like the approach. Microsoft won't fix the issue, so we'll make the app free!

I have the same issue with the wpcentral app. It wants me to repurchase to update.

This is why LD is one of the best developer of apps for windows phone.

Looks like gleek is gone from 7.8 store.

I'm having an issue with Gleek...won't install or be removed

Simply one of the best developers...thanks alot :-)

Same issue with metro tube .. Could not install update for the past few weeks

And metro talk maybe... It refuses to install and throws an error. It's been weeks. Wouldn't dare try a reinstall

I spoke to support about a few apps I've purchased, including Metrotube, and was told to uninstall and purchase them again. They wait for the transaction to show up in your account, which should take a few seconds, and issue a refund for the purchases.

This happened to me with a calender app, I talked with windows phone customer support through online chat and they refunded my purchase. You guys might wanna try this.

Same with Metrotube, WP Central, Amazing Weather HD, Hey DJ!
MS is aware of the issues with the apps mentioned above, from what they have told me.

Also add "stop the music!" app to the list

Also, Mehdoh and Pip-Boy Radio. It seems like this happens to certain apps we got for free at some point... at least for me. I can't update these apps and I don't want to uninstall them until Microsoft fixes the issue.

I am also seeing this with Metro tube... This is why it is sitting in my pending updates with the MS Youtube aoo is... Didn't wanna lose the app MS built so can still download videos and keep the app :D

metrotube, mehdoh both have this problem.

I have not had any issues with above mentioned apps myself. I'm Verizon with the HTC Trophy 7.5. However, Cowlick, LD's lightweight Gleek app has been stuck for a month now, it downloads and immediately fails to install.* Otherwise LD's apps are outstanding and support is top notch. Outsider app is one of the best, I learned a lot about WP, discovered WPCentral, & found the Glance & Go podcast because of it & that's just a fraction of what the Outsider app did for me. Check it out and support LD. * I have not bothered to contact support about my issue as I can just wait for the next update.

AAAAAWWWWWWWWWW YYEEAAAAAAAAAAHHHHHH

Guys .. MS refunds the money if u purchased it twice by mistake .
Just give them a call/online chat

They refund your purchase, but when they do that the app is removed from your purchase history, so the next time there's an update you'll have to buy it again.

No .. I didn't face any problem like that
I once purchased $1 app and got charged $2 for same thing , got notification of buying same app twice
(Although my problem was different than the one discussed , MS does refund ur money if u call them )

I was told in live chat by Microsoft that would happen and next update the problem would return.

This happened to me when i re downloaded Metro Tube i was charged again

Metrotube has The same Problem :'(

Its all over by the looks of it.

I lost metrotube, had the full version...i think I managed to get it when it was temporarily free but it requires me to buy now

you can install it again buy talking to Microsoft care. They will refund the cost of app to purchase again. Atleast for now its the only solution Microsoft is providing.

I had the same problem. Talk to MS. They had me repurchase it and refunded my money. That's the only workaround currently.

This is a big problem.
My App, AlphaDrops now has the same issue after my latest update.
Has Microsoft even acknowledged this problem?

Wp centrals works way better then outsider anyway tbh

They are totally different kinds of apps. That's like saying Twitter works better than Angry Birds anyway. I'm like "What?"

Yes, i had this issue, re-purchase 3apps. Damn.

I've had this problem with Cowlick for weeks. I contacted MS, who had me repurchase it and they refunded my money, but then I had the same problem again. Cowlick is still showing up in my update list and can't be updated.

Liquid Daffodil really wishes users didn't have issues, but it has nothing to do with the apps, is an issue on the Store. Im glad Liquid Daffodil is willing to take a "hit" and just give stuff for free, just to help users when Microsoft doesn't.
Windows Central Newsletter
Get the best of Windows Central in in your inbox, every day!
Thank you for signing up to Windows Central. You will receive a verification email shortly.
There was a problem. Please refresh the page and try again.