Windows Phone App Review: Nokia Drive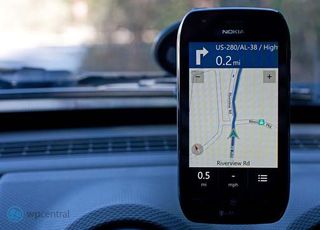 One of the selling points Nokia is hoping to attract customers to the Lumia series Windows Phone is the software exclusively available from Nokia. We've touch on the ESPN App that is exclusive to the Lumia phones and now turn our sites to Nokia's navigation app, Nokia Drive.
Nokia Drive utilizes Navtech maps and offers users a basic navigation app to guide you down the road. One of the more appealing features of Nokia Drive is the ability to only download the maps you need. This will go a long ways to help with managing your Windows Phone storage but also reduce the dependency on a data connection. Overall, Nokia Drive is a nice, basic navigation app for the Nokia Lumia Windows Phones. It gives the Lumia line a nice selling point but there is some room for improvement.
App Layout
When you first launch Nokia Drive you will be prompted to load your maps. Maps are available for Africa, America, Asia, Australia/Oceania and Europe. The American maps include South America, USA, Mexico, the Caribbean, and Canada. It is the most extensive map collection I have seen under one roof. You will also be prompted to select a navigation voice. The languages supported range from Afrikaans to Vietnamese as well as choices for male or female voices with most languages.
Once you have your maps loaded, you are taken to the main page of the app. The map view is really nice and supports both portrait and landscape views. In the upper left and right corners of the map you will find the zoom out and in buttons. At the bottom you will find your GPS information and menu button.
Menu options include choosing between two dimensional and three dimensional map views as well as:
Set Destination: Destinations can be set by keyword or specific address. Once you enter your destination, a listing of possible matches will be generated. When you choose one of the results, a map of the destination point is displayed along with the distance to that point. Additional search results will be displayed along side the chosen point to let you browse amongst the results while viewing their location on the map.
To generate your route, just tap the "drive to" button and a map overview of the route is displayed. Tap "start" to return to the main view and begin your journey. More on this in a bit.
Settings: Nokia Drive has a handful of settings that include map colors (day or night themes), landmarks on/off, managing your maps (add or delete), manage your navigation voices (add, delete and choose), and how you wish your units to be displayed. You can also turn off your Location and clear your destination history.
Quick comment on the settings is that if you modify a setting, you are taken to the main view of Nokia Drive. This can be annoying if you need to modify more than one setting. It would have been better if you could make all your modifications, then press the Back Button to exit and save your settings.
About and Feedback: These are the other two options under the Menu tab. About details all the credits, copyright notices, and legal jargon for Nokia Drive. Feedback is just as the name implies, a way to give Nokia your thoughts and opinion on Nokia Drive.
Navigation
Okay... so you've searched for your destination, created a route, and hit the "start" button. When you get back to the main map view you will see your upcoming turn (with distance) displayed up top with the distance to your destination, speed, and menu button along the bottom of the screen.
While the map is touch navigable, if you move the map, the information panels will disappear. To get the information back, you'll need to hit the back button. It would have been nice for this to be done automatically after a second or two of non-map movement but it is what it is.
Performance
Nokia Drive's GPS accuracy was spot on and the voice prompts gave me ample warning of turns. Calculating alternate routes was done promptly. The one thing I did notice, is that route calculations take you along the major roadways and there are no options to avoid certain things (e.g. toll roads). There were times the routing took me five minutes out of my way to use the major roads when secondary roads were available on a more direct route. I can't complain too much about the routing using major roadways too much. When out of town, these are probably the more user friendly routes but it would be nice to avoid toll roads.
There was no lag time in keeping pace with your location and the maps looked really nice. I will have to say it did take a few miles to get used to the "direction of travel always up" orientation. I prefer north to always be up.
While I was impressed with Nokia Drive, it did lack some basic features. There is no means of saving a destination or marking a destination as "home". Your map view does zoom out when traveling at faster speeds but you can not change the orientation. The map is viewed with your direction of travel always at the top of the screen.
As far as power consumption, Nokia Drive can really suck the life out of a battery. It won't run under a lock screen and does take a few seconds to re-orient itself when you wake the phone up. If you plan on running Nokia Drive constantly during your travels, invest in a car charger. Thirty minutes of driving around town wiped out almost half the battery on the Lumia 710.
Overall
All in all, I liked Nokia Drive and it makes the Lumia line of Windows Phones all the more attractive. Nokia Drive does lack the features you will find on NAVIGON or Garmin Streetpilot but for a basic navigation app, Nokia Drive ain't too shabby. Should it be released to the Windows Marketplace for other devices, I can see it having a decent amount of appeal.
Routes were displayed nicely and the voice prompts did their job equally as nice. The downloadable maps is a plus and there are plenty to choose from. Navigating around the app can be a little involved but nothing critical. Nokia should have skipped list view and gone straight to the map view when searching for destinations. I would have also liked to have seen the ability to save your home address somewhere in the app as well as routing options.
If you don't have Nokia Drive installed on your Lumia Windows Phone, you can find it in the Nokia Collection on your Windows Phone Marketplace app.
George is the Reviews Editor at Windows Central, concentrating on Windows 10 PC and Mobile apps. He's been a supporter of the platform since the days of Windows CE and uses his current Windows 10 Mobile phone daily to keep up with life and enjoy a game during down time.
And you don't have to tap the screen :)

to be honest after switching from symbian to WP i was really disappointed by 3 things :
1. the way WP handles multitasking(thats upto some devs also who have not updated thier apps to mango)
2. wifi sleeps when phone locks(who the hell thought of this?)
3. nokia drive/maps: no ways to save places as you mention and many other features that were in the symbian version... and you people should use nokia maps on a symbian phone ... use the latest updated version and ur all complaints about this app will be gone as i have the confidence that eventualy all the features of the symbian version will come to the WP version

1. There's a reason why the battery life is good and the OS is always silky smooth cause it doesn't have unnecessary processing going on in the background
2. Again, WP was designed with battery life in mind. Putting the wifi to sleep is so it's not eating away at your battery when it's not being used
3. All Nokia software should be looked at as version 1.0 for now until they update everything through time and the OS matures

First of all let me tell u i love WP
now about your reply : 1. Symbian did all those things n its battery life was better than my lumia 710 but still battery life is good but not silky smooth as u say...
Let me tell u what irritates me about the multitasking in wp n i will only talk about native apps
a) in office i have a pdf of about 50+mb n i'm downloading it and if my phone locks or i switch app or go to start that download stop n i have to restart the download n make sure those things dont happen
b) if i want to download a video on my phone from IE that video wont download n it will just play... and during playback if i recieve a message and i switch apps and come back to IE boom video is started from the start and not where i left it and for these videos i cant even use the slider to skip to where i left... 2. The wifi problem u all know can cause many apps to not work like whatsapp not doing push notifications ... Also in my country we dont have very expensive 3g n we have only edge on our phones n coz of the slow speed i cant connect to the chat in messaging n if i am on wifi i wud like to be online even under the lock screen... And for all those who are saying wifi sleeps fir the battery life ... But u should know that mobile data uses way more battery than wifi... And for those who say if a plug in then wifi will not disconnect i'm not so sure about this but even if it works its still a bad user experience 3. And about nokia apps .. I said that i'm confident that all the features wud come to WP
and for all those saying about POIs .. It certainly works on nokia drive if i search for atm then it will give me results for nearby banks n atm
And all these negative points may increase battery life to some extent but still it is a bad user experience
And after all that i just want an answer from u guys is it a good thing that a phone with full office function does not have a way to transfer office files from pc or vice versa in offline mode thats rubbish
And this whole post was written on my lumia the best mobile keyboard i love it

Agree with you definitely on point #3. The functionality of Nokia Drive pales in comparison to what is available on my N8, but I am really hopeful that Nokia is working on bring Nokia Drive on WP up to par with the Symbian version. I think Drive is just a test bed, and by the time Apollo hits, it will be an improved offering.

Still, it seems better than Bing Maps and some of the other offerings on WP especially given that it is free.

1. That is a dev issue, not necessarily an MS issue. Granted, I want to see all available Windows Phone apps resubmitted with Fast App Switching. 2. This is to preserve battery life. If you really want WiFi to stay on consistently, plug in your phone. 3. This is a v1.0 release for Windows Phone. Nokia was extremely fast in getting devices out. I can agree to a certain degree that Nokia should have done a better job, but we don't know the particulars of what was going on behind the scene. Meaning, we don't know how many devs, what kind of assistance MS gave or did not give, etc.

It certainly has its drawbacks compared to a complete navigation solution like Tomtom. For example, there is no way to lookup points of interest (POI) like gas stations or ATM's. Another thing is I like to find POI's on my current route (i.e. after I have selected a destination), for example: find gas stations on my current route.

In a round about way you can by searching for a destination by keywords such as Shell Gas Station. I doubt the keywords "gas station" would work though... I don't have the phone with me right now but will give it a try in a little while.

I'm new to WP so I'm not sure if this app is specific to my phone or available on others but my HTC Titan has an app called "Local Scout" which can show you nearby eateries, shops and attractions. You could possibly use that in tandem with Nokia Drive (or any other nav app). It also has a search function within it so you can look for specific POI (at least it seems to work decently for me).

Techiedude

Hi guys,
on behalf of the Nokia Drive team I would like to thank you for the great review and for listing your feature requests.
As many of you already pointed out, this is just the first version of Nokia Drive and we are working on future developments. Take a look at the Symbian version of this app: you can bet that we are going to introduce the same if not a richer feature set.
Btw, POI search is not organized into categories, but it does definitively work with keywords like 'gas station'.

Yep... I can confirm. Searching for "gas station" I get a listing of all the gas stations in my area. It's a simple way to find POI but it works.

Wish it was integrated with Bing and the phone hotlinks. This is the biggest issue I have with it is the workflow in the overall use of the phone.

Works great on my Trophy !

I really wish I could purchase this for my Trophy (Yeah I'm not big on jail breaking/side loading)
Windows Central Newsletter
Get the best of Windows Central in in your inbox, every day!
Thank you for signing up to Windows Central. You will receive a verification email shortly.
There was a problem. Please refresh the page and try again.