Windows Phone App Review: Track My Life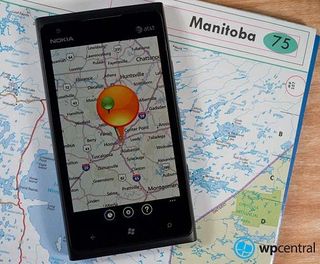 Every wonder where you spend most of your time? Track My Life is a Windows Phone app that hopes to tell you just that. The app records your location every thirty minutes and logs which city your are in. Track My Life will map these locations on the map (provided by Bing) with a push pin. From there you can tap on a push pin to see how much time you've been tracked in that city or view the overall stats that will let you know which city you've spent the most time in.
Track My Life is an interesting tracking app for your Windows Phone that does have some room for improvement. Overall though, it's a nice choice if you're curious what location you are spend the bulk of your time in.
For the most part, there's really not much to Track My Life. You have a Bing map view and push pins representing where you've been. From the bottom of the screen there are three button controls to access your statistics, the app's settings and the about screen.
As you move about, Track My Life will document where you are at every thirty minutes. Tap on a push pin to pull up the stats for that particular location or you can tap the statistics button to see your overall stats.
Track My Life stats for a particular location cover how long you've been at a location, when the app spotted you at that location, and how many times you've been tracked at that location. Overall stats cover the distances traveled, cities visited, and where you have been mostly.
Keep in mind that Track My Life only tracks your position every thirty minutes. The app does work in the background by using periodic task that allows applications to perform processing even when the main application is not in the foreground.
Track My Life is an interesting app for your Windows Phone but there is some room for improvement. I don't think any of these areas are deal breakers and some may not be possible. As is, Track My Life is worth the download but here are four suggestions on how it could be a better app.
First, Track My Life's settings cover turning on/off the GPS, define your location radius, and whether you want to share your locations. There is no means to choose distance units. It would be nice to switch between metric and English units.
Next, while Track My Life will record your distance traveled it doesn't distinguish cities too well. There are about 32 municipalities in the Birmingham metropolitan area but all my locations are registered as being in "Birmingham". It would be nice to see how often I travel to Hoover, Homewood, Vestavia, Gardendale or any of the other municipalities in this area.
While it's nice that Track My Life registers your location automatically it would be nice to have an "update my location" button or some other means to update you location manually.
Finally, it would have been nice to see a summary report on all your tracked locations and the time you've spent there. Track My Life will identify the location where you've spent the most time but it would be nice to see how all the points compare.
Even though we see Track My Life as having room for improvement, it is still a nice app to have on your Windows Phone. Track My Life is a free app and you can grab it here at (opens in new tab) the Windows Phone Marketplace.
Windows Central Newsletter
Get the best of Windows Central in your inbox, every day!
George is the Reviews Editor at Windows Central, concentrating on Windows 10 PC and Mobile apps. He's been a supporter of the platform since the days of Windows CE and uses his current Windows 10 Mobile phone daily to keep up with life and enjoy a game during down time.
Good for stalkers too lol

It gets a little confusing when you sometomes refer to it as Turn my life and not Track my life. :-)

Sorry for the confusion... corrected.

Why do I need an app to tell me where I've been?

Well, interesting question. Maybe that's more for couples to track each others lifes.

Think of people with memory troubles or alzheimer

I went to lots of places I can't remember, and I think I don't have Alzeimer. It would have been cool to use it when I did the Inter Rail, 6 years ago, and I've been to 8 different countries in one Summer, but I do understand it's not that useful if one doesn't travel or go out much.

Well agreed. There are times when it could be handy to be tracked. But like you I use to travel alot and the biggest drawback of smartphones is battery life. I use the god information if my camera to remember where I was. But usually it's not that difficult.

I focused on energy consumption while developing the app. It runs 48 times a day for less than 10 milliseconds. The total energy consumption each day is much less than turning the display light on once.

Ok. So I do not have to fear that I'm running out of power. Thanks!

Pretty cool, I like it. Though I'm a bit of data mining fan. Good historical purposes app, hope they add more stuff like db of important places one went, like museums and stuff.

Hi,
I am going to add pin renaming functionality in future versions. The photos of the camera roll shall be added to the pins/lines, too. I've added a feature request for history features like commenting the pins (see https://intern.ceseros.de/jira/browse/TMLWP-15).
Cheers
Derek

Hi George,
thanks for the review! It's awesome!
I've added the first suggestion to the list of feature requests (see https://intern.ceseros.de/jira/browse/TMLWP-14).
The other suggestions have already been submitted by other users. So they are already on the feature request list (see the full list here https://intern.ceseros.de/jira/secure/IssueNavigator.jspa?reset=true&jqlQuery=project+%3D+TMLWP+AND+status+%3D+Open+ORDER+BY+priority+DESC&mode=hide)
Have a nice day ;)
Derek

This will be nice to show the company I work for how much time I spend away from home versus at home, maybe then the next time they say they are family friendly, I can say BS!

I rather like this, I'm on the go all day time at the store, time with vendors and on the road. Interesting to see how this works out.

Please notice that you have to stay at one place at least three to four hours in order to get a new pin. Otherwise the app thinks you're on the go and the time on the road will be added to the statistics only.

Similar to Google Latitude but without the cloud or friends part. gMaps works but is not the greatest for Latitude..wish there was a better/official version.

Hi,
thanks for your feedback.
I would not say that it's the same. There are some similar features.
Nevertheless, even the Android and iOS versions of latitude don't support any of these features. They are cloud only. So I would not expect that in a wp7 version.
Have a nice day ;)
Derek

I can see this being really useful for figuring out an ideal place for me to live in my city, based on where my pins are clustered. Then again, if it only updates every 3-4 hours, it might only pick up my grocery shopping habits around the house :/ A 2 hour event downtown is not me being in transit, haha

Another suggestion, option to choose between km and miles.

Hi,
thanks for the suggestion. Got that already on the feature request list (https://intern.ceseros.de/jira/browse/TMLWP-14).
Have fun with the app ;)
Derek

Disclosure: I am the author of myTripTracker and PhoneStalker.
This is what the "beacon" feature does in "myTripTracker" and "PhoneStalker." But these two apps do a whole bunch more.
see http://www.deanblakely.com/wp7MainInfo.aspx
Gary Blakely
Dean Blakely & Assoc.
Producers of myTripTracker, PhoneStalker, ShowMeTheWay, and RealTimeSpy

Aren't they called "Imperial units"? It's the Imperial System from the United Kingdom but I've never heard them called "English units"...

Hi there,
I've just uploaded a new version of Track my Life. It should be available within 7 days.
@George, @schlubadub: You can now choose between miles and kilometers
@George: You are now able to rename the pins e.g. Birmingham to Home

Thanks for your feedback!

Cheers
Derek