Windows Phone apps to help you keep that New Year's Resolution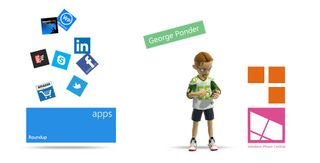 Windows Phone Central's Roundup: Exercise Apps
With the new year comes New Year's Resolutions and what may be the most popular resolution is to get into shape or lose weight. There are several Windows Phone fitness apps and we thought that if you are trying to stick with a resolution for better health, we'd roundup a few fitness apps to help you along the way.
Included are a few freebies and a few structured for men or women. As always, with as many apps in the Windows Phone Store, we can't touch on them all. If we've missed your favorite fitness app, feel free to sound off in the comments.
Men's Health Workouts (free trial/$1.99): Men's Health Workouts is brought to you by the popular Men's Health publication. The app features a variety of exercises that are sorted alphabetically, by body part or preference. Each exercise includes detailed, step by step instructions.
The app features a circuit training interface that is designed for maximum results in minimum time. Men's Health Workouts also includes a training log to track your progress and an exercise/rest timer to pace your workouts.
There is a free trial version for Men's Health Workouts that includes five workouts. The full version will run you $1.99 and you can find it all here (opens in new tab) at the Windows Phone Store.
Gym Assistant (free): Gym Assistant is designed to help you track and schedule your gym workouts. Gym Assistant is more or less a free form app that lets you plan and monitor your exercises throughout the week.
You can view Today's schedule, the week's schedule and plan your week. You name the targeted muscle group, name the exercise and set the sets, reps and weights used. As you complete the exercise, you can check off on it as complete.
Gym Assistant is a fairly basic, free exercise app for your Windows Phone. You can find Gym Assistant here at the (opens in new tab) Windows Phone Store.
Women's Health Workouts (free trial/$1.99): Similar to Men's Health Workouts, Women's Health Workouts focus on exercise routines designed for a women's physique.
The app is laid out in the same manner as the men's app with workouts sorted alphabetically, by muscle focus and fitness goal. Each exercise is detailed with step by step instructions and visual demos to help you get things right.
Women's Health Workouts also features a training log to track your progress and a workout/rest timer to pace your routines.
There is a free trial version for Women's Health Workouts with the full version running $1.99. You can find Women's Health Workouts here at the (opens in new tab) Windows Phone Store.
Sports Tracker (free): Sports Tracker is a Windows Phone fitness app that is designed more for those who prefer the more mobile fitness routines (running, cycling, etc.) over the gym workouts. Along with mapping out your routes, Sports Tracker will track and analyze your exercise performance that includes duration, distance, pace, energy, and other stats.
The Sports Tracker Windows Phone app will also connect and sync workouts with your Sports Tracker account (free) to allow you to view your workouts online at Sports-Tracker.com. (opens in new tab)
Sports Tracker is a free app for your Windows Phone and you can find it here (opens in new tab) at the Windows Phone.
Nike+Kinect Training (free): Nike+ Kinect Training is a supplemental Windows Phone app for Nike+ Kinect Training for Xbox 360.
The app allows you to access your Xbox 360 activity, track your program progress, explore your workouts, get Challenge reminders, connect and cheer on your friends and prepare for upcoming workout sessions.
If you need to keep track of your Nike+ Kinect workouts while on the go, the Nike+ Kinect Training app will come in handy. It is a free app and you can find Nike+ Kinect Training here at the (opens in new tab) Windows Phone Store.
If fitness is an every day event or a New Year's Resolution, these Windows Phone apps can help you monitor and plan your exercise activities. You can find the full listing of fitness apps in the Windows Phone Store under the Health and Fitness Category in the App Section of the Store.
Again, if we've miss your favorite Windows Phone fitness app, chime in below in the comments with your favorite fitness app. And for those who have resolved to stay fit this new year, good luck!
George is the Reviews Editor at Windows Central, concentrating on Windows 10 PC and Mobile apps. He's been a supporter of the platform since the days of Windows CE and uses his current Windows 10 Mobile phone daily to keep up with life and enjoy a game during down time.
A good alternative to Gym Assistant would be Deekfit Gym. I've been using it for a year, fairly well supported and a lot of features. Developer never seems to advertise it though.

For cycling, I'm really enjoying Marathon: http://www.windowsphone.com/en-us/store/app/marathon/325015cf-2ad9-df11-...
Version 4 is in beta testing at the moment, and uses a WinPho 8 background task, but it seems to work fine for me on my Lumia, so it will hopefully be released by the developer soon. You can apply to get the beta from the developer here: http://www.jmd-software.net/
I've nothing to do with it, by the way, I've been using the app for a couple of months now, and I like it a lot.

For running I highly recommend Total C25K (couch to 5km). Excellent app that properly guides you along for 8 weeks from couch potato to running 5ks in 30 minutes. My new years resolution is to follow through with this app, hopefully that happens lol Free(ads) & paid (no ads) available. There's another app C210K but I haven't tried it and it's by a different author so I can't vouch for its quality

Great tip. Need this. Thanks.

i've been using Endomondo Sports it's free, happy with it so far (but always looking)

Runtastic Pro!
I used the free version for a while and it works just as well. To get the Pro app is just $5 and it adds voice feedback and media player functions in the app itself. I'm a walk/runner and I love this app because it keeps track of everything for me. I don't even pay attention to mile markers on tracks anymore as the app does it.
Some of my favorite features. (I now realize I may sound like an employee but in reality I just love this app)
- Automatically tracks: Distance, Temp & Weather, Split Times (in 1/2 mile increments), Maps (via GPS), Duration, Pace, Elevation
- You can also add things like: Trail/Track type, How you feel at the end of a workout.

Livescape has been my app of choice for quite a while!

I've been using Endomondo Sports Tracker and MyFitnessPal for tracking sports and calories recently. Both great apps and sync with their respective websites.

Try My Run, currenty has a learn to run program which is basically a couch to 5k in 9 weeks program Free run where you just run untill you want to stop Timed mode so you tell it how long you want to run for it will tell you when to finish. It gives you a 7 day weather forecast so you can check running conditions for later in the week, Tracks all the usual stats such as GPS, distance, speed, calories burnt. Show stats of previous runs and graphs and maps. Version 2 is under development with bug fixes and lost of new features. Best of all its free!

I can't believe you skipped Livescape™

Exactly my thoughts. I think that has a bit of everything all the other apps offer but in one app.
Windows Central Newsletter
Thank you for signing up to Windows Central. You will receive a verification email shortly.
There was a problem. Please refresh the page and try again.