Windows Phone BBM beta test program already filled up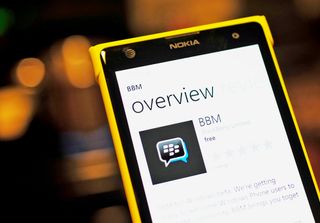 BlackBerry is no longer taking sign ups for the closed beta test of its upcoming BBM app for Windows Phone, with users now being asked to register for a waitlist.
This news, which was not unexpected, comes less than 24 hours after BlackBerry started taking signups for the Windows Phone BBM beta test. It's currently unknown just how many people were accepted into the beta test.
While the app is available in the Windows Phone Store only people who have been picked to participate in the closed beta test will be able to download and use the app. So far, there's no word on when the actual beta test will begin. We hope to get access to the early version of the BBM in the very near future for our own hands-on impressions.
Thanks to Ryan for the tip!
Source: BlackBerry Beta Zone
Windows Central Newsletter
Get the best of Windows Central in your inbox, every day!
Yaahh! When i wanted to sign up it put me to waiting list :(

Same here . Loosers put me on waitlist

I tried and I was getting errors.

Same here still on the waitlist, hope its out soon.

Me too, still in the waiting list

Hmmm ! Hope there's an option like RAC :P

Filled up quickly on that one... Glad I insta-enrolled...

Mee tooo..done at the time Sam toasted me a notification

Same here, jumped in to the beta the moment I saw the article title pop up on the toast lol.

Same here. WPCentral is tagged on Feedly to alert me at any new content lol

Me too I enrolled as soon as I saw

Lol aw wish I hadn't waited and did it when i read the article

Welcome to the club, mate. Same story here :/

I read the article late :(

I last checked WPC for new articles at 11pm (CET) and there was no such article. When I got up 6 hours later it was already filled up. So Europeans would not have been able to access the beta when they were sleeping last night... :)

Mathee, you probably just missed it by 30 mins or so.. Unlucky :/

why the heck are you telling me that?! :'/

As soon as I saw the article and link I just went straight to signup. I just check my statues. Looks like I'm in. "You are already a participant" message :)

oh thanks, I'm feeling much better now!

Don't feel bad...you are not missing anything...

Oh really? You know how many chicks I have on hold, waiting for me to get on BBM? A LOT! why is there a bloody limit? Surely the more minds the better? They better not take long man I'm seriously pissed off.

Lol, I'll take your word for it...

So what happen now? I guess I'm in too. It says, "Welcome to the BBM for Windows Phone beta program!" But are you able to download a beta app?

I try at night on my phone but idiots declined me so I have to wait for morning to go on PC , but by the time I am on waiting list..Sad

I signed up 6:57 (Indian time) in the morning ..... Is there a chance that I have been enrolled???????

It should have been written on the sign up page whether its been,already filled up. Or whether you are enrolled into the early access beta.

I did at 7.10am india time ... Now just wait for the mail from bb

I signed up at 6.30 IST i got enrolled

I did around 5 am (IST) and it says that I am already a participant.

I got in on time, but they still haven't activated the invitations on the store anyway.
So if it's any solace for those who didn't get in... Those of us who did still haven't got in either ;)

Waiting for invitation too i'm too excited for the app

Belum bisa di download admin WPCentral

Lol. They won't understand what you are saying.

What are saying? Ngomong apa kamu, ngomong naon sia, ngomong opo kowe

He is saying did s cc much huh c Dr yggdyjnxdyuj BBC zffg Gb xghh

He's saying bloop tung nip xasne asdkfmwqef +sdafk wefi foweofm, xxxxx cdqwdlll asddd fase1rwasd3b, duh.

with respect, please use a proper english so anybody can understand what are you talking about (i had a bad grammar thought )

Pfft plorp zip foil backpack sternhggg fnghzts 1 bobobobob

Pake English aja please. Salah salah bahasa juga gpp. Orang luar pasti tetep ngerti kok :)

Insta-enrolled myself, so I suppose now all there is to do is wait for confirmation emails. Anyone got a clue when they're due? Or are they picking select people out of those who applied?

Glad I had the foresight to signup for a bbid/beta zone id a few days ago

I didn't have the TM for foresight....

Sign up since yesterday, still can't download it.

Glad I signed up instantly though was going to do that later but somehow I did at that moment. Very happy!

Looks like I signed up just in time, then! Woo!

mine say this on the website: You are already a participant.

I remember when the android app was released, there was a huge waiting list for pins.. What happened then? I've never used it since..

I'm gonna tell it to ya, your not,gonna use this app since it's released either

People who can download the app this moment? Still can't download it

Because nobody can so far.

You won't want it without emojis. Or would you?

so few people added for testing. Now who shall they chat with, themselves?

Or with BBM users from Android/IOS/BB

Lolz true . But bbm is on worldwide network . Thou loosers kept me on waitlist

Haha so true man. BB still don't get their business right.

With their friends on Blackberrys, Androids and iPhone devices, which in BBM it's available already. The beta program it's for testing the app itself, no only for chat between Windows Phone devices. Just a thought.

Our friends using Blackberries, iPhones, Android or the Nokia X line

I signed up yesterday when the original post went up. I'm still waiting :(

Thx. Been rocking it since the mid 90's I got it from Image Comics series "Wetworks" It's a military term use for hired killers or mercenary's. Use it first for FPS games now all social stuff including XBL.

Well, do you know what I learned from this whole paragraph? I'm a pervert with a dirty mind

LOL! He nicely pulled u out of the gutter

I am glad i signed up asap after reading article..

I thought of skipping it until i reach back home from work but then i did it

The funny thing is that I wasn't busy at all, I just preferred to read other articles before reading the bbm one. Lol. And in 5 hours after the post BAM! No more,places for early access. :'(

Is just signing up enough or we need to update the profile tab too? We need to fill in the form with our interests and other details...I guess they choose based on that.

I don't think many have gone that far... I checked it and 90 % of it is related to Blackberry only... Now I'm wishing I hadn't sold the last blackberry I fixed lol.

I also signed up early and got a confirmation that I am registered...though still don't have any info as to when I will actually be able to download the app

Did you get one email or two? As I only got one saying the BBID was registered. When I check on the Beta Zone it says I'm a participant but when I go to remove, it is not there. So most likely they are pooling candidates.

It said i have now access to the program but was not able to download

I cant download ..,it says " You don't have permission to download this app".does any one knows what this means

It means exactly what's written. And read an article please before asking.

Lol, maybe a secret message from illuminatis ?

Hahaa...i liked that! But I guess he missed reading or was too curious to get it downloaded in fact we all are...

I got into the program but still can't download the app ..why????

Cause they haven't released it out yet. Read the damn article

Damn. Who hung your wallpaper upside down?

Entered the short list, but not active yet. This is like back when they just released it to Android and iOS isn't it ? Long period before activation.

Am I the only one who finds this absolutely ridiculous for few people to test the app? Childish.

Childish? Seriously? That's how you test... first internal testing, then roll out to a few users, then some more. That way you find the obvious bugs when less people are affected. You should probably not throw insults around when you have no idea what you're talking about.

I do have the knowledge of Software Development Life Cycle my friend, I am a BA and know what Im talking about. The testing and debugging should've been done long before even releasing the app as a BETA in the store. It should've been tested in closed doors just as other apps are tested or perhaps BlackBerry do not have internal testers? Perhaps they should look into that and actually hire people for that specific reason, of quality assurance and test analysis. And yes, I repeat, IT'S CHILDISH.

There are times when you only need a hundred to a few thousand testers to ensure the internal testing worked, as the outsiders can run the software through more scenarios than people with a NDA.

They're doing exactly what they did with iOS and Android and if I'm not mistaken, they pulled out the app off the respective app stores even though they had initially introduced the registration of Beta testing to Android and iOS users. For me that is really unprofessional, I mean let's be honest. It's awful, really.

I can't believe you're even trying to sell this. So in your opinion there is no reason for anyone to do anything other than internal testing before unleashing it upon the general public as a beta? The only thing childish here is your attitude. This is one method for a responsible development team of a product that is widely used to do things and ensure quality. I understand yuor impatience, but don't let that blind you to logic. There are many possible levels of testing... you may be working on projects with only 2 or 3 levels (many of the projects I work on are only two), but a product serving a massive audience like BBM likely has many addiitonal levels, releasing to a wider testing audience in stages as they become more confident in how solid the code is. There's absolutely nothing wrong with that, and it most certainly isn't "childish".

I can mention several apps which are bigger than BBM and were released as Beta to the public. It's very much demanded application like Facebook, Instagram, WhatsApp and several other apps which were released to the public as Beta post internal tests by qualified testers. It's a principle I have learned that when something it is in demand, it's better to run an internal and thorough test before even publicly informing the public of the release and implemetation of the Beta, considering the main fact that BlackBerry itself is a fairly big company, I'm disappointed in the way they test their apps. I don't remember Instagram or WhatsApp or Facebook doing this. Bugs which are identified in the Beta are reported, from there, the development team starts pushing out updates. I mean come on bruh, those are basic principles of Software Development either big or small. But then again, this is by preference, so whatever they chose to do is none of my business. I'll repeat this again, it's awfully childish.

Kunzenjani, noone knows what is going on! A bit of secrecy around.

That's why I keep on repeating of the childish antics the BBM team has.

I believe every one of those apps you mention came under heavy fire for being unreliable as well. When you release something (beta or not) and it is not reliable, people are very dissatisfied. In addition, as I said, there is not one single method of testing. BBM is following a more cautious path. There are positives and negatives to this. The positive is that when the beta is released to the public it should be better and more polished. A negative is that it takes longer to follow this path. But your assertion that choosing this path is childish is incredibly ironic because you, in fact, are the one being childish to assume that your preferred testing strategy is far superior to the one they have chosen. I am glad the people I work with in this industry are not so hard headed as to think they know the correct path to release for every software platform better than its own developers. If this doesn't sink in the third time I cannot help you... I will leave you to your own bizarre thoughts and move on. (In other words, I will not be wasting further time responding to this silily argument again)

Errrr whatsapp had beta testers before they released the last update because it was quite major

"few people " Do you know the exactly number of users?

What BlackBerry is doing isn't really childish at all, I mean, look at it this way, if they release the app quickly to the masses without further having a few thousand people testing the app like they are doing now, the app may come out with a lot of bugs that the internal testers couldn't detect, and you know very well the consequences of releasing an app prematurely, for starters, it'll get a lot of bad reviews in the store and then after bloggers will be writing about how BlackBerry disregards Windows Phone by releasing a poor WP version of BBM etc. For a big, sinking company like BB, the last thing they need is bad reviews on their app from users & bloggers alike .. I hope I made a bit of sense, I'm really not that well educated in this field ..

Don't think you know what childish means.

Kgosi, you used the word bruh. You're argument is invalid

I used the word "bruh" and my point is invalid? Hehehe.

Quite bonkers how you people get emotional over a comment hahaha. I mean for starters, it's a preference on my part, to start testing phase before a Beta is released to the general public, and as I've said, that's a key principle I have learnt as a Developer and BA. Reduces tons amount of production costs, but anyway, that's none of my business right? Hehe and you guys must stop catching emotions though man, geez. Absolutely ridiculous.

Already signed-in since yesterday. Wondering when I can download such BBM Beta? Hopefully, it will be alive within the next few hours...

fuck when i enrol for new beta user it does not open d link!! :(

What a great news... Likely I'm in, but the true question wasn't answered yet.
When the beta will start?

Cause they haven't said bread the damn article

1. First of all I read
2. If you are smart enough you would know that because I said great news
3. What about reading my reply again to understand?
4. Mind your own business

he said bread not read, so don't worry and bread the damn article ! /s

Meh.. I couldn't care less /sarcasm

Thank you for using "couldn't" as appose to "could" a lot of people use that phrase wrong.

Patience folks its hasn't even been 24 hours since they allowed people to sign up for the beta.

Anyone able to download the app???

How? I cannot still even though I've been accepted :/

BS seems to get you everything these days...

On their site they have written that a waitlist will be available when registration is full......so i hope they will display the list very soon...

Still waiting for the green light.

It wouldn't even let me!!

Registered and waiting for available ...

i told you guys, it needs max 3X24 hours to get the approval, and only selected users can download the app, good luck

Loosers thy r thts y thr cmpny is down .

It's not spam he's just retarded and can't spell

Hopefully they let us all test it soon. One thing I will say is the way they made us sign up is awful, we should have been able to do it from our phones.

Argh, I tried to it instantly but wasn't able in the phone, and I didn't have a PC handy at the time :/

you can sign in by using ie on wp, you have to change the website preference from mobile version to dekstop version.. but unfortunately, the program is already filled up

Same here :/ mehh whatever I guess

Yeah me too. By the time I tried in the afternoon it was already filled up. I hope they reopen it or something. And when is the real app coming out?

I was lucky.. Made it in.. :-)

Tried at 6pm Pacific yesterday (10 July) and was waitlisted. Was the first time I'd used by BBID in years lol!

Beta zone says Im in but no email or download link yet ?

So stupid.. I tried to sign up immediately from my 1520 yesterday. Had to create a stupid BBM profile first (which I did) only to find out I needed to create ANOTHER profile for BlackBerry beta programs. Which everytime I tried it wanted to search for an app to open the link to create the beta profile so I couldn't finish the process. By the time I got home it was filled. Awesome.

i'm sorry, like i said before, you need to change the website preference on ie to dekstop version from mobile version

I actually was on desktop version and still failed.

oh i can't answer that, but can you tell me the steps you are followed?

- Opened the link from my phone to join the beta - Followed the instructions to signed up for a BlackBerry ID - Created the profile and signed in - Was directed to create a beta zone profile to join the BBM beta - Attempted to do so by clicking a link to create a Beta Zone ID - Was asked to find an app in the app store to open the link. Doing so failed. - Went in circles and could not get onto the page to create the beta zone ID

at the 4th step, did you see "new user" button, and click it?

when they asked you to find an app in the app store, you'll never be done

I agree with him...same thing happened with me, went in circles trying to sign up, even tried changing to desktop mode on IE but could not get it to work. Finally, downloaded UC browser and changed to desktop view and was able to sign in after filling the form. It took 45min to complete this on my Cellular data.

hmm, i only gave two minutes with my ie dekstop version :)

The exact same thing happened to me on my 1520, late night. It wanted to install UC Browser. I did and it went into a flashing loop. Then when I woke up and tried it on my PC it was too late for me. Oh well, will wait till the finished product is available.

That's why it's called beta zone. They require beta zone profiles to enhance the testing experience. Moreover, if you didn't even have a blackberry ID, how do you pretend to be selected for testing BBM when you apparently haven't used the service in other OS?

Does BBM show up in the store?
Because mine doesn't show up? Help plz

you will get an email when you got the approval, so you'll be able to download the app from there

It is private beta. So you cant find this with a store search.

From the article: "While the app is available in the Windows Phone Store only people who have been picked to participate in the closed beta test will be able to download and use the app. So far, there's no word on when the actual beta test will begin." So another words, if you signed up and you were accepted in the program, you will have access to it when the beta program actually begins. Until the program actually begins, you will not be able to download it. It is not public knowledge when the beta program will begin (at least not yet).

Yea I searched everything I could think of & cant find it in store

they should allow us to download the app once we registered for the beta i don't know why we have to wait again

this is the program, many things they have to consider

Thank God I got enrolled..

Looks like i am in!!! yey

I'm in confirmation email and all but still cant download

Why would you want BBM? WhatsApp, KiK, Facebook Chat, Telegram. All these apps are widely spread among smartphone users. No one needs a messaging service of a dying platform...

you're right bro, and i love skype :)

It's very popular in many countries still, while KiK and Telegram isn't. Some people only have budget Blackberries and mostly communicate via BBM. It's useful to some people

I wouldn't consider kik a better alternative. I receive notifications but when I open the app, no messages. Tried reinstalling, rebooting and hard reset (when it first started acting out) and the only thing working was the hard reset. But not so interested in doing a hard reset every 6-7 days...

if it's cross platform now, what does it have to do with bberries dieing platform?

I would use Skype but I much prefer the lightweight features of BBM, such as the "R" and Pings.

I'd like to try it. The platform doesn't matter if they can become a premium cross-platform service provider. I've been rooting for Skype, but losing faith.

Apart from no one uses telegram or kik

Has anyone heard back from them yet though?

Any news when the app is going to be available?

I would venture three to eight weeks from now.

Today i told my friend "hey buddy soon i am going to be on BBM" 5seconds silence then he laughed at me & said now we all (android & ios friends) are back to WhatsApp.

Yeah!!;!!I just signed up to blackberry just 5 hours back.....haaha

Was not able to enroll.. :(

I signed up long ago before it was full and I still can't get it

I signed up straight away, but haven't been able to download, it still says 'you don't have permission to download'. Does anyone know when we will be able to download?

It looks like they have selected only 100 or something people for testing as it was filled up within 2-3 hours after the word got out.

no, they will pick 1000 wp users and more for each country

Glad I registered when I did!

I'm good with WhatsApp! BBM on my M8 runs Shitty

It's not getting installed.. " Showing You Don't Have Permission To Download This App.... "

Hey friends if you now see the version of BBM app its now updated to version 1.0.0.2 so be ready to beta test this app...have fun

Well I don't talk to anyone who uses it

Its not nice to be at the back of the line! Thats Windows Phone for me. One week to go, and expect more twists and turns, if not sinkholes along the way. RIM is waiting for Nokia Blue! Until cyan is out just relax or give a shout to Microsoft, you are welcome. July 12, 2014; time 0327 hours AEST.

Gaah! I was unable to signup yesterday cause registering for their Beta Zone doesn't work on a mobile device apparently :( Was so stoked for this since Kik never shows new messages in the app, only those damn toasts....

Dude u are everywhere ! :D

Plz lemme know when the app can be used properly n perfectly...thanks

Iam enrolled :) glad I did it asap

When I read the article, I went to sign up , then they said ! It's not available for your country yet , unlucky mee ( Middle east )

I registered too, and it was successful. However I am still not able to download the app, get an error message that i don't have permission :(

Last thing BlackBerry should be doing is limiting the number of BETA for the only relevant platform they own. Instagram is still in BETA, Facebook BETA........I love Windows Phone but it is kind of sad they BETA's seem to last forever.

BBM will surely make it out of beta if that is the concern but BlackBerry only has some many programmers compared to Microsoft.

Well, at least there are enough WP users to fill a beta program.

What is so good about BBM?! What is so freaking magnificent about it?! Skype, WhatsApp, Kik and Facebook Messenger do the same job if not better.

I will attempt to answer your question: BBM does the following: Allows you to become "friends" without giving up too much personal information. i.e. Sharing a PIN is not the same as a phone number or email Allows you to know if a) the network has rejected your message (RED X) b) the receiver's phone received it (Blue D) and c) if the recipient has tapped on the message and read it (GREEN R). switches seemlessly between cell data or wi-fi to get your message through (i.e. high reliability) Allows for excellent quality wi-fi calling (subject to hardware capabilities) Allows for video calling (currently on BlackBerries only but hopefully soon on all the others) Allows you to create groups Allows you to follow BBM Channels of interest (there are some cool channels out there) Allows you to share your GPS coordinates via Glympse (one of my favourite features:) Allows you to share voice notes, photos or pictures taken directly from within the app Allows you to use emoticons and larger stickers to share how you feel in a fun way Uses toast notifications Within groups you can share photos, chats or Event dates and details (with links to related emails) It's great. I love it. I hope you and my other Windows friends get to as well really soon.

I agree with you. It was one of the best chatting apps but like soullessOnyx said most other apps do the same you mentioned. But one best feature is BBM pin, that can be shared with others to chat instead of giving out phone number.

* KiK hasn't been updated in FOREVER
* Skype? I'm wondering if Microsoft forgets that we exist. It STILL can't send attachments on WP, but can on other platforms.
* Some people are paranoid about Facebook and WhatsApp since Facebook bought them. Point is we don't know what's so good about BBM on WinPhone because we don't have it yet. I am anxious to try it out.

Did any 1download the app n how we wil koe whether we r shortlisted,or,not

N how u all know that you all are shortlisted

Lol I got accepted but I can't it :o !

When I saw the article in the morning, I immediately clicked the link given but changed my mind then and there. I would rather wait for the official one available for all to see whether is it even worth downloading or not.

No one can download the beta app yet until they are ready for us to have it. If we are shortlisted we will probably get a email.

I enrolled too :) at midnight in south Africa struggled with the e-mail confirmation but finally got it nd im in!:) jus waitn to download now...

Signed up first thing fortunately :-)

Can't download...i am joined BBM BETA program....

If read up, no one has the app yet. You will probably get a email to say when to download the app.

Had a bbzone account for years so got in easy/fast

Really have no need for any kind of message app

You're going to have to explain why not.

How is that declaration helpful...at all?

Still wait to download ;)

Shame, I would have been in if I didn't have to wait until I could use a PC to register (signup is broken on Windows Phone).

Are you saying Windows Phone is broken, let me say it Windows Phone is broken! The shear number of individuals who could not sign-up using Windows Phone is staggering, Redmond we have a problem. 24 hours gone let the waiting begin.

I'm saying the signup portal is doing some weird kind of device detection that breaks on Windows Phone. It's not WP's fault; BB should fix the system so it's standards-compliant. I can sign up for anything else but not this, and somehow it's Windows Phone's fault? Come on.

dude get on yourself...you dont know the situation and you say its broke up?!!....you need to shift to the desktop mode of website...that link works on at desktop mode...

I think I misspelled my Microsoft Account ID when I signed up...anyway to change that?

Do not panic yet
We love the buzz around #BBM for #Windows Phone! If you didn't make the list, don't worry, #BBM is coming soon! #BBM4ALL
From @BBM

That's what they always do, promises, promises, promises

Exactly it all started with that evolution of BBC on windows mobile but never panned out

They pushed an update out today & yet we still cant access it yet

Oh they take a long time for choice beta testers. That's make me uncomfortable

They didn't put me in waiting list. :D

There was a message on registratio's end that "we have send you a mail ,open it to complete the registration" but haven't received any mail yet. M i enrolled ???

I love wp..i love waiting.. :(

These people are fools always there a late in anythng that is much wanted

This is getting so annouing now. They must atleast tell us the time or date. No one likes to get turned on and left iike that. >_<

I,signed up.....buy I can't sign in...whyy and can't download it

You're lucky guys they put you in waiting list
my 520...

Ohhh cmon.. Just launch it already,

finally, i can download it .

Eh? Did they send you an email or something?

What's the point of lying? Seriously

And the waiting game continues.

For what sign up into the beta?????

Next day.....and .....Still Wait

Are faltu hai windows phone atleast bola toh release karo na waise bhi what's the use of test as I have seen many apps crashing

Still waiting going on....

Fucking mind, can't wait to see bbm on my wp Lumia...bbm beta zone please release it fast!!!

It's updated but still unable to download...

Today the app shows one review that means its being downloaded and tested by few people now...

Where did you find a review???

Got my invite. Its nothing special but its BBM so I am happy.

I got mine and its pretty good except for some bugs here and there; 1) You can't open it without connection, gives you a blue sceen that keeps telling you to retry 2) It sometimes Lag 3) Even when you have connection and you open it, you are faced with a blank application for some mins sometimes 5mins or more before your contacts, chats and some other things start appearing. though i know this is a beta, but it's still preety good for a start.