Windows Phone Collections: For The Kids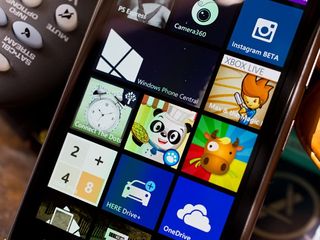 Windows Phone Central Game Roundup: For The Kids Collection
One of the nice features of the Windows Phone Store is the Collections. The Store Collections are a wide range of popular apps and games, sorted by subject matter. If you aren't sure what you need, these collections can help get you pointed in the right direction.
The Collections include golfing apps, running apps, indie game spotlight, bicycling apps, apps for Saturday Night, Disney games and more. For this week's roundup we're going to turn our sights towards our younger Windows Phone users and highlight a few titles from the For The Kids Collection.
This Collection has a series of apps and games designed to entertain kids while subtly teaching them a thing or two. All these titles would be nice additions to your Windows Phone Kid's Corner and well suited for those times you need a little help in keeping your child occupied (e.g. waiting for the table at the restaurant, in the doctor's waiting room, on road trips, etc.). Heck, some of these games will appeal to the older crowd as well.
Connect the Dots - HA
Connect the Dots is a series of educational games that will teach your kids numbering sequences but also help with identifying everyday objects. You have Connect the Dots titles that focus on vegetables, body parts, animals and household appliances (HA).
In taking the HA game out for a test drive, the game offers twenty appliances to identify with three difficulty levels. The easy level has each of the dot labeled numerically or with letters and you have to connect the dots in the appropriate order. The medium and hard levels removes the labels from the dots but you still have to connect them in the right order.
Audio confirmation pronounces the dots' labels as they are connected and once the puzzle is solved you can toggle between your score and a description of the object.
Connect the Dots is a simple game for your Windows Phone that is an easy way to teach your children about everyday objects as well as the alphabet and number systems.
Connect the Dots HA is available for low-memory devices.
Dr. Panda's Restaurant
Dr. Panda is another series of educational games available in the Windows Phone Store that delivers a collection of mini-games designed to expose your children to daily activities associated with a wide range of topics. You have a hospital, supermarket, airport, daycare, garden and restaurant edition. We flipped a coin and took the restaurant edition out for a spin.
Dr. Panda's Restaurant has your child running the local dining hall and has to prepare and serve a number of guests everything from drinks to pizza to Chinese stir-fry.
The interface is simple with screen gestures guiding the way. Tap on a guest as they arrive at the restaurant to seat them at their table, tap on the dialog bubble to take their order, tap to slice the food and tap/drag the items to place them in blenders, pans and other cooking equipment. When served, tap/drag the item to their mouth to see if how much they like your culinary skills.
While the game isn't difficult to pick-up, I would have liked to have seen labeling or a how-to guide in place to help with navigation. For example, there are three mini-games that teach about re-cycling and cleaning up. To access the games you have to tap on the re-cycling bins or dirty dish rack that are in the background of the dining room scenes. There are no labels on these items and most will discover them by accident as they tap aimlessly around the screen. A short tutorial walk through would have been perfect.
Another gripe with Dr. Panda's Restaurant is that it only contains ten different drinks and dishes. I would have expected a larger menu based on the price of the game. While there is room for improvement, Dr. Panda's Restaurant has the potential of being an entertaining children's game for Windows Phone.
None of the Dr. Panda's titles have trials but all are available for low-memory devices.
Simon Cow
Simon Cow is a fun child's version of the classic Simon Says games. This memory game uses colors, animal graphics and sounds to help your child hone their memory skills.
The game has the option to use three to eight farm animals that will sound off in a random sequence. It will be your child's job to repeat that sequence by tapping on the animal button accordingly.
Additional game options are available to switch between animal sounds, musical notes or just use color flashes with no sounds to set the pattern that has to be repeated. You can also time the response and add to the game's challenge by rotating the buttons between rounds.
Game rounds start with a single button sequence (or steps) to repeat and as you complete each round an additional step is added to the sequence. To give the game a competitive edge, Simon Cow has an online leaderboard (current high score is 100 steps). The game can be rather challenging when you have the rotation turned on and choose the eight animal mode.
While Simon Cow is a fun game to test your child's memory skills, don't be surprised if you find yourself battling your child for game time.
Simon Cow is available for low-memory devices.
Max and the Magic Marker
Max and the Magic Marker is an older Windows Phone Store game and a staff favorite. While it lacks the educational lessons in the traditional sense, the game does tap into your child's imagination and problem solving skills.
You play the role of Max who must navigate through 15 levels of game play that spans 3 worlds. The mission is to stop a monster that Max has drawn who trying to take over these worlds. Max is armed with a magic marker that he can use to draw bridges, steps and other items to help Max overcome enemies, puzzles and obstacles.
Your marker has a limited supply of ink and you can replenish it by collecting orange ink balls that are scattered about the level. Pop-up windows will guide you through game play as new features become available.
The Xbox title has outstanding graphics, easy to use controls, challenging game play and is overall a well rounded, entertaining game for all ages. Max and the Magic Marker is available for low-memory devices.
All are Kid's Corner worthy
Each of the Windows Phone titles in this week's roundup are definitely Kid's Corner worthy. Some of the titles may also appeal to the older Windows Phone users as well.
If I had to tap a "weakest link" in this group it would likely be Dr. Panda's Restaurant. If the developer could find a way to highlight the mini-games and add a short tutorial on game play, Dr. Panda would have more appeal. It does lend itself to experimentation but I can also see a small child losing interest in the game because they can't find all the features.
I do like the levels of difficulty that Connect the Dots offer that will test your child's memory as well as sequence associations. Then you have the added bonus about learning about the object you have created. Should the developer find a way to add spoken text to this description it would help but as is, it gives parents the opportunity to work with their children on teaching them about the items.
Simon Cow and Max are two titles that can be appealing to Windows Phone users both young and old. You may get some odd looks when Simon Cow belts out a series of animal noises but it's a fun, casual game. Max and the Magic Marker is a personal favorite of ours and while an older title, Microsoft Studios isn't letting it collect dust by continuing to push out updates for the game.
These are four of the thirty-seven titles the Windows Phone Store has tapped for their For The Kids Collection. You can find the full collection here (opens in new tab)(US link) in the Windows Phone Store (titles may vary due to regional restrictions) and let us know in the comments what your favorite kid's title is? Also, let us know if there's a favorite kid's title that you think should be added to this Collection.
George is the Reviews Editor at Windows Central, concentrating on Windows 10 PC and Mobile apps. He's been a supporter of the platform since the days of Windows CE and uses his current Windows 10 Mobile phone daily to keep up with life and enjoy a game during down time.
Thanks. Good to use in Kid's Corner. You forget Toca Hair Salon and Kitchen.

Seems idealistic. For Kids though

How can you miss PBS Kids?

Make sure that your kid doesn't use an iPad.

Already done apple products are NOT allowed in our home :)

I just sold all of my google products and bought ipads to compliment our windows phones. Well except for my kids tablet which needs amazon's app store for free daily games.

I'm glad to see the Cbeebies Playtime app in the kids collection. It's really fun and educational, my children love it. Best of all completely free of any costs. Recently updated too. And it has full voice acting for all the mini games from the original tv actors.

Make them all universal apps and make more good looking battery lasting Windows RT tablets and your kid will never use an iPad everrrrrrrrrrrr............. Again.

I'm not a kid, but I love max and the magic marker. Finished it long ago.

I would recomend Kids Browse Safe for the windows phone. It allows your kids to only visit the sites you enter in for them, changes can not be made in kids corner, only from the app menu: http://www.windowsphone.com/en-us/store/app/kids-browse-safe/07f72b75-38ea-4f19-b770-fcb50ab834fe

Max: Curse of brotherhood looks like a console adaption of Max & The Magic Marker lol.

Not mentioning Toca is criminal. Also, promoting a kids game with non-removable ads is also criminal. Connect the dots is really pi** poor. Kind of hard to believe you guys did your research on that one.

When talking about Kids Corner worthy it depends on several things. - Age of kid
- Frustration level the app can create for a child (in app payments, ads that lead away from app, settings too easily accessed, etc)
- Finger friendliness for the age group. Really need apps by age category, not done generic "Kids" as though from toddler to 12 they're all the same. One thing they all have in common though is they're all playing from Kids Corner because we don't want them messing with our stuff. LOL

Wow.. Beautiful.. Amazing Kids Game Collection. This is Very useful Post.. Thanks for sharing. Magento Development Company India

I aways think that we shouldn't develop too many mobile apps for children in case they easily indulge in phones. We all know it is harmful to children.

This is Great.. Wonderful Information.. Great Thanks Palm Jaggery Online
Windows Central Newsletter
Get the best of Windows Central in in your inbox, every day!
Thank you for signing up to Windows Central. You will receive a verification email shortly.
There was a problem. Please refresh the page and try again.