Windows Phone Game Round-up: Platformer Games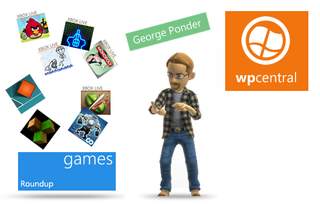 This week's roundup takes a simple approach on things. We'll take a look at the top platformer games for your Windows Phone. With no rhyme or reason, we tapped half a dozen of the top fifty platformer games. We have a rolling ball, a running dude, ninjas without legs and temples of death. Most are fast paced, entertaining games that are challenging enough to keep you interested without being too frustrating.
Keep in mind that if an app doesn't make the roundup it should not reflect poorly on things. These are just a collection of apps or games that have stood out to us. If we've missed an app that you think should have been included, sound off in the comments. With 100K titles, we'd be scrolling for hours to cover them all in one round up.
Platformance Temple Death (trial version/$.99): With retro styled, pixilated graphics Platformance Temple Death is aptly named. The game calls for you to navigate through ancient temple to rescue a damsel in distress. Along the way you must avoid a wide range of dangers that can easily spoil your day.
Platformance Temple Death has over forty challenges to overcome, zoom feature to see the full map, three difficulty modes, and screenshot capability. You control your player with a virtual joystick and jump button. In just tinkering with Platformance Temple Death, it is a challenging game that is a decent time waster. There is a free trial available and the full copy will run you $.99. You can find Platformance Temple Death here at (opens in new tab) the Windows Phone Marketplace.
ORB ($1.29): ORB is a fast paced platformer game for your Windows Phone where you have to steer a rolling ball across a field of solid tiles. Sounds easy, right? The only issue is that the field of tiles has large gaps that you'll need to navigate around and if that wasn't challenging enough, there are also tiles that are mined. Roll over one of these tiles and lights out.
The path you have to navigate your ball starts out fairly wide and the further you progress, things can get a little on the narrow side. ORB is nicely drawn up, challenging and has some catching background tunes. ORB will run you $1.29 and you can find it here at (opens in new tab) the Windows Phone Marketplace.
Runner7 (trial version/$.99): Runner7 reminds me a lot of the old Mario Brothers games. You have the runner that you navigate across the platform jumping blocks, canyons and diving under obstacles. You don't have the evil mushrooms coming at you but there are bouncing cactuses. All movements are done through a series of taps and swipes.
Runner7 has nine levels with the first being a tutorial to help you get used to the action controls. The retro graphics fit the style of the game but the music may drive some a little crazy. Runner7 isn't a bad game just a little short lived with only nine levels.
There is a free trial version available for Runner7 and the full version runs $.99. You can find Runner7 here at (opens in new tab) the Windows Phone Marketplace.
Running Dude (free version/$.99): It seems that most platform games are fast paced and Running Dude is no exception. Running Dude is a gray scale, pixilated game that has you racing from platform to platform. All the way dodging enemies and capturing boosts (jetpacks, mechanical walker, etc) to help you run as far as you can.
Running Dude also throws a few twists along the way like inverting and slanting the screen. You have two gaming modes, an online leaderboard, and plenty of action to keep you busy. There are two versions available for Running Dude available at the Windows Phone Marketplace. An ad-supported free version (opens in new tab) and a $.99 ad-free version (opens in new tab).
Legless Ninja (trial version/$1.49): Legless Ninja is an interest game for your Windows Phone. Graphics have paper cutouts for your ninja (who has no legs) and the ninja stars you collect. You race across a "hand drawn" styled platform with a similar backdrop.
The object is to see how far you can survive by jumping over, ducking under, and dashing past dangers. There are four difficulty levels and awards to be earned (online leaderboard in development). Legless Ninja is a fast paced, challenging game for your Windows Phone.
There is a free trial version available for Legless Ninja and the full version is running $1.49. You can find it all here at (opens in new tab) the Windows Phone Marketplace.
Fastball 2 (free version/$.99): Fastball 2, in many ways, is a profile version of ORB. You race a red ball across a platform jumping gaps and obstacles along the way.
Just tap the screen to have the ball jump to avoid all the dangers. Fastball 2 is a multi-level game (130 levels) that progressively becomes more challenging. You even have a store you can choose different ball types from.
There are two versions of FastBall 2 available on the Windows Phone Marketplace. You have a free, ad-supported version (opens in new tab) and a $1.99 ad-free version (opens in new tab).
So there you have it. A round-up of some of the top platformer games over at the Windows Phone Marketplace. You also have Doodle Jump, Gravity Guy, MonsterUP, Escape from Heaven and many more quality platformer games on the Marketplace. If you have a favorite, sound off in the comments and let us know what you like.
George is the Reviews Editor at Windows Central, concentrating on Windows 10 PC and Mobile apps. He's been a supporter of the platform since the days of Windows CE and uses his current Windows 10 Mobile phone daily to keep up with life and enjoy a game during down time.
Does 'Call of Carlos' count as a platformer? If so, highly recommended. Great free game.

good question... what's the definition of a 'platformer'?

I'm going to guess that it means any game where you have to go "platform to platform." I thought it was analagous to side scrolling, but it seems like it isn't restricted to such.

It's an excellent question. We categorized our game, Pendulous (/self-promotion), as a platformer because it made the most sense to us: you go from point to point, in a 2D space, largely in a linear path, until you reach the level exit. The difference for us is that, instead of playing a character standing on a platform, you're a gear hanging below an anchor point.
Anyway, a number of people have told us that we should recategorize the game because it doesn't fit the platformer model, but I'm still not quite sure what to call it instead: an inverted platformer?
~Matthew, //dbg

Also, I'll second Call of Carlos. It's frantic and enjoyable (even if it does have tilt controls, which are usually not my favorite).
~Matthew, //dbg

No Pixel Man Zero? That game is so awesome.

I dont see Rooftop Rage... Highly recommended.

SUPER CORA-BOLT is an awesome new platformer, completely free, 75 rock hard stages, fantastic graphics!

And a modest developer ;)

Orb is a platformer and MonsterUp Adventures is not? Launched a few weeks ago, it should be on that list!! :)
http://bit.ly/QBPAAZ

I recommend http://www.windowsphone.com/en-US/apps/d2ede014-a146-490b-aa62-ea187d217dd1 Doodle Ü... a platformer with unique controls. Direct the hero through the levels by drawing coins and objects.
Windows Central Newsletter
Thank you for signing up to Windows Central. You will receive a verification email shortly.
There was a problem. Please refresh the page and try again.