Windows Phone Inner Circle is heading to a city near you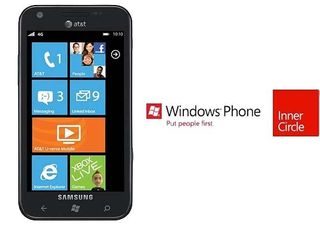 We made mention of the Windows Phone night parties some time ago. In a nutshell, these parties are meet and greet type events to introduce the second generation Windows Phones. The downside to these events is that they only involved a handful of U.S. cities.
Enter the Windows Phone Inner Circle.
The Inner Circle events add 15 more U.S. cities for a casual encounter with the new Windows Phones. An event to let you "get into the loop before the loop even starts". Prizes, a chance to win a new Windows Phone, appetizers and cocktails are all on the agenda for the Inner Circle gatherings.
The Inner Circle tour begins on October 28, 2011 in Los Angeles and ends on November 21, 2011 in Seattle. The city list appears to be spread out fairly decent (still no Birmingham on the list!) giving more Windows Phone fans a chance to spend some hands on time with these new phone.
Registration is required and you can find the full list of the dates and locations for the Windows Phone Inner Circle events over here at the Inner Circle web page.
via: WindowsTeamBlog
Windows Central Newsletter
Get the best of Windows Central in in your inbox, every day!
George is the Reviews Editor at Windows Central, concentrating on Windows 10 PC and Mobile apps. He's been a supporter of the platform since the days of Windows CE and uses his current Windows 10 Mobile phone daily to keep up with life and enjoy a game during down time.
Why is Las Vegas always skipped? Why would you NOT wanna come here?Here is the listLA28-Oct9:30pm - 12:00amThe Conga RoomGDGT Live AfterpartySan Fran2-Nov6:00 - 9:00pmTemple (Sanctuary)The HTC Radar 4G Launch PartyNYC7-Nov6:00 - 9:00pmThe Altman BuildingNight MarketSan Diego9-Nov6:00 - 9:00pmHard Rock Hotel (207)DC9-Nov6:00 - 9:00pmModernMiami9-Nov6:00 - 9:00pmSetDenver9-Nov6:00 - 9:00pmThe Corner OfficeSt. Louis10-Nov6:00 - 9:00pmMalt House CellarBaltimore10-Nov6:00 - 9:00pmPratt Street Ale HouseChicago11-Nov7:00 - 11:00pmMCA WarehouseNight MarketBoston14-Nov6:00 - 9:00pmNERDHouston14-Nov6:00 - 9:00pmSambucaAtlanta14-Nov6:00 - 9:00pmTongue & GroovePhiladelphia16-Nov6:00 - 9:00pmRawCharlotte16-Nov6:00 - 9:00pmMezNashville17-Nov6:00 - 9:00pmSambucaDallas17-Nov7:00 - 11:00pmPier 59 Studios WestNight MarketPhoenix17-Nov6:00 - 9:00pmBlue MartiniSeattle21-Nov6:00 - 9:00pmPnk Ultra Lounge

That's a good point. Could be great for then to show up on the strip during tourist season. All those hands touching windows phones would be a tremendous opportunity to boost market share.

Should we expect the phones to come out after these events? I would go to the Miami one but I'm out of town for college.

I registered for San Diego.Thanks George!

Sweet, I had signed up for the New York event when this was first announced. Was going to hop on the China Town bus take the ride from Philly. But now I don't have to. Can stay here in Philly and go to the Raw which is very fine Sushi House and night club. :D

I signed up for the ATL gig. Hope they have a Nokia phone there. I'm also about 10 yrs too old to be hanging at that venue...

Hah. I thought the same thing when I saw that. Still thinking about going; maybe we'll be the only two "old" farts there...

Got signed up for Denver.. I wish it wasn't downtown though... yuck.

Anyone going to the Chicago one

i might does it matter if were under 21

I might. Sounds like a good time. It's a pretty good drive from Cincinnati though.

I don't know... I RSVP'd right away but, never got any confirmation message or email... if I try to sign up again it tells me that I'm already RSVP'd but, I'd really like to have something in hand to prove that.grrrr....

Just signed up for Miami. Thanks so much to WPCentral for relaying this information. I cant wait, a Nokia phone on hand would be extremely nice although just playing with the new processors will be fun. See you there.

Just signed up for the Naahville event see you on the 17th!

Dammit why must I live in Europe :( Or rather, why must these events be only held in the US :(

Same thing i said (sigh) even though i know that they dont even look ta my side of the world lol

In for STL. I will be in Boston while that one is going too, but it won't let me sign up for more than one. I was going to hit NY too but I will be in town a day too late. I know, I am asking for too much to be allowed to attend multiple events, would just love more than one shot at winning something...

Just registered for the Washington, DC event. I hope I won't be the only girl and/or person there!

Oh, nice. I was thinking of going to the DC one cuz I live real close but I registered for Baltimore instead cuz Thursday works better for me. Still might try to drop by DC tho, maybe double-dip on any giveaways..

I had to switch events...just signed up for Baltimore with a new email address. Maybe I'll run into you at the B-more event. I'll have a magenta case on my Samsung Focus :)

LOL!! I will be attending the DC event also

I had to switch to B-more. Have fun in DC! I wonder which will have more people?

+1Signed up for the Houston, Tx event!Thanks for spreading the word, this is gonna be awesome, im trying to become a developer, this will help me out a lot!! This is gonna be nice!!

nobody from LA?Well... i'm going :P
Windows Central Newsletter
Thank you for signing up to Windows Central. You will receive a verification email shortly.
There was a problem. Please refresh the page and try again.