Windows Phone Next App Star voting back, votes have been reset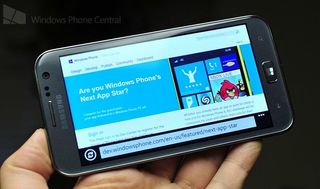 After launching the Windows Phone Next app star competition yesterday to some shaky technical hitches, the voting app on Facebook is now back and available for you to vote right now. Don't forget that voting gives you the chance to win a free Nokia Lumia 920, so it's definitely worth your time.
It's important to inform you that votes registered on the 19th of March will not count towards the winner, in the interest of fairness the vote count was reset by the competition's organisers. We are very lucky to have been chosen as one of the 64 finalists and are up against a game we hold in very high regard - ARMED, a tough match up in the first bracket!
Windows Central Newsletter
Get the best of Windows Central in in your inbox, every day!
Voted !!!! (and for Wikipedia of course :D)

Wikipedia got my vote in that matchup Rudy :)

Don't worry Jay, you will win! And Wikipedia got my vote too. :)

Voted for both WPCentral and Wiki, both on my must-have list.
-and UC Browser too, of course :)

Rudy, why you won't release your Wikipedia app in Indonesia? What's wrong with my country? I'm so sad... :(

Your Wikipedia app is awesome! Definitely one of the best

Got my vote as well, nice app

Voted! And i really love what Rudy has done with WIkipedia. Honestly i have used wikipedia app on both iOS and Android as well, but none looked as good, so it got my vote too. :)

I had to switch browsers to vote because I was stuck on an endless loading screen saying "Please Wait". Basic voting forms should not be this complicated!

Had the same problem from my L920 but it started working after a second attempt.

Microsoft needs to be in the lead for best browsers, not trailing at the end.

Same for me. Would not work in FF and had to switch to IE. Lame

WPCentral app deserves to be in the final. One of the best exclusives on the platform.

Also myMoneyBook has my vote ;)

Is there a way to vote without signing up for Facebook?

I want an app in the ad that shows off what us WP users have in our marketplace. And as much as I love WPC, its not gonna wow many people in an ad.. Armed it was.

"The page you requested was not found..." :(

I switch on Battery Saver mode at night. That shuts up the notification beeps.

Why do they use samsung wp for every post?

It only let me display the bracket but I could not get to the voting page -> endless loading
After restarting the browser (IE10) I either get a white page or this endless loading bug. Annoying -.-


Page seems down again, crappy design.

Yep, its down again for me too... EDIT: I set my phone to desktop mode, and voting worked fine.

It's totally broken. As the developer of Didlr I'm finding this pretty frustrating... We've done a big push to our users but they cannot vote for us. Close to tears... sniff.

As the developer of ARMED! this contest is a total mess.

It is even more broken than this website apparently... i am literally having to write this post by editing in one line at a time.

1. Make sure you can vote from a Windows Phone.

It is sort of embarrassing that the hardware the contest is for cannot be used to vote in the contest. It also means that driving users from our game to go vote is impossible... they have to remember to go back later from a PC.

2. No way to direct link to one match up.

I'm sure they want to get people to vote for everything in the round, but as a developer i want to drive my users direct to my vote and not ask them to vote 32 times to get to me. Having it start with our vote then take them thru the rest would have been better.

3. Matching up apps against games was a weird choice.

It is comparing apples and oranges.... utility vs. entertainment. ARMED! vs WPCentral? Air Soccer Fever vs. Box? It would have been better to have votes among all the games and apps separately with the final vote between the winning app and winning game.

4. Don't have a contest over a major conference.

GDC? All our guys will be there... trying to manage a vote like this while remote and away from a desktop is crazy.

It is extremely frustrating how poorly this is all been run.

100% with you.
I have been in direct contact with the team behind this. The development was actually done by 'a global agency' rather than internal at MS but clearly the structure of this has been approved by them.
Its hurt my business. We've done a mass mailout to our userbase and they are clicking through to a broken site. We have been trying it and even got a PHP INI file at one point...
Our users are unlikely to try again. We can't email them and tell them to go and vote a third time. I'm also concerned that they won't trust future mailouts we do.
The last email I sent to the team said that frankly a stop needs to be called right now. My current feeling is that the page needs to be replaced with a hands up apology rather than a broken voting system.
There is no way on earth that this can keep going for 6 rounds.
We've put SO MUCH into this. Winning would mean a tremendous amount to us and we have put our souls into it right from the beginning. But right this second I feel broken.
I love WP and I'm a fan of Microsoft. But this is bad. very, very bad.

Guys,
I agree that the execution could have been much better (direct linking to a match-up, the potential breach of trust from a mass mailing that sends user to a broken site, etc.). I've tried to register my votes upon the first few hours of the launch, and it was a mess.
But it could have been worse... Your app could have been completely ignored for the contest. So please enjoy the free publicity, and best of luck to you! :-)

Actually think i would have prefered to not be included at all the way things have gone.

Sorry to hear that. May I take your spot? I'd be happy even if I lost to WPCentral. ;-)
Seriously, I agree that badly executed promotion (especially the one you don't control) is worse than no promotion at all. I'm sorry it turned out this way, and I sincerely hope that, in the end, you'll find some value in having your app part of this contest. Hopefully the glitches clear up before the next round, and hopefully ARMED! is still in it. Good luck.

Oh, and ARMED! got my vote by the way (with apologies to Jay T Bennett and WPCentral). Ironically, I love the WPCentral app and I don't even have ARMED! on my phone, but I am in debt for all the hard work that went into MonoGame, which I plan on using soon. This is the matchup that I wish would never have been made, at least in the first round.
And Didlr got my vote too!

Thank you!
Hey, something I should make clear. In the communications I have had with MS whenever I've reorted problems and so on they have been really cool. Humble, ready to take action and conciencous. Great people at MS - just MS can be a beast.

Rich I'm sure you'd be as interested as I am to know who the consultancy is behind this site... It's hardly an advertisement for them!

I wish I could reply with something meaningful but when I try it says it is spam and I should remove links and references to money. Too exhausted to deal with THAT.

I voted for Didlr, idk what ppl saying about endless loading on ie or ff. I use comodo ice dragon browser, it's basicaly ff tho. And i'm not an artist myself(prefer taking pics), oh armed having a tough opponent it seems.

Didlr us an amazing app, love the live tile too just needs double wide.

Thank you very much! Double wide tile is in latest update! Should be live now!

It IS working now. I've noticed some changes. The ticks that show your choices have gone altogether. TBH, right now I don't trust that things are working as they should. But hey, we press on.

You may be right that something isn't working as it should... I cast my votes yesterday (March 20th), and I just paid a visit to the page this morning and my checkmarks are gone. It took me close to 15 minutes to consider each entry and register my votes. I don't think I'll go through this again for this round. Hopefully, my votes were registered and what I'm seeing is just a glitch in the frontend app.

I did. I LOVE WPCentral, so it was tough. Very dumb to have you guys head to head so early.

Doom and destiny needs more votes, the only game I refuse to uninstall to make room for the new gameloft games!!!

Vote for AMAZING WEATHER HD ;)

Done, I think I read there's another update on the way too!

Yes small one with enhanced live tiles, no more black suns also support for 7.8 devices.
Another update already in the works to add more scources for lockscreen and to enhance the sharpness.

Great! The lockscreen customization makes this app better than the competition.

Microsft, please open the voting from MOBILES (we are in 2013) also why do our fans need to vote for 31 diffeneret apps until they see ours, most of them just get confused.??

And please add the ability to link directly to the APP.

Couldn't get the page to load on my phone does anyone have a direct link they could share with me

Its http://nas.newwp.it, you have to be on desktop version of IE not mobile.

Yeah, We were also happy to make it to the Top 64.
But no way we are calling a second time for our fans to vote.
The set-up is such that actually it optimize the amount of vote / application tried, the very wrong way.
I think probably 99% of the votes Won't have tried either game.
Actually probably even few of our friends that don't have a windows phone ended up voting (Does that make sense?)
The mass of the votes are created by people trying to get to vote for their friends... So you get avg 16 random vote for one very biased vote :).
I tried to download and install the apps for the 2 first vote, then decided that the process is just too long, with some apps being quite big. So I ended up voting based on the concepts, amount of effort put in...
I hope the voting will be less random for those remaining in the later rounds, It might get interesting and of course I discovered lots of great applications out of this. Just wished I discovered them without the frustration.

New technology and INCREDIBLE COOL!, I choose and voted this WindowsPhone, because its applications are numerous and very interesting to use than it is also more powerful smartphone and materials and good design compared to similar phones, I hope WP CAN MORE SUCCESS than competitors..
Windows Central Newsletter
Thank you for signing up to Windows Central. You will receive a verification email shortly.
There was a problem. Please refresh the page and try again.