Windows Phone Recovery Tool now supports HTC devices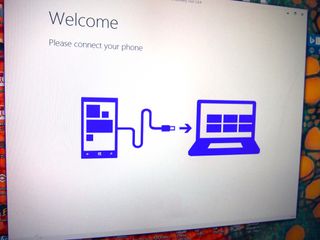 The Windows Phone Recovery Tool has finally gained support for HTC devices. With this, users with HTC phones, like the HTC One M8, will now be able to fix device issues that they may be having by reloading the OS from a computer. If you are having issues with the Windows 10 preview, or just want to go back to the official Windows 8.1 release for any reason, you can now do so with your HTC device.
Thanks for the tip, Chad!
Windows Central Newsletter
Get the best of Windows Central in in your inbox, every day!
Jared started off writing about mobile phones back when BlackBerry ruled the market, and Windows Mobile was kinda cool. Now, with a family, mortgage and other responsibilities he has no choice but to look for the best deals, and he's here to share them with you.
But I thought non-Lumia devices couldn't run w10 yet..

What? This isn't exclusive to Windows 10 devices...

"Yet" being a key word in your sentence :)

They can't, but there are still reasons someone may need to reset their phones

Well good for HTC users lmao.

As one of those users, I am getting the strange feeling that Hell may be starting to freeze over.

I don't have an HTC phone but this is awesome for those that do!

Great news for HTC owners!

I think Build comes today with HTC phone support

Doubt it. I like the optimism though.

That means HTC Devices will be able to install the next release of the Preview for phones

Can install now... Check your Windows insider app!

Yessss, next Windows 10 build is for our HTC devices!

Any HTC device? Older models, 8X/8XT supported? Great news if true!

My 8S is waiting eagerly for this!

Lets hope the same brick recovery method works on HTC devices too. After bricking my 925 with this tool I have no faith in it at all.

QHSUSB_DLOAD. I know, I'm in the same situation

You have the QHSUSB_DLOAD brick? There is a fix for that now. Worked for my 925. I used this guide.

In preparation for the next preview release

Bring my defibrillator machine
Someone needs resuscitation
LOL :p

So HTC phone can get the preview in the next build

Can get the preview right now buddy! I have it

Makes sense now why they have a Windows Phone recovery tool AND a Lumia recovery tool.

Because they have separate built-in application for Lumia

Sweet. HTC gets some love as well.

Does it support Samsung devices ?

The article specifically states only HTC devices. Come on bro read the article.

I did, and the article never mentioned if there is or isn't support now or in the future for other non Lumia devices. I thought it was a good idea to ask, as it's relevant to this article (non Lumia device support for the software)

My phone is htc 8x . They have mentioned about only m8. What about 8x

Download the tool and see for yourself. Posted via the Windows Central App for Android

I have 8x and the tool recognises it... So I guess this is good news...

Awesome! Hope it includes the 8X as well ...

What about the Samsung Ativ S?

Nope, it recognizes my HTC 8x

Well do you have official 8.1? Ever tried to roll it back!?

Yeah, I got official 8.1 in January. Did a hard reset few times but still haven't tried to do reset via windows phone recovery tool. Will try it when I update to Windows 10.

It means that we will have windows 10 for phones preview for HTC

Yes, they give you the repair software first and then the operating system software!

This is what MS needs to do with all non-Lumia windows phones in order to improve his market share...

Can I put windows on an android M8 now?

Well good for those ten users :)

Awesome! Although I'm still EXTREMELY weary about putting the WinMo 10 TP on my One (my daily driver) this is great if I'm drunk one night and take the plunge.

I'm not that worried that my ATIV S isn't supported yet as the Windows 10 preview isn't available for it yet.

No software on server for HTC 8X :)

No, as it states in the article it's just HTC phones they added support for and I can verify that as I just downloaded the update.

YESSS!!! HTC 8X is in the list :D I have tested and it works fine. But i have a question: can i unbrand my unlocked phone with this WP Recovery Tool now? or is it not possible anyway?

Do you have any software available?

What i have is this: http://www.androidruu.com/?developer=Accord Even with that i can't do? Because since i connect the htc to the pc via WP recovery tool, it demands to put in bootloader mode.

It's 8.0 GDR3. If you have y-cable, pendrive/card adapter and bootloader version 162966 or lower you can unbrand your phone. Search XDA-developers forum to do that.

I have WP 8.1. GDR1. Can I go back to 8.0 with WP Recovery Tool?


No, the recovery tool will restore it using the latest software authorised by the carrier.

it sucks then. because i am registered in a group in facebook and i have demanded if i can unbrand my htc in the WP recovery tool and they say yes that is possible. the thing is they don't how which is stupid lool

What if your in dev preview!?

@film soundtracks where did you get the list

Check the printscreens http://imgur.com/V1w423t,2wChv9C#1 http://imgur.com/V1w423t,2wChv9C#0

W10 for HTC 8X? Yes yes yes

Hopefully this is an indication the next W10 preview build will be available on HTC devices.

International version of HTC One M9 launched alongside Windows 10 for phone would be much obliged.

By that time more up to date flagships will be here

I read this as they are planning on bringing HTC devices to the Win10 insiders soon. Maybe not this release this week but glad to hear the progress to other devices than Lumias. May end up trying it out on my 8X soon enough...

Soon? You mean right now! I have it...

Now you can roll back from updates you haven't received yet!! :P

Its a sign that other phones are coming to the preview I hope

I have a HTC 8X that bricked a few months ago after a 8.1 update. Will this fix it?

It didnt' work; said it couldn't find the OS that i need on their server. I may try again in the future.

This is the kind of support that Windows Phone needs from Microsoft to be successful :D

No this tool doesnt get the software package for HTC 8x and also it is not able to recognize the firmware version of my HTC 8x.If some one can help me to reset my phone would be great i have Verizon unlocked and it has boot loop issue.

Right, i tried it too and got a message that there was no software version available on the server. Guess this is WIP at present, will check back after some days. It will probably be made available before they make WP 10 available for the 8X.

The problem is that this app refuse to install. Tried many times with no luck.

A little bit late, but better late than never. Windows Phone Recovery Tool should support all devices running Windows Phone. After HTC, support should follow to more OEMs like Blu, Micromax, Cherry Mobile, and others.

I just want to report and confirm I am now able to download windows 10 preview builds on my HTC one m8!

Currently installing windows 10 preview on my m8 !

Correction...i was installing the fast ring prep for windows 10 preview... Not actually Windows 10 itself... But the good news is that the m8 is definitely supported for the next preview builds! I was ready to take the plunge today, but oh well sometime this week or next is just as good!

But it still does not fix the QSHUSB_DLOAD issue. My phone is dead and this tool does not recognize my phone. No use. :(

Ok, I'd it's stupid question just ignore it.. I've a HTC M8 running on Android. Is there any chance to install WP on it?

Hook it up and see if the recovery tool recognizes it, I'm curious to hear if it recognizes it.

after all, it doesn't recognize HTC 8X -.- It's a crap.

i have htc 8x and install windows 10 preview,now my device each 5minute automatically restart. then i install windows phone recovery tools for back to wp 8.1 but this software not recognize my firmware device,im confuse,help me

hi i have the same problem what to doo ?

me too, now i can't use it, please help me

damn, it not support htc 8x!
Windows Central Newsletter
Thank you for signing up to Windows Central. You will receive a verification email shortly.
There was a problem. Please refresh the page and try again.