Here's how to go back to Windows Phone 8.1 after checking out the Windows 10 phone preview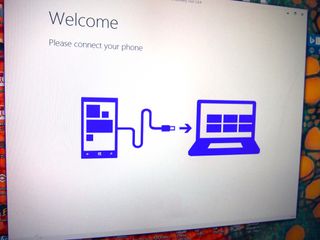 If you decide to take the dive and install today's Windows 10 phone preview, chances are you'll encounter some bugs along the way. If things get a little too hairy for you, Microsoft has a nifty recovery tool available that will roll your device back to Windows Phone 8.1.
Should you need it, you can grab the Windows Phone Recovery Tool from the source link below. The tool will erase your device when rolling back, but it will also offer you the option of restoring from a back-up while setting the phone up again.
If you're mulling over installing the preview and find yourself waffling back and forth, be sure to check out some tips and things to consider before installing.
Thanks for the tips, everyone!
Source: Microsoft
Windows Central Newsletter
Get the best of Windows Central in in your inbox, every day!
Dan Thorp-Lancaster is the former Editor-in-Chief of Windows Central. He began working with Windows Central, Android Central, and iMore as a news writer in 2014 and is obsessed with tech of all sorts. You can follow Dan on Twitter @DthorpL and Instagram @heyitsdtl.
Cant these ppl tell something about Windows 10 features instead of all this rubbish

Be patient or try your luck at another source. Patience will be the better option.

Some screenshots: http://www.nokiapoweruser.com/photo-gallery-windows-10-for-phones-build-...

Can I back up my Wp8.1 apps in my pc? And will I be able to restore them when I roll back to 8.1?

When you made the "backup", the backup saves itself in OneDrive and that backup saves everything you got, the apps, the configurations, the lockscreen, etc. etc., only, when you load the "backup", it only needs to download the apps, but are gonna be saved (like the save data of the games and stuff like that)

How to load the backup ? Just sign in my microsoft account ?

tune preview to kr liya kya?

You hope the save data of the games comes back. Many games don't use that feature.

Well, I really don't know what and what not exactly is saved via "Backup", I just do that some times in a little while in case of something going wrong.

@Federico Turban, No not correct all.
The back up feature on windows phone backs up your Text messages (if enabled), settings and only app data for apps which hook into OneDrive for cloudsaves. The apps themselves are downloaded again from the store. Which is why if you have an app that has been pulled it will not install during the restore process. Settings are simply your sync settings, start screen, accounts however you will need to log back into those.
To the OP, make sure you have no group texts as they hold up the text restore. Unfortunately you can no longer delete the offending text via outlook.com/ messaging history. However the most important thing is to sign in with the same Microsoft account during the setup wizard otherwise you will not be able to restore until you do a hard reset and sign back in with the correct ms account (the one you backed up initially with). Also I would recommend connecting to a pc and copying over everything off the phone (just incase).

How I say, I didn't know properly or exatly what things or what things not where saved in the Backup.

Will this roll back to denim if available for your Phone?

I can think of a few reasons.

If there is a problem and your phone doesn't work properly.

Because its not an official release of a completed build...that is very buggy

Still in alpha/beta. And quite buggy+laggy. Some apps not working well and cellular data toggle also not included in this preview.. Other than that, when u try to open your photo gallery it will loading slow as f. The tile animation also quite laggy and the internet explorer kinda weird a bit ,.. That's what I've experience so far... But still worth a try.. :)

Touchscreen on L1520 doesn't work unless reset by pressing the power button for at least 15 sec (this in itself is the major reason wanted to rollback). The wallpaper skews giving me an odd white space on the right side of the screen. The phone gets freakishly hot when bluetooth is turned on or using the camera and music app. Shall I continue?

All these people asking for the size of the update over and over is getting annoying

Not the update, am talking about the size for the recovery tool on pc

As expected in a beta such as this

WILL MY WARRANTY WILL VOID IF I INSTALL TECHNICAL PREVIEW ON MY PHONE

Technically no. But when you go to a store for replacement or return, revert back to 8.1

If don't revert back before sending it in

This looks like a rebranding of the Lumia Software Recovery Tool. Does the Lumia tool not recognize non-Lumia devices?

I wouldn't expect the Lumia recovery tool to recognise non Lumia devices but as this is a "Windows Phone recovery tool" then I would expect it to recognise ALL Windows Phones.

Indeed. Both tools recognize my 928 and both offer restoration to the same version of the OS.

When I connect my Ativ S it doesn't recognize it, keeps waiting for connection.

The Lumia tool does not recognize the ATIV? That makes sense and is what I expected to hear.

Does this say Lumia Phone Recovery Tool or Windows Phone Recovery Tool? There are other WP beside Lumias, quite a few.

What would the ATIV S restore back to though?

To latest official software of it.

I'm going back alright!
I don't suffer the UI changes. At all!

Most of us don't need to go back anyway.

After upgrade ...our previous messages will be there in inbox r not??? Really

just make a backup before you furthe go

Dude...they just got it like most of us!

I can't install this! Gives me an error saying hash does not match.. Anybody else facing this?

After upgrade...our previous messages r there in inbox????reply...

Remember you will lose all unpublished apps. Etc.

I used this and it just reinstalled the W10 TP on my AT&T Lumia 830.

Luck at this video of windows 10 on lumia 830 https://www.youtube.com/watch?v=GtCkPoJJAEA

http://www.microsoft.com/en-in/mobile/support/faq/?action=singleTopic&to... download from here

Ok i've installed the Windows 10 Technical Preview for my lumia 630 and i downloaded the windows recovery tool and all it says is:You have the latest avaiable software version. And there's a button saying Reinstall Software,but there's not option to return to windows phone 8.1? Help does it happen to you too?

Yes! This is exactly the same as with my Lumia 830. There's no other option but to re-install the latest OS which is Win 10. Did you find any solution?

I'm facing the same problem. I just want to get back to my 8.1, coz W10 TP is very laggy on my lumia 830 international version. Badly need help..Plzzzz :( :(

Yes. I just clicked in "Reinstall Software" and my phone returned to WP 8.1 I think it was just a communication problem of the part of microsoft, in not having specified that "reinstall" means "restore".

by which tool of ur phone u get back ur prev os that is 8.1.... i need to roll back my phone from win 10 to win 8.1...
plzz let me know.... and will all the msgs remved from my phone???

when i launch the installer i get - Processing: Initializing... - and its stuck there. HELP!

The same here.
Have you managed to roll back to 8.1?

Anyone having luck with the initializing error? Same error here.

How much size does the windows phone 8.1 have when rolling back

Dear will my all data erase in recovery process

Can anyone tell me What is the full process because I am fully confused

Hey guys does it good to choose Windows 10 ???plz tell me guys

Dan , in windows 10 preview ive lost my WiFi password. Will I get it back if I restore back to 8.1?

No, every time you format the phone the WiFi settings are gone.

Do not update !!! Sincerely...

https://shahbhavya47.wordpress.com/2015/02/26/fall-back-from-windows-10-...

I can't install the recovery tool. Has someone managed to do it???

Can I roll back if I never had a backup?

I was liking what I saw in Win Phone 10, but the deal breaker was the battery drain: 100% to 70% in just over an hour. After plugging in a charger and exploring for an hour or so, it continued to drop to about 65%. Had to unplug, and an hour later it was under 50%. After fully charging it overnight, I began my odyssey with WPRT. Downloaded and installed the tool (v. 1.1.0) from the link in the article. It recognized my phone (Nokia Lumia 925) then got stuck at "Reading phone information." After several attempts and letting it sit like that for many minutes, I began trying stuff: reinstalled WPRT, rebooted phone, other things I don't recall. WPRT never got past "Reading phone information." Finally tried a cold reset (power + volume-down buttons for 10+ seconds). What happened next was scary: the boot process proceeded to the Windows logo, but "Not for resale"—in red—also appeared on that screen. The reboot never went further than that, but when I ran WPRT and connected the phone (still in limbo), WPRT recognized it and offered to reinstall! 10 or 15 minutes later, I found myself with the unenviable task of recovering the phone from its cloud backup. A PITA, yes, but I'll have my phone back.

I'm stuck in the same problem as yours. Can u tell me in details how do you solved it?

At the very end of this article is a link that takes you to a Micosoft page that links to the Windows Phone Recovery Tool (WPRT). Download it, install it, and follow the directions. If it fails, e.g., hangs on the "Reading phone information" screen, you can try other things like reinstalling WPRT and powering your phone of and on, but that didn't help me. Ultimately, only a cold boot—the equivalent of holding the power button down on most PCs/laptops or removing & replacing the battery—helped. On the Lumia 925, battery removal isn't an option, so you need to press the power and volume-down buttons simultaneously and hold them in for about 10 seconds. In my case, the phone's subsequent reboot hung with the Windows logo on the screen (the "blue icon of death"?). At this point, I ran WPRT and connected my phone with a USB cable. (The Windows logo still appeared on the phone which was otherwise inoperable.) WPRT recognized the phone, did not hang as it had done before, and proceeded to reinstall Windows Phone 8.1. At this point, the phone was in the same condition as when it was brand new, except it had the latest software and firmware on it. Before installing Windows 10, it was running the Cyan firmware; it was (and is) running Denim after the recovery, something I'd been unable to do through "normal" means. At this point, fully recovering the phone required the same steps involved with replacing any Windows phone. Good luck.

Tks mate,
Help me out in a few seconds. It worked for me.

Last night I updated windows 10 preview....Love the new UI but having some problems with cellular options.My phone did not allow me to change from 2g to 3g.Also cellular data isn't turning off.I did not want to roll back to 8.1 but because of these issues I have to go back...if anyone could help please let me know thanks

Help! I'm stuck in "Reading Phone Info" part. It's been hours since It's been on the part. Thanks!

Me too. I was able to revert to 8.1 with version 1.1 of the recovery tool, but version 1.2.4 hangs.

The UI is good.But its not up to the mark.The cellular data is always on and we cant manage from 2g to 3g.The phone hangs.Battery drains winthin an hour.

Hey guyz i want to roll back to windows phone 8.1, but while downloading software package, after downloading data of 650-700 mb out of 1.5 gb its showing verifying downloading files for some time and then showing an error, what should i do..??

windows phon recovery tool stuck in READING PHONE INFORMETION i'm using lumia 535 and trying to roll back to win 8.1 does any one have same problem in rolling back? and any suggestions??

This article is calling it the Windows Mobile Recovery Tool, http://www.windowsphone.com/en-ca/how-to/wp8/phones-and-hardware/recover....

i cant roll back to 8.1 even with using windows mobile recovery. i wish they will fix it soon

iI want to recover my lumia 630 to windows 8.1. When i click on my device in recovery tool, it shows please wait continuously. I waited for more than one hour but i am not getting any response. Please help...

try reinstalling the recovery tool and restart your pphone, it worked to me

I TRIED THIS BUT STILL NOT WORKING...

SOME bugs? It's June. Windows 10 will be released in almost 2 months. This thing doesn't work AT ALL. Okay exaggerating? I suppose the phone turns on, and you can adjust a few things before it crashes, or freezes, or shuts off on you. Can't use email, can't use onenote, can't use maps without it draining your battery almost instantly (lumia 930). Non-official apps are a serious hit and miss. So, what the hell good is this phone now with Windows 10? Advise to not upgrade ever! Give it a YEAR maybe.

This doesnt work for Lumia 1020 !!!! My phone was foud, but no package was foud for this device? Really? Windows 10 is not raedy for using, and i dont have a possibility to downgrade my phone now??? I really hate you !!!!!!!!!!!!!!!!!!!!!!!!!!!!!!!!!!!!!!!!!!!!!!!!!!!!!!!!!!!!!!!!!!!!!!!!!!!!!!!!!
Windows Central Newsletter
Thank you for signing up to Windows Central. You will receive a verification email shortly.
There was a problem. Please refresh the page and try again.