Windows Phone Review: Nokia Weather Channel App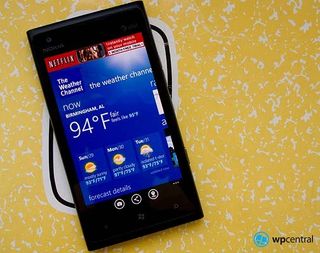 While there's the Weather Channel app available on the Windows Phone Marketplace, Nokia has an exclusive version of the Weather Channel app as well. The Nokia Weather Channel app was recently updated to version 2.0 with a few new features added to the mix. We've touch on these new features earlier but now we want to take a look at the full app.
Some may scratch their head at Nokia's choice for an exclusive weather app but the update may change your mind on the Weather Channel app.
You still have the basic weather services with the Nokia Weather Channel app. The first page you come to is your current conditions with a three day extended forecast. Tap on the forecast and you will be sent to additional pages that expand on your current conditions, an hourly forecast, a 36 hour forecast and a ten day forecast chart. Tap on a date on the ten day chart and you will pull up a day, night and temperature history view for that day.
Sliding across from the forecast page you will find the radar and augmented reality page. The radar map is animated and has layers for radar, clouds, temps, rainfall, and snow. The Weather AR (augmented reality) taps into your Windows Phone camera and location services to populate your camera view with weather pics in your area.
Where do these pictures come from? The Weather Channels' iWitness service (opens in new tab). On the main pages you'll see a camera button that will launch your camera app where you can capture a weather photo and upload it to the iWitness service (membership required) which you can log into from the three-dot menu on the main pages. Other members can comment and rate your photos and they may appear on the Amazing Weather Moments page of the app.
So sliding the main pages from the current conditions to the maps to the Amazing Weather Moments you will eventually find your way to a page that highlights two of the new features the version 2.0 update brings to the table. Here is where you will se your Amazing Day's displayed and any weather alerts for your Friends Weather. So what is the Amazing Day and My Friend's Weather feature? In a nutshell....
My Friends Weather: Curious what the weather is like at your friend's house? Now you can add friends to the Nokia Weather Channel app from your Windows Phone People's Hub or your Facebook account. You can even pick five to pin to the My Friend's Weather page. Should a severe weather alert be issued for a friend's location, the alert will be displayed on the app's main pages.
My Amazing Day: Looking for a day when just the right weather conditions exist? My Amazing Day lets you set a series of weather parameters and a list of dates (within the next ten days) will be generated. Looking for a low pollen count day? How about a day when the temps aren't so high in the morning? Each Amazing Day established can be pinned to your Windows Phone Start Screen.
The Nokia Weather Channel app lays everything out rather nicely and with one more main page to give users a list view of the key features as well as links to weather videos, a severe weather center, and a listing of your locations it's not a shabby weather app. The Nokia Weather Channel App is much like the Nokia ESPN app, that is it is scaled down a little from the original to cover the basics. However, with the recent update the Weather Channel App goes a little bit further.
I have to admit that my weather app of choice for the past few months has been Weather Flow. However, having tinkered with the updated Nokia Weather Channel app things may be changing. The My Friends Weather is a nice touch and an easy way to find out the weather at your friend's or family's location. If you're trying to find a rain free day to take a trip or need to be alerted when temps get dreadfully high, the My Amazing Day is a great tool to help keep you informed. All in all, Nokia's Weather Channel app is very impressive. The regular Weather Channel app isn't shabby and hopefully these new features will be headed to that version as well.
If you're using a Nokia Lumia Windows Phone, you can find the Weather Channel app here at the (opens in new tab) Windows Phone Marketplace. The app is free and you can find it in the Nokia Collection that is in your Windows Phone Marketplace app. If you don't see it listed, tap any Nokia app in the collection and choose "more from Nokia Corporation" and you'll see it listed.
George is the Reviews Editor at Windows Central, concentrating on Windows 10 PC and Mobile apps. He's been a supporter of the platform since the days of Windows CE and uses his current Windows 10 Mobile phone daily to keep up with life and enjoy a game during down time.
I have a Lumia 900 with Rogers Canada but it says the app isn't available for my device...whats the deal?

Its only available in a few countries right now.

So, like the Nokia ESPN app, Canada was left out :(

The app can not load ads on my Lumia 710, the ads area is now blank. That's annoying. I also noticed that the live tile doesn't get update.

Check how many apps are running background agents

I used the 'original' Weather Channel app and I really liked it. Now that it's been 'customized' by Nokia, not so much.
The live tile is very, very, VERY slow to update.
I used to be able to flick over to the radar page and see what I needed to see. Now I have to open up the map, and then turn on the layer for radar, every time.
If the map would remember the last layer, that would be nice, but it doesn't.
The rest of the app, fluff and eyewash, don't need it, won't use it. All I need is radar, forecast and severe weather alerts.
If you ask me, Nokia ruined what was a good app.
Is there a way I can switch back to the 'original' Weather Channel app??

If this is like any other Nokia apps, then yes - you should be able to uinstall the Nokia Weather Channel app from your phone, and, install the original Weather Channel app that's located at - http://www.windowsphone.com/en-US/apps/afae337c-41d2-df11-9eae-00237de2db9e.

Yup, was able to uninstall and reinstall the original 'Weather Channel' app. Much, much better than the Nokia version.
Now, when an update comes out, will it magically transform itself into the Nokia version again?
(That's how I ended up with it in the first place)

I would be very surprised if it did that. These apps, while similar, are two entirely different apps as far as the Marketplace is concerned. It's weird it did that in the first place! Hopefully it won't do it again.

The Live Tile update is slow or never happens at times, talking several hours. Right now the Live Tile is still showing the information for yesterday afternoon. Needs to be looke dat to see what is going on.
Once I open the app it does show the correct information.


I like it, but it still needs some performance tweaking, and I'd love it if they would remove the ads, I would pay for a Weather Channel app if I could get it without ads. I would also like it if they removed their logo from the Live Tile, I really don't need to keep being reminded that it's The Weather Channel.
I may stick with Amazing Weather for now.

Weather Channel app has always been underrated in my opinion. For years they've been the most accurate at just doing what they're supposed to do. WEATHER!

I agree this is easily one of the better weather apps in the Marketplace. However, my only gripe is with the severe weather alerts toast notifications. I wish they made them more reliable. There are times I never receive a notification, even though there's one posted when I launch the app (the red exclamation icon).

They aren't accurate at all

This app is great but I wish the live tile would show the forecast for the next two days as well.

I like posting the graphic vs. a link, as well.

The best feature of d original version was being able to post to Fb a weather tile. Now, it just shows a link. :(

For me a weather app is defined by its live tile. Thus one needs to:
• update faster
• provide option to utilize location to give weather of where I'm physically located

Its very nice, but the live doesn't update on its on; send an update for that and it will be great.

I don't feels so bad know that it's not available in CA... Cause apparently it sucks

way better than the original app. even on my omnia7 ;)

Not available in Australia as well! >.
Windows Central Newsletter
Thank you for signing up to Windows Central. You will receive a verification email shortly.
There was a problem. Please refresh the page and try again.