Windows Phone users in Romania get official apps from Enel and BRD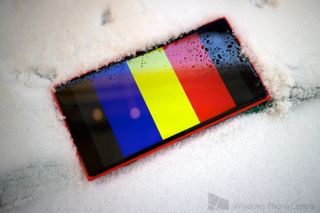 If you're a Windows Phone user in Romania, we thought you might like to know two official apps that have recently become available. The first app is from Enel, which is one of the two major players in household electricity in Romania. The other app is from BRD, the second largest bank in Romania.
Head past the break if you're from Romania and would like to learn more about the apps.
MyEnel
MyEnel for Windows Phone lets Enel customers check their account information right from their phone. They can view invoices, track payments or consumption. During the reading period, they can also submit the index directly from the app. As an added bonus, the app also has a weather section with the 7-day forecast.
Enel has operations in distribution and supply of electricity. They have over 2.7 million customers in Romania. Scan the QR code below to download the free application from the Windows Phone Store.
MyBRD Mobile
BRD is the second largest bank in Romania. It has over 2.2 million clients and more than 900 branches. Their Windows Phone application, MyBRD Mobile, gives customers real-time and secure access to their accounts, banking operations and other useful information.
Customers who want to send money can do so by just providing a phone number and full name. The beneficiary may go to any BRD agency to get the amount received.
If you are not a BRD customer, you can still use the app to check the bank's locations, exchange rates, interest rates, and contact information. The MyBRD Mobile is a free download from the Windows Phone Store.
We're glad to see more official apps head over to Windows Phone. Are you a customer of any of the companies mentioned above? Let us know what you think of the apps in the comments.
Thanks for the tip, chris_t!
That's great news. I'm a romanian and I really need some Romanian apps. I just need a public transportation app for Romania now.

Try TransportUrban app, it's for Bucharest.

Nokia's HERE Transit works just as well as TransportUrban.

Mega great news, actually Windows Phones are quite popular here.

Nice one Mark ;) Thanks for the feedback, guess that email worked ;;) greetings from Romania,
Chris.

Thanks again, Chris! Hope to visit Romania some day.

Just tweet it, or mail it, or whatever suits you best, will grab some drinks or something. It will be the trip of your lifetime, guaranteed ;) And Dracula is just a myth, so no worries :D

They just killed that 1520 with snow.. The phones not waterproof, Mark❕.... Why doesn't Microkia make a weatherproof phone❔

But, was it worth the risk just for a cool picture❔... No pun intended.

Phones are fairly weather resistant. I've used mine in light rain before. Isn't some snow "dry" when it's really cold? I have no idea as it never snows here (32C today!)

Electronics/Moisture... Bad combination.

Just ask Rodney's moms vibrator.

You're a nasty bastard NIST...

Nice name.. What does it do?

Nah, Nokia can't die like this
My 920 is very endurable

No, water will kill your Lumia.. They are not perfect... Although I did drop my 920 in a cup of water once before.. I pulled it out very fast, and it was ok.. But... Still.

Nokia phone in the snow??? That's exactly where mine is going very soon.. If it snows of course! Had nothing but problems with it :(

Quite funny you write about us with all the negative hype around! Frankly, when I saw this article, I began to laugh! :) Windows Phone is quite popular around here, too bad most carriers support Android over Windows Phone. It's also a bad thing that phones start selling here a bit more expensive that in the USA, for example the 520 is sold online for about 180 dollars off contract.

Bravo Enel si BRD, deținători de Windows Phone avem nevoie de mai multe aplicații de la Bănci,emisiuni TV, benzinari, magazine, sporturi etc.. De la noi din tară....
Putina Romană citesc pe WindowsPhoneCentral Nokia lumia 925

Vodafone still waiting a 15-20% market share to make an app ....

https://forum.vodafone.ro/t5/Windows-Phone/MyVodafone-pentru-Windows-Phone/m-p/100223/highlight/true#M55

Wow.. That's ridiculous.. I can see if they want 5-10, but 15-20 is irrational.

Sunt mai multe aplicatii romanesti destul de utile. Cu toate astea, nu inteleg de ce My Enel are nevoie de serviciul de localizare? Totusi, e un semn ca windows phone va deveni un concurent serios pt rivalii de la apple si google +920

To show you the closest branches and ATMs?

do not mean the MyBRD Mobile. MyEnel is an app for viewer electricity bills, and that's all.

Este nevoie de digionline, deja exista pt Android si iOS. Lipsa unui HLS Player se simte din plin. Probabil ca este singurul lucru important care lipseste din WP8

There is Digi since last year from October. Search in Market for Digi Oriunde.

Thank you very much for highlighting romanian apps. The BRD app looks much better than Transilvania bank app. That is barely doing anything

Good job Enel and BRD! Now i'm waiting for the ING app for Romania; i hope they'll have a WP app planned...

The BRD application looks great. I have a lot of friends (few of them are WP users too) in Romania, so these are great news. My former bank (in Hungary) also released a great application (back in 2012, but they update it in a few-week frequency), in english edition also. Its called OTP Smartbank, you can found it in the HU and US store also. i loved it, but unfortunately i moved my account. Nowadays i just use Mint for my finances and CIBmToken app to generate login tokens to my new account.

Seeing global coverage like this is one of the things that makes this a great site. I'm a Brit with dual nationality (American) living in the USA and I congratulate you for providing global coverage for readers like this. It's one of the things that makes this site stand out and keeps me hanging around. Thanks folks.

There's also a BCR- eToken app, which is used to login into BCR online banking account. Awaiting for DIGI...

The BRD app asks for some strange codes, with no explanation where/how to get them.

Enel app is incompatible with my WP 7.8 and also incompatible with my Android 4.4 KitKat tablet .

It's great to see some news for WP from Romania - the customer base for WP it's fairly large in Romania. * Still waiting for a WP banking app from ING Romania. 820

Yeah, great. Happy new year, all you romanian wp-fans.

Bravo, keep going forward. Romania love windows. Succes
Windows Central Newsletter
Get the best of Windows Central in in your inbox, every day!
Thank you for signing up to Windows Central. You will receive a verification email shortly.
There was a problem. Please refresh the page and try again.