Windows Phone smartwatch, what does the future hold?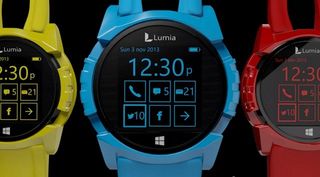 Some will argue that the one device missing from the Windows Phone ecosystem is a smartwatch. There are plenty alternatives out there but nothing that lends itself to the Modern UI of the Windows family.
Windows Phone Central member taymur has started this discussion in the WPCentral Forums suggesting we may see an announcement of a smartwatch from Nokia sooner than later. His hunch is based on the upcoming press conference from Nokia and the presser's announcement graphics. The event tagged as "More" has a rotating set of symbols for the 'O' in More that includes a clock face.
We still expect to see the Nokia Lumia 630 and Lumia 930 announced at the press event, but our sources say no smartwatch will be on the table for Wednesday's event. Instead, look for something more towards September after Windows Phone 8.1 gets its first update. But what does the future hold for a Windows Phone smartwatch?
We do think a Windows Phone or Windows-based smartwatch is being researched by Microsoft and Nokia, but it's probably several months away from getting off the drawing table. The press event's graphic could be a suggestion that Nokia is considering some app announcements, such as Fitbit or even Pebble. We know that such official apps are in the works as we speak, and Nokia may be finally revealing those come Wednesday.
While it would be nice to see a Windows Phone smartwatch later this year, does the Windows Phone eco-system need a smartwatch to be more successful? Personally, I wouldn't mind a companion watch that would alert me of incoming calls, pending appointments and new emails.
Gather your thoughts and head on over to this WPCentral forums discussion and share your thoughts on the possibility of a Nokia or maybe even a Microsoft smartwatch becoming available. Want to follow more about smartwatches and the latest gossip on this growing new area of tech? Make sure you visit our sister site dedicated to the cause: Smartwatch Fans.
Photo credit: thegioididong.com
Get the Windows Central Newsletter
All the latest news, reviews, and guides for Windows and Xbox diehards.
George is the Reviews Editor at Windows Central, concentrating on Windows 10 PC and Mobile apps. He's been a supporter of the platform since the days of Windows CE and uses his current Windows 10 Mobile phone daily to keep up with life and enjoy a game during down time.
I would wear the yellow or red one.

That is one item i would buy.. I fish and theres nothing that would suit me better than a waterproof smartwatch. Keep my lumia tugged away safely in a waterproof bag at chestheight :)

Ye Nothing will hold this,,,,,no future of windows

I'd buy one, assuming it looks nothing like the ones pictured in this article. It needs to look like a nice watch, not a bright colored toy. If I'm going to wear this to the office, out on the town or anywhere other than the beach, there has to be some thoughtful design put into this. Maybe enlist the help of a designer from Seiko, Rolex, Citizen, Fossil to make it look like something worth my consideration.

I agree. That's why I have a black phone. I need to look professional when with clients.

You can't look professional holding a yellow 1520 with a hello kitty case with pink kitty ears❔
........................
Loosen the collar up a bit, dude..

Hey back off the Hello Kitty man my mom gave that to me :P
Some of us like to be in a suite.

Ya, lay off the Hello Kitty comments. Kitty is some gangsta shit.

You need this phone case to look really professional http://www.att.com/shop/wireless/accessory.cases-shutter-huggers-mini-monkey-sku6800276.html

That's funny. Looks like the iPhone cases my nieces are always getting. Everytime I see them they have a new case.

I brought that to work and my boss instantly gave me a promotion and raise! I am now Assistant Head Custodian of D block west, 2nd Floor...

White is professional too bro

I think they should make a line of watches with different size faces.. I personally like watches with the larger style faces vs. conventional sizes.. I'm not fond of the 1 size fits all concept..
....................
Serious concept NIST.. Just resist the urge please.

fossil has great desing and they dont have redicoulous price tag so it would be great if they join the SW race

Its a trade off in price. On one side a nice watch is 90& jewelry. Swap the jewelry part for tech and you still end up with watch design. There are actual people who design watches for a living!!! Its the difference from someone saying ,"dude, that's a cool watch" to saying, "dude, that's a fucking nice watch". If the UI could overlay a traditional watch face at a tap. Maybe make the "screen" transparent and embedded into the gorilla glass top with a traditional watch face below it. Tap it and the screen goes black with the WP watch UI at the forefront. Best if both worlds plus you can enlist the tech to be used by established watch manufactures.

You do realize Fossil Swiss line up cost $895.00 - $995.00? Now the majority of there watches are under $200.00 but they do carry pricey watches too. FYI. :)

Yeah, i have the same complaint. I was interested in the Pebble, but the way it looked always bothered me. It looks like a toy and it generally doesn't look that good even in black. A lot of it is due to the material and the fact that it is rectangle. They fixed it in the Pebble 2, but that price point is just stupipd IMO. Google announced the Android Wear stuff and the Motorolla design looks insanely good. I know almost every one here is Anti-Google, but that Motorolla design is the way its supposed to go. It looks like an actualy watch rather than a toy. It is something i can wear anywhere without getting glares because it is in a super vibrants color. The one listed here is something i would expect a child to wear not an adult. It also kind of has to follow the Motorolla one in functionality. On top of touch, it need voice recognition as well. Not necessarily having a speaker, but having a microphone to at least navigate the device without touching it would be good. They also need to change the UI on this because unless they're going to make it like an Arnold Schwarzenegger size face, its going to be extremely small. They should keep it inline with WP8 with swiping. Honestly, it needs to be a watch first and a phone companion second.

Yes, I would like a smart watch that looks like a nice quality watch and has the ability to either show a display like an watch face that shows hands or when you push the Windows button it flips to an electronic display such as the watches displayed on this article.

Pebble steel looked pretty decent to me...

Yeah it does, but that price point is kinda wack. $250. Im really waiting for the Motorolla one right now to see how it compares.

Cyan for me, or they should make a Lumia style smartwatch and a Surface style one, i would take both :)

Two kinds would be smart.. One for business, and one for pleasure.. I like options❕

I would like to see both a professional and sports style watch. It would be nice to have a choice.

Heck, I didn't think about a sport version.. Looks like we need 3 version now.. Lol❕

Casio makes a g shock smart watch and it works with android and ios

A smart watch that is also a fitbit would be awesome!!

I'd be happy at this point with a fitbit that actually works with WP. :)

Nah, would rather just use the phone....

Agreed. I already have 4 watches that I only wear for nights out.

Me too. I stopped wearing a watch the day I got a cell phone. With such low market share it's hard to imagine there's any money in a WP companion watch.

You stopped wearing watches? You surely are not fashion minded :p

That is correct. If I was fashion-minded or gave a rat's ass about what others thought of me I would have an iPhone. It's function over form for me.

Got to say I don't need or want a watch connected to my phone. Great if others do and they sell. For me it would be just something more to charge, lose or break. Mobile is enough for me, not had a watch since mobiles, yeh!

I wouldn't mind if the live tiles on my Lumia could rotate to landscape and they had a wrist holster for it. I'd buy that for a dollar!

Ya, something like Glitch from the old Reboot series would be interesting at least. Not sure I would buy it, but it would be pretty cool in an 80's/90's kind of way.

I don't wear watches because they break easily

IN SOV-i mean NOKIA WATCHES BREAK YOU

No, you break watches. My watch is 18 years old, and still working.

I do have to agree, I've stopped wearing a watch since I've had my smartphone. I used to wear one of the Casio Databank watches, but now all of it's functions can be had on the phone. On the other hand I would still kind of like to carry a watch, especially a pocketwatch, but my pocketwatch broke a few years back. Now a pocket watch is king of geekdom, but you already knew that by the Casio Databank, no?

Same here. I've always hated wristwatches. Moved to pocketwatches in 1998, then eventually to just the phone. A "Smart" pocketwatch would be cool, but not really easier to get out than a phone. I guess I'm just completely not the market for these things.

Wow you are so hip and phunky phresh

Why use a phone? I have multiple appendages that can be used as a sundial.

Is it me or do smartwatches seem redundant. I am still in love with the moto's design, make it look like a watch and people will buy it. Watches are more of a fashion statement than the ability to keep track of time itself

They are redundant because they are not truly "smart" watches. They are "companion" watches. They can't do much of anything on their own. The MOTOACTV was a true smart watch that could function as a full featured GPS sports watch and media player on its own. I really wish somebody would make a new version of it. It was a great design that just needed a few bugs worked out. And it cost the same or less than the current crop of considerably less capable companion watches.

So this amazing Moto watch, is it still for sale, did it sell well? Asking because I don't see smart watches as being a big seller....

I think the point is to start the trend and not to be a huge seller. Originally the iphone sold quite bad forcing apple to re-price it, then it took off like wildfire when the appstore launched. You really shoudln't expect a trend setting product to launch to the kind of reception a stablished device type on an stablished ecosystem with a huge stablished market can do.

Sadly, Google killed it when they bought Moto. It was THE BEST device out there at the time and it was years ahead of the pack. There STILL is no product that has all the features it had back in the day. I've been through two of them and still wish you could buy them. Only hope is Amazon or eBay or CL now.

I really wanted one but the questionable water resistance caused me to wait for the next version which of course never came, and now the original has almost no support. So I make do with my old Garmin. I will buy something similar if it ever comes out. The new companion watches are gimmicks in comparison.

It wasn't a huge success, but I don't think it sold too badly. A few significant things hampered it: Poor water resistance, short battery life, and initially only supporting Motorola phones. But it showed a lot of promise and garnered a cult-like following. When it was discontinued market prices went up $50. The market is there. Garmin, TomTom, Nike, Suunto, Timex, Casio, etc all have watches that cost just as much and often more than the MOTOACTV did without near as many features.

One more device to clamor for attention and charging. But whatever rocks your boat...

I agree, however I also love watches so I might buy one if it was "companion" only. Sometimes at work pulling the phone out to check for notifications just isn't ideal this watch would alleviate that need.

The watch needs to look classy for me to wear it at work. I love my Yellow 1020, but wouldn't wear a yellow watch to my meetings.

If I fired your ass you wouldn't be burdened by this, either. Get to work! - Your boss

I think the icon stands for the Nokia Stopwatch app recently launched in selected regions. Maybe it'll hit the stores globally.

Get m a red one.... Awesome... Thn get m windows smart glasses too.... What next smart shoes :-P

Smart toilet paper. Look, you missed a spot....

I need something like that. In blue.

always behind everybody else man! getting moto 360 for sure!

A coworker of mine almost got kicked out of a meeting because she kept looking at her smart watch and since the universal meaning of "I need to get out of here" is looking at a watch, my boss thought that she was being rude. That's why I've never been a fan of smart watches, especially for the limited use and the price of them. Now, if it could do more than that, then it would be a different story. But now, I'll pass on smart watches.

Lol. That's so true. I'm one of the few people who always wears a watch. If I even glance at it on a date, she thinks I'm bored.

U r right ..nowadays watches r 4 design n style

It just brings attention to you as you say, "Hey! Look at my awesome new tech toy!" Don't get me wrong, I love tech too, but some people buy things just to be noticed. Google Glass comes to mind here, too.

Still rude to be looking at a smart watch during meetings.

Lol. Very true :)
Haven't been wearing a watch for the past 20 years, is there anyone still using it. It's just so 1980... :P

I'm happy to know that wpcentral is still expecting the Lumia 930 to be announced tomorrow.

So tomorrow is the day? For some reason I was thinking it was today.

Not interested. If the watch is simply fitbit kind of watch which supplying information about my health instead of displaying any phone notifications, I might interested. Full blown smartwatch? No thanks.
Doesn't necessarily bad though. There might be a lot's of people who want this.

If done in a unique way,like the recently unveiled smartwatch by Motorola it'd be great. If nothing else Microsoft needs one sooner rather than later,so they won't be late again to the market and risk being far behind.

I'd buy a black or silver one

Anything other than a very basic task and your digging into your pocket for your phone, sure there are folk that get the use out of them but they're not for me, i would rather the time and money was spent making phones better....

But imagine it taking full advantage of cortana, you could do anything you need without taking it out (if cortana comes close to expectations)

Actually try using one for a few weeks at least and then see what you think. I was of the same mindset at first, but after a couple of months with a pebble... I can't not have my smartwatch now. My phone doesn't make a sound or even vibrate anymore, it's helped me to clear out my inbox of junk email newsletters (so my watch doesn't vibrate all the time) and it allows me to quickly see if a notification actually really needs me to take my phone out (a lot of which don't)... It is most definitely worth it... Now if only a Windows Phone app existed so I can ditch this nexus and go back to just my 1520...

Omg I been waiting for this for so long!

Push a little harder. And it will come

That's what she said. Bahaha

I think it would have to have a classic look, with a minimal metro influence, and HAS TO BE THIN...

I hope they announce candy crush already my mom is driving me crazy.

I'm waiting also a carstereo 7" with windows phone/rt

The picture is missing WPCentral notifications.

I don't see a point in the smart watch. My smartphone does all that.

Actually try using one for a few weeks at least and then see what you think. I was of the same mindset at first, but after a couple of months with a pebble... I can't not have my smartwatch now. My phone doesn't make a sound or even vibrate anymore, it's helped me to clear out my inbox of junk email newsletters (so my watch doesn't vibrate all the time) and it allows me to quickly see if a notification actually really needs me to take my phone out (a lot of which don't)... It is most definitely worth it... Now if only a Windows Phone app existed so I can ditch this nexus and go back to just my 1520...

Does it sit in a convenient place at all times so you can glance at it to see notifications too?
Not to say you need it, its just to say there are things that are unique to a smart watch that a phone can't replicate.

As an aside, I love that Lumia logo. I'd be cool with that marketing post MSFT/Nokia purchase.

Yeah i noticed it too, who made it ? I haven't seen it anywhere else, is it the creativity of someone at wpc ?

Except it's April Fools Day. Sighhh

Lol, yep. Not sure what to believe.

I would have to see features and design....

They killed Nokia there
Sales are temporary but brand is permanent

I think it will be more of official app support rather then a new watch design. That would be a financial burdon to Microsoft. They are trying to gain maker shares of the WP platform, not a new watch. I do want the April fools phone though.

Make my windows phone better before doing a watch. Just saying....

Thats! Awesome smartwatch!

This watch, will have the best camera!

I'm waiting for the glasses, you know that glass MS bought for $150million. Saw a video of it, damb!

Lol, windows smart glass sounds really like a real glass window~

Could be a google glass killer

Those watches look so nice;. The interface is a lot better than what out there right now in my opinion.

I somehow doubt Microsoft will be able to produce a smartwatch OS this year. And I don't think they're taking that as a priority. Probably will only consider it after 8.1 is out.
As for Nokia, it's likely that the smartwatches they're producing will run Android Wear instead, since they're apparently being prepared by a team within the R&D division, division that will remain with Nokia and therefore have no obligation towards Microsoft anymore. And Android Wear will allow them to reach a wider market.
We'll have to wait and see. I don't like wearing watches so I have no intention of buying any smartwatch. Unless Nokia makes one. In which case I'd buy it though I'd probably not use it often.

That looks like child watches. Lawl

Not interested in smartwatch.. but intereested in this "Instead, look for something more towards September after Windows Phone 8.1 gets its first update.".. YEEAAHH..!

I don't care for what I personally want. All I know is that they must get into this game, and can't afford to stay behind like with mobile phones.

I've tried wearing watches before, I just end up throwing them away in the house. A smart watch is exactly what I need.

I'd get one if they made a model that was professional / business looking. There's no way I could wear one that looks like a kids toy. Also, I would hope that it could connect to my phone or windows 8 device, not just my phone.

Did like the 3310 better...

this and HUD lumia smartglasses

The perfect windows phone watch to me it will display just day and time. The only app it will run is Cortana, she will alert me of anything and she will retrieve from my phone anything I ask.

forget the watch and give me goldfinger

But we will be going with a different mantra of mobile first cloud first where we have not to rely on any wearables and stuffs. Microsoft is developing the technology of no touch screen. So wearables according to our view is outdated.

Don't need one but I want one.

Is anyone making a watch that can replace a phone, rather than just be a companion?

They already exist. China has been churning them out like crazy. Type in GSM watch in eBay and you'll find it.
Actual smartphone manufacturers see no need to develop such a thing. No one wants to rely just on a watch to make calls, reply to texts and browse the internet. The small I terrace is too limiting.

That's cool, they are all pretty ugly - but still cool - I was thinking more of a dumb phone replacement (just talk) than a smartphone replacement, paired with a bluetooth headset. Thanks!

This smart watches actually look really cool. I haven't been attracted to any of the others but these I would go for. The blue looks the best to me

Great to hear George! Is there any info concerning Feedly and Flipboard for WP8?

Microsoft already had a smart watch called the Abacus

I really hope they don't pursue the smartwatch pack......its bad enough being waaaaaaaaaay behind google, apple and samsung on phones. Can you imagine what an uphill slog it would be to catch up on watches too. No thanks, stick to making the o/s and phones brilliant, leave the watches to those that have spent the past 2 years developing them

would like to see a fully functional standalone smartwatch not just a companion from MS/Nokia. that would be good selling point.

I'm not in the market for a new watch at the moment but if and when Microsoft presents one, I'll take a look. It certainly should not look like the toys in this blog. If so, I won't be interested.

I dont really understand the use of a watch or a smart watch this is just another useless gadget for lazy peoples, if i want to know what time it is or if i want to watch my notifications i will take my phone out of my pocket and look, and this kind of watch are so annoying when you get it on your wrist !!!

There are people who are adamant that since Nokia doesn't make one yet there's no need for them, but you know if they introduced a Lumia watch they'd be the first ones in line holding their wallets open.

It better look better than that thing. Looks like a $20 Casio watch.

This would have to be a Surface style smartwatch for me to even consider it. It has to be simple and match the design philosophy of Windows itself.

Does it need the watch to be successful? Absolutely not.
Does it need the watch to be relevant? Absolutely yes.

again a good april fools day prank

Before we start talking about the smart watch we need to see MS allowing app that will update it running in background as a service while at the same time giving it access to SMS and phone. The way it is we can't get smartwatch functionality due to OS limitations. And based on what I've seen in 8.1 I don't see this beeing changed anytime soon...

"Smart" watches just don't do it for me. If they were functional without the companion phone and looked good I might change my tune. However 99% of the ones I have seen are ugly as sin.

Since I'm pretty hard of hearing, I've always been interested in a smartwatch. Even with vibration turned on on my phone, I still don't feel it go off more often than not. It would be nice to have something on my wrist that would vibrate for incoming calls/texts and be able to glance at my watch to see who it is without pulling out my phone. I don't need to check Facebook on my watch or anything, just give me a basic alerting function with caller ID and maybe some sort of toast notification that allows you to read part of the first sentence, like it does on the phone. The pictures in the article show the same type of notifications that you can put on your lockscreen, which is also nice. Also, since it sounds like it may be a Nokia product: Don't make it work only on Lumias!!! Some of us are stuck on Sprint and can't get a Nokia, so they need to start being a team player and letting other WP8 devices be able to use their apps and products.

This is the one smartwatch that actually interests me. Nokia could design the hell out of a watch.

It does look a bit like a toy...maybe if it was black. I like the look of the Xperia smartwatch! SONY really needs to make Windows phones/watches Posted via the WPC App for Android!

I like my regular watch that tells time. Maybe I'll see the need for this type of tech once it grows more.

I would go for a red one to match my 1520.

While I love wearing Wristwatches, I'm not into smart watches , almost bought the original Sony Ericsson smart watch back in around ~2007 (can't really remember when) but after using for a few minutes, I changed my mind... Also tried the newer one that came out a while back (not the most recent one) & I still don't see a use for it. I like the new Motorola 360 though, it looks like a real wristwatch & not an iPod nano with a wrist band (almost bought one lol) , however I won't seriously consider it until I know if I can use it as traditional wristwatch without pairing it with a phone or need an app to set it up. That & what kind of screen it uses (90% sure its amoled , which means no)

For some reason, the renders reminds me of the Casio G-Chock series.

What I'd like is a watch that works with windows phone and can share some of the info (caller ID, text messages, alarms) and allow me to act (answer/ignore/pretext respond to a incoming call), dismiss/snooze an alarm. While it would be nice to have a Nokia smartwatch, with the 5.3% windows phone market share in the USA right now, I don't think that is a viable option. So, whatever vendor releases a companion smartwatch that supports windows phone will get my money.
Yes I'd also like it to work like a Fitbit as well.

The Lumia logo is clever, it does look like the corner if a Window. The rest is shit, like a Mickey Mouse watch your child would wear.

It sounds like a good idea but I would prefer a black version of a Windows Phone smartwatch.

love it! I will buy it the day it comes out! neither the Pebble or the Samsung work with our pure Microsoft ecosystem at work.

Nokia and Microsoft future of tomorrow....

I'd actually wear the cyan one. Looks pretty cool.

Make a watch with holographic projector and take my money plz

Hopefully they'll make a black watch, I'm not the biggest fan of bright colors

Here is my want list: Call reject with reply for incoming calls (configurable) Text replies with canned messages FitBit style Sensors for activity tracking (with api for 3rd party utilization) Headphone jack (stream audio to watch then wired earbuds/etc) Authentication source? not sure about this bit it could be interesting Remote camera shutter button Phone notifications on watch (beep or buzz) Full and complete API for 3rd parties

Let me guess, it will be 2 years late, have an overly restricive API which makes devs hate it, and have a UI with limited color choices. sounds like a winner.

I really do suspect something along the lines of a smart watch would be announced at Build...the timing of the sudden announcement of Google's smartwatch OS and associated products, which are clearly not ready, and was not done at a formal event with a build up and "leaks" towards it, seems suspicious to me. Methinks they are trying to preempt an announcement by MS. I could be wrong, of course.

I want a smartwatch, I want one now that has a native app and not a 3rd party. I want the pebble, fitbit, new Nokia watch (rumored) and now.

Not trying to hate, but i dont think this will really be that great. For starters the colors are just ridiculous. Sure some of you are going to say "OH YEAH BRIGHT COLOR WATCHES GIMME," but in reality you probably won't wear the damn thing because it looks too much like a toy. Even if they make a black one, it would look like a toy because of the glossiness. If they made it Matte Black then it would look better. Honestly, it would be better if they just modeled it after an actual watch instead of trying to do it based off their phones. The second thing that irks me is that the UI looks insanely small unless that watch face is insanely big. I get that its only supposed to be something to just glance at, but i should be check what the notification is which means some sort of interaction. It would be better t keep it in line with swiping. They also need a classic watch face as well.

Never understood how smartwatches ever became a thing. Somehow the convenience of essentially having a high-spec computer in your pocket to be pulled out at a moments notice wasn't enough - it has to be attached to your wrist or worn on your glasses. =/

Funny I'm not much for watches, but I would still love one of these. I assume these are just fan made renders of what a Nokia watch might look like?

I don't think having a smart watch is a must have thing for the platform at this point but I'd say that the sooner they launch a well-designed one the better imo. People are starting to care about these things. And wouldn't it be nice if MS was the first one out with a really great smart watch experience? Something like that would really help with the perception that they're lagging google and apple.

The Android Wear/Moto 360 opened my eyes and made me want a smartwatch. Whatever MS develops will need to be at least as pretty as Android Wear and whatever watch is developed needs to be round!

Yup same for me. The one thing i like about the Moto one is that fact that it looks like a normal watch. The fact that i dont look like im wearing a toy is a huge advantage.

That watch concept actually looks really pretty, I love it!

I don't get the fascination of smart watches. That is to say, I understand there is a market out there for them, but I don't think that there is a mass market out there for them.
The joy of having a smartphone is that it is perfectly small enough to fit in a pocket, while being large enough to do a lot of different things with a minimal need for accessories. The smart phone itself has replaced many things including watches, GPS units, MP3 players, portable game systems, radios, and in some cases computers and laptops. In the last 3 years I have paired down from over a dozen electronics devices, each with their own batteries, power cords, and data cables, down to just having a phone, a PC, and a rarely used netbook. And I am not alone in this transition. The trend in general is to have the least number of items that can do everything that you need to do.
The idea of adding yet another device to my ecosystem right now is ridiculous. And what am I going to really use it for? Just about every time my phone makes a noise I need to interact with my phone. Sure I can see the message on a watch, but I cannot respond to it. Sure I can see that someone is calling, but I still need a headset or to pull out my phone to answer the call. They are not about to cram a decent camera into something watch-sized, and even if they did, the wrist is a horrible camera mounting point for taking pictures. One of my friends has a pebble, and uses it as a way to silence his phone quickly. Neat trick, but most cases where you need to silence your phone that fast, even the little noise it makes will have already caused a disturbance, and setting the phone to vibrate would still be the better option. I understand manufacturers needing more things to produce. The smartphone revolution has people buying far fewer items every year than they bought before the revolution; and with the stiff competition out there, manufacturers are not seeing the same high margins that they use to. They need something to be the next big thing... but what they misunderstand is that 'wearables' are not it. Yes, there is a market for them... just not a mass market. The next big thing that is being entirely ignored is 'smart home' or 'connected' technology. To be able to have my HVAC and lights controlled by my phone would be awesome. To have monitors/TVs that could tether to my phone and use my phone to serve up content (or stream content from my home server or cloud service) would be much better than having a 'smart' TV (talk about failures in technology...). My stove and microwave do not need a UI anymore; imagine a cooking app that had recipes and when you got to the part about preheating the oven at 350*f then you touch it and it starts preheating the oven for you, that would be slick! Rather than allowing car manufacturers to make a UI for their vehicles (they had their chance and have all failed), lets have a secure standard and a proper mounting spot for our devices so that we can bring our own device and UI so that when a car last 10+ years we are not still stuck with horrible 10 year old hardware and software controlling our vehicles. In other words, replacing the smart phone with yet another device is not the right answer. Making all of our commonly used devices accessories to our smartphones is the way of the future. Eventually the tech will be small enough to fit inside of a watch... the issue is not that technology cannot get small enough, it is that we as humans are too large to make proper use of such a small interface. I had to live with a Lumia 520 for a few weeks, and as admirable of a $60 phone as it is, that is too small for me to use on a regular basis, so how is something smaller than that going to be useful? In a future where we all have some form of cochlear implants in place of headsets, or embedded screens in our eyes in place of screens, and can control devices with thought instead of with touch inputs, then we can talk about watches replacing phones. But I suspect that once we get to that point (probably much sooner than we imagine) there will be embedded options which will still make watches a poor form factor.

I understood you up until you said "replacing the smart phone with yet another device is not the right answer." Smart watches aren't supposed to replace your smart phone, they're supposed to be an accessory to it. The point of a smartwatch was never to replace your phone, but have the ability to use basic functionality of your phone without taking out your phone. That is something i would really like and there are probably others that would agree with me. It is more of a convenience thing if anything. The main turn on for me is that i no longer have to turn on my screen for anything. Someone called, text, emailed? I can check my watch and respond depending on how urgent it is or where i am. If you get a call during a meeting you can still check who is calling and if it is urgent, you can respond. Listening to a song in your car and want to change the music? You can do it from your watch. Arguibly, it is still distracting BUT you an stay more focused instead of grabbing out your phone. Probably not as relevant for newer cars, but people who have older cars it would be nice. Trying to check weather? No need to take out your phone, you can just check your watch. Need GPS but don't have a mount for your phone? Use your watch face. May not be as big as a cell phone, but it would definitely be less ditracting trying to read where to go. These are the most common things i can think of that would be instantly useful with a smartwatch. We can probably all agree that the biggest thing that probably effects a phones battery life is how long the screen is kept on. For most phones, idle battery life is pretty damn good as well as just using it as a music player. But you eliminate the needd to turn on your screen for mundane things and your battery life for your phone should increase a fair bit. This doesn't even include things that they COULD put into a smartwatch. Heartrate monitor is he one thing that immediately comes to mind. It is a small thing, but it would be nice to have a monitor when i am working out. However, just like you i dont need a Camera because my phone would take better photos compared to the shitty camera they would put in the unit. I dont need a speaker because it would just drain away power from the watch AND if i need to listen to something, ill use headphones. Smartwatches are probably the only real one that would be pushed to the mass market. Smart Glasses may be next, but i dont see how much more useful that can be vs a watch. Maybe in terms of navigation and some social things, smartglass would be better, but other than that i dont see much of an advantage.

Would definitely want to see one /have one

SmartWatch and Usefulness are terms can't match together

How is a watch smart if it needs a phone to be smart???? More like a slave watch.

So I'm guessing this is an April fools joke.

If it's cyan or yellow....I'll take it! ;)

I'm happy with my Casio atomic solar watch and would never consider wearing these gadgets. People get attached to their watches far more than they get attached to their cell phones, so it's not easy to convince them to switch.

Yeah, a companion watch with custom notifications for apps which support it from the phone. No ability to view the app - just notifications. No need even for colour screens - lol, just keep it sexy.

I'll take a smart watch with a microphone in it for voice commands (Kinect when the room is loud)

I would love one of those

I must admit my windows tablet has totally ruined me for Windows OS. The thing is totally useless. I liked the phone experience and might venture over to Windows again someday. My tablet is just God awful. The 400 me Asus. Should be ashamed log making such a despicable item

Surprisngly nicely done concept. I like the CYAN even if it hasn't been on a Lumia for a while.

I hope the UI for this would be much Cortana UI. :)

i wish nokia though having a good reputation on the subcontinent of india having a fairly better rapport amongst the consumers against samsung goes ahead with its mobile ecosystem and grows. the only thing stopping them is that they should have a global launch across the globe with the markets they have a good hold on like the spain,the uk, india,latin america,south america europe and etc rather than just launching in the united states first . if they come across the contract and carrier barriers and launch the device on the set day and across their major markets they will have a get go to at their forte and increase their current market supply to only where theres a huge demands cause hey the globe does not only contain china,us and japan. & india;; no hard feelings the only boost for the consumers who are hesitating is loads and tons of marketing wishes of a wp fan still stuck on android due to lack of dual sim wp phones

I just can believe that we have now been waiting a few years for this and were still talking another year before release. YEARS

Notify me when someone replies to my comment.