Windows Phone update 14219 finally brings Cellular Data Toggle for Action Center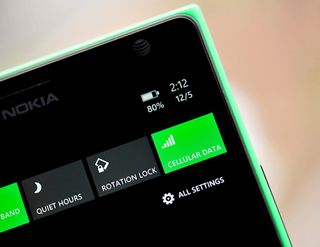 For those using the Preview for Developers program, update 14219 went live just over an hour ago and it brings one of the most requested little features users have been pining for on Windows Phone
Although new Cortana support for Europe is the main thrust, there is at least one new feature: a quick toggle switch for Cellular Data.
Many users have requested Microsoft add the toggle to the drop down menu as an option for those who want to disable their cell data with ease. Now, consumers have the option to add the quick switch to their Notification and Action Center if they want the feature.
Build 14219 is still very new, so we are pouring through the update to find anything else that has been added. Hit us up in comments and let us know if you find anything else.
Thanks, @notcassim and others for the tips!
Daniel Rubino is the Executive Editor of Windows Central, head reviewer, podcast co-host, and analyst. He has been covering Microsoft here since 2007, back when this site was called WMExperts (and later Windows Phone Central). His interests include Windows, Microsoft Surface, laptops, next-gen computing, and arguing with people on the internet.
Finally. I want to live again with good news.

I'd be really happy if this fixes the 925/1020 freezing in low-power state issue. Too many times have my alarms not gone off in the morning!

Update means it will fix something. Ain't gonna break anything. Lets hope so.

I hope it does, but since its a DP not everyone will get it.

Thanx to this update now I have infinite "Loading.." screen when going to people/settings and even when I`m calling someone and try to close the conversation, the phone will stuck again, such a nice update, now I have to reset the phone all time because of this. HTC 8X .

Can't believe. Really? I haven't updated yet. Should I?

got htc 8x and don't have that problem...

If you are trying to use your phone right after the update, it'll do that. You should give it some time to install all the apps and maybe restart after that's done.

This might happen if much of your phone's internal storage has been used up.

Keep in mind the phone is still processing a lot of info (app data) in the background for sometime after an update. Updates can initially make the device seem like it is running slower.

I updated on HTC 8X and it works fine. Try restarting it a few times.

Well shoot, I accidentally reported this comment! We need an 'unreport' button as well. :(

Man, this hits close to home. Just this morning my damned 1020 froze and therefore my alarm didn't go off. I ended up 1 1/2 hours late for work. Needless to say,my boss was not happy.

If you rely on your phone to wake up for work, you should probably consider use the stable version of the OS instead of the Dev Preview. Less chances of things going wrong. If you still want to use the new features, then try not using the phone for critical stuff, and maybe buy one of those cheap alarm watches.

Nothing to do with DP. Its a known issue with 1020 (I had one too). Since upgrading to a 930 the random freezes have gone. 1020 had too many issues.

I have the 1020 and my friend too.. we haven't had this issue and we're both on the dev preview.. so yeah I guess it's some pecies that are affected and not all..

Or better yet get a Fitbit and hit two birds with one stone. You can set alarms to vibe so you don't wake your wife/gf and you've got a fitness tracker as well.

happened to me several times.. i kept waking up late to go to class. lol

Yeah bro, same here!!! >_

Me too. It's been better lately but still happens occasionally. Used to be very common. I've actually been late to work a few times because of it and had to start using my Surface as a back up alarm!

Are you guys aware of the thread in Microsoft WP8.1 forums? Technically they have found a solution that will be released in an upcoming update, but not sure if this one addresses it. It would be nice for MSFT to announce what these small updates bring rather than leaving it to the world to find out. Especially if it addresses a huge bug like that.

Yeah I read about the fix, I was just wondering if it was in this update. Interestingly the main workaround so far is to disable a setting in Glance options -- a setting that doesn't exist for me.

There is a change in "battery saver" & "ease of access"!

Boss said next time I'm late, I'll never be allowed back...

Go with the three alarm strategy.

Sounds like a trend. I'm sure your boss it's noticing a pattern and doesn't want to hear an excuse like "my alarm didn't go off"

I was thinking when i download update first ill check if its there now.. Time to change my start screen.

There is a change in "ease of access" & "battery saver"!

This has fixed my"Resuming" issue on my 1020. The phone works great now. Even Xbox Music is working great now. MUCH faster.

Fixes the resuming bug? Going to install right now...

is this build 14219 will be included in GDR1 i.e I will get with denim whenever it will released?

Lots and lots of pizza...

Thank both. Posted via Windows Phone Central App

God made science Posted via the Windows Phone Central App for Android

And ignorance and fear made the gods.

Flying Spaghetti Monster says you are welcome!

Them carriers gonna be pissed...

It is about time they started acting a little more in favour of the consumer. Carriers are devils at times.

Why are they going to be passed?

Assuming that is a typo and not a joke I'm not getting; if people can not easily control when and if they are using data, that should lead to less overages. Which in turn leads to less money for the carriers.

Activating and deactivating data have been in WP for a good while.

Yea, buried in the settings, this brings it to one of the first menus you access after setting up your phone.. its a pretty big deal for discoverability

Yes but this update allows you to place the cellular data in your action center, making it more easier to turn it on and off than having to go in your settings and find it every time

it's not like without the switch it was very hard to turn off the data. This is a welcome shortcut, but you make it sound like before people could not make 3 taps to turn off their data if they were at their data limit.

Lol, I also resent that generalisation.... Never the less, if some people couldn't figure out that the games hub housed all their games therefore MS had to put them in the app list. Not hard to imagine they would have found navigating settings some what difficult :P.

i kind of agree with you, i was already using this feature from my settings, i just pinned the settings app to my start menu. its not very complicated! Of course putting it to the notification panel is also handy, you know not all of us are tech savvy!

And that is why I love the system here in India. No dependencies on carriers for updates. Its the OEM that releases it here directly. No contracts, no hassles.

Also : No Xbox Music, Xbox Video, dead MixRadio, no Pandora, no Spotify, no Beats Music, no Bing Rewards..........mera Bharat mahan

Great on of the most expected thing for WP, now we got another point!!!

Yeah.... No need to have installed those quick tile apps...

Yeah but kudos to them. They saw a void which MS didn't.

I wonder what happened to the guy who was initially responsible for the action centre buttons.. I mean, he had obviously never used a smartphone before :-\

Wow what a epic update.lol Posted via the Windows Central App

You realize this adds Cortana in several new countries. So yeah, it is pretty epic for many.

Yup sense sarcasm.. gtfo..!

I'd love a quick toggle for a Flashlight.

Right, another much wanted feature!!!

yes, flashlight built into the system is just what we need. also, they should give an option for more than 4 toggles. like samsung's galaxy phones have. swiping sideways to reveal more toggles.

WP should have more more than 4 toggles but they should not be accessed like on IOS and android.
Windows phone needs to have it's originality. WP should have something like secondary quick toggles that are shown when you tap a small downward arrow \/⏬ located below the primary quick toggles. The secondary ones will be the toggles which you don't use too often.
Anymore ideas?

I have a secondary toggle area. It's called Setings.


except the settings menu is a complete unorganized disaster

Yeah, some more categories or at least alphabetic sorting should be available to find the stuff you need

Joe Belfiore is the Corporate Vice President, Operating Systems Group at Microsoft. He is responsible for the design and software product definition of forthcoming generations of Windows Phones. Last April, during Reddit's 'Ask Me Anything', he said "it's something we intend to address in the future. For now, we've tried to organize it by the most frequently used setting." I hope that was sarcasm!

You're just being difficult for the hell of it. Just shut up.

This would be the best update ever!!

Bigger Windows phones (1520 ao) have 5 toggles.

Yeah... That's much needed.....

+625
Exactly, I already had to replace bluetooth for mobile data, but swiping toggles to add more space woupd be a great addition...!

Since the whole OS has pivots (left-right swipe), why not add that in notification/action centre? They can add whole bunch of utilities.

Agreed. This would also share UI similarities with Band whose entire UI operates this way.

Flashlight is the toggle I would like to see

I put a row of small icons/tiles across the top of my home screen. Works well

What about gadgets on lock screen? Flashlight, calculator etc

just pin it to start screen.... android 5 is already giving the inbuilt flashlight.. I would like to windows to provide the same rather from third party.. but then they say windows copied Android :P


In this comments thread the flashlight suggestions has gotten the most upvotes. Could all you guys go to windowsphone user voice and vote for it there.. Actually its fragmented there so many diffrent requests for flashlight in action center. Go there and vote for any... please... Its very much needed.

just d/l a flashlight app, and pin to screen, just one tap to turn the flashlight on.......easy

Why don't we have toggles for each & every tiles in the notification area??? =D
Laziness 101.

Cool I got 5gb never use it so I'm fine. Might be good for my mother.

You want a toggle switch for your mother?

Lol no. She's on a 500 Mb plan.

Yep, that's really not cool

Just a silly obvious joke. Couldn't resist the setup. Apologies if it's caused offense.

as offensive as it sounds, its freakin hilarious!!!

Are you calling hilarious people freaks?! :P

YAY....Great! I'm waiting for Lumia Denim and official 8.1.1 befor 2015 for my Lumia 1520 ;) Thank you Microsoft!

I don't think. It's going to be before 2015

Because of a bug, my phone already shows Lumia Denim instead of Cyan! That after I tried a hard reset.

You can uninstall extras+info if you need :D

A couple of soft resets solved it! But thanks :)

I have lumia cyan in denim color...
Lol.. Simply ignored that :P

Windows phone still has problems with the notification bar.

Yes, actually. Is very limited compared to other platforms

At least it doesn't get filled up with a bunch of crap toggles you can't remove like in Android L.

Android targets destroyed..

Cant argue with that, its worse when you have bloatware on top of samsungs touchwiz ui. I do have to say though, android L looks so much better with the flatter brighter icons. Imitation is the sincerest for of flattery. First iOS and now Android.

You can remove them on Android. Congrats on catching up though. Data toggle in late 2014. :'D

As of Android L, the toggles are auto populated by the checkboxes in Settings that you use most. However this means that you'll have a fairly long list, usually half full of ones you have only used once. You can't remove ones you don't want, apart from not using them for a month. So people are actually having to change the date on their phone to trick the OS into removing them. Or, you know, Google could have added a way to remove them rather than forcing people to use their phone in a way they don't want to.

That's why in Android world I always prefer to use custom roms as they give me total control of my smartphone

True. Unfortunately you're the minority as most people don't even know they exist, let alone how to do it.

Custom ROMs were so buggy the last 100 times I flashed them. Not going back to them again.

Not seeing the update on my 830 with preview

Coz it has just released an hour ago. It'll take some time,n but you'll get it. :)

It shows mobile data on my phone. Not cellular data O.o

Because we call them mobile phones and not cellular phones like they do in the US. Same with UK.

I like the way mobile sounds. Even in the days of dumb phones I always called mine a mobile phone. Cell phone just sounds wrong to me.

Yep... Never called my phone a "cell"

Seems like a lot of people in the US just call them smartphones...but yeah, I do call them cellphones too

Hmm I live in South India, and people call them cell phones here too....

Same in Australia. I think everywhere outside the US will have it listed as mobile :)

Its because of the english locale used... English India here.. In the same ways, that we have flight mode, mobile+sim and not airplane mode, cellular+sim... I like mobile data sound much better to speak as of.. Switch to English US if you want cellular data option though...

.. I just call/refer to every type of phone as a phone... simple

Finally, best news this year

What about, "lumia denim update is now on air"

It's just good to see you power through the "personality disorder". Lol

It's a daily struggle, one article at a time, lol.

There is a button for that...

I thought it was quite interesting the way the "other" site called you out yesterday. Apparently they don't understand you. LOL

Nice! I still wonder why they didn't includ this option at the begining! :D

Animated gifs in messages?

Cool, new update sounds great!!

Nice , but we also need more slots in the notification center (five slots is not enough).

Be grateful. Low end devices got only 4.

The Samsung implementation is awesome.

+920, as my lowly Lumia only has 4.

Yes, unfortunately my low-end Lumia Icon has only 4 slots. lol ;)

Only 5"+ devices got 5 toggles. That means it's only for lumia 1520/ lumia 1320

Yes more slots please. In fact just make it a carousel.

Ya same here ... Why don't they opt for optional second row ... Or swapping continuos rows for as many as toggles peoples want ... Obviously none will want more than 10 ...

WP should have more more than 4 toggles but they should not be accessed like on IOS and android.
Windows phone needs to have it's originality. WP should have something like secondary quick toggles that are shown when you tap a small downward arrow \/⏬ located below the primary quick toggles. The secondary ones will be the toggles which you don't use too often.
Anymore ideas?

Mine has four... Wth? Is there supposed to be five?!

No. He got 1520 probably or Samsung, the rest have 4 only

Anything bigger than 5.5 inches screen has 5 toggle buttons.

Samsungs have 4 as well, lol. Ativ S here

Or even a 1320.. It has five toggles...

Your comment ... Deserves a cookie. You made my day XD

Sweet Mary mother of Jesus..Finally!!

Lumia cyan is still not available for developers preview....L520

Cyan has nothing to do with PfD...

I know.. But I don't like when I open extra+Info it shows Lumia Black. I want update... But don't want to downgrade......

You can flash by NSU then you can install previews again

520 with DP has been on cyan for a while now.. What carrier and country is your 520?

Mine Samsung ATIV S is after the update in a never ending boot loop. Windows Logo boot Windows Logo boot > Windows logo boot.

Now we just need to be able to add more than four toggles to the action centre.

Seems faster on my Lumia 625!

What about battery? Please reply

My 625's battery in more than an year of use has gone down from 3days remaining at 100% to 12hours remaining at 100% while my friend's 625 still has 2.5days remaining at 100%.. So I think its pretty much on how you use your phone... Though since this update, my 100% battery lasted more than what it used to in the previous update.. I think its a little better...

Now this is how Microsoft should update the OS rolling out small fixes and additions at a set interval. Just like how windows get patch tuesdays. It's a shame carriers delay the updates for so long.

Already available from the mobile + SIM settings!

Even I don't have it in an unlocked version.. I just have the highest connection speed option that says 2G, 3G & 4G. I cannot just select 3G only.. It was available even in my Symbian... Lumia 625 India

Awesome! I want them to add a quick tile for a flashlight! Haha

Oh my! It was so frustrating going all the way in setting to access it. Finally!

You could have easily created shortcut tile on your start screen using one of the many custom tiles apps in the store lol... Or got one of the free apps and pinned that.

Finally! Now I can uninstall status tiles :D

Now need five buttons in action centre. Have a 735 so WiFi, Bluetooth, camera and rotation lock are in. One more for mobile data please.

Man..camera? What about location, brightness, flight mode!

73X doesn't have a camera button so its makes perfect sense to have camera as one of them.

You know you can change what the toggle buttons do, right? If you go to settings, notifications+actions, then click on, say, the last button there, and take your pick. In what my Lumia 1520 shows, camera, location, brightness, and airplane mode are all there. (Just need more than 5 buttons...)

What took them so long? It was a no-brainer feature for many of us on limited data plan.

Thats it!!well what about action center that can scroll????

Well, I need scrollable action center too! :) Who else need this? https://windowsphone.uservoice.com/forums/101801-feature-suggestions/sug...

How about Bluetooth equalizer?

Yes, finally....
:D #sudah lama kunantikan

It would be good if they add more than 4 (5) quick toogle buttons in action center. (Like in Android lol?)

Nope the entire toggle switches should be able to slide so that we don't have to go everytime in settings to change the toggle switches

Are there 5 toggles or 4???

5 (1320 and 1520) and 4 (others)

I think they will combine Update 1 and Update 2 and then they will release it for public.

There is no update 2, this is all small updates to update 1 before they are released to carriers for testing.

Daniel is on the beast mode today. Lol.

Will be officially released with which update? GDR2?

Looking forward to having Cortana in New Zealand but in the meantime I appreciate having these little tweaks. Great being able to deactivate mobile data so easily now. Ideal for when I'm in a meeting using WiFi but don't want texts or calls coming through while taking notes on my 1520.

Mobile data is mobile internet, not texts and calls. You have to use airplane mode to turn off calls and texts.

You should use Airplane Mode, and then turn Wi-Fi on. Or just enable Cortana and use quiet hours. Data connection it's just for internet mobile.

Thanks for the clarification, bromoid and Zapella Tiago. Cortana not available in NZ yet, but when it is I'll bear that in mind. :-)

Oh yes finally a crutial featute is added! :D

So this is the Update 2?? Seams like...

*Seems. No this is still part of update 1.

i can't update. damn it! now I've 2 updates. First one is not being installed on my phone. it downloads and says error 8007000D -_-

good now i want more than 4 toggles :/ hard to pick 4 now

Expecting a series of TOGGLES in WP10 :)

I think the icon for text changed a little bit too. I had a message that couldn't be sent, and the message tile with the frown face was big. it took up the whole tile (I only use the smallest tile though). But that could have been just a bug too. I'm not sure why they would change that.

About time. To late for me as I no longer use WP as a phone but my sister will surely appreciate it.

Hey no offence mate. But y u still here? Don't like WP anymore then y bother seeing all the articles an throwing ur hate?

1 - I still own a SP3, a Windows PC and an XBone. 2 - I wrote "I no longer use WP as a phone" for a reason. And that is that I still use my Nokia 1020 as a dedicated camera and a Nokia 930 to play Xbox games. Therefore these things no longer benefit me as WP is no longer my daily driver ;)

Damn u r a die hard nokia fan. All this hate cus microsoft bought nokia. :O

1 - Microsoft hasn't bought Nokia. In case you don't know that yet ;) 2 - I don't hate Microsoft. If anything, the fact that I own a ton of Microsoft products should tell you that. I just don't care much for the fate of WP (and I think Microsoft doesn't either). I do, however, hope Microsoft shuts down Microsoft Mobile. It has no place at Microsoft and is a bottomless pit that will only drain funds that could be diverted to better Microsoft divisions.

Always the same speech ... Blah blah blah

Even though I'm a Nokia fan, I always liked calling my phone lumia 520 rather than Nokia 520. Lumia is just such an attractive name for a phone.

To each their own ;) I seldom refered to them as Lumia. I used Nokia phones for 15 years and they were always named "Nokia xxxx". So I never saw the reason to start calling it "Nokia Lumia xxxx". Or call it just "Lumia". And now that the name "Lumia" belongs to Microsoft and my phones aren't Microsoft's, I have even less reasons to call them "Lumia" ;)

So you own 3 smartphones? LOL.

What's funny? I own 3 as well. Nokia 930, 630 and my daily driver is a Samsung Note 3. Android is simply better than WP.

If you're not a tech reviewer and you own 3 phones then i shouldnt have to explain what's funny.

Android Doesn't have a disqus app. Can't change toggles in notification centre. Can't move apps to sd, lots of issues like this which are not in WP. Conclusion-WP is better.

"Android is simply better than WP" Ha! That's effing laughable.

None of that justifies you going out of your way to let a bunch of strangers know you don't own a wp. "My sister will love it" - laughble. This kid proabably works in marketing in Mountain View

Would be nice if that button showed the data used this month (from Data Sense) in the top right.

You have a tile for that!

Yup, too many options will just clutter everything up. A line must be drawn somewhere.

Nice one MS, my ATIV S is bricked after the update and stuck in an endless reboot loop. Several other people report this also on wparea.de @EVERY ATIV S USER: DO NOT INSTALL THE UPDATE OR YOUR PHONE MIGHT GET BRICKED and might have to be reflashed

Mine too the same issue same phone.

Well, this can happen if you opt in for the preview program and you should be prepared for some nasty side effects and having an idea how to solve them of course. Just saying. That said: Thanks for letting people know.

Opt in doesnt mean brick it and buy new one :)

Then read the terms again. ;)

Hey Microsoft. When are we going to get a flashlight toggle in the action center????

I just boight the 830 and installed the DP. I will give this update a shot too

Getting there. Now please add NFC switch with the next update, would ya Microsoft?

Now confused between Wifi , location, quite hours, rotation lock and cellular data. Only four options.

Why Microsoft don't make more Swipe Slots? I mean so inconvenience for just 4 slots. Do you think that ?

Yeah, I would wish MS would offer the same option as for the start screen where you can opt in to have more tiles.

Can we have a hallelujah?!

May I know what's the update size ?

After the update, my Xbox video app isn't playing any of the movies I have purchased and downloaded...

Hey.everyone .just updated my lumia 925 in Germany but no Cortana ?!

Same here: Lumia 920 in Germany. Got the update, but no Cortana. Both region and language set to Germany/German. Am I missing something?

Hmmm. Even when I switch region and language to USA/English I cannot get Cortana running now. This worked before. am i missing some switch to activate it?

Cortana works fine for me after update. Lumia 1520 with Germany/German setting.

Region, language, keyboard and speech...
Make sure all those settings are changed to German. Should work then :)

No, it doesn't. As mentioned: Even with region and language set to US/English I cannot see Cortana. nothing in the settings. Strange.

Everything seems to be going so slow...

Some Spain buddy can tell us if the Cortana support is working?

Data toggle!!! Eff yeah!!!

What about us running denim on 730s.. What do we do to get this update??

Register for the developer preview

Yes Data toggle on my Nokia Lumia 635 !!! Great Work MS Team !

And cortana got pinned to my start screen, automagically. Maybe if they shrunk the toggles down they can possibly do a second row.

They don't even need to shrink them. Notifications don't need all that room. They are scrollable and secondary to live tiles anyway.

Exactly.. I had Cortana available in India since many months now, and all with this update, I suddenly got a tile for Cortana.. :D

I'm lost in this... Doesn't the airplane mode basically do just that? Or have I missed something. Not trying to troll the comment just want to learn as I want to know if it adds anything I missed. Thanks guys

Airplane turns everything off. Even text and call. Data toggle only toggles data. You still get calls and texts.

Airplane also disables BT and WiFi.

It also disables NFC and FM radio.

This update has erased every movie I've downloaded on my card!!! How the hell!!!?

Its preview of an OS. You should have removed your SIM and SD. But then again, it would have erased movies on phone. Just what preview means. Don't install if you aren't happy with hiccups.

Dude, we all are excited about new features... But name one person who's happy with hiccups? To even think one would be happy with hiccups is foolish, so chill out... Most who've joined DP knew what they were getting into, including myself. If something happens we are obligated to let each other know, so others will make a decision to proceed it not... So chill out tough guy...

I updated, I have the toggle button in the action center, but when I 'turn it off' it does nothing. :-/

Go to mobile + sim in settings, pull down the action centre so only the toggles are showing, then try the data toggle. You should see the settings page change, if it doesn't soft reboot and try again, if that doesn't work you might need to use the recovery tool to reflash.

Updates like this....
Probally need a hard reset to work good.....not a soft reset......but backup everything,cause hard resets erase everything

There's no need to reset anything. The hard reset is meant as a last resort of the phone doesn't seem to work. A soft reset doesn't hurt after an update but isn't necessary.

Been at the spinning gears for about 5 minutes now and the worm hasn't even emerged. Is this normal? My internal storage space was at 700 MB. Any other lumia 520 user updated?

Update is of 35 mbs... And if you didn't have sufficient storage update wouldn't have gone so long to gears. I updated my 520 ... Its just runs perfect.

Update: the phone turned off after about 10 hours without any progress at the spinning cogs. Juiced my phone and the screen didn't go past the NOKIA logo. Did the soft reset thing, it powered back on and started the spinning cogs again. Installed in about 10 minutes and now working fine. Would be nice to know the safe storage space to be reserved before installing such updates for drama free installation. For a moment I thought that I would have to use the software recovery option to get my phone running again.

I have a lumia 930, i just installed preview for developers, activated it and it doesn't work. It says "Checking for updates..." for a long time, and then i get error 80072ee2 Does anyone else encounter this on 930? I also have an HTC 8x, my old phone, and that one worked, it's now installing the update... So, is this a common problem for 930? Is it not compatible with preview?

Tried to restart my phone, still didn't work.

Its a rollout. So you may not see it straight away. Give it a few hours.

Sometimes server or your network gets into issues, just try later. http://www.windowsphone.com/en-us/how-to/wp8/basics/solutions-to-update-...

Immediately following the update, there's a message to update the live lock screen beta app in order to use it. Problem is, the store has no update...

WiFi needs to be also on/off toggle. Now it's just shortcut. Not possible to turn it off from Action Center.

It has always been like that by design.

Was always there. Since 8.1

With the update, my Lumia 822 still only has Lumia Black

Pfd doesn't give you firmware updates, just o/s updates.

It needs to get to the point Microsoft needs a Nexus kinda device that can be updated whenever Microsoft flips the switch.Carriers are getting in the way of updates we should already have.

Very true. It's because they don't really like Windows Phones

I'm willing to pay full pop for a phone like this.Sale direct from their online store or walk in and buy at any retail Microsoft Store.Microsoft need's to go the Google route on this one.

Lumia 930 good, thanks MS. :)

This is good news, but why we have just 4 shortcut yet in here and lock screen??? We want more shortcuts in action center and lock screen... is it to hard for Microsoft to build?? Both Android and IOS had this handful features many years ago!!!

Lol no, IOS only got it last year.

@Dare2Blink, People love to exaggerate don't they :P.

Exactly. We need more than 4 data toggles in action center. Hope MS team will work on it.

Enable the third row of live tiles and you can have 5 toggles.

I tried everything for my HTC 8S to free space but it doesn't give me enough. I hate my phone.

What about factory reset followed by updating to developers preview? This has worked for me in the past with the 8S. I believe the latest developer builds also let the update be performed from sd cards. So in the future this might be a solution, rather than factory reset. In any case the 8s is getting old, and was designed as an entry level phone. its inevtable at some point Windows gets to large to comfortably fit on phone

How about the option to change the DNS?

I think that setting is there under wifi

Freakin finally :) I have been waiting for this for ever

Slow and steady wins the race. We love you windows phone. Future is ours. Bye bye android and ios.

Slow and steady gets squished by other runners get.

Double-tap to wake seems to be fixed. Now it works properly on my 925

The update went fine on my 920. Though my 520 doesn't like it, I got a blue screen after the cog wheels, it won't boot. Tried rebooting, same stuff. Any ideas?

You might need to use the recovery tool.

Anyone what's the update size ?

Finally. Now, give us five quick actions, rather than just four.

Really? Can I ask you on which device? On my 820 I still have four :-\

I am not sure if your question is serious, and I will pretend it is. Read again what I wrote: I am asking for five quick action options, not that I have five now. My phone still has four, but I want five.

I stand corrected. Using 1020. only has 4 actions. Though I think there is enough space for 5.

Urgh, enable 3 rows of live tiles if you want 5 toggle switches. Basic stuff.

I was going to tip you!!! Finally!!

Agree with minus365, double tap to wake is working properly on the 925 now.

I am not able to update. I have the HTC M8. Does anyone else have this problem?

Have you installed Preview for developers app?

Yes I have and I had to update to 8.1.1457 or something like that but after I search for another update it says that my phone is up to date. It's very stupid if only certain phones got the update.

Now just give seperate 2G/3G/4G Lock.. Keep calm and prepare new Updates ;-)

It has always been been in windows phone 8, however it is now under mobile + sim ->sim settings. Unless your "helpful" carrier removed the option to choose.

What is there is to chose the highest connection speed, and not to select 2G only, 3G only, 4G only options like we had in Symbian. My unlocked India CV 625 also has just highest connection speed as 2G/3G/4G

Highest connection speed means selecting the network...if you choose 2G...you phone connects to 2G network only...not sure what lock are you guys looking for ❓

But for example, i live in an area where 2G signals are stronger than 3G, but even then 3G gives better speed. But the handset keeps switching back to 2G frequently, and this switching not only adds to battery drainage, but also it keeps me from being able to use internet properly. That is when I need a 3G only mode for my phone...

I'm from India nd already registered in pfd user's bt cnt get this update... Tell me plzz y I can't get it

Go to preview for developers app and make sure you have ticked

925 and every thing is Ok

But not week numbers in the calendar...

Try "Cal"... Works much more better than default calendar.. It even shows more than one event on live tile :)

Can't believe that people are so excited about one freaking toggle that came with update... Is that all you need? Is that all it takes to make you happy? Well, no wonder. MS has nothing better to offer. I was blind untill I bought lumia 930. Windows Phone is good on low end devices. Like those with 512mb of ram and crapy 1ghz dual core processors. But it's really frustrating when you buy a high end device like lumia 930 with specs like galaxy s5 and all you get is same crappy experience you'd get with low end devices but just a little bit faster... Wow. That's just unbelievable. I can't wait to sell my lumia 930 and buy an android device. Yeah, windows phone was nice, new and interesting in 2010. But now it's just boring. It has nothing new to offer. Same old UI with a few improvements.. Nothing new. Android users got new animations, redisigned notification center and a lot of cool stuff with lollipop update. And it looks really nice, by the way. While windows phone users are excited about new toggle.. That's just ridiculous :D I hope that windows phone users will get more new toggles with windows 10. Maybe new, redisigned, UI in like 2018. Maybe even the'll get rid of "resuming" by 2020.. But for now it's just not good. I was fan of wp since 2010. I was hoping that it will be better or atleast as good as android by 2014. Cortana was something that could new in WP. MS just can't stop to make commercials where they comparing Siri with Cortana by showing that Cortana is better and they they announcing that Cortana may come to iOS and Android. So why should we own WP devices then if WP isn't as good as Android and as soon as we get something great, like Cortana it's on it's way to iOS and Android devices. I'm just really tired of all this mess. So now I decided to switch to Android. Maybe someday WP will be as good as Android or maybe better than Android. Maybe MS will start to think outside of the box and come up with new things all the time, like UI improvemens etc., which would be wery unlikely to MS. But just maybe and just one day, not even in near future. And that would/will be great. But for now I think I'm done and I regret that I bought lumia 930. It was just waste of money.

And this long winded drivel was a waste of your time. 'Waste' seems to be a trend for you.

Well I would have avoided all of this mess if I would have just bught an android device from the beginning. I could have saved some money and time and patiece if not wp. I would not have to report supid bugs to MS like duplicates of photos. I would not have to wait for things to come to wp. Things that Android users had while back ago or will get soon anyway. I could have done a lot of my studying work on phone or in group by distance because everyone else has iOS and Android and they have no problem with that and when they ask me why can't I do that or that on phone the answer is "it's windows phone" you can't do anything on it. Yes, it has office integrations and other "great" thing.. But who's using office anyway? And of course I would have not wasted my time by writing this "long wided drivel" if I was Android user by now. I can assure you that.

Meanwhile, it's people like YOU, Ausrius, who have pushed Microsoft to make the UI more like Android and iOS, which is what I HATE. I have no use for the stupid notification center (it constantly gets in my way) and I have no use for such silly things as the transparent backgrounds. I miss the hubs, which they ditched because of you people. The things that made the UI standout are all but gone, and I suspect if Windows 10 is any indication, Windows Phone will begin to fully suck when they merge the platform. So, maybe Windows Phone is not "Androidy" enough for you, but it's far TOO much so for me.

Oh yeah. Why won't you buy lumia 800 or some other Windows Phone 7.5 device if you like the old or as you prefer "original" look of Windows Phone? I wasn't saying that Windows Phone sould look like Android neither it does. What I meant was that meanwhile Android usres are getting new features and looks Windows Phone users are excited about now toggle. Yes, MS should change WP UI or atleast improve it properly. But in unique way, like they did when they came up with metro UI thing. New things must be created by MS, not copied from Android or something like that. And you have to admit it, Windows Phone compability theese days is horrible. You can't get anything on it. A year ago I was thinking like you. But then I realised that people like you is just holding Windows Phone from becomming better.

Sounds like you want an android device. There are many reasons why some people, aside from you, want a Windows device. For me, if you care to know, I use mainly windows devices because I am more 'productive' with them. And I've used most OSes.

Totally agreed. I was and I'm still using only windows. And I will use windows PC's in the future. But windows phone is just not for me. I liked the iea of it, design (while it was new) and as I said, wp is great on low end devices. It has it's advantages and some great features but none of those are useful to me. I tried to stick with it, I've lost tons of time because of it and now it's time to move on. Believe it or not but I am a fan of windows and I was fan of windows phone since the day I heard about it for the first time. And I still hope that someday windows on phones will be great. But for now I just can't say that windows phone is that great.

Dude... Get over it. Your upset with a mobile platform, so just switch to another. Your not going to change many folks mind about the short comings of the platform, and only cause yourself gastrointestinal problems stressing about this. The update brings new things to WP.... not to become better than Android or IOS, but to improve the platform for those who are using it. Most here know that WP doesn't have what Android has and every improvement is one step closer to getting what people are wanting. Voicing displeasure at others being happy for a update is just childish.... just as it is to try to minimize the improvements. Many of us have switched to another platform because of one reason or another, but that doesn't mean we have to put any of these folks down because they are excited about getting more functionality out of their respective Windows phones. Many of us are still rooting for the platform to improve enough to give a valid option if we want to switch back.... Sooner or later it will happen, so in the mean time enjoy your different phone and let folks be happy.. No need to rain on anyone's parade.

Okay, you're right. Wasn't the best place and time and way to just say what's on my mind. And you're right about that being better thing. OS do not have to be better it has to be unique while most of us prefering to define one or another of as "better". "Better" should be more defined as "compatible". And windows phone has a lack of compability. And that is one of main reasons why I decided to switch. I used to like windows phone and it was my favorite OS. But all the time I was just waiting for it to be more compatible. And if it got something new, all i could hear was "androind got it two years ago".. It just became really annoying and now I got tired of same old UI and now I'm here.

WP is my OS of choice, I immediately jumped from Symbian Belle to WP mainly because I hated and still hate swiping through home screens and moving icons from one home screen to another to my liking all mobile platforms currently operate with home screens my enemy number one. WP gives me everything in the same page what a relieve! You just realise that WP is not for every one, some of us are very satisfied

Just so you know I did exactly the same thing. I jumped form Symbian Belle to WP and I was satisfied.

Oh mee god, oh mee god, oh mee god :D

I wish they'd update the settings menu. It's sooooo long and unintuitive. Give us some structure Microsoft!

"poring though" not "pouring through"

Why I have to switch to wifi settings when I need to put it on off

not true. The toggle works to turn wifi ON. To turn OFF, yes, it goes to settings. Which makes sense if you want to change networks or something else.

Some just cant comprehend that a "switch" can do so much more than just on / off :P lol.

My Samsung ATIV S is dead with this update, booting is reset everytime... hard reset dont work... im gonna buy iphone o android.... bye....

Just a thought Frank....don't run developer preview if you aren't prepared for a problem now and again.
Better still, don't buy a phone that is essentially unsupported by its manufacturer. Nokia/Microsoft are the hardware manufacturer to go for....and they always have been!
Good luck in the Android world.

After all its a DP.. You have to take risks though.. ;)

Not on my ICON. Must be a Cyan thing.

Is the update erasing data stored in the SDcard as some are saying?

I think those who are complaining is talking about videos they got using Videos app.. I dont believe this update will erase any data at all..

Thanks for the response my update was pending installation as I can't stand losing almost 64GB of stored data

Best, remove your sd card prior to install :P.

Hmmm ... my 1020 doesn't like this update. Everything was very slow to open & messaging app kept crashing after taking ages to try to open. Have done a couple of resets now & messaging is working; however most apps take a little time to open the first time they are run after the update, but do get there in the end.

Give the system sometime to reinstall all the apps

I just updated my 925 but don't see the Cellular Data toggle appearing in my notification and action center. :-/ EDIT: D'oh... Nevermind, I found it! ;)

I can't find it in mine. 920 on AT&T.

YES!!!!! Except now I don't need it because I upgraded my data package. Handy nonetheless.

Aleluiaaaaaaaaaaa :D (belly dance ) yohoooo we got the Cellular in the act. Cent. Yuhuuuuuu. Party tiiime :D

Yaaashaaaaaaaa :D all of you are invited to my party :D

Finally got the option to on/off mobile data with ease.

Nice work microsoft...keep the gud work....

Have they given the static ip option to L520

now make the action center button scrollable/swipe to the right so more options will be available or make the boxes smaller (maybe with Icons)

Cool but no swipe trough buttons? All slots are already used...maybe with a future update drop next year around this time.

This would have been very handy before AT&T dropped their data prices last month. Still, it might be worth having if they would add a second row of action buttons. I don't need all that screen real estate to have my live tiles regurgitated into a list.

Have they changed the actions for any of the toggles? I find it maddening that the WiFi takes you to the available networks page while the Bluetooth just turns it on and off, these should be the same and there should be a secondary action (tap vs double tap, tap vs swipe) to open the setting page.

Actually, that is by design and has been since wp8.1. It may appear mad to you because your not aware of real world usage of the automatic timed options. Also it is only two taps to turn off, seriously lol.

Cortana pinned to start screen. L-930

Thanks .. just updated.. I believe something in the glance screen and cortana have been updated but I don't know what it is :P as well along with the toggle button

I wonder when they plan on releasing an EDGE only or 3G only toggle. My Lumia 730 is constantly pegged to EDGE and is annoyingly slow! :(

You can change it in SIM setting under cellular. Toggle between 2G/3G/4G.

That option isn't present on my Nokia Lumia 730. I'm on developers preview. Can you post a screenshot please? Thanks :)

It would be great to have more than just 4 options in the action center.... Very disappointing!

Activating camera from lock screen for those lumias that don't have a camera button would be nice!!

It's allready in action center. Camera without the need to unlock.

Updated perfectly on my 1020

I feel my L1020 more fluent and "resuming" isn't that bad now :D

MAJOR performance improvements on Lumia 620! Enjoying my phone again after almost a year of lag!

Awesome! Very pleased. I do this several times an hour when outside wifi areas.

One thing I noticed on my 930 is that boot time seems noticeably improved. Can anyone confirm this?

New IE 11 feature: When the App Menu is pressed during the browsing, the system tray is also enabled, showing network, battey status and other things. :)

That was already there before :P

Using a 625 limited to only 4quick toggle slots....already occupied by wi-fi, bt, airplane mode and rotation lock.... I wonder which goes to accommodate my much needed data toggle?

Nooooh...they should add another slot...make it five...or better yet...make the slots ecen more but with a carousel like capability

Sweetness! Finally gave in and started DP today so I could start using Live Folders... and got the Blue Screen Of Death! =-O But a soft reset put everything in order! Whew!

Meh, the Microsoft data toggle works fine.

This news is so good I wanna cry!

Finally, Great to see Microsoft responses to its customers.

Been waiting for this just need a slider for brightness now

Where is my Denim???? Grrrrr

I installed the update about an hour ago and there's a Cortana tile on the homescreen where there wasn't one before. Cortana was there, just not the tile.

Finally, this was truly an issue.Microsoft should have been had a toggle button for cellular data. Come on Microsoft step it up.

Thank to ms for activating Cortana in Germany... It's about time. Now I have quit hours :)
But, her voice is crap. Sounds really bad not good for competition with other... I like the us version much more

Wow, other os have had this for years and finally windows phone gets it. Impressed Posted via the Windows Central App for Android

Is there a toggle that removes all toggles? I would like this feature in Windows 11 or 12 :|

There is a change in "ease of access" & "battery saver".

What change? Can u explain please..

I still want more than just four items in the action center

Great addition to the software,
I downloaded update no problems to report.

When will Parental Control be implemented? We are way behind others on this one.

Use apps corner or kids corner...

Finally, space freed on my start screen for something else. Now if they could add a stop button to the now playing bar. That ux choice I can understand on a PC or tablet but for a phone, I do not... especially given the battery drain is still substantially higher with music paused.

Will they ever change the way Wi-Fi toggle works now?

The way it works now, is better you get option to have it turn on automatically after a set time or none at all thus turning it on manually. For instance, your heading out office for 3.5 hours therefore no use for Wi Fi and you know you will back by around 30 minutes from the meeting, set it turn on automatically in 4. By the time you get to your desk Wi Fi is on and ready to be used.

Even i was in developers preview.. But after a reset I'm not getting any updates and also extras+ info showing denim

Samsung and MS go to war in court, then this happens. Hmmm

Heyyy I like the way they respond to our requests

Is this build 14219 will be include in GDR1 i.e. I will get with denim whenever it will release?

The WiFi sign has gone with this update, its connected to WiFi yet no icon shows.

User settable # of row toggles

Thanks, I turned flight mode on then WiFi on and icon is back for wifi

I downloaded this update an now after ending an incoming call, the phone freezes. I have the Nokia Icon.

Also makes the Lumia icon randomly power off. Not good :( phones has turned off 3 times in 5 hours.

How to get enrolled in preview for developers program?

Need a flashlight next :)

I can't seem to get the Microsoft Health app (that goes with Band) to work on this update (have 822). Anyone else have success with this? (it's stuck at "installing")

Great. Now I can remove the EasyConnect app that I used for quick live tiles for accessing settings. But duh.. Now, I wish there were more than just 4 setting options in the action center like in Android.

I just wish you could have more than just 4 toggles (and more that 5 on larger phones)

My lumia 520 hasn't come out of this update. It's been at the spinning cogs hours at a stretch. This update has bricked my lumia.

i get that update but not downloading plzzz help me.. guys..

How many download size needed in this update??

Appreciate for the mobile data shortcut added. Please come out with more useful features such as horizontal view on the menu mode, more efficient for keyboard (English, Chinese), quicker camera shooting time and saving time ( we understood that some based on the high end megapixel but pls make it more faster), some handy features like PC but not complicated like Android ( no offense here but learned from Android experience before). Thanks.

I properly not using the Mobile data Toggle, but there is also VPN toggle now, didn't see that before, which might more useful for me.

Mobile toggle with only press one time to On or Off, it's good. Hope that Wi-Fi and other toggle can be follow instead of we need to go into another page for quick selection.

should add more toggle more than just four, even if two row of Quick action toggles would be fine

That's MS listening folks, keep those feedbacks rolling!

Solved by removing the sim/flash cards and rebooting.

Great. Finally just what I needed. Now waiting for USB OTG very eagerly. Hope it's underway and released along with Lumia Denim for my L925.

So what will GDR2 include?

Will all these feature be included in GDR1 or GDR2?

I still want the ability to have much more than just four items in the action center

Finally!! Would be more awesome to find out if there were more such new features in this update.

Installed and works great on NL 920 8.1.1 Cyan. Don't know if its deja vu but with every DP update, the phone does 'seem faster'. Personally, I have little use for the Data toggle though coz I need other quick access settings at the Notification Centre. Will see how the battery is holding up. The past updates haven't been too kind on the battery. Nevertheless, keep the updates rolling, Microsoft.

A lock screen bug , lock screen sound comes twice and its real annoying ,

Hmmm, my lock and unlocks sounds just aren't there. :/ I'll have to try a restart.

Finally I got that what I need but still requires to show multiple shortcuts in action center like an android plz bring it as early as possible

This is the first update that has not gone smoothly for me. Did anyone else have apps after the upgrade stuck in an 'Installing...' state? I'm talking about apps that were installed and working before the upgrade. Most notable for me were Microsoft Health and Softcard, both apps that require hardware interaction. Lastly, I uninstalled Microsoft Health and cannot find it in the Store anymore!

What about a flashlight toggle??? I can't believe they haven't thought about that. I mean, I love my Iron Man flashlight app, but I'd like to have more easy access to a flashlight on my phone. Plus, I'm still waiting for a better(built-in) clock app that can do timers, stop watch, global time, and alarms all in one app. I don't like setting a timer with Cortana where she just sets an alarm for that amount of time.

No new features except the mobile data one. Needed some more like double tap to sleep etc.

Store not working properly

My phone has become a lot more smoother and improved battery performance. Earlier it needed few seconds to load image of live tiles when I tap on start after a long press on back key. Thanks Microsoft.

My 520 played FHD videos since the first day i bought it (portico). 2 days before i noticed that it wasn't able to play them. It played 720p smoothly but 1080p wasn't quite watchable. So i figured out it maybe Cyan update that caused issue. But after today's update issue seems to be fixed. It is again back on track. Thank God!! I was pissed before as hell.. And phone looks quite speedier than before... Our usual notation - seems faster! Go for update dudes!!

I believe Microsoft's live tiles concept failed... Live tiles were never really "live"....they never breathe... Live tiles were not successful. Microsoft thought tules would be able to solve what notification centres of other oses do...but there were some loopholes.. I mean this cellular data toggle...its absolutely essential for any smartphone os. Microsoft missed it and now they are updating these. I m not against lumia devices.. I use a 920 but these notification and toggle support should be with any os. Microsoft gave the notifications cause they realised live tiles were not able to fully replace the top down notification system. I don't know how you people will react but that's what I feel. P.S. I love my Lumia 920

Thats all well and good but i really really hope they give us continous vibration during ringing, its the one feature i totally crave for, once isn't enough

somebody help me with this error 8007000d

somebody help me! I'm having error 8007000d -_-

Now it's really difficult to select only 4 toggle buttons on my Lumia 625.

Finally. Microsoft really listen to its customers. :)

My icon says mobile days, not cellular data. Is that a region thing?

My icon says mobile data.

Battery saver toggle is more useful

action center must be sliding for adding more shortcuts..4 are not enough.

Made my phone slow even more... Kudos MS... Yea blame me for enrolling to developer preview.... Blame me for expecting better products from a tech giant... :p

For some reason, my phone doesn't seem to get the update. It says you aren't connected to the internet, when I obviously am! Can anyone help?

I cant seem to get the update. Im in canada but my phone says its up to date. Anyone wana help me out here?

My phone stopped powering on when my downgrading did not work when pressed power and volume down the start logo will flash light please what do I do L925

Will denim gave this? Or do we have to wait for another firmware update?

Could be placebo but I feel battery life is a bit better now.. Updated and then hard reset the phone. L520.

I don't understand why the quick settings menu isn't scrollable sideways to just have all settings available..

Can't update at all l shows downloading and goes to the percent and then back to zero forever..

Would be nice if they could release a fix to stop IE from crashing out.

And it has installed Cortana in French !

I would also like to see a simple and proper functional way of disabling some apps to run in the background other than the feature in the battery saver setting! You know sometimes you want to disable some apps not to save battery power but to save Data charges without going into either battery saver mode or switch off cellelar data!! The biggest complain i encounter with windowsphone in Africa, Southern Africa, is they chew a lot of data bundles, and its a big deal here due to price and the fact most of the people are migrating from Nokia feature phones which didnt chew much of data bundles compared to smartphones. Again, MSFT have to address all their markets needs especially developing countries where they have more scope to grow!!

Added some extras in settings and an arrow at bottom of the screen I think. Like the mobile data toggle though.

Are they fixed dim/lit of buttons in "freeze" battery saver mode ?

Damn, should give more shortcut icons also instead just cellular data support.

cant install update, lumia 1520, check phone update says its up to date.

I got denim on my at&t 1520 for this

Call quality seems to be reduced after the update on my L920. People complain about me sounding like I'm talking through a scarf

Whatsapp crashing constantly trying to watch sent videos since this update

Since I'm not on the preview program, this ain't good news for me as I can get it now on my L630. Waiting for denim...

I installed the update on my L920 on AT&T. The cellular data toggle does not show up in the pick list. Restarted the phone, same.

When it will be available for Non PFD users?? I have Lumia 730

Still theCellular shortcut app is convenient....whereas notification cellular will take two step to on/off.

I dont know if this is in New update, I see 'network+' updated with SIM information.

This update doesn't show up on my phone what the heck!

Thanks for adding cellular toggle

This version released for l925 india

Switched to Xperia M2 Aqua, beleive me i miss wp as an OS, but the battery life of the Sony is just awsome. I checked about it and i'm heading for their flagship Z3, it seams it's their thing now, bringing good battery life. My old 920 and models i had before, HTC 8S and 8X drained too fast and heated even when i used just to browse the internet. Anyway, The cellular toggle arrived too late, after two years of using wp, it is so frustrating... But as they say, it is never too late so it is welcomed, enjoy it guys.

what is the point as i can only chose 4 (or 5 max), they have to make it unlimited with a slider

most of all.... WHERES CORTANA?

Has anyone else noticed the "What's new" section in the People app again, or is it me being slow?

Why am I still receiving the error code 80072ee2?
I am connected to Wi-Fi for goodness sake.

Dont install this update. It bricked my 1320, i have to do soft reset. The battery again back to horrible, it jumps down 80% after one night. The most panic thing is that now i cant see my messages i sent to people even with new ones. Terrible quality control here.

not for regular user , only for DP users ,

What the fish WP 8.1... Add mp3 sharing and downloading to whatsapp, Add video calling to viber, Add audio calling, video and audio sharing to BBM Add audio calling FB messanger same as in ioS and Android. Why WP users are given second class treatment. app wise?

I'm not sure if any HTC 8X users have realised but this update includes some sort of a display driver. I'm not getting any more screen tearing and stuttering. On first boot up after the update you can see the display driver initialise.

Anyone else's Cortana gone?? Lumia 930

My camera button doesn't work anymore. I don't think it is a physical problem since it came with the update.

What stops Microsoft from making it possible to swipe the Action Center. That way it accommodates more quick settings. Posted via Windows Phone Central App on Android

So far resuming has stopped... Hoping stay that way.. Also responding faster on my L1520...

My wifi stopped working... After the update!!!!

Mobile Data toggle at last is minor addition that should have been in the Notification Centre from the start but good.to have at last. Sadly important basic features such as the broken Backup have still not been addressed and fixed in this lates 'update' - and yes I have tried all the 'solutions' posted here and elsewhere, they just don't work and should not be necessary anyway if there was a solid, reliable, working Backup in the OS. Oneday perhaps MSFT, one day.

Update went smooth on my Lumia Icon....

There are tons of apps that let you pin, data toggle..... So not a big deal to me. But I just noticed that you can put internet sharing in the action center, that is something I use alllll the time. Don't know if it's new or not, it's new to me. Great

too much battry drain with this update -_-
on the last update my battery lasted around 24 hours with moderate usage now its just 12-15 hours

I am already on Cyan Can i Install PFD in My Phone For Latest Updates

I'd like to add that another feature that was missing is included not sure if anyone else noticed...video calling toggle comes in the in-call menu

There is a only problem with that new feature: not work for dual sim phones. Shame on you, Microsoft! When you use a phone with dual sim, like Lumia 730, you don't have the option to put mobile data from SIM 1 or SIM 2 in the action center.

i have lumia 730 (from india ) but i didnt get cellular data option in notification bar....solve my problem?

My phone Is always checking updates when with pfd and does not say Is updated. Is this normal?

internet sharing from phone to PC via USB from wifi like android, it can not be done? at windows phone 10*
Windows Central Newsletter
Get the best of Windows Central in in your inbox, every day!
Thank you for signing up to Windows Central. You will receive a verification email shortly.
There was a problem. Please refresh the page and try again.