Windows Phone update 14219 finally brings Cellular Data Toggle for Action Center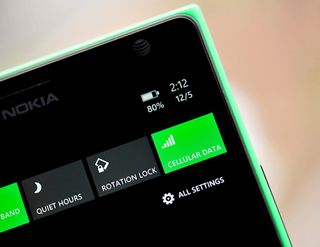 For those using the Preview for Developers program, update 14219 went live just over an hour ago and it brings one of the most requested little features users have been pining for on Windows Phone
Although new Cortana support for Europe is the main thrust, there is at least one new feature: a quick toggle switch for Cellular Data.
Many users have requested Microsoft add the toggle to the drop down menu as an option for those who want to disable their cell data with ease. Now, consumers have the option to add the quick switch to their Notification and Action Center if they want the feature.
Build 14219 is still very new, so we are pouring through the update to find anything else that has been added. Hit us up in comments and let us know if you find anything else.
Thanks, @notcassim and others for the tips!
Daniel Rubino is the Editor-in-chief of Windows Central, head reviewer, podcast co-host, and analyst. He has been here covering Microsoft since 2007 when this site was called WMExperts (and later Windows Phone Central). His interests include Windows, Microsoft Surface, laptops, next-gen computing, and for some reason, watches. Before all this tech stuff, he worked on a Ph.D. in linguistics and ran the projectors at movie theaters, which has done absolutely nothing for his career.
Finally. I want to live again with good news.

I'd be really happy if this fixes the 925/1020 freezing in low-power state issue. Too many times have my alarms not gone off in the morning!

Update means it will fix something. Ain't gonna break anything. Lets hope so.

I hope it does, but since its a DP not everyone will get it.

Thanx to this update now I have infinite "Loading.." screen when going to people/settings and even when I`m calling someone and try to close the conversation, the phone will stuck again, such a nice update, now I have to reset the phone all time because of this. HTC 8X .

Can't believe. Really? I haven't updated yet. Should I?

got htc 8x and don't have that problem...

If you are trying to use your phone right after the update, it'll do that. You should give it some time to install all the apps and maybe restart after that's done.

This might happen if much of your phone's internal storage has been used up.

Keep in mind the phone is still processing a lot of info (app data) in the background for sometime after an update. Updates can initially make the device seem like it is running slower.

I updated on HTC 8X and it works fine. Try restarting it a few times.

Well shoot, I accidentally reported this comment! We need an 'unreport' button as well. :(

Man, this hits close to home. Just this morning my damned 1020 froze and therefore my alarm didn't go off. I ended up 1 1/2 hours late for work. Needless to say,my boss was not happy.

If you rely on your phone to wake up for work, you should probably consider use the stable version of the OS instead of the Dev Preview. Less chances of things going wrong. If you still want to use the new features, then try not using the phone for critical stuff, and maybe buy one of those cheap alarm watches.

Nothing to do with DP. Its a known issue with 1020 (I had one too). Since upgrading to a 930 the random freezes have gone. 1020 had too many issues.

I have the 1020 and my friend too.. we haven't had this issue and we're both on the dev preview.. so yeah I guess it's some pecies that are affected and not all..

Or better yet get a Fitbit and hit two birds with one stone. You can set alarms to vibe so you don't wake your wife/gf and you've got a fitness tracker as well.

happened to me several times.. i kept waking up late to go to class. lol

Yeah bro, same here!!! >_

Me too. It's been better lately but still happens occasionally. Used to be very common. I've actually been late to work a few times because of it and had to start using my Surface as a back up alarm!

Are you guys aware of the thread in Microsoft WP8.1 forums? Technically they have found a solution that will be released in an upcoming update, but not sure if this one addresses it. It would be nice for MSFT to announce what these small updates bring rather than leaving it to the world to find out. Especially if it addresses a huge bug like that.

Yeah I read about the fix, I was just wondering if it was in this update. Interestingly the main workaround so far is to disable a setting in Glance options -- a setting that doesn't exist for me.

There is a change in "battery saver" & "ease of access"!

Boss said next time I'm late, I'll never be allowed back...

Go with the three alarm strategy.

Sounds like a trend. I'm sure your boss it's noticing a pattern and doesn't want to hear an excuse like "my alarm didn't go off"

I was thinking when i download update first ill check if its there now.. Time to change my start screen.

There is a change in "ease of access" & "battery saver"!

This has fixed my"Resuming" issue on my 1020. The phone works great now. Even Xbox Music is working great now. MUCH faster.

Fixes the resuming bug? Going to install right now...

is this build 14219 will be included in GDR1 i.e I will get with denim whenever it will released?

Lots and lots of pizza...

Thank both. Posted via Windows Phone Central App

God made science Posted via the Windows Phone Central App for Android

And ignorance and fear made the gods.

Flying Spaghetti Monster says you are welcome!

Them carriers gonna be pissed...

It is about time they started acting a little more in favour of the consumer. Carriers are devils at times.

Why are they going to be passed?

Assuming that is a typo and not a joke I'm not getting; if people can not easily control when and if they are using data, that should lead to less overages. Which in turn leads to less money for the carriers.

Activating and deactivating data have been in WP for a good while.

Yea, buried in the settings, this brings it to one of the first menus you access after setting up your phone.. its a pretty big deal for discoverability

Yes but this update allows you to place the cellular data in your action center, making it more easier to turn it on and off than having to go in your settings and find it every time

it's not like without the switch it was very hard to turn off the data. This is a welcome shortcut, but you make it sound like before people could not make 3 taps to turn off their data if they were at their data limit.

Lol, I also resent that generalisation.... Never the less, if some people couldn't figure out that the games hub housed all their games therefore MS had to put them in the app list. Not hard to imagine they would have found navigating settings some what difficult :P.

i kind of agree with you, i was already using this feature from my settings, i just pinned the settings app to my start menu. its not very complicated! Of course putting it to the notification panel is also handy, you know not all of us are tech savvy!

And that is why I love the system here in India. No dependencies on carriers for updates. Its the OEM that releases it here directly. No contracts, no hassles.

Also : No Xbox Music, Xbox Video, dead MixRadio, no Pandora, no Spotify, no Beats Music, no Bing Rewards..........mera Bharat mahan

Great on of the most expected thing for WP, now we got another point!!!

Yeah.... No need to have installed those quick tile apps...

Yeah but kudos to them. They saw a void which MS didn't.

I wonder what happened to the guy who was initially responsible for the action centre buttons.. I mean, he had obviously never used a smartphone before :-\

Wow what a epic update.lol Posted via the Windows Central App

You realize this adds Cortana in several new countries. So yeah, it is pretty epic for many.

Yup sense sarcasm.. gtfo..!

I'd love a quick toggle for a Flashlight.

Right, another much wanted feature!!!

yes, flashlight built into the system is just what we need. also, they should give an option for more than 4 toggles. like samsung's galaxy phones have. swiping sideways to reveal more toggles.

WP should have more more than 4 toggles but they should not be accessed like on IOS and android.
Windows phone needs to have it's originality. WP should have something like secondary quick toggles that are shown when you tap a small downward arrow \/⏬ located below the primary quick toggles. The secondary ones will be the toggles which you don't use too often.
Anymore ideas?

I have a secondary toggle area. It's called Setings.


except the settings menu is a complete unorganized disaster

Yeah, some more categories or at least alphabetic sorting should be available to find the stuff you need

Joe Belfiore is the Corporate Vice President, Operating Systems Group at Microsoft. He is responsible for the design and software product definition of forthcoming generations of Windows Phones. Last April, during Reddit's 'Ask Me Anything', he said "it's something we intend to address in the future. For now, we've tried to organize it by the most frequently used setting." I hope that was sarcasm!

You're just being difficult for the hell of it. Just shut up.

This would be the best update ever!!

Bigger Windows phones (1520 ao) have 5 toggles.

Yeah... That's much needed.....

+625
Exactly, I already had to replace bluetooth for mobile data, but swiping toggles to add more space woupd be a great addition...!

Since the whole OS has pivots (left-right swipe), why not add that in notification/action centre? They can add whole bunch of utilities.

Agreed. This would also share UI similarities with Band whose entire UI operates this way.

Flashlight is the toggle I would like to see

I put a row of small icons/tiles across the top of my home screen. Works well

What about gadgets on lock screen? Flashlight, calculator etc

just pin it to start screen.... android 5 is already giving the inbuilt flashlight.. I would like to windows to provide the same rather from third party.. but then they say windows copied Android :P


In this comments thread the flashlight suggestions has gotten the most upvotes. Could all you guys go to windowsphone user voice and vote for it there.. Actually its fragmented there so many diffrent requests for flashlight in action center. Go there and vote for any... please... Its very much needed.

just d/l a flashlight app, and pin to screen, just one tap to turn the flashlight on.......easy

Why don't we have toggles for each & every tiles in the notification area??? =D
Laziness 101.

Cool I got 5gb never use it so I'm fine. Might be good for my mother.

You want a toggle switch for your mother?

Lol no. She's on a 500 Mb plan.

Yep, that's really not cool

Just a silly obvious joke. Couldn't resist the setup. Apologies if it's caused offense.

as offensive as it sounds, its freakin hilarious!!!

Are you calling hilarious people freaks?! :P

YAY....Great! I'm waiting for Lumia Denim and official 8.1.1 befor 2015 for my Lumia 1520 ;) Thank you Microsoft!

I don't think. It's going to be before 2015

Because of a bug, my phone already shows Lumia Denim instead of Cyan! That after I tried a hard reset.

You can uninstall extras+info if you need :D

A couple of soft resets solved it! But thanks :)

I have lumia cyan in denim color...
Lol.. Simply ignored that :P

Windows phone still has problems with the notification bar.

Yes, actually. Is very limited compared to other platforms

At least it doesn't get filled up with a bunch of crap toggles you can't remove like in Android L.

Android targets destroyed..

Cant argue with that, its worse when you have bloatware on top of samsungs touchwiz ui. I do have to say though, android L looks so much better with the flatter brighter icons. Imitation is the sincerest for of flattery. First iOS and now Android.

You can remove them on Android. Congrats on catching up though. Data toggle in late 2014. :'D

As of Android L, the toggles are auto populated by the checkboxes in Settings that you use most. However this means that you'll have a fairly long list, usually half full of ones you have only used once. You can't remove ones you don't want, apart from not using them for a month. So people are actually having to change the date on their phone to trick the OS into removing them. Or, you know, Google could have added a way to remove them rather than forcing people to use their phone in a way they don't want to.

That's why in Android world I always prefer to use custom roms as they give me total control of my smartphone

True. Unfortunately you're the minority as most people don't even know they exist, let alone how to do it.

Custom ROMs were so buggy the last 100 times I flashed them. Not going back to them again.

Not seeing the update on my 830 with preview

Coz it has just released an hour ago. It'll take some time,n but you'll get it. :)

It shows mobile data on my phone. Not cellular data O.o

Because we call them mobile phones and not cellular phones like they do in the US. Same with UK.

I like the way mobile sounds. Even in the days of dumb phones I always called mine a mobile phone. Cell phone just sounds wrong to me.

Yep... Never called my phone a "cell"

Seems like a lot of people in the US just call them smartphones...but yeah, I do call them cellphones too

Hmm I live in South India, and people call them cell phones here too....

Same in Australia. I think everywhere outside the US will have it listed as mobile :)

Its because of the english locale used... English India here.. In the same ways, that we have flight mode, mobile+sim and not airplane mode, cellular+sim... I like mobile data sound much better to speak as of.. Switch to English US if you want cellular data option though...

.. I just call/refer to every type of phone as a phone... simple

Finally, best news this year

What about, "lumia denim update is now on air"

It's just good to see you power through the "personality disorder". Lol

It's a daily struggle, one article at a time, lol.

There is a button for that...

I thought it was quite interesting the way the "other" site called you out yesterday. Apparently they don't understand you. LOL

Nice! I still wonder why they didn't includ this option at the begining! :D

Animated gifs in messages?

Cool, new update sounds great!!

Nice , but we also need more slots in the notification center (five slots is not enough).

Be grateful. Low end devices got only 4.

The Samsung implementation is awesome.

+920, as my lowly Lumia only has 4.

Yes, unfortunately my low-end Lumia Icon has only 4 slots. lol ;)

Only 5"+ devices got 5 toggles. That means it's only for lumia 1520/ lumia 1320

Yes more slots please. In fact just make it a carousel.

Ya same here ... Why don't they opt for optional second row ... Or swapping continuos rows for as many as toggles peoples want ... Obviously none will want more than 10 ...

WP should have more more than 4 toggles but they should not be accessed like on IOS and android.
Windows phone needs to have it's originality. WP should have something like secondary quick toggles that are shown when you tap a small downward arrow \/⏬ located below the primary quick toggles. The secondary ones will be the toggles which you don't use too often.
Anymore ideas?

Mine has four... Wth? Is there supposed to be five?!

No. He got 1520 probably or Samsung, the rest have 4 only