Windows Phone users can now upload videos to Instagram with this new app (Update)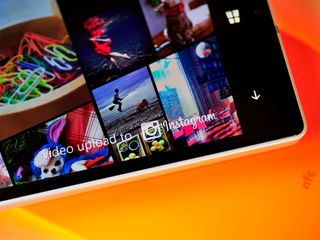 Free code for the first 200 posted below!
Although 6tag is the de facto Instagram app for those using Windows Phone due to its advanced and unique features, one thing it cannot do is upload pre-recorded video. Instead, users need to open the app and record directly. This limitation is problematic if you recorded a video earlier and wanted to add it to Instagram at a later date, or perhaps did not have free internet connectivity for the upload.
Today, we are excited to announce a new third-party app dedicated to this single task. It is appropriately called 'Video Upload to Instagram' and Venetasoft makes it. If that name sounds familiar, it is because they also publish the excellent Band Sensor Monitor, Find My Band, and the excellent Movie Maker 8.1.
Video Upload to Instagram
Upload pre-recorded video from Phone, SD card, OneDrive, or any other file sharing app
Select any 15 seconds of video (max allowed by Instagram)
Crop any section of your video (Instagram only allows squared videos)
Use Movie Maker 8.1 for advanced video editing
Uploads to Instagram and videos can optionally be saved to phone too
Adds app to Share picker, so you can hand-off video from one app to this one
It can handle 4K videos from Lumia PureView phones with Lumia Camera 5.0
Overall, Video Upload to Instagram is a fantastic, well-done app from Venetasoft. The design is natural, there are short tutorials to guide you, and it is feature packed. Video Upload to Instagram costs $1.99 for the full version, although there is an ample trial to let you try it out.
Oh and stay tuned, as later today, Windows Central is giving away 200 free unlock codes for this app! So grab it now as a trial and keep checking back this afternoon.
Update - Grab your code now! Use the hamburger menu in the app to select 'Unlock code'. Type in ' wpc22k' to get the app completely for free! Only the first 200 users can get it, so act fast. Afterwards, restart the app.
For those who use Instagram a lot and prefer a dedicated app for this function, this is your solution!
Download Video Upload to Instagram for Windows Phone 8.1 ($1.99, free trial)
Daniel Rubino is the Editor-in-chief of Windows Central, head reviewer, podcast co-host, and analyst. He has been here covering Microsoft since 2007 when this site was called WMExperts (and later Windows Phone Central). His interests include Windows, Microsoft Surface, laptops, next-gen computing, and for some reason, watches. Before all this tech stuff, he worked on a Ph.D. in linguistics and ran the projectors at movie theaters, which has done absolutely nothing for his career.
Does anyone know if this app uploads the videos in high quality because Movie Maker 8.1 does not

Instagram set some limits on both resolution and compression.

I've seen some really high quality videos on instagram, compared to the ones I've uploaded

IKR, can't believe someone beat Rudy to it...

It's not a race, we all want WP to be successfull, that's it :)

ha True, I'm on the development track also for windows phone, so I'm inspired by developers like you and Rudy to get some apps out there...

All the best guys both of ya .!! Develop some awesome apps and make the community proud ;)

Make a gain likes for Instagram,because the current 4 star one sucks.

Hey, if you already have bought the plug in for movie maker do you get it free in this app or do you buy again?

Just contact me at my support email and I will see how to get this done ;)

Rudy has it planned for v5 which will be universal.

I love windows phone developers!!!! Long Live Windows Phone!

I hope they bring voice call to whatsapp like android and iOS or no one will buy WP here where I live whatsapp is the most important app.

Thanks Venetasoft, even though it'll be years till I use this!

Dude Venetasoft is awesome, this feature is already in Movie Maker 8.1 though.

Yeah :) But it s a plugin, not so handy as a dedicated app.

Please allow installing the app to SD Card...

I can't...Startup performance is terrible with some SD cards.... Anyway the app is light ;)

It s a pleasure for me to fill this kind of gaps, I just want wp to RuLe the world :)

If u can make a twitter client for windows phone. It would be great.

Right now I'm working on an unofficial Ticketmaster application.

Am making perfect small small apps. Mostly which I need :P Microsoft's takes ages to get it on the store though. Too long.

Great !!! Let s fill all gaps ;)
Show the world that one WP dev is better than 10 ios devs + 10 android ones ;)

I think you should try this: http://www.windowsphone.com/en-in/store/app/metweets/bc15d416-b881-4f19-9542-33444f0eca2f Regards, Avinash.G

Awesome!! I appreciate your support for this great platform.

Hey can you make instagram upload plugin free in movie maker 8.1 now????

You can get all my apps and plugins for free, don't you follow wpcentral :) ?

Sure , seems interesting.,

I hope Instagram won't block this app just like the snapchat ..

Not all CEOs and companies are arrogant as Snapchat's

I had some kind email exchange with them, they are fine, just want to preserve their brand and be sure users know it is an unofficial app. I 100% agree.

Please add support for installing the app to SD Card...

Startup performance is terrible with some SD cards.... Anyway the app is light ;)

I can respect that, but if they want people to know it's their app, make an official app that lives up to the quality you and developers like Rudy put out. By the time they put a good app out, WP users won't use it and we'll get the old we're dropping support due to lack of market share

Your point of view is perfectly understandable, but we have to respect their choice. It's their app and their network, and they could easily send and email to all 3dy party devs and intimate to unpublish our apps immediately (like SnapChat). Be happy they allow us to publish these apps....

Completely agree ventasoft. I'm glad they've been so supportive of the third party apps.

6tag is officially approved by Instagram.

Tolerated, not approved. As all other unofficial Instagram apps out there.

The app has been reviewed and approved by Instagram. It's not the official app but they very well know it exists and they are fine with it.

Nice! Been looking for an app like this for quite sometime. I hope the unlock codes aren't for US only. :)

Please let the app install to SD Card...

Stop asking! It is only 9mb..he said app doesn't work well with some SD cards.

Great! But codes are sold out. :(

Just hope the codes dont show up when its night in the civilized world, i.e Europe ;)

They showed up at 1:30 AM on GMT+1. So yeah, by the time I got to see the post, they were all snatched by the Americans.

Kudos venetasoft! Always creating the first of its kind.

I'll update that soon, one is already pending though. After my exam, for sure! :P

Haan Haan, Jhote dilase deta reh tu.

So we will be able to upload 1440p or full HD videos for 15 seconds right?

No, Instagram video must be compressed in a special way and have strict resolution limits.

Maybe Rudy Huyn will add it to 6tag next...

Everytime I hear Rudy Huyn, it reminds me of "Rude Boy" :P

We met one time (maybe again at //Build next week too) and we are in super good relationships :) Venetasoft = Italy = 15% WP share
Rudy = France = 15% WP Share LOL

What's your real name, BTW? You sound more like "Microsoft"... :P

Grazie veneta.. Forza Juve :p

Forza Milan, ma anche forza Juve in questi giorni !!!!!

I just want to say: Forza Inter

@venetasoft:
Oh, you lucky (and hard-working) guys. If we only had reached that marketshare globally...

*Dreams After W10 launches*
•Instagram abandoned old app relaunches full featured official instagram app.
•Snapchat app now available
•Google apps now on W10(universal apps). LOL #NeverGonnaHappen.
Take Care Hold On WPFans

After all that snap chat shit. I never wish to use snap chat. Talking about google apps we have a better u tube clients even if they launch official u tube app I won't use it.

Yes, I agree Tubecast is much better than anything google has.

Official apps do make difference..I mean having official apps will gain more popularity to OS rather than 3rd party apps. EDIT- i love 3rd party apps just like this one +1 venetasoft. :)

remember when Microsoft made that nice YouTube app... and when XBOX music was good and working in WP8... Man WP has soooooo much potential to be great, if only we had those apps. I still love it, but it is tough, no lie...

Good ole days :') Youtube app from Microsoft is still in WP stpre but you can't install it for some reason. :x

http://m.windowscentral.com/get-youtube-app-was-pulled-google

The good old days :shedstear:

I don't want Snapchat either. And our 3rd party apps Are really good. Great even sometimes. But having Official apps is what's going to help Windows (for phones) grow, not 3rd party apps.