Windows Story Remix will help you make awesome custom videos with 3D effects and more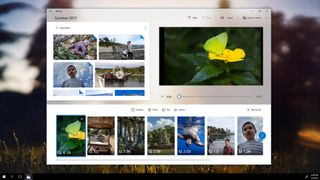 On stage during its day two keynote address at Build 2017, Microsoft announced a new creativity-focused app: Windows Story Remix. Integrated with Groove Music and Remix 3D, Windows Store Remix helps Windows users collaboratively create stories out of their photos and videos.
Getting started with Story Remix is fairly easy. On stage, Microsoft demonstrated how Story Remix will automatically set up stories for you based on things like food pictures, or events like the Fourth of July. One of the cooler aspects is Story Remix's collaborative nature. Another demonstration on stage showed how Story Remix automatically created a video highlight reel sourced from video takes from all of the parents in a collaborative group that were at the game.
Cuts, filters, and music can also be completely changed automatically with a click. An included storyboard editor makes it simple to go in and manually customize the automatically generated video by adding or deleting clips, changing filters, or adding panning and zooming shots.
Once a Story is put together, you can easily add music sourced from Groove Music. 3D objects can also be inserted with a little help from the 3D Remix service, can add some frankly stunning 3D effects to each scene. And you won't have to leave the app to do either: Groove and Remix 3D content is accessible from within Story Remix itself.
Windows Story Remix will be available with the Windows 10 Fall Creators Update.
Dan Thorp-Lancaster is the former Editor-in-Chief of Windows Central. He began working with Windows Central, Android Central, and iMore as a news writer in 2014 and is obsessed with tech of all sorts. You can follow Dan on Twitter @DthorpL and Instagram @heyitsdtl.
This may mean I will never get another request to edit or fix someone's video. AWESOME

this is nothing new, in W7 we had a program called windows movie maker. This is the same thing just updated to the 2017 standarts

It is new because it works with layers in the background, means it does the job for you regarding PiP. Windows movie maker did not have this feature.

Indeed! MM was great but had none of these automated features. I wonder how adding music sourced from Groove Music will work with shared videos?

dude i wish i knew how to block your comments. ive seen you commenting nothing but negative stuff in every article here. please shut up!!!

Well if its updated to 2017 standards it mean it is something new...and this is much more than W7 movie maker

You are here again and you are wrong again. 1st part is exactly same as what we had on windows phone named "Lumia storytelling"....... I still have it.

I am kind of emotional with this.... These guys are working really hard for the windows community. Thanks to all these guys.

"lets see this on my iphone" lol i'm not expecting them to use WM anymore but show some love to android atleast...

Agreed. Lots of WP converts over to Android here - fr my Pixel.

LUMIA 1520 RULES THE WORLD!

As a former video editor I think this is great. I wouldn't use the word pro anywhere in the title though but this will make it easy to create cool videos, especially for kids, and spark their creativity

Awesome idea! Hopefully they wont drop support next year...like most of their great ideas! Sarcasm and seriousness intended!

Sounds a lot like storyteller, a nice app for mobile that was discontinued by MS.

You guys still processing the death of Windows Mobile, get over it! Still we do have a great product for those who use productive, sorry I mean creative machines!

Oh, please. This is lame compared to a real video editing application.

I will sure give it try. Looks great. 🎞🔊🎙🎧🎬

So is still a full video editing app? not like what is in the windows store where you only make like 1 minute videos?

I edited a few feature length films on a store app called Easy Movie Maker. There were just amateur videos so I didn't need much in the way of effects, so I just used what was there and for free. Anyway, I just wanted to tell you you're wrong. So have a nice day.

MS has an app in the store that allow syou to make 1 minute videos only. Easy movie maker in the store is straight garbage.

Thanks for clarifying and letting me know that the app I use is garbage. Honestly , I knew that from the start, but it did what I asked it to do. By the way, you should rewrite your original post to read:

So is still a full video editing app? not like what is in the windows store where you have an app that only make like 1 minute videos?

for the sake of clarity and factualness.

Some news about Groove Music Maker ?

This looks fantastic. I might start using this for some of my simpler videos instead of Adobe Premiere Pro CS6.

But here you do not have multi time lines, its for kids.

Exactly. This is a toy. For someone who thinks they're making something cute to put on Instagram or whatever.

I'm pretty sure he knows this, but does not want to deal with added complexity and cost. There's a reason why "pro" and "toy" apps exist.

Its true, but if you promote the creativity and creation you have to offer much more than that.
There are many video creators who would be happy to stop cracking programs to use a simple editor, to the level of imovie. The app is not bad, but for something simple and silly there are already a lot of apps in the store, Microsoft needs to offer something more.

I don't think these "other apps" allow for collaboration as powerful as this. And I think that the target for MS to inspire people to "get creative," but to leave the real powerful stuff to the pro developers, same with Paint, Windows Movie Maker and now Paint3D.

Maybe so, but you are behind the competitors and can offer something better.

This is a toy, it's for non professionnal and it's FREE, but i'm pretty sure we can do professionnal look stuffs if we're creative. It's all depend on how you use it. It's FREE damn it, go get yourself an Adobe subscription if you want something more professionnal. PS: i'm a fan of Adobe, but i won't mind using this tool to make something quick and fun and IT'S FREE, so stop comparing things that are not comparable...

Adobe suite is too professional and very expensive (It's what I use to work).
iMovie is free, Movie maker was also.

It's basically the 2017 version of photo story 3. About time looking forward to this.

None of the embedded youtube videos are working with the edge browser here on Windows Central. Why? http://imgur.com/a/x4T6i

I use Nero Video for all my video work.

Woaaaaaa, so it's a lot more professionnal...

Looks like this is the replacement for Windows Movie Maker, pretty cool!

I assume this will be in W10S as well.

did she animate the dino right in the Story Remix app?

While this did look cool, I was hoping for a full replacement for Windows Movie Maker. I wonder if this will do.

Has anyone from MSFT tweeted, "Great news! You can find Story Remix in the IOS and Andriod app stores today! Expect a UWP app in Q1 of 2019."?

Hope this won't be like the 3D scanning app they show last year and will really be available.

I have been waiting so long for something like this!!! 3D Effects look so cool! Release it already!!!! I want it on my phone now! haha.

When does the creators update come out for Windows Phone 10?

Very excited to see this; looks great! not sold on the name though.. think should have been a seperate app
looking forward to the grove music editor too..

Bring all of those super cool Mixed Reality features and package them in a not-dumbed-down video editor tool, throw in more fine-tuning controls (detailed timeline views, tracks, export settings, etc.) and you've got an amazing video editor. Sell it in the Store for a fair amount, call it Movie Maker Pro or whatever... Windows needs that. If it weren't for Movie Maker when I was younger, and all of the pretty solid features it had, I don't think I would have gained all of the PC/video knowhow I have now. Simple apps are nice, but give "prosumers" something to play with too. I'm personally not a fan of apps trying to guess and generate videos/stories/mixes/albums without my input, so that's always a turn off.

The demo was very cool. I can see this literally taking over the internet. And no doubt I'll use it lots.

This stuff could be awsome. From what I see though they are going in the wrong direction with this. With a couple of handful ideas to make content even richer without any user input, and by making the interface a lot more ergonomic for instant content creation, it could be legendary, making one of the flagship features of Redstone 3. I am so keen on having this feature spot on, was trying to get in contact with anyone responsible for this. No luck though. :/

So, anyone on fast ring on PC and NOT get this? I don't have it, if so.....anyone know how to get it ?

This looks really cool, but I only have one gripe, why is everyone using iPhones and Samsung phones? I get it, that is what the majority of people have, but I think it would've been nice of they had at least a few Lumias in there

holy crap people....there are no more lumias. boat sailed long ago.....done over with
Windows Central Newsletter
Thank you for signing up to Windows Central. You will receive a verification email shortly.
There was a problem. Please refresh the page and try again.