WOD Warrior for Windows Phone allows you to track and analyze your CrossFit workouts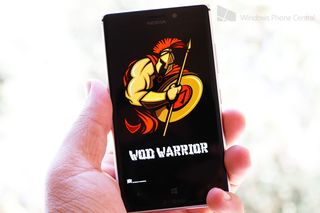 Unless you've been living under a rock, you've probably heard of CrossFit. The strength and condition programming, along with affiliated gyms, have exploded in popularity over the past decade.
The central pillar of CrossFit is the WOD or Workout of the Day.
WODs are high-intensity combinations of various exercises and movements that require all-out physical exertion. WOD Warrior for Windows Phone is an app for anyone in the CrossFit community.
If you join a local CrossFit gym (or "boxes" as they're called in the community) you'll notice a common theme in workouts. Classes that are an hour long will include a warm-up, skill development segment, the high-intensity WOD, all followed by some stretching. The meat of the workout is the WOD and it's something that you can more or less do on your own. WOD Warrior is an app that will allow you to track your progress whether you do WODs solo or in classes/groups. Here are the features you can look forward to while using the app:
Complete List of Benchmark Crossfit WODs. Allows for Custom Benchmark WOD creation, fully customizable.
Achievement Engine to run after Benchmark WODs have been completed to help keep track of your achievements!
Achievement Tracking!!
Data visualization (Graphs) of WODs, Workouts, and Achievements!
Stopwatches (Default, Countdown, Tabata, and Interval)
Barbell Calculator (new) to help you calculate which weights to have on the bar.
Weight Journal (new) to keep track of your weight progress.
Feed Manager (new) add as many feeds as you want now!
Video Capture of WODs (Great for the Crossfit Open)
Sharing Capability
Skydrive Support
Searching Capability to navigate the lists quickly
Voice Integration
One Rep Max calculation for current WOD creation! Based on One Rep Max Achievements!
Video Search Capability with Metrotube.
WOD Randomization. Having trouble creating WODs? Try using the randomizer.
WOD History when creating new WODs.
Workout linking to better manage your workouts.
That's quite an impressive number of features for an app that aims to help you track your progress. The ability to create custom WODs will appeal to those who like to deviate from the standard ones. Although you'll find all standard WODs in the app as well.
Right now WOD Warrior is available for Windows Phone 8 devices. It costs $1.99, but does have a trial. The trial for WOD Warrior has all the features you get when you pay, but can only add a limited number of WODs in the trial.
Grab it in the Store, use the QR code below, or swipe to the right in our app to get it.
Windows Central Newsletter
Get the best of Windows Central in in your inbox, every day!
Apparently i live under a rock, humph, i know when I'm not wanted

Don't worry I live under a rock too. :)

Hmm, I got it made, I live in a box

We are a big happy Flintstone family! Lol

Ahhh . . . good old crossfit. It hurts so good :')

I must live under a rock too

We used to do this alot in the army...and yes it does hurt so good. Remember, Pain is just weakness leaving your body. Lol.

Sure is, lol. Those Burpies made me the man I am today, lol.

Burpies, mountain climbers, flutter kicks, and side straddle hops (ah the classics)...the stuff of dreams.

Hahaha . . . brings back memories. Like getting shown out by a 100 pound chick, lol.

Or seeing the 50 year old heavy set female E7 hang in a run longer than the 18 year olds...lol classic.

My first realization of how truly out of shape I was (because I initially thought I was in shape), was when a pregnant woman beat me in the tire drag. Awesome . . . but demoralizing, lolol.

Oh wow. Developer here, and I was thinking of making this during my WOD! Props! :)

Nice best news of the day :)

They are missing one thing. List the wods from the main site www.crossfit.com

I can definately look into it. You can follow it by using the Feed Manager in the app. Or is there something else you are looking for?

I was thinking something like that :download the WOD, let you update your time and compare with the time that you had last time you did the same wod and will be great if also we could post in the board from the app. :)

I'm planning on porting it over to iPhone and Android, but I have some other projects that have taken precedence right now.

Just make sure you tell them boys where it originated from... Thanks❕

I'm perfectly happy being, mmmmm, let's say un fit

Is it US thing? I haven't heard about this

Yeah. Its branching out though. I highly recommend it. It reminds me of boot camp and while you will struggle at first you feel really good when you start banging out sessions more easily. The one here is run by the SWAT team if that gives you any idea.

That last two winners of the female championships were from Europe. Its on ESPN here in the states. Winners get $250k.

Hello all fellow living-under-the-rock folks...

Seems most people are in this case, except sam

You guys need to come out of those rocks :)

Sam. Has your Windows 8 app for WPCentral been published? I can see it in the Store.

No, our app for Windows 8 isn't in the Store yet. If you see any apps in there they're probably nothing more than an RSS reader type app.

Awesome! We use wodify at our gym, but this looks useful for benchmarking! Purchased!Thanks!

Thanks for your support!! Let me know of any feedback that you have!

Just to let everyone know I have an update going through the store that has a slight UI redesign and added capability to add workouts easier to the WODS and I'm currently developing another update that will implement calendar view for the WODs that you have completed. I'm trying to have an update out weekly.

Keep up the great work! :-)

I don't know if you know but I went into the camera app and clicked more lenses and I was capable of getting Nokia smart cam and pro cam on my Lumia 920 without gdr2

Installed - no idea - uninstalled.

I waited for so long for many of these features, but just a few days ago bought WODhala to keep track of my PRs. Bummed.

Wish someone would make this for windows 8/rt . So I could use my tablet for a gym sized timer.
Windows Central Newsletter
Thank you for signing up to Windows Central. You will receive a verification email shortly.
There was a problem. Please refresh the page and try again.